What's Up, Weekend? | So Much Good Scoop + Best Weekend Sales
Posted by admin on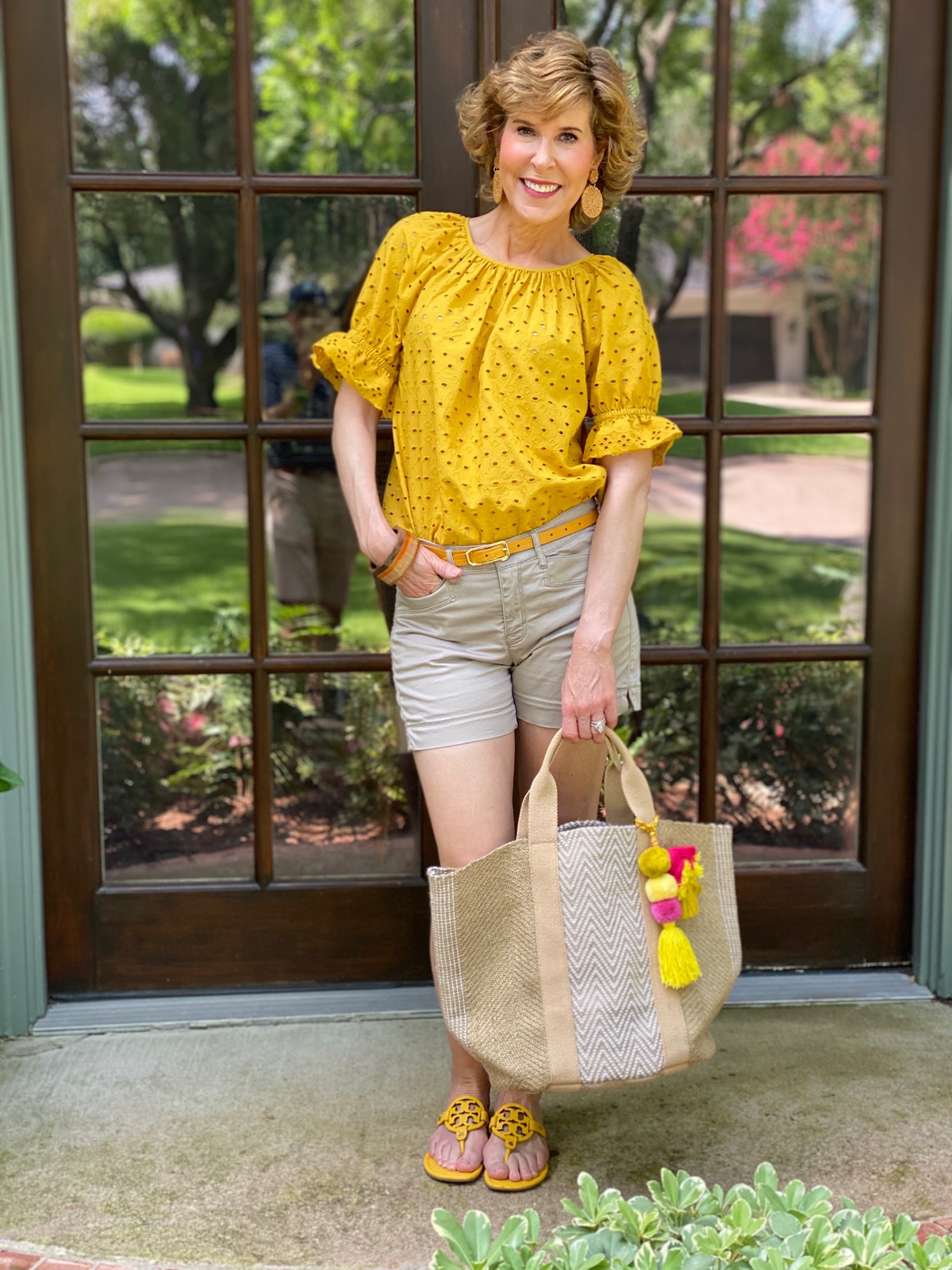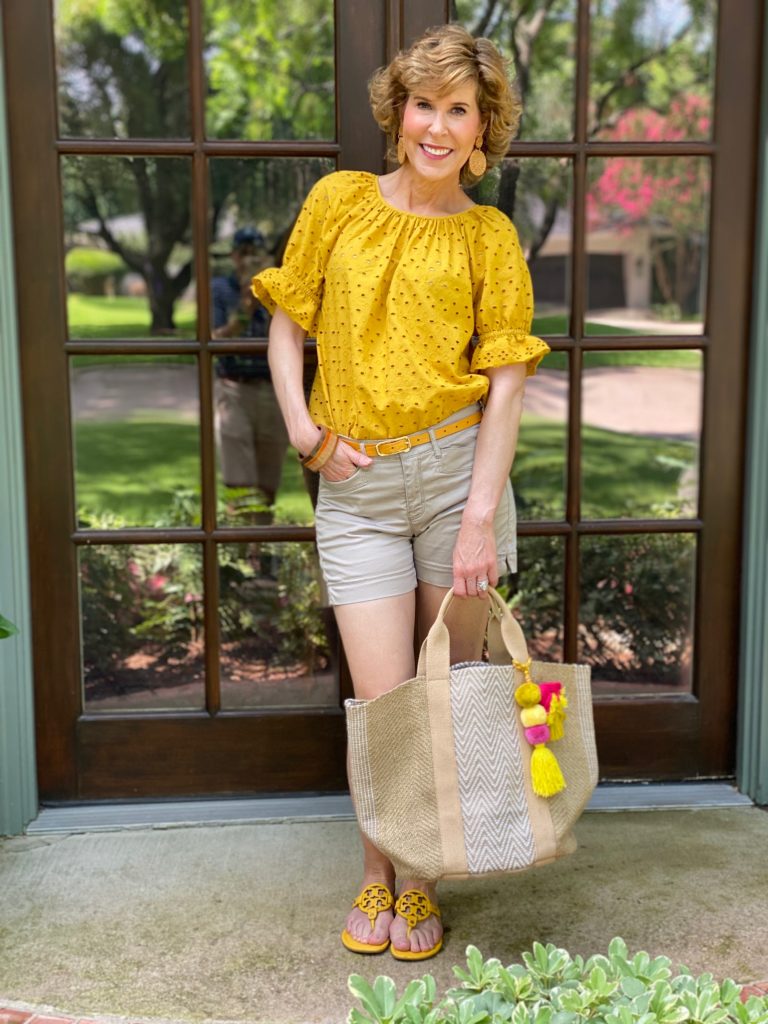 Happy Weekend, sweet friends! It's been a busy but fun week over here at Empty Nest Blessed! With no travel on the horizon until late August, Bob and I are settling back into our empty nest routine (and kinda loving it!).
I was talking to my pal Nancy (give her a follow on Instagram!) about how having her two adult kids home the past few months has changed her life. I know a lot of you are in that position as well. I was too, until our daughter left for her summer contract. How's it going in your (formerly) empty nest?
If you're struggling, I may have some past posts on parenting adult kids that you'll find helpful. You can check them out HERE. I'm especially thinking of my recent post What Your 20-Something Wants to Tell You (and Needs to Hear From You). I was so thankful to get such great feedback on it from you all—and from lots of sweet 20-somethings that somehow found it! Wow! That is why I do what I do, y'all.
Here's one DM that made me cry.

Here's What's On My Radar
Podcast Heaven
I've been listening and loving two podcasts this summer!
How'd She Do That? with Emily Landers – Every week, Emily talks with women from a wide variety of industries and stages of life, and asks them to talk about their respective life and career trajectories. This podcast is fun and encouraging! (You might remember Emily as the author of Take Flight, one of my most recommended resources for college students.) This week's guest was entrepreneur, author, speaker, and business coach Rachel Proctor, and it was so good, I listened to it twice AND took notes!
That Sounds Fun with Annie F. Downs – Every summer, Christian author and speaker Annie F. Downs spends a month on Enneasummer, where she deep-dives into the Enneagram with guests who are friends. Bob and I have found the Enneagram to be such a helpful tool in our marriage, our parenting, and our other relationships as well, and this podcast makes it fun, easy to understand, and relatable! Want to learn more about the Enneagram? THIS is the website I recommend.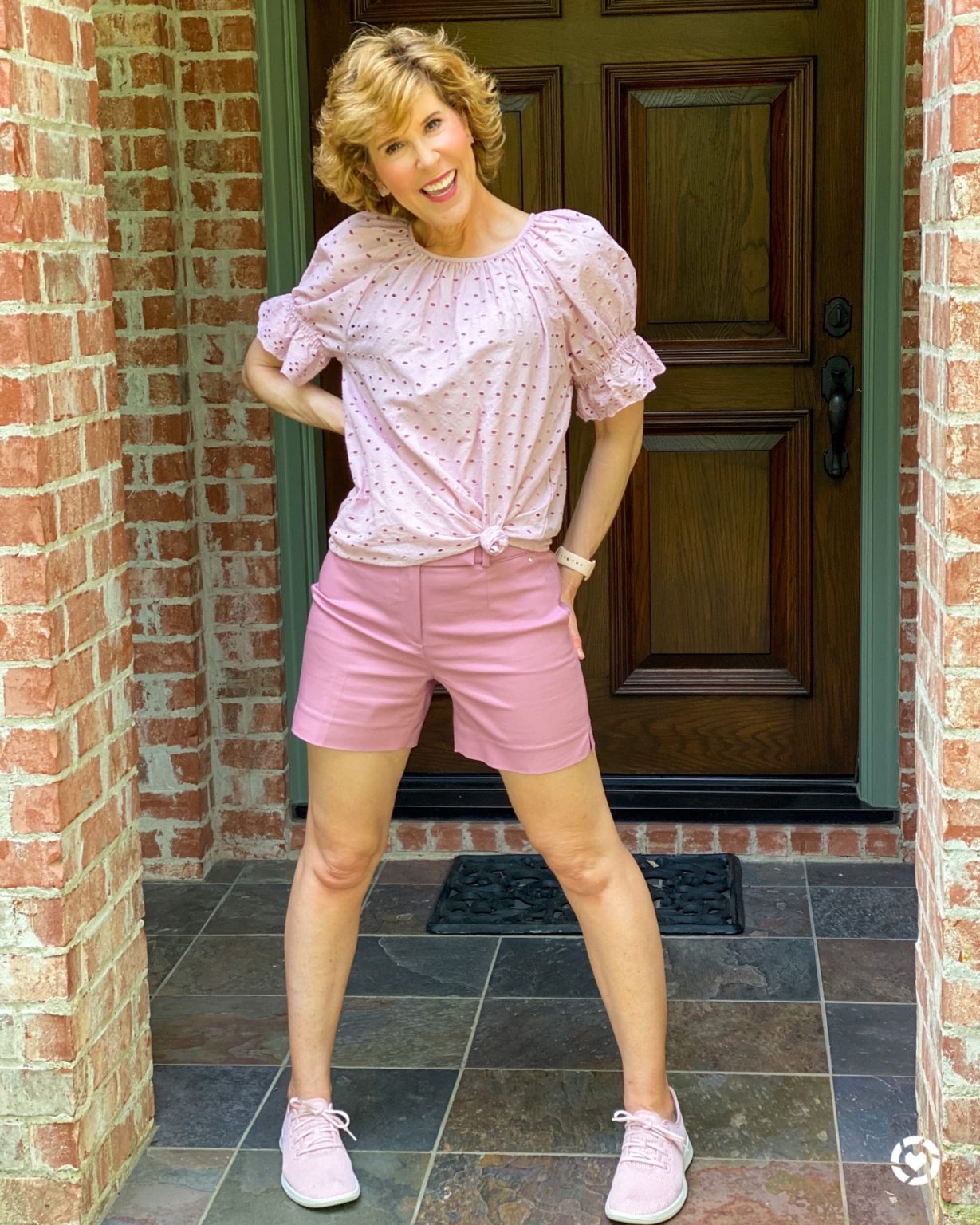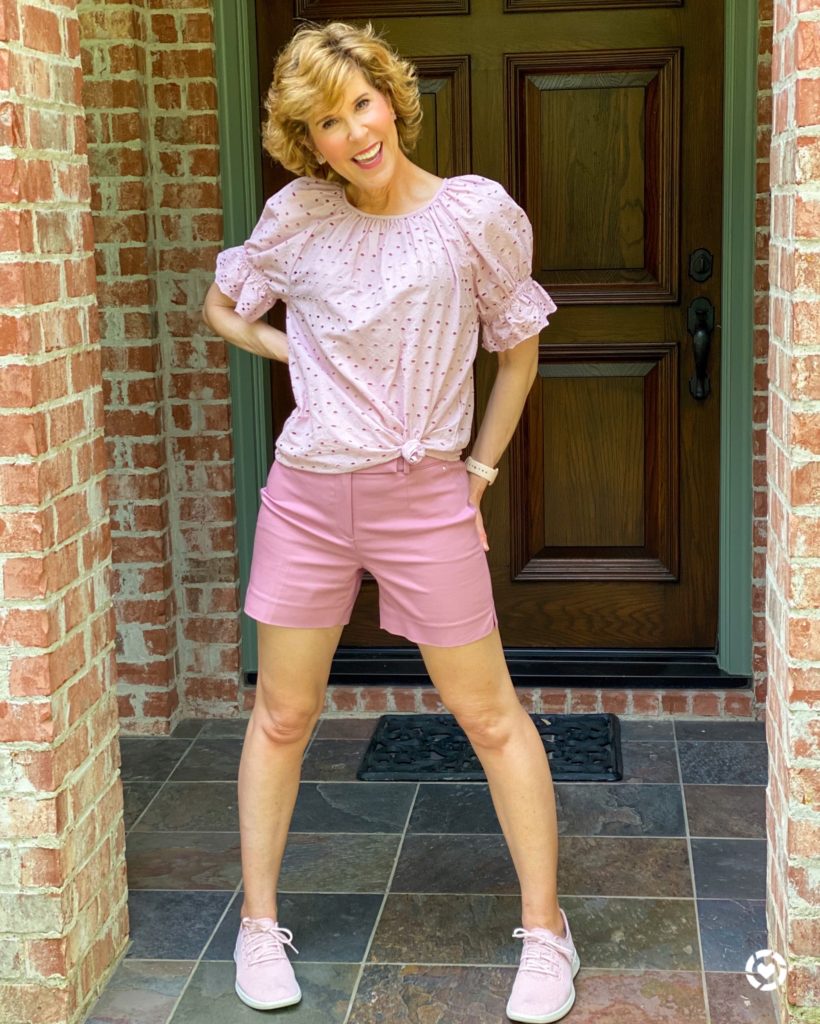 Pink Eyelet Top ($17.49 on clearance!) | Pink 5-inch Smooth Stretch Shorts | Pink Tennis Shoes (SOLD OUT) Amazon Alternatives HERE and HERE | Earrings

What Happened to Our Laughter?
I get it that things are tough right now in our world. There's a lot that we can't control. But (as I used to tell my kids), one thing you do always have control over is your attitude. It's important to remember to laugh sometimes!

Did you know that children laugh

up to 400 times a day? But for adults, that frequency dwindles to barely 15 times a day. Yikes! Where'd our laughter go?

Do something that makes you laugh this weekend! Bob and I love Jim Gaffigan's YouTube Channel, and Jerry Seinfeld's Netflix series Comedians in Cars Getting Coffee for guaranteed laughs! If all else fails, there's always funny animal videos! What makes you laugh? Please share with me in the comments!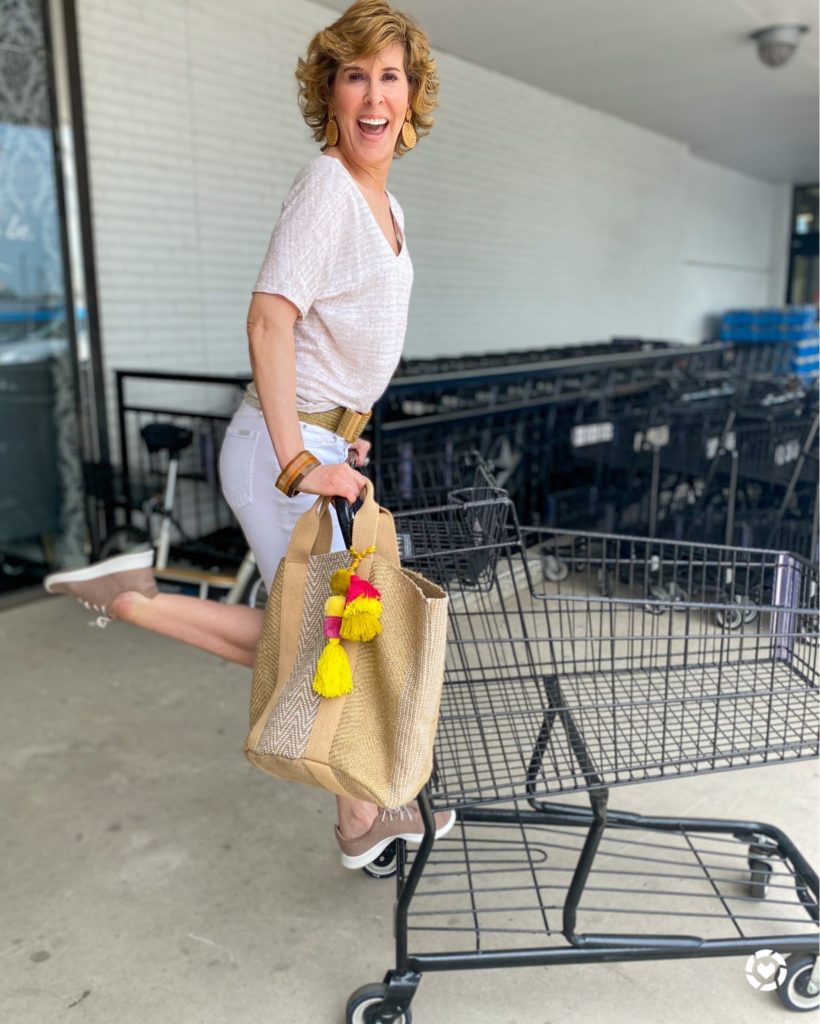 V-Neck Linen Tee (50% off – comes in 5 colors) | White High Rise 9″ Shorts | Tan Tennis Shoes (SOLD OUT) Amazon Alternative HERE | Straw Stretch Belt | Jute Tote Bag (50% off) |Raffia Earrings

Cane We Do It? Yes! We Cane!
Mark "Cane Master Shuey, 73, is a martial arts champion who teaches "Cane Fu" self-defense classes to seniors through his website, canemasters.com. (You can't make this stuff up, people!) There are even Cane Fu tees and canes made specifically for personal protection! Interested in learning the basics of cane self-defense? Click HERE. #ilovethissomuch
Did you know that you can carry a cane anywhere? It's considered an approved medical device, so you can always take it on airplanes or anywhere else you go! #goodtoknow
Check the Source
We live in a world where there is almost too much information out there! It's hard to know what to believe any more, and it seems like information changes so quickly.
Always remember to check the source! There's a lot of fake information out there, friends. Remember you don't have to take someone's word for it! If your only source is your hair stylist's cousin who knows somebody who knows somebody in the health care field, you may want to look into things further!

The Centers for Disease Control and Prevention is the best source, and you can go straight to their website to check things out. Another great source for cross-checking is fact-checking website Snopes .com.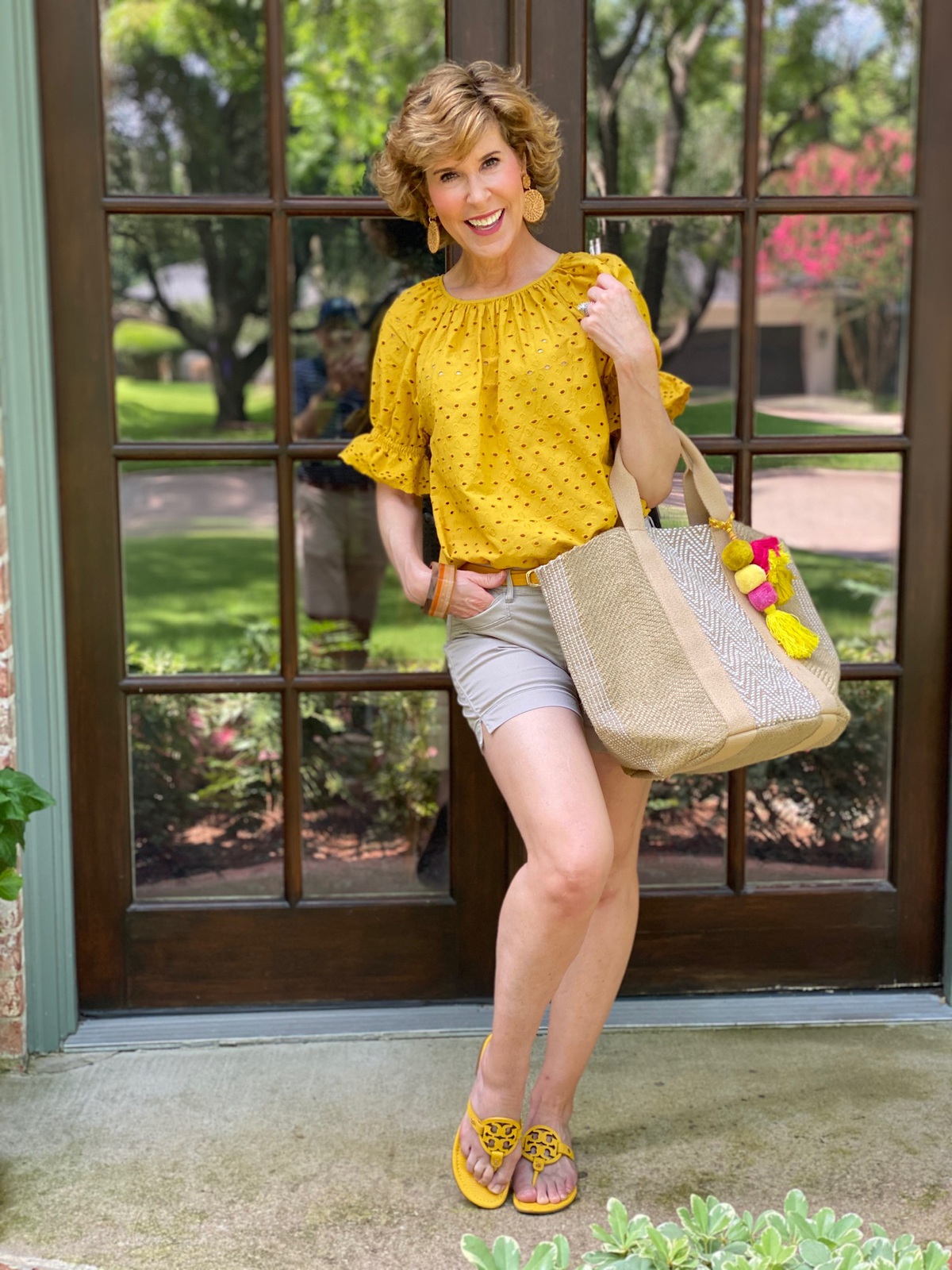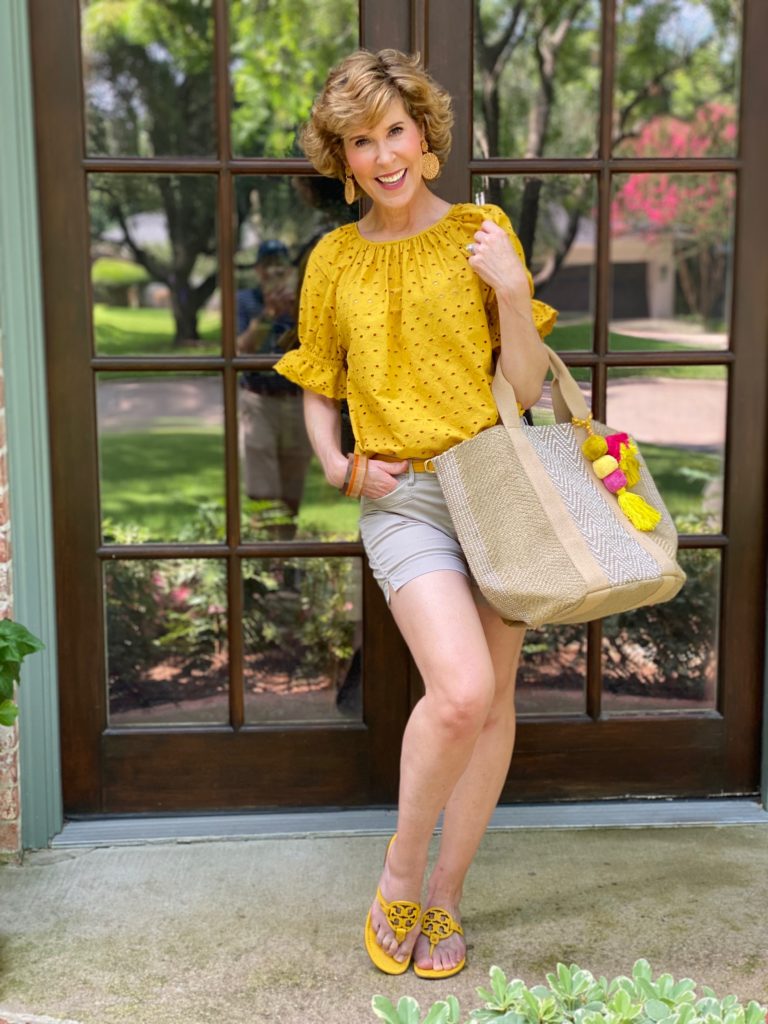 Yellow Eyelet Top ($17.49 on clearance!) | Light Khaki Shorts | Yellow Tory Burch Flip Flops | Wooden Octagonal Bangle Bracelet (50% off) | Jute Tote Bag (50% off) |Raffia Earrings

Best Weekend Sales
With social distancing and capacity quotas still in place, many retailers are struggling. This week, Ascena Retail Group Inc., the parent company of Ann Taylor, Loft, Lou & Grey, Justice, Lane Bryant, Catherines, and Cacique brands, filed for Chapter 11 bankruptcy and closed over 1,200 stores.
These retail struggles mean a few things for you as consumers:
If you love a brand, it's time to support it!
There are amazing deals out there if you know where to look.
I do my best to help you, searching out the best deals and coupon codes and bringing them right to you here in one convenient spot every single weekend!
Thanks to my relationships with some wonderful brands, just about every week, I get info on a secret sale, or advance notice on a surprise sale to pass along to you! (This week's is BIG! See SOMA below!)
Thank you for shopping with my links! It supports Empty Nest Blessed and allows me to keep doing this job I love so much! Click the pink links to go straight to the sites. 
BANANA REPUBLIC | Up to 50% off must-have styles + extra 50% off sale styles. Take an extra 10% off your entire order when you order a face mask and add the code EXTRA10.
BAUBLEBAR | Take 15% off the Bauble BAR Bracelet

, which is basically an adorable, updated charm bracelet with the code PISA15! Check out their adorable face masks, which they sell at cost (2/$12)!

BED, BATH & BEYOND | 30% off on select bedding, up to 50% off Nespresso machines, and 30% off select SHARK® vacuums.
BODEN | Up to 60% off sale! I love this brand, especially for dresses and swimsuits!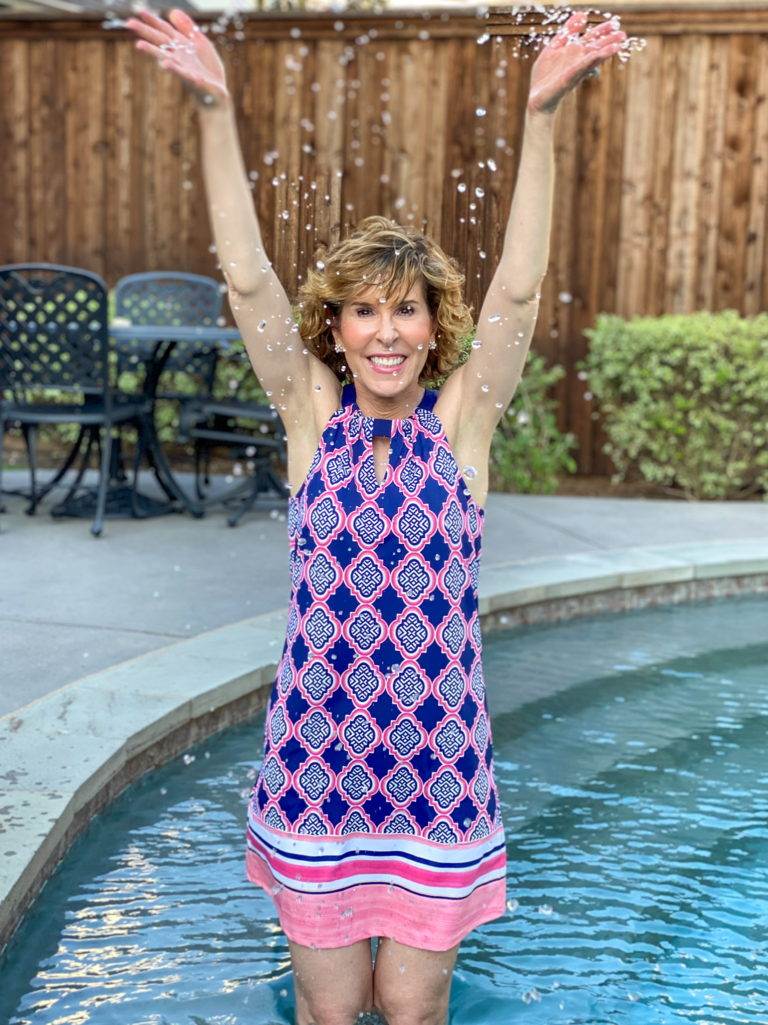 CABANA LIFE | 30% off Coral and Geo prints with code SUMMERGEO. That includes this darling UPF 50+ shift dress!
Palm Print Scarf (50% off)| Green Cotton Maxi Dress | Flatform Sandals (under $35)| Wooden Octagonal Bangle Bracelet (50% off) | Multi-Stone Hoop Earrings

CHICO'S | Up to 70% off sitewide in their semi-annual sale. The gorgeous and versatile palm print oversized scarf I featured on my Instagram this week is 50% off, making it under $25! The jute tote I'm carrying in the photo at the top of this post is 50% off!
CITY BEAUTY | Take 15% off sitewide with code SKIN15. This is the brand of plumping lip gloss I use!
FRONTGATE | 40% off sitewide + free shipping.
GAP | Up to 75% off everything (prices as marked) + up to 50% off sale styles with code PERK.
J CREW | 60% off sale styles with code SUMMER.
KEDS | Up to 60%— + $10 E-gift card with orders of $50+ with code BONUS. That takes these Keds x Rifle Paper Co. floral slip-ons wayyyy down in price! It also takes these Keds X Draper James wide sole sneakers down to just $50 from their original price of $75! Here are a few of my other faves:

LAND'S END | Their website says up to 60% off with code BRIGHT,  BUT I snagged YOU up to 70% off with code STARS. This sale includes their best-selling Land's End + Draper James swim collaboration! Click HERE to check it out! (Ends 7/26.)
LEGACY BOX | Up to 60% off on E-Deals (no code needed). I told you about my experience with this amazing company that digitizes your old videos, photos, film, and more (and how my son gave me a starter kit for Mother's Day
) in June's SO in the KNOW post. For more info on how it all works, click HERE. (Ends 7/19.)
MADEWELL | 30% off all sale styles with code GIANT.
NORDSTROM | Free beauty gifts with purchase, so if you need all your things, now is the time to stock up! Up to 70% off in their clearance sale. Be sure to filter by size, brand, price, etc. in the left sidebar to save time as you browse this sale. Here are a few faves:

NORDSTROM RACK | The deals are always good at the Rack!
NYDJ Split Sleeve Tee | NYDJ 5-Pocket Skirt (50% off) | Pink Chain Link Sandals |Pearl Initial Necklace | Pearl Cluster Earrings ($7.99)

NYDJ |50% off select summer styles + free shipping /returns. This is the best spot for jeans, pants, shorts, and skirts for women over 50! They carry regular & petite sizes & styles too! I love these white 11″ Bermudas with a rolled cuff! The denim skirt I'm wearing in the photo above will go with everything you own! (I featured it in THIS post where I told you what I'm learning & loving in the empty nest right now!)

OLD NAVY | All shorts, dresses, tees, and swim under $25! If you don't own a white jeans jacket, snag their best-seller for under $40! (I think it's a must-have for every woman's wardrobe!)
POTTERY BARN | Up to 70% off bedding, furniture, decor, and more.
SAM EDELMAN | Take 20% OFF 2; 30% OFF 3 with code BUYMORE. This is one of my fave shoe brands for women over 50, because they are well-made, have a cushy footbed, and they carry narrow, medium, AND wide widths in their most popular styles. Plus, they always offer free shipping/returns, so it's easy to order and return! Their Hazel pumps and Felicia ballet flats are classic workhorses in my closet! Here are some of my faves:

SOMA | Shhhhhh! Right now Soma is offering 70% off panties when you buy 5, BUT, I have some inside scoop for you!!!! This Sunday, 7/12 from 6 p.m.-midnight (EST) all full-priced bras will be $29. (
What?) Also, with every purchase, receive 1 free panty. Pro Tip: Click HERE to shop, add the ones you want to your cart, and set a reminder on your phone to check out on Sunday night between 6 pm and 12 am EST!
TALBOTS | 40% off sitewide + extra 20% off sale styles.
TARGET | Target is killing it in the deals department lately! I just ordered more of this volumizing shampoo and conditioner (with Biotin) that I wrote about in THIS post. They are amazing and are on sale for just $6.98 each!
THE CONTAINER STORE | Customer Favorites on sale! I love this storage basket.
WHBM | 50% off select sale styles, or buy 3 and take 60% off.
What's up for you this weekend? Don't faint, but Bob and I are actually going to venture out to the movies on Saturday night!


Be sure to follow along on my Instastory!
Blessings,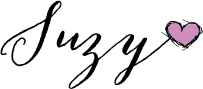 The post What's Up, Weekend? | So Much Good Scoop + Best Weekend Sales appeared first on Empty Nest Blessed.
---
Share this post
---
---