The One Thing Holding Back Electric Vehicles in America
Posted by admin on
Sign up for The Weekly Planet, The Atlantic's newsletter about living through climate change, here.
Five years ago, when Bill Ferro would take a road trip in his electric BMW i3, he needed to be ready for anything.
Driving from Boston to Charlotte meant bringing along a 50-foot extension cord; a blanket, in case he needed to turn the car's heater off to maximize its range; and a spreadsheet full of alternate plans in case the unexpected happened at public charging stations. In one memorable instance, he was forced to rush several miles at midnight to a backup charger when a plug in a dark mall parking lot not only failed to work but refused to unlatch from his car.
Today, Ferro gets into his Tesla, punches his destination into its navigation system, and doesn't think much about running out of electrons.
This is likely what it will take to persuade Americans to switch to electric vehicles: the ability to drive wherever you want, whenever you want, and never seriously worry about getting stuck.  
The public charging experience today is significantly better than it was when Ferro rolled the dice in his i3. According to the U.S. Department of Energy, the number of charging ports in America more than doubled from 2018 to 2022. A wide range of companies, including Walmart, Shell, Subway, and Mercedes-Benz, are getting into the market. And Ford recently announced that its cars will be compatible with Tesla's expansive charging network starting in 2025.
But Ferro, the founder of EVSession, a data platform that tracks charger reliability, admits that those developments are not enough for what's coming.
In the next few years, as more new cars become battery-powered, millions of Americans are projected to be driving electric for the first time. They'll be getting used to a new technology that is inherently different than what they've known for decades. Thus far, public EV chargers have largely served early adopters, committed environmentalists, and a small subset of commuters. Now that EVs are becoming practical, high-range family cars, their drivers aren't going to accept compromises or risks when they're taking kids to school or trying to get to work on time. They'll expect the same level of convenience they get now.
[Read: EVs make parking even more annoying]
In short: Americans will need more public chargers if the goal of drastically reducing carbon emissions from cars is to succeed. Right now, drivers who want to do that may be nervously eyeing the charging networks in their areas or along the way to places they want to travel, wondering if they'll be able to do everything in these new cars that they've always done.
"I think [public charging] is the thing that is, right now, in the way of mass adoption," Ferro told me. "Five years ago, it was range. Now the infrastructure is deterring those people who are just not gung ho about getting an EV."
I've seen this growth, and its continued challenges, firsthand over a decade of testing and writing about cars. Five years ago, my first experience in the Chevrolet Bolt EV involved spending the better part of a day looking for a way to charge up in New York; now four public plugs are within walking distance of my Brooklyn apartment.
But I still often have to wait for those plugs to open up, or deal with gas-car drivers who park there instead. Driving out of town in any EV besides a Tesla (the company's proprietary Superchargers are regarded as the most abundant, easiest-to-use plugs out there) still requires planning—and a little luck. I might encounter public charging stations with no open stalls, broken chargers, proprietary payment apps I don't have, or charging speeds too slow to be useful. On top of that, chargers simply remain too rare.
Help is on the way from the Biden administration's Bipartisan Infrastructure Law. Over the next few years, the government will dole out $7.5 billion in grants for EV charging, a massive, multibillion-dollar gift to the private sector that comes with strict requirements for reliability, user interaction, and accessibility.
Success will look like a national network of chargers that "work every time" and "are able to be used by any driver, any EV, anywhere," Gabe Klein, the executive director of the Department of Energy's Joint Office of Energy and Transportation, told me. That office just announced a coalition of national labs, charging providers, and car companies (including Tesla) to work on making charging more reliable and seamless.
The idea behind these grants is that they'll make private-sector companies step up to capitalize on the next big thing—a market-driven solution, you might call it. "There's a competitive imperative to be there and to provide a good charging experience to customers," Albert Gore, the executive director of the nonprofit Zero Emission Transportation Association, told me. But the truth is that there's no magic-bullet solution that will make the number of public chargers match up perfectly with all of the EVs on the road. And in the interim, charging will go through an awkward adolescence.
For the most part, today's EVs can serve people's needs better than ever. These cars are designed to be charged primarily at home, and Americans still mostly commute or run errands, covering only short distances each day. In the future, most EV charging could look like what I saw at the rooftop parking lot of a Target in San Francisco: some three dozen Tesla drivers seamlessly adding juice at fast and super-fast speeds while they shopped or waited in their cars. Most of them were new Tesla owners, and none of them had the kind of war stories Ferro has. For them, charging was functional, uneventful, extremely convenient, and reliable—given about as much consideration as charging a smartphone.
With each step from that model, though, charging infrastructure starts to look a notch less dependable. Shared charging in a condo garage is harder than charging in a single-family home. Charging a car that's parked on city streets most of the time is harder still. And leaving behind routine to travel far and wide opens up the possibility of the most chaos. While the plan to charge up the entire nation works its way toward reality, a whole new generation of EV owners could be waiting in line to charge at the few available stalls during road trips, forced to deal with onerous payment apps, constantly dogged by broken chargers, or at a loss for how to conveniently charge when far from home. These problems worry potential EV owners enough that a recent J.D. Power report found that a growing number of consumers say they are "very unlikely" to buy an EV—despite lucrative tax incentives—in part because of "persistent concerns about charging infrastructure."
Ryan Mackenzie knows some of these headaches well. His garage includes a Tesla Model Y and a Volkswagen ID.4, and this means his phone has a hodgepodge of apps such as Electrify America for charging, PlugShare for crowdsourced station reviews, and Tesla's own.
Besides Tesla's network, "the only real game in town that allows you to go nationwide is Electrify America, and they have their troubles," Mackenzie, who lives in San Antonio, told me. Sometimes charging with Electrify America—born from Volkswagen as punishment for its diesel scandal—works perfectly fine. "Other times, you get there and your stall doesn't work, or it starts working and it fails," he said. (Electrify America told me it monitors stations around the clock, and that the number of charging sessions it provided in 2022 increased by 3.5 times compared with 2021, and 20 times compared with 2020. "This growth is a true testament to the robustness and quality of the network," a spokesperson said, via email.)
Or consider the experience offered by other older providers such as ChargePoint, which, like Electrify America, is often the subject of considerable customer ire. ChargePoint's revenue comes not just from selling charging hardware to property owners but also from maintenance contracts to fix chargers when they break. In other words, if a driver encounters a broken ChargePoint charger, ultimately the property owner who bought the hardware is responsible for getting it fixed. (ChargePoint did not respond to a request for comment.)
[Read: A classic American car is having an identity crisis]
Broken chargers are a serious problem even in the San Francisco Bay Area, where Teslas and Polestars are ubiquitous but where, at one point in early 2022, more than 25 percent of stations were nonfunctional, a recent study found.
Given the onslaught of EVs hitting the market and the public funding available, the known problems will soon be more visible to current and potential EV drivers. But so will the possible fixes.
One of the first things that will happen as EV infrastructure expands is that parking garages, lots, and city streets will simply have more working chargers, some installed by new players eager to make the network not just grow but grow up.
For instance, Flash, an Austin-based start-up, recently signed an exclusive charging-station partnership with the national garage giant One Parking. Ben Davee, the general manager of Flash's electric-vehicle-charging division, told me that the company is rolling out thousands of garage chargers with an emphasis on multiple payment options such as credit cards and Apple Pay and rapid-response fixes to broken units; Flash is shooting for "99.9 percent uptime." Davee said that besides adding new chargers, the start-up's model is "rip and replace": If you're a garage owner dissatisfied with the ramshackle chargers you have now, go with Flash instead.
New York–based itselectric wants to solve the apartment- and city-dweller charging problem with sleek-looking overnight curbside chargers and detachable cords kept by members. (In theory, this keeps city streets from becoming a hellscape of wires.) The company is piloting a program in two Brooklyn locations this spring.
Both companies address the problem of EV chargers needing to be everywhere cars are, not just in the garages of affluent homeowners. (Neither has taken public money yet.) To date, charging companies have gone where the market already exists; the majority of public chargers are located in America's wealthiest counties.
Gore admits that there's no policy to ensure that chargers match with EV growth nationally. But closing that gap is a top priority for public-funding initiatives. The $5 billion National Electric Vehicle Infrastructure (NEVI) Program aims to expand public access for DC fast charging—which can add significant range to many modern EVs in about 20 minutes—across the country's major highway corridors. To secure funding for other public road projects, states must ensure that at least four public DC fast chargers can be found every 50 miles along those corridors. Another $2.5 billion grant program will add chargers to rural and low-income areas and communities with few private parking spaces.
New minimum standards for federally funded public chargers also aim to end the irritating experiences EV drivers have endured thus far, said Klein, the Department of Energy official. They include requirements for uptime greater than 97 percent, unifying the payment experience and ending the walled-garden app problem, and ensuring consistent plug types and the number of chargers available.
Still, the thousands of chargers that already exist will not be held to the new, tougher NEVI rules. Ferro worries that those legacy chargers could continue to dog EV drivers for years, even as more people become EV drivers. In terms of regulations, "we're at the one-yard line on the other end of the field," he said.
The new drivers entering this arena likely won't have to worry about blankets and extension cords and spreadsheets, as he once did. It might take an abundance of public chargers to convince people that electricity can viably replace gasoline, but perhaps fewer than they imagine. "Once people actually own an EV, they understand that, on average, their use of DC fast charging is maybe between 1 and 10 percent of their annual charging use," Gore said. In my own experience, any EV with more than 300 miles of range can surprise with its ability to run for a few days without charging. And people will quickly learn new habits. Right now, most drivers are used to running their gas tanks fairly low before filling up at a station. As the charging network expands, new EV drivers will learn that they can charge every time they're parked at home, in a garage, or at the office.
Ben Prochazka, a longtime EV driver and the executive director of the Electrification Coalition, an EV-policy nonprofit, likened this transition to the move from landlines to mobile phones. One day, those comparisons to getting gas may be entirely lost on future generations.
"My 5-year-old thinks gas stations are just convenience stores where you go buy drinks and snacks," he said.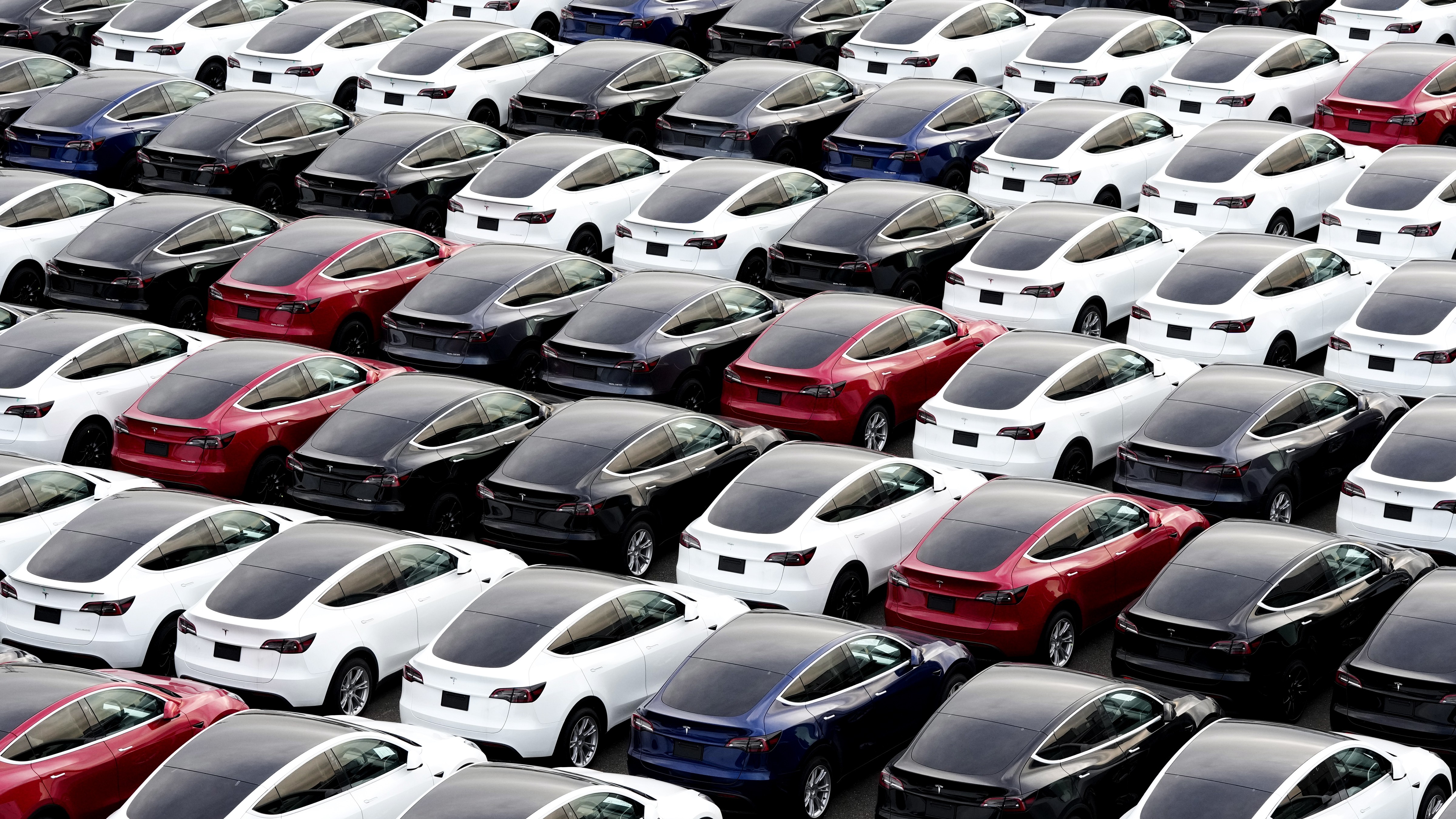 ---
Share this post
---
---