Not Even Marlon Brando Thought He Was Right For His Godfather Role
Posted by admin on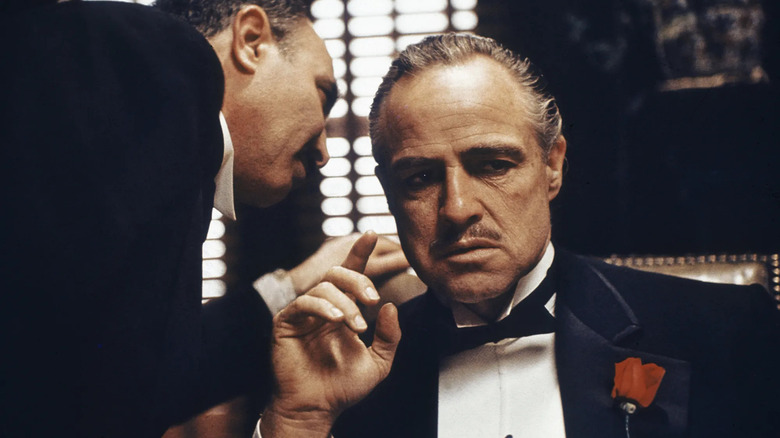 Marlon Brando badly needed a break when he received a letter from Mario Puzo, author of "The Godfather." He was in debt, hooked on Valium, and in danger of losing visitation rights to his kids. He also didn't want to act again, which made the debt problem a bit tricky (via Vanity Fair). Puzo's note read:
Dear Mr. Brando, I wrote a book called THE GODFATHER which has had some success and I think you're the only actor who can play the Godfather with that quiet force and irony (the book is an ironical comment on American society) the part requires.
Puzo was perturbed by casting rumors about who might play Don Corleone in the film adaptation of his pulpy novel, and reached out to the actor who he first had in mind when he wrote the character.
The problem was, the studio bigwigs trying to get "The Godfather" to the screen didn't want Brando anywhere near the project. By that stage in his career, he'd burnt too many bridges with his unreliable and temperamental behavior. He was regarded as toxic, washed up, and, according to producer Robert Evans, "as dead as could be."
For his part, Brando wasn't even interested in the role at first. He originally dismissed it saying, "I'm not a Mafia Godfather ... I'm not going to glorify the Mafia."
Director Francis Ford Coppola, hired for his Italian-American heritage and because he'd likely work cheap after the poor performance of his previous film, stuck to his guns. He eventually persuaded the bosses to consider the difficult actor for the plum role on three conditions: Brando must pay a $1 million bond to ensure his "shenanigans" wouldn't delay production, agree to far less than his usual fee, and perform a screen test.
Coppola's tenacity paid off. When we think about the great cinematic gangsters, we might think of James Cagney in "White Heat," Joe Pesci in "Goodfellas," or Samuel L. Jackson in "Pulp Fiction." Yet 50 years on, Brando's Don Corleone remains the Godfather of them all.
The Troublesome Mr. Brando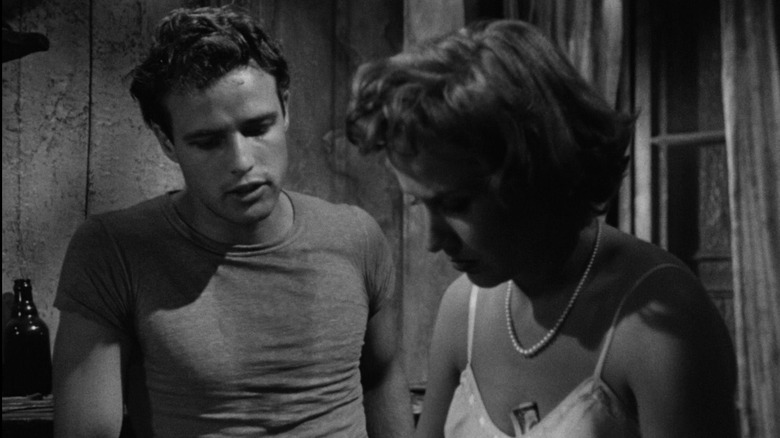 Brando was an infamously difficult actor throughout his career, from his star-making turn in "A Streetcar Named Desire" to his bizarre on-set behavior in his final screen roles. His "Streetcar" co-star Jessica Tandy labeled him an "impossible, psychopathic b*stard" (via Slate) while he reportedly shot some scenes in his underpants while filming his last role in "The Score" (via Independent).
Stories about Brando's antics almost outnumber his list of great performances. His inner prima donna ran amok during the filming of "The Mutiny on the Bounty," where rumors told that "he was reputed to have given the clap to half the women on Tahiti, where the film was shot" (via Vanity Fair) and demanded the studio fund the renovation of an abandoned building for him away from the rest of the cast and crew (via Yours Retro).
Brando still had his fans in the industry. Richard Donner originally thought that Brando's whopping $3.7 million fee for playing Jor-El in "Superman" was "outrageous," but he changed his tune after working with the actor (via Hollywood Reporter): 
When I first came on the picture and I heard how much Marlon Brando was paid for it, I was really upset, because it seemed like much more money than anyone is worth... But then working with him and seeing him on film, to me, he is underpaid.
Late in his career, Brando's difficult ways were tinged with tragedy. In 1990, his son Christian shot dead Dag Drollet, the boyfriend of his half-sister, Cheyenne, who subsequently died by suicide in 1995 after battling depression (via LA Times). Grieving his daughter's loss, Brando's behavior was perhaps understandably even more erratic while filming "The Island of Dr. Moreau." Brando chose to do his own outlandish makeup and decided he didn't want his character to die. He also formed a connection with Nelson de la Rosa, a 2 foot 4 inch actor originally cast in a background role. This unlikely friendship resulted in la Rosa playing alongside Brando in many of his scenes, dressed identically, thus inspiring Mini-Me in the "Austin Powers" movies (via EW).
Stepping Into The Shoes Of Don Corleone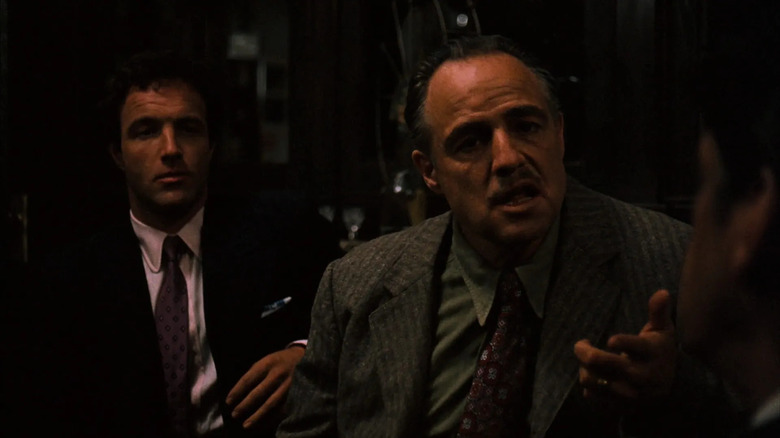 Coppola admits that he was "scared s***less" of Brando and knew he had to approach the prospect of a screen test very carefully with the diva-like actor. By now, Brando's secretary Alice Marchak had persuaded him to read the book and he was fully onboard with the idea of playing the character, considering the role a "delicious part" (via Vanity Fair).
Instead, Coppola pitched it as a little improvisation in preparation for the role, with a camera rolling. The screen test took place in Brando's house, with the director taking along some cigars, wine, and Italian snacks as props to get the actor in the mood. Then, in front of his eyes, Brando demonstrated the true nature of his elusive talent and became the Don. He changed his hair color with boot polish, stuck out his jaw, altered his gait, changed his accent, and padded out his cheeks with tissue paper. Hiro Narita, the cameraman Coppola took along to film the test, said:
Slightly, from a low angle, I filmed him holding a glass of wine in one hand and a cigar in the other, going through animated gestures... Francis was videotaping at the same time. At one point Brando dipped the end of the cigar into the wine. The phone rang unexpectedly. Brando calmly picked it up, staying in character, and mumbled a few words as if talking to someone on the other end of the line. Then he hung up and continued his pantomime.
The ruse worked; the video of the screen test finally sold the producers on Brando for the role of Don Corleone.
Coppola's Faith In Brando Paid Off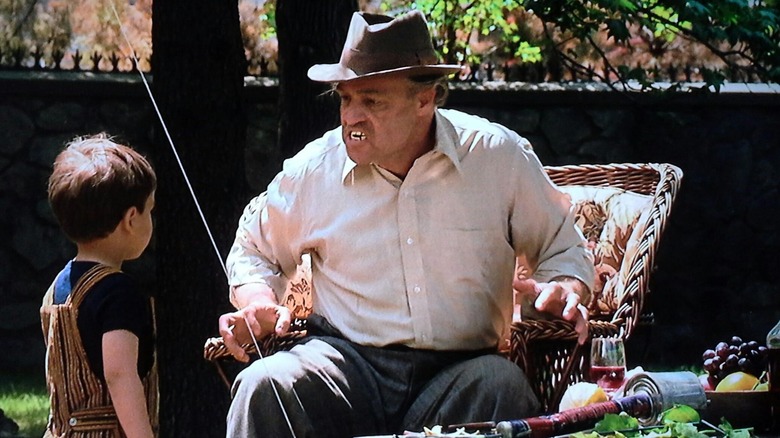 For such a somber, elegiac film, it sounds like "The Godfather" was an enjoyable movie to shoot, with the mercurial Brando contributing to much of the fun on set. He joked around with Robert Duvall and James Caan, resulting in mooning contests where they would flash their butts at each other at odd moments. True to his senior status among the cast, Brando took top honors, mooning at around 500 extras and earning a belt entitled "Mighty Moon King" (via Time).
As was often the case, Brando required cue cards to remember his lines, although he argued it helped achieve spontaneity -- there's a great photo of Duvall with Brando's lines taped to his chest in a scene. Coppola was effusive about his hard-won lead actor (via Playboy):
I got along very well with Marlon. One of the most affectionate, warm men I've ever known. He'd come in late once in a while, but he'd make up for it with his sense of humor.
The director's faith in Brando paid off. The actor delivered one of his signature roles, disappearing completely into the character of the aging Don, a gracious old villain operating on his own sense of loyalty and scruples as the modern world threatens to render him and his crime family obsolete. In a film stacked with magnificent performances, from Al Pacino as Michael, the squeaky-clean war hero who eventually fills his father's shoes, to Sterling Hayden as the monstrously corrupt police captain McCluskey, Brando dominates the whole film with his presence. 
The bulk of his relatively short screen time comes in the extended wedding sequence at the beginning of the film, where the Don receives requests for dubious favors in his shady office while outside in the bright sunshine his daughter is celebrating her marriage. It is during this sequence Brando delivers his most famous line, "I'm gonna make him an offer he can't refuse." But his charisma is so strong in these shadowy opening moments that he doesn't need to say anything at all to stamp his true greatness on the picture.
There Was Still Room For A Little Controversy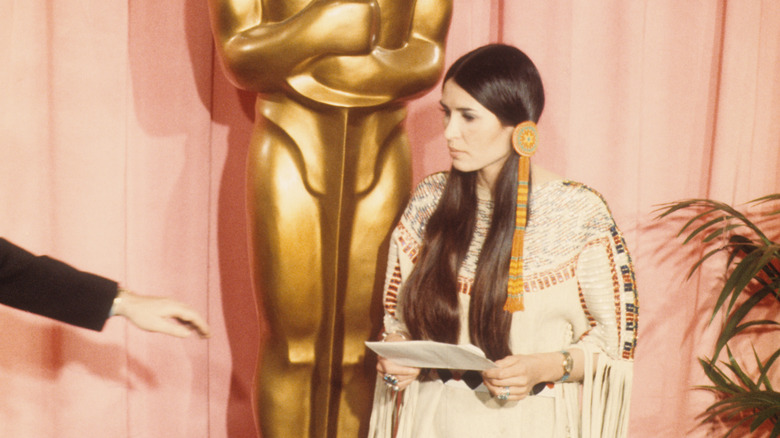 If Brando was uncharacteristically well-behaved while filming "The Godfather," there was still time to rattle a few cages when it came to his Oscar win for Best Actor at the 45th Academy Awards. Ironically, he won the Award over Laurence Olivier, who was also nominated for his role in "Sleuth." When Brando initially rejected the idea of playing the Don, his secretary Alice Marchak pricked his sense of professional pride by indicating the great British thesp was also in the running for the part (via Vanity Fair).
When the winner of the award was announced, Brando wasn't in the building; he was boycotting the ceremony and sent Native American actor Sacheen Littlefeather to reject it on his behalf. Roger Moore, co-presenting the award with Liv Ullmann, looked perplexed as Littlefeather waved away the gold statuette and nervously delivered a snippet of a lengthy speech from Brando explaining the reason why he must "regretfully" reject the prize, citing his protest against Hollywood's portrayal of Native Americans (via History).
In a moment of intense awkwardness, there were audible boos from certain sections of the audience before other attendees snapped to attention and drowned them out with a stunned round of applause. Reportedly, John Wayne angrily confronted Littlefeather back stage and needed restraining by six men (via The Focus).
The controversy did little to detract from the greatness of Brando's achievement, but the incident contributes another wild and crazy story to legacy of the eccentric genius who didn't even want the part in the first place.
Read this next: The 14 Best Noir Movies Ranked
The post Not Even Marlon Brando Thought He Was Right For His Godfather Role appeared first on /Film.
---
Share this post
---
---