IOGear Travel Pro USB-C Mini Dock review
Posted by admin on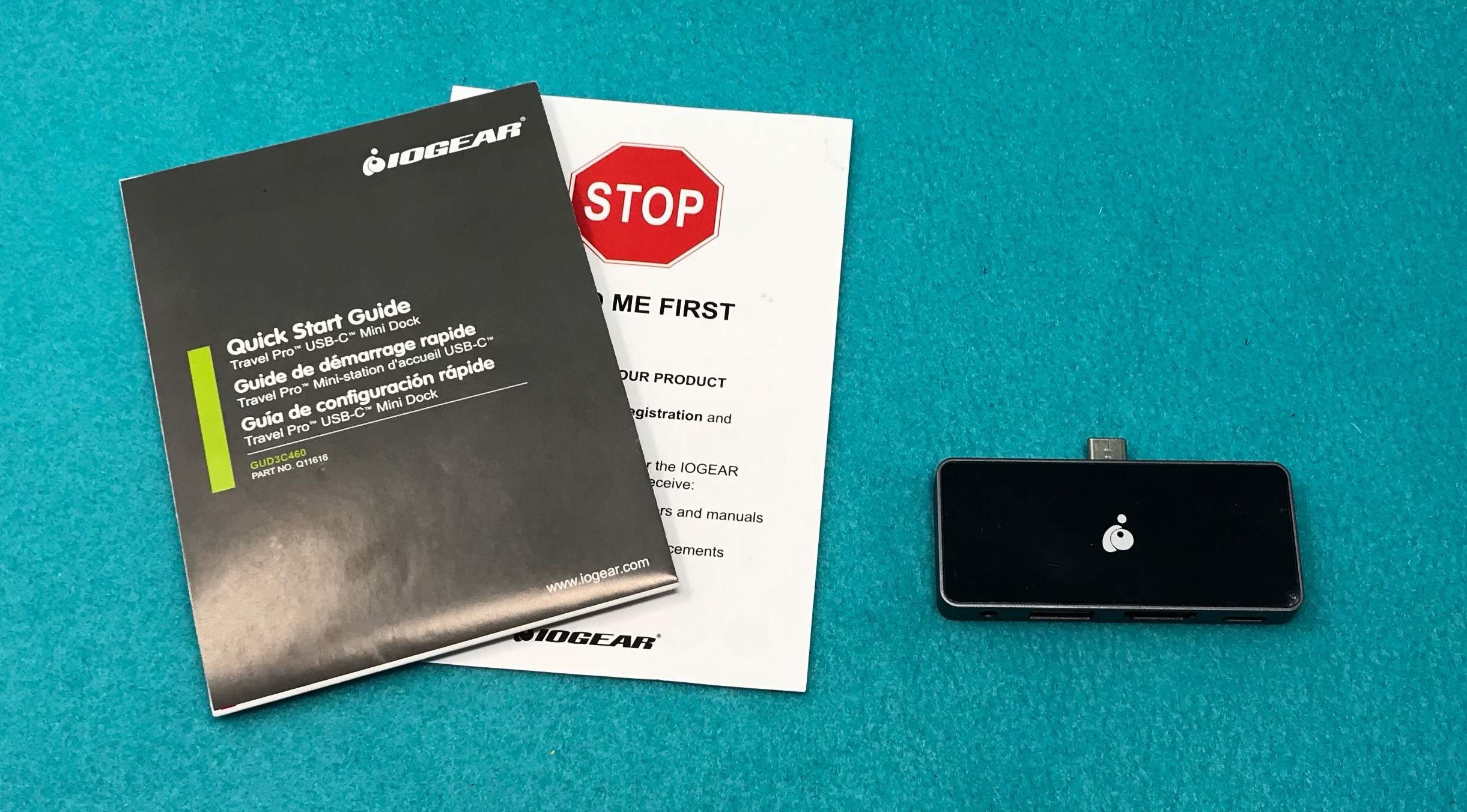 REVIEW – Adding ports for a laptop or tablet that needs more connectivity options is part of Gadgeteer life. There's even a name for it: DongleTown. Many newer laptops and tablets have USB-C ports (maybe exclusively), but you have an entire collection of things that predate this plug, but need to use them. You can carry a bag full of adapters, or you can invest in a travel USB-C adapter. IOGear recently sent us their Travel Pro USB-C Mini Dock, and I have found it to be an express ticket out of DongleTown. Let's take a closer look.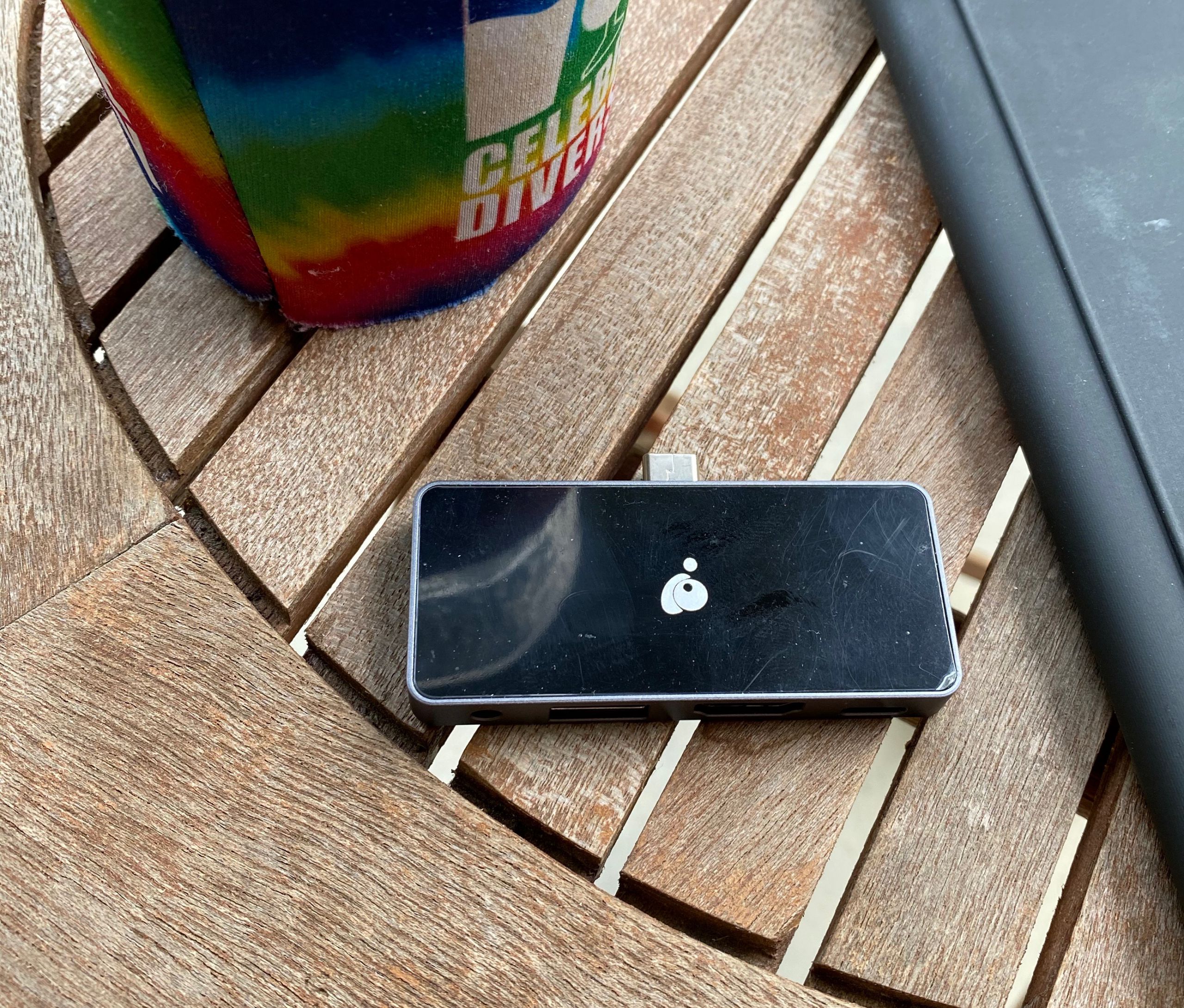 What is it?
An unpowered USB-C hub that has ports for USB-A, HDMI, sound, and USB-C power pass-through.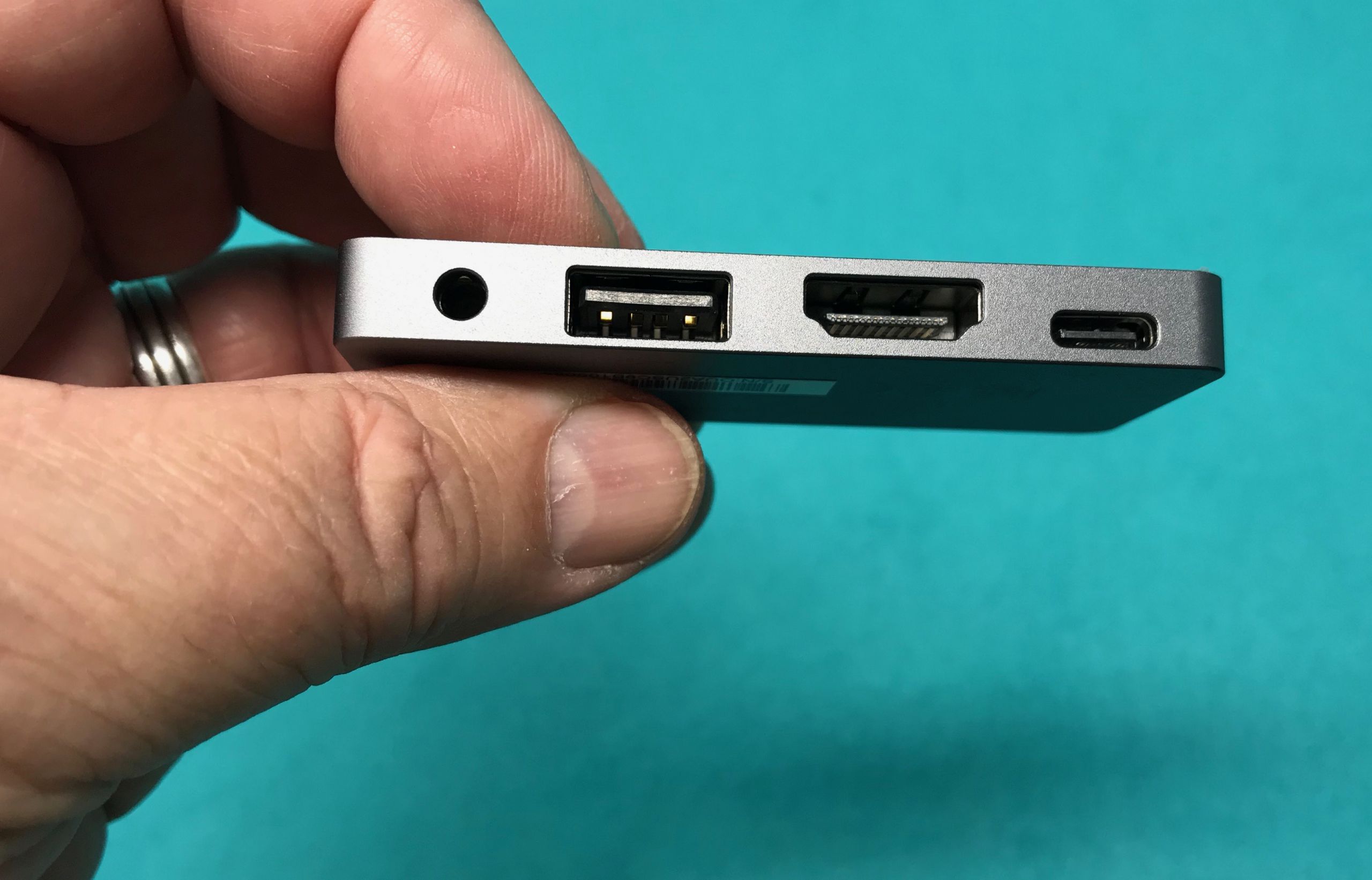 What's in the box?
Travel Pro USB-C Mini Dock
Quick Start Guide
Warranty Card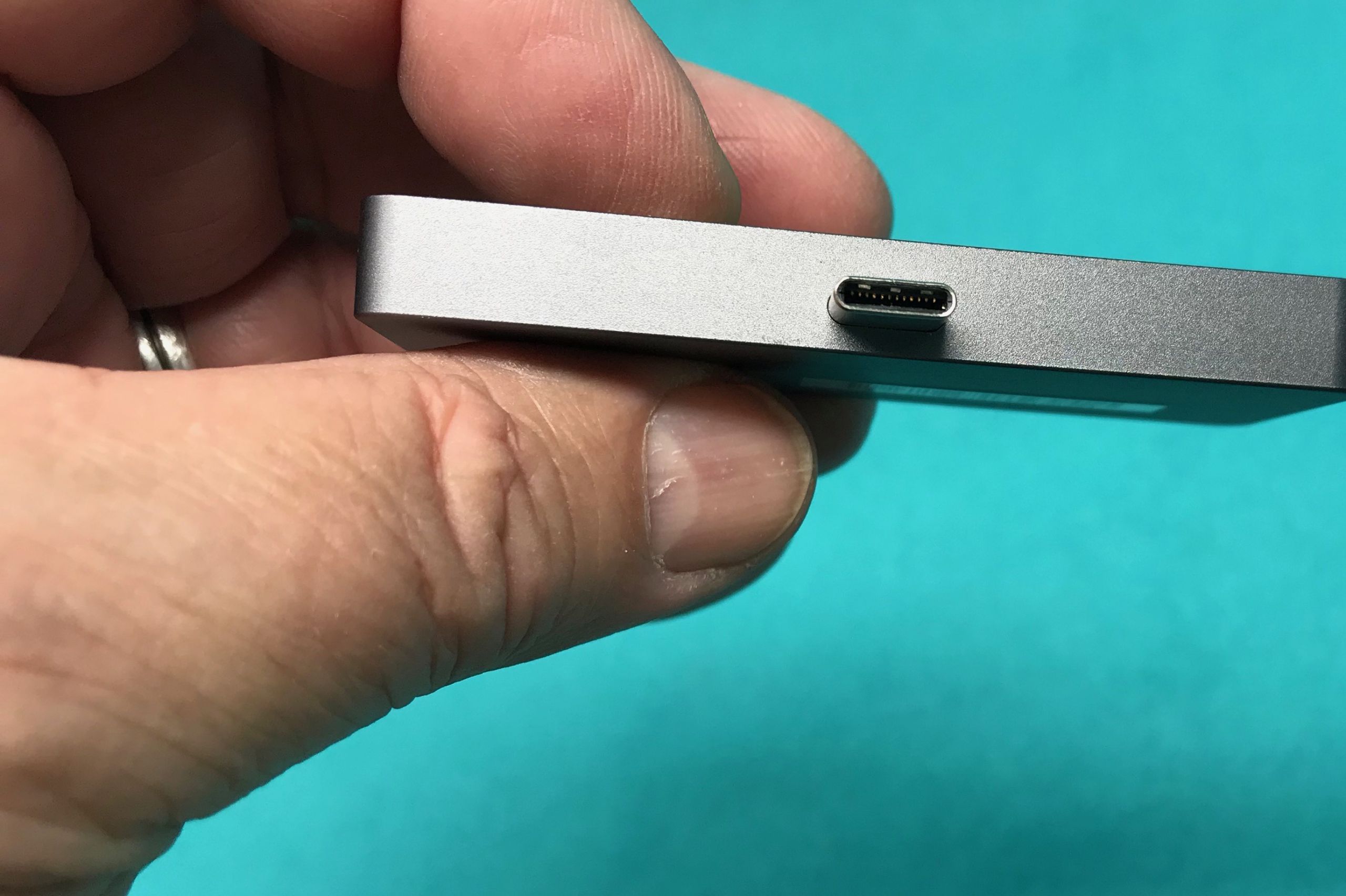 Hardware specs
Video Output HDMI Up to 4K @ 60hz
Audio Output 1x Mic/Audio Combo
USB-A 1x USB 2.0
Downstream USB-C Port (Charging only Up to 60W)
Height 1.22″
Depth 0.31″
Length 2.8″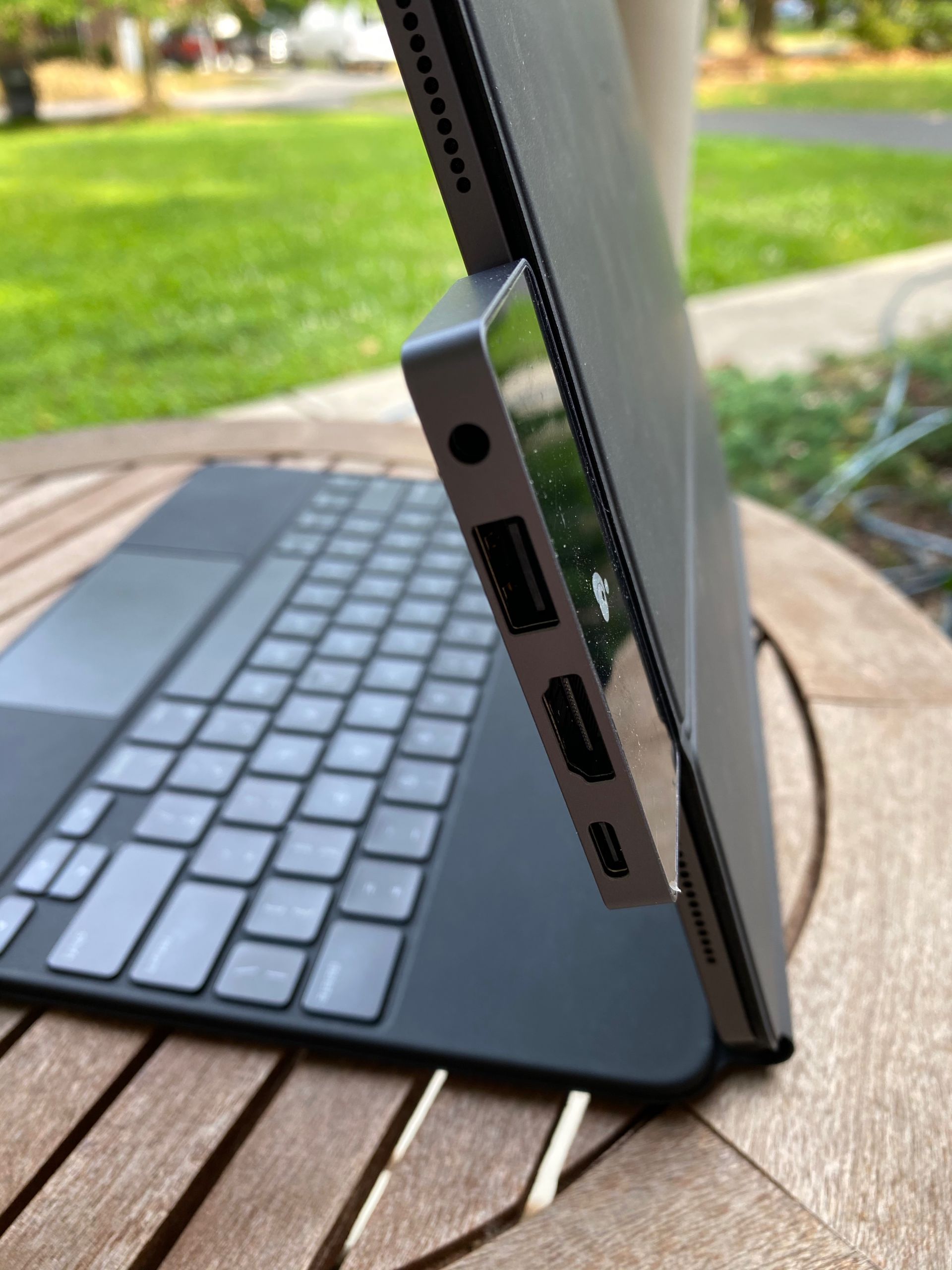 Design and features
The design of the Travel Pro mini hub is simple. The unit is 2.8″ x 1.22″ x .31″. There's a USB-C plug centered on one long edge of it and four ports spaced out along the opposite edge. That's it. The size belies it's weight at 1.25 ounces (36 grams). The sides are flat right angles to the top and bottom, with rounded corners all 'round.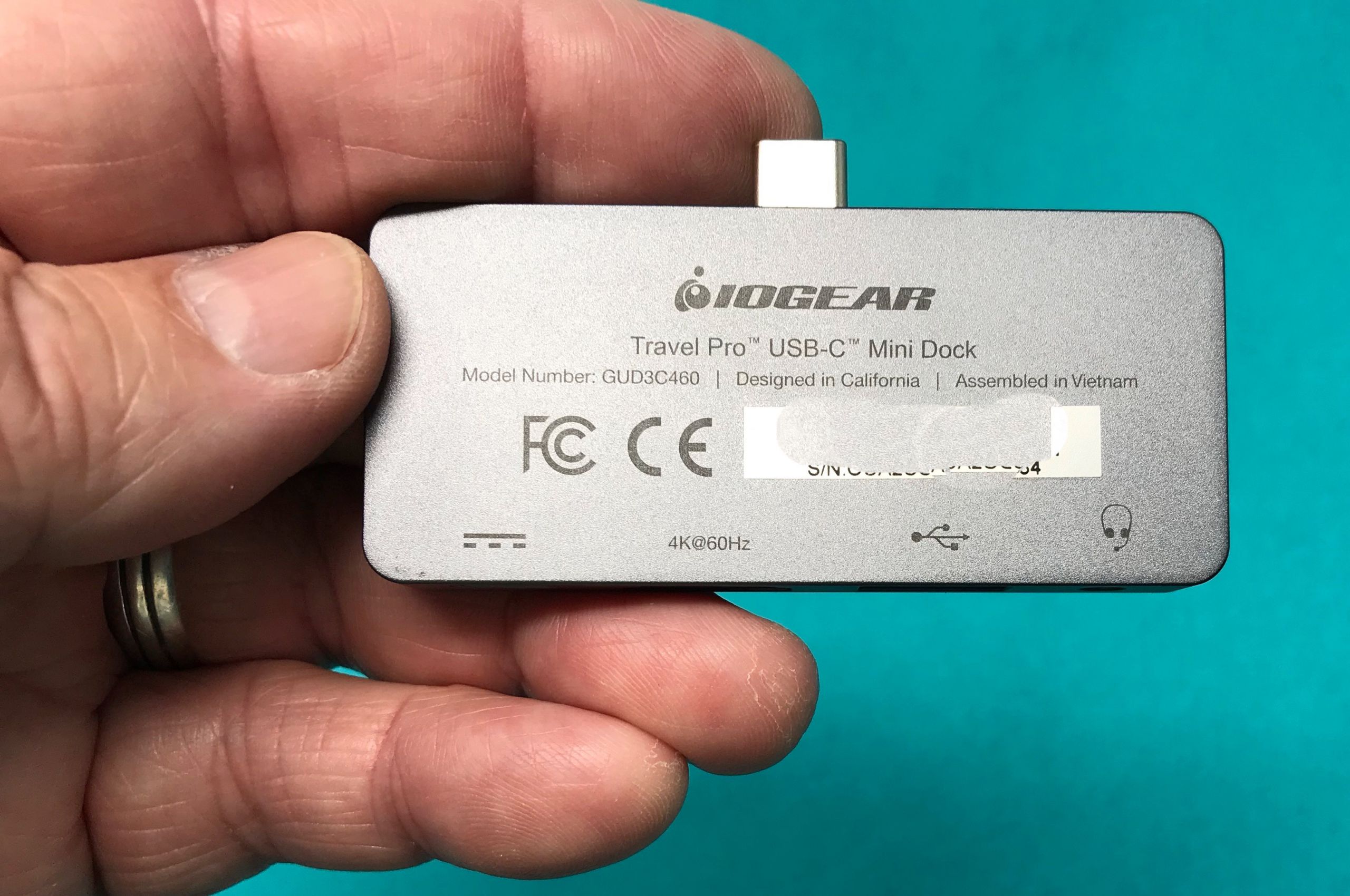 With the plug centered, this is going to block other ports on devices with multiple ports on one side unless there is more than 1.25″ between the two ports. By having the pass-through power and video out ports, in addition to a USB port that can handle external media or input devices, you probably won't miss that second USB-C port. (If you're someone who regularly needs many more ports than these, IO Gear makes larger docking stations for those who want to wring all the power from their devices with add-ones, especially those that have two adjacent ports. This one, however, is for travel.)
Features
Ultra-portability packed with functional feature set
Charge your USB-C device (laptop) with up to 60W PD pass-through
Supports video resolutions up to 4K @60Hz via dock's HDMI® port
Single USB-A port supports a flash drive or other device
A 3.5mm jack connects a wired headphones or headset
Capable of simultaneous charging and A/V output.
Universal design allows connection to any USB-C device
Compatible with iPad Pro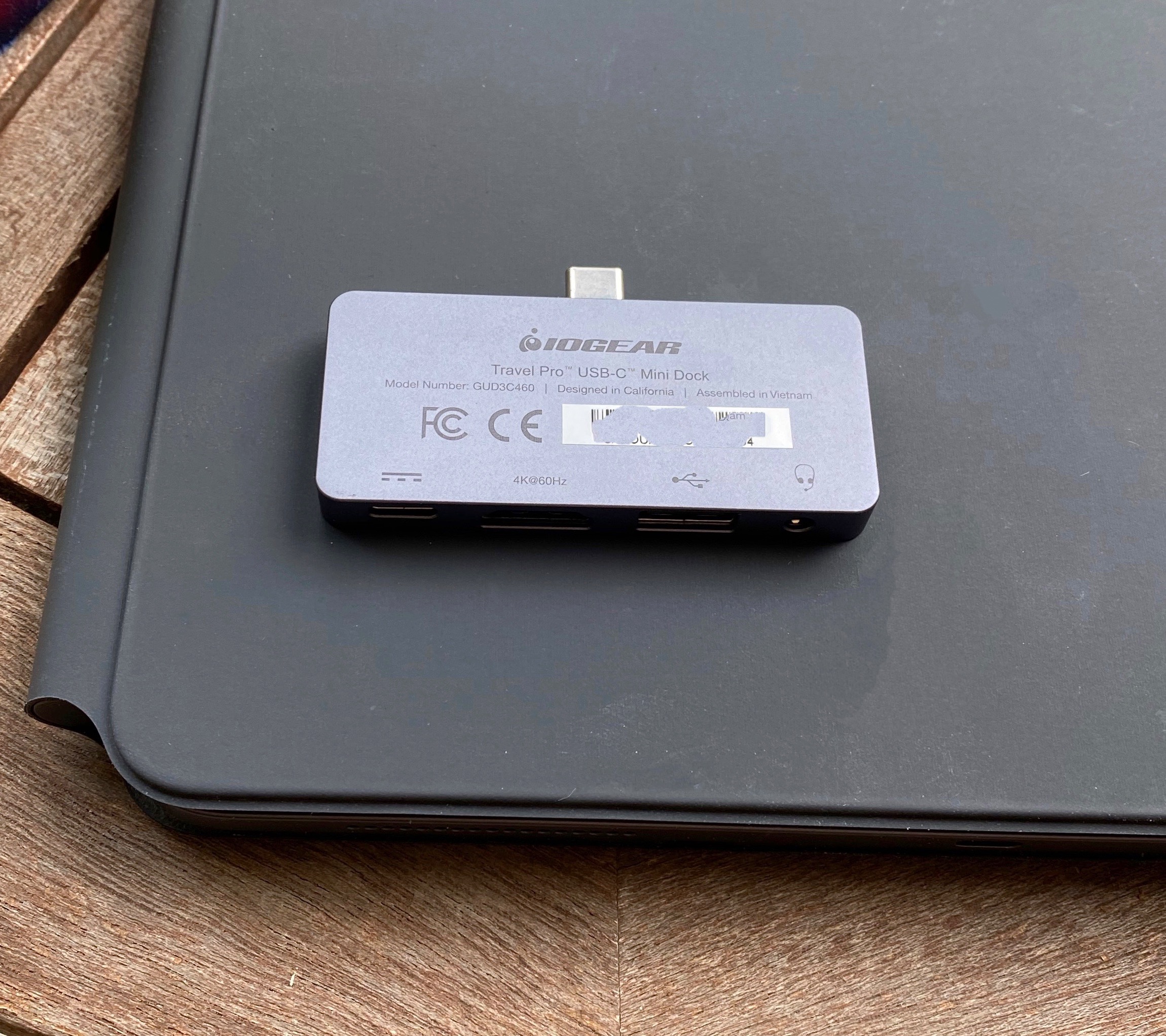 Performance
I tested the Travel Pro on a new 12.9" iPad Pro 2020 with an HP monitor that is usually connected to my Mac mini through HDMI. It works as expected, although I'll like it more when iPad OS finally allows us to use external monitors to extend, rather than just mirroring. I found the AUX connection a bit temperamental. I was using a set of wired Apple Earbuds, and had to really jam them into the port to make the sound not play through the iPad speakers. Also, the inline volume control and play/pause control doesn't work on the iPad. Also, if I happened to plug into an HDMI display while using earbuds, the sound was routed to the display system, and there was no obvious way to get it back to the other port.
What I like
Small, but has several popular ports
Unpowered operation means fast deployment
Driverless operation, no configuration
What I'd change
HDMI forces audio through display, rather than using Audio port
Audio port doesn't respond to inline controls
Final thoughts
The world is moving forward to USB-C. Finally. I've been frustrated by every USB device I've ever used for a single reason: I almost always try to plug it in upside down. Since I've started using USB-C, obviously, this hasn't happened once. Being a longtime Lightning cable user, I have long ago appreciated the benefits of the no-orientation-difficulties lifestyle. This is the first dock/port extender I've used with my new iPad Pro, so I've been really pleased that it is just as magic-feeling as the hype promises. Sound issues notwithstanding, having a single unit that provides larger display and USB, as well as allowing charging, is pretty nice in such a small, inexpensive device.
The IO Gear Travel Pro mini dock is a solid little hub that will quickly earn a place in the bag of anyone who travels and presents. Being able to quickly add an HDMI, AUX, or USB port to your phone, tablet, or laptop is huge when you're needing to set up in a new place, or even just showing your vacation shots to family on your TV.
Price: $39.99
Where to buy: iogear.com webstore and Amazon
Source: The sample of this product was provided by IO Gear.
Filed in categories: Reviews
Tagged: Dock
IOGear Travel Pro USB-C Mini Dock review originally appeared on The Gadgeteer on July 18, 2020 at 9:45 am.
Note: If you are subscribed to this feed through FeedBurner, please switch to our native feed URL http://the-gadgeteer.com/feed/ in order to ensure continuous delivery.
---
Share this post
---
---