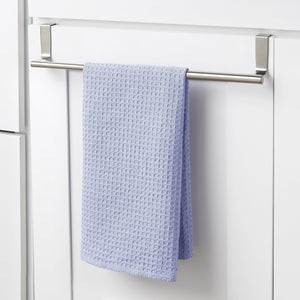 YouCopia Over the Cabinet Door Expandable Towel Bar, Stainless Steel
Brand: YouCopia
Features:
Over-the-cabinet Towel Bar keeps kitchen towels at your fingertips; expands from 9" to 16-3/8" wide
Non-slip padding fits securely and protects cabinets; great for kitchen, bath and laundry rooms
Designed to fit over standard cabinet doors or drawers that measure 3/4" thick
No installation required; Measures 9.1-16.4" W x 2.5" D x 2.8" H (23,1-41,6 x 6,4 x 7,0 cm); Hook opening is 0.8" to fit 3/4" cabinet doors
Made from rust-resistant stainless steel; Wipe clean with a damp cloth; Imported
Publisher: YouCopia
Details: Today's small spaces need simple solutions. Nothing is easier than over-the-door organizers; just place, hang and use. This Over-the-Cabinet Expandable Towel Bar keeps kitchen, bath and laundry towels at your fingertips. All hooks are designed to fit securely on standard cabinet doors with soft, non-slip padding for added protection. No mounting or installation needed.
UPC: 899869002276
EAN: 899869002276
Package Dimensions: 9.3 x 5.5 x 1.3 inches