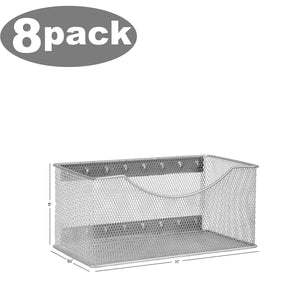 Ybmhome Wire Mesh Magnetic Storage Basket, Trash Caddy, Container, Desk Tray, Office Supply Organizer Silver for Refrigerator/Microwave Oven or Magnetic Surface in Kitchen or Office (8, Large)
Brand: YBM HOME
Color: Silver
Features:
DECLUTTER YOUR HOME OR OFFICE: Magnetic wire mesh storage basket to keep your office or school areas clutter-free.
FEATURES MAGNETIC BACKING: Features 16 magnets on a strip allowing for optimal vertical storage, it allows it to be attached to a magnetic surface such as whiteboards refrigerators, microwaves or office desks, file cabinets or any magnetic surface in your home office or school. Magnets allow easy mounting to refrigerators, metal desks, or any flat ferritic surface in the home, office, or workshop.
MULTI PURPOSE MAGNETIC BASKET: Perfect for holding whiteboard accessories like dry erase markers or pens, could be used a trash caddy or office supply organizer on your office desk, for your coffee or teabags in your kitchen area, useful for holding spices or receipts, coupons pens, markers, tape or other small items in the kitchen, or in the office.
KEEPS THINGS ORGANIZED AND AT YOUR FINGER TIPS: Ideal for fridges, file cabinets and other metal surfaces, keeps things organized and at your finger tips, great for the little reminders in your life, these are great for garages, kitchens, or any other room in need of organizing. Large capacity mesh basket will hold office essentials (bills, letters, pens, pencils, keys, notes) and kitchen must (seasoning pot, condiment jar, and etc.) or whatever you want, Modern addition to any work space.
APPROXIMATE DIMENSIONS:11 in. L x 5.5 in. W x 5 in. H
Publisher: Ybmhome
Details:
KEEPING TRACK OF YOUR OFFICE OR COLLEGIATE ACCESSORIES IS EASY WITH THIS HANDY MAGNETIC BASKET.
These baskets are attachable to any magnetic surfaces.
This makes it perfect for holding whiteboard accessories such as markers and erasers.
You can also use this basket on a desktop for school or work supplies or attach to a magnetic fridge and store just about anything like coffee tea.
Straighten up your workplace or home with this handy wire mesh basket.
THESE ARE GREAT FOR GARAGES, KITCHENS, OR ANY OTHER ROOM IN NEED OF ORGANIZING.
Useful for both kitchen and office, this magnetic mesh storage basket brings convenient organization and a touch of quirky steam-era style to desks and refrigerators alike.
This magnetic bin is ideal for keeping frequently needed herbs and spices at hand in the kitchen, or for holding pens, pencils, notepads, markers, or tape at a workstation in the office.
Also a convenient way to keep cards, coupons, receipts, or other small items organized, you could also put it onto your desk and use it as a small trash caddy.
This uniquely styled basket is sure to prove useful at home or work.
SAVE SPACE AND ORGANIZE QUICKLY WITH THE SILVER MESH MAGNETIC STORAGE BASKET BY YBMHOME.
Large capacity mesh basket will hold bills, letters, pens, pencils, whatever you want!
The large magnet on back is powerful and will not slip or slide.
Magnetic storage basket is perfect for filing cabinets, magnet boards, stoves or refrigerators.
Try one today!
You won't be disappointed at the many ways you can organize with this magnetic storage basket.
Package Dimensions: 22.5 x 11.7 x 11.3 inches