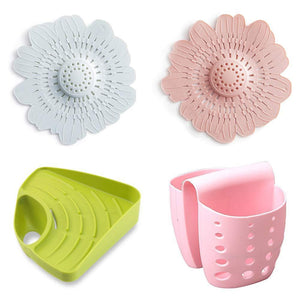 Tongzone Grocery House Sponge Sink Holder, Kitchen Bathroom Sink Strainer Drain Cover,Kitchen Soap and Sponge Holder for Cleaning Brush
Brand: Tongzone
Color: 4 Pack
Features:
Silicone Gel Kitchen&Bathroom Sink Strainers ✿5.9inch in diameter/Pack of 4✿ Great Shower Cover for preventing hair blocking,used in shower below washstand and bathtub drain. Dense holes design effectively catching hair without blocking water drainage. Also good for kitchen ,prevent kitchen drain or sink from clogging, catch vegetables, residue, offal, and others that might cause drain blocking.
Kitchen Decent Caddy&soap Dish and Sponge Holder✿Great for kitchen and bathroom: Keeps sponges, scrubbers, scouring pad, drain stopper and steel wire brush clean, dry, and contained.Durable & Wear resistance: Made from premium PP plastic, long lifetime of use.
Kitchen Gadget Storage Organizer&Faucet Sponge Sink Holder✿Made of high quality PVC material. Saddled design: easy to hang, mount and dismount. Draining hole: quick draining and keep item dry, not easy to breed bacteria. Store your cutlery and kitchen gadgets, or even bathroom toiletries and makeup in one place. Soft toughness, easy to clean.
Suction Cups ✿Suction cups provide strong attachment, no shifting or moving, suitable for surfaces smooth, no cracks, no bump and no decorative pattern.Tips:Rinse the entire cups under warm water then shake off excess water,then press it onto the surface.
One More Choice✿2*Sink Drain Covers+1*Kitchen Triangle Caddy+1*Faucet Sponge Sink.
Publisher: Tongzone
Details: Grocery House Sponge Sink Holder, Kitchen Bathroom Sink Strainer Drain Cover

      Features:

Great for kitchen and bathroom: Keeps sponges, scrubbers, scouring pad, drain stopper and steel wire brush clean, dry, and contained.
With a strong suction sucker to keep the caddy fixed , no more mess.
Durable & Wear resistance: Made from premium PP plastic, long lifetime of use.
Hollow Design and also with 2 hole in the bottom to facilitate fast drainage and keep dry.
Space Sving: Stay on the counter top alongside the sink, free up the sink space and don't block the sink at all
UPC: 797588187024
EAN: 797588187024