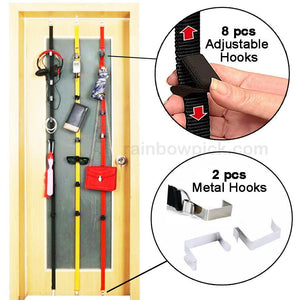 Smart Purse Rack Removable Purse Organizer
ORGANISE YOUR HANDBAGS EASILY

!
Let's face it. Having a lot of handbags is a good problem to have, but with it brings a need for organization. This Smart Purse Rack is an inexpensive handbag organizer designed to sit on the back side of your closet door. This is a handy area to get to and grab the appropriate handbag that matches your outfit. This can easily fit over the closet door or can be mounted on the wall, and are also great for organizing scarves, belts and hats.
WELL ORGANIZED:

The

Smart Purse Rack

is perfect for storing all your handbags, bags, purses, hats and scarfs. Find your belts, bags and hats where they belong and enjoy your new closet organizer system.

SPACE SAVING:

Clutter-free closet. What a concept. Use the handbag hanger when needed it is the perfect closet organizer for your purse. The hanging closet organizer takes up little space and can be left on the door without taking up too much space or remove it as needed.

EASY TO USE:

No assembly, the over the door organizer comes with hooks and attaches easily. Your closet organization can start immediately.

MORE ABOUT:

The purse storage straps have 8 hooks each and are adjustable to accommodate larger bags and holds up to 8 LBS bags. Door organizers generally can be bulky but the 

Smart Purse Rack

 

is best to keep your closets spacious and comfortable to move in. Excellent for small closets as well.

Package: 

1 * Belt + 8 plastic hooks + 2 Metal hooks
Color: Black
Length:

190cm/74.8'' (Approx.) (adjustable)