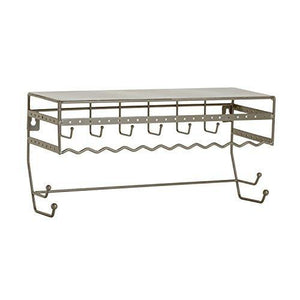 Simplify 2700-SAT Satin 13.5" Wall Mount Jewelry Storage Rack Organizer Shelf for Earrings, Bracelets, Necklaces, and Hair Accessories
Brand: Simplify
Color: Satin
Features:
Keeps your jewelry and hair accessories organized and tangle-free.
Attractive wall-mounted design showcases your jewelry and makes everything easy to find.
Top of organizer acts as an extra shelf for cosmetics or other accessories.
All steel construction with a durable powder coating.
Easy to install. Includes template and all mounting hardware needed.
Publisher: Kennedy International
Details: Satin 13.5" Wall Mount Jewelry & Accessory Storage Rack Organizer Shelf for Earrings, Bracelets, Necklaces, & Hair Accessories
UPC: 633125300412
EAN: 633125300412
Package Dimensions: 14.9 x 7.6 x 6.5 inches