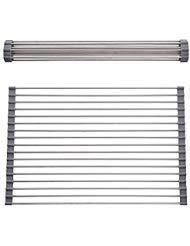 Roll Up Dish Drying Rack Stainless Steel Over the Sink Heat Resistant Foldable Space Saving Multipurpose Kitchen Drainer Versatile
Brand: BRAND CENTER
Color: Silver
Features:
Large size:20.27 x 13 Inches - 51.5x33cm Dish Drying Rack. Wide and spacious drying rack can hold dishes, utensils, pots, pans, bowls and other kitchenware so you can let them air-dry on your sink basin after washing. To make sure that it will fit your kitchen sink properly, please measure your sink before purchasing.
The quality is great.Made of tough stainless steel with non-slip silicone grips on the ends, solid and sturdy, resist to constant use and rust. It is very sturdy. you can placed several pots, pans, and dishes on this. The rack does not bend or move out of place. It easily rolls up and can be stored away conveniently, which does not require much space!
The classic stainless steel and gray silicone edges.it's the coolest. Heavy, durable, shockingly attractive, and rolls up to nothing for storage. Warm gray color is gorgeous and matches anywhere in your house.
When you use a dishwasher, you were very frustrated when you washed delicate glasses, knives, and large pans by hand and had no where to drain them which always got wet despite the use of a dish towel.it helps you, It works perfectly, stays solidly in place on your double-sided sink, and allows your items to dry in half the time. It also frees up counter space. It's rubberized and can be easily washed, dried, rolled up, and stored in a minimum amount of space
100% Satisfaction Guaranteed:Your satisfaction is our top priority. If you experience any quality issues with our product, simply let us know and enjoy a full refund or a replaceme
Details:
Specifications:
-Material: Stainless Steel, Silicone 
-Color: Warm Gray
-Size: 51.5x33cm-20.27x13in
-Package includes: 1 x Drying Rack
-Main Usage: Drying rack, countertop, insulation mat
Features:
-Made from rust resistant stainless steel with non-slip silicone coated edges to prevent sliding. !
-Easy to roll up to save space and storage:If you're looking for a way to save counter space in your kitchen, then this roll up drying rack is your answer! -Easy to use:After use, just scrub and wipe it clean and then roll it up so you can tuck it in your cupboard.Multi-function:
-Wide and spacious and can hold dishes, utensils, bowls, pots, pans, bottles and other kitchenware to air-dry after washing.
-Can also be used as colander for fruits and vegetables, as a cooling rack for pots and baked pastries as well as a defrosting rack for meat and fish.
-Can also be used as sink drying rack
EAN: 4895186602409
Package Dimensions: 20.9 x 3.8 x 1.3 inches