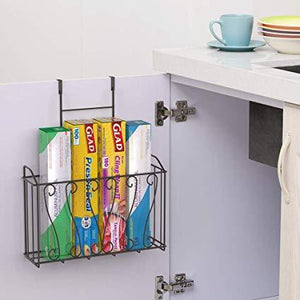 NEX Over The Cabinet Door Organizer Cabinet Storage Basket for Cutting Board, Aluminum Foil, Cleaning Supplies, Brown (NX-KD01-21S)
The NEX over the cabinet door organizer basket is the perfect kitchen accessory to help save you cabinet space or counter top space. It is ideal to hold cutting boards, aluminum foil, plastic food wrap, cookie sheets, cleaning products, and even smaller cookware. This NEX cabinet storage organizer can either be hung with the bracket hooks to a cabinet door to hang on the inside, or you can not use the bracket hooks and mount the basket on a door or wall. The cabinet basket organizer is made of high quality steel frame with a brown chrome finish making it very sturdy and durable to able to last long. Keep your kitchen cabinets clean and organized with this storage basket so that you can easily access your kitchen accessories and amenities.
• [Measurements]- Basket Dimension (Wall-mounted): 13'' L x 9.4'' H x 3.8'' D; Over the Door Height: 17.9 inches. Large enough to hold common kitchen or bathroom items while compact enough to fit in any standard size cabinet.
• [Sturdy and Durable]- Steel frame in chrome finish is sturdy and durable to store even 4 to 5 regular cutting boards. 0.08'' (2mm) ultra thin hook is thin enough to fit your cabinet door.
• [Easy to Assemble]- Comes with screws and an allen key. You can assemble according to your different needs, such as over-the-cabinet, inside cabinet door-mounted or wall-mounted.
• [Multi-Use Space Saver]- Storage organizer for cutting boards, aluminum foils, plastic food wraps, cleaning products, cookie sheets, or other smaller cookware; or bathroom supplies in the bathroom.

Specification:
Item Dimensions: 13'' L x 9.4'' H x 3.8'' D (mounted), 13'' L x 17.9'' H x 3.8'' D (hanging over door)
Weight: 1.7 lbs
Color: Brown

Package Content:
1 x cabinet storage basket
1 x hanging bracket
1 x allen key
Screws