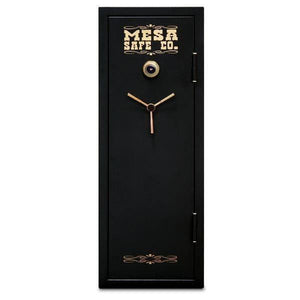 Mesa MBF5922C Gun & Rifle Safe
$1.34900

$1.349,00

Save $851
---
---
Mesa MBF5922C Gun and Rifle Safe
The Mesa MBF5922C Gun & Rifle Safe is a 60 Minute Fire Gun Safe that helps protect your weapons and other valuables combining all the security features of a burglar safe and the peace of mind of a fire safe. This safe is constructed of all-steel and is specially designed for those who love to hunt, collect firearms as a hobby and to keep your firearms locked up and secured. Keep your weapons such as rifles, handguns, shotguns, knives, ammunition and other types of weapons securely locked up and prevent any accidents from unauthorized users such as children and others who don't know how to operate a firearm.  This safe will not only keep your guns organized but it will prevent burglary and help to protect your firearms from the hazards of a fire as well.  It's smaller width is perfect for keeping the safe hidden from view within a closet.  
With a lifetime warranty, this is a fantastic gun safe for the price.  There are tons of features on the very impressive Mesa MBF5922C Gun and Rifle Safe which include a 14 gun capacity along with a one hour rated fire safe tested at 1750 degrees - interior temperature did not exceed 350 degrees F and a dual layer firewall interior.  The door is 7 gauge, with an additional 11 gauge steel plate covering the lock and handle area. The body of this all steel safe is 12 gauge and the interior outlet stip includes 3 Electrical Sockets & 2 USB Ports. Power source cord included.  There are four recessed anchor bolt holes used to securely anchor the safe. (anchors not included). The interior shelves, walls and door panel are fully upholstered and it includes high strength adjustable and removable shelves.
The Mesa MBF5922C Gun and Rifle Safe is an ideal choice for gun owners or consumers concerned with securing long guns and rifles as well as having the benefit of protection from fire.  This safe's enhanced security features, extended fire protection and classic design make it an excellent value.
Features:
Door is 7 gauge, with an additional 11 gauge steel plate covering the lock and handle area

High Strength Unitized 12 Gauge Body

One hour rated fire safe tested at 1750 degrees - interior temperature did not exceed 350 degrees F

Interior outlet strip includes 3 Electrical Sockets & 2 USB Ports. Power source cord included

Pocket door organizer standard

Dual layer firewall interior
Seven Massive 1.5 " brass plated solid steel "live" locking bolts
Five 1.5 " dead bolt prevents door removal during a forced entry attempt
Total of (12) 1.5" locking bolts including top and bottom bolts. 1 ea. live bolt on top and 1 ea. live bolt on bottom
Lock is protected by a heavy duty 3/16" drill resistant hard plate
Internal re-locking device provides a secondary line of defense
All Steel Construction
Decorative tri-spoke handle
Four recessed anchor bolt holes used to securely anchor the safe. ANCHORS ARE NOT INCLUDED.
Interior shelves, walls and door panel fully upholstered
High strength adjustable or removable shelves
14 Guns Capacity