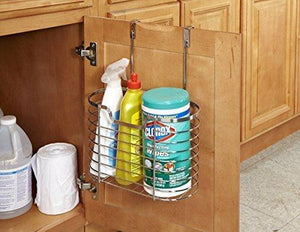 Kitchen Details Kitchen Cabinet Door Hanging Organizer Basket, Holds Bottles, Sponges, Cleaning Products, 1 Tier Large Chrome
Brand: Kitchen Details
Color: Chrome
Features:
Maximizes cabinet space
Iron wire construction
No tools needed for mounting, Fits over cabinet doors
Great for storing spices, cooking accessories and supplies
Maximizes storage space
Publisher: Kennedy International Inc.
Details: Maximize you storage space with this Kitchen Details over the cabinet storage organizer. Perfect for holding spices, cooking accessories or supplies. Keeps your cabinets neat and organized by simplify hooking the organizer over your cabinet. No need to drill holes or hire a professional, no tools are required. The iron wire construction gives this item a sleek look to fit any kitchen decor.
UPC: 633125112428
EAN: 633125112428
Package Dimensions: 13.6 x 11.4 x 9.4 inches