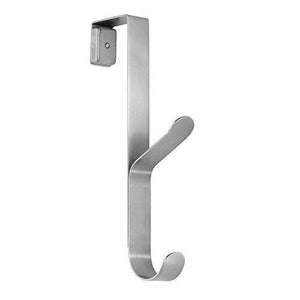 InterDesign Forma Over Door Organizer Hook for Coats, Hats, Robes, Clothes or Towels – 1 Dual Hook, Brushed Stainless Steel
Brand: InterDesign
Color: Steel
Features:
EXTRA STORAGE: Ideal for adding hanging storage space in bedrooms, bathrooms, closets and hallways.
HOME ORGANIZER: Unclutter compact spaces - ideal hanger for clothes, towels, purses, coats and more.
COMPACT SOLUTION: Single brushed stainless steel hook with 2 hangers, measures 1" x 4.8" x 9.6".
EASY HANGING: No tools or hardware - storage hook fits over interior doors up to 1.5" thick.
THE INTERDESIGN PROMISE: Still designing innovative affordable products that look great wherever you put them - over 40 years later.
Publisher: InterDesign
Warranty: 90-day limited.
Details: This simple and contemporary hook hangs over standard interior doors measuring up to 1

5" thick, and requires no tools or hardware – just hang over the door and enjoy additional hanging storage space

Carefully designed to keep your doors opening and closing smoothly, the heavy duty hook has hanger space at both the top and bottom, so it is great for storing coats, bags, towels, clothes, robes and more

The modern finish ensures the hook blends in with any décor, and the simple design is the perfect organizer for increasing storage in compact bathrooms, shower rooms, bedrooms, hallways and closets

InterDesign's creative products enhance your décor, turning simple home solutions into must-have accessories that shine

Designed in the USA, we are proud to produce a wide selection of high quality home, bath and storage solutions that excite, inspire and charm

Stylish, functional and affordable, our products have been enriching customers' homes for over 40 years

InterDesign: innovative products, exceptional value


UPC: 798527086101
EAN: 0799916370900
Package Dimensions: 9.7 x 5.0 x 1.3 inches