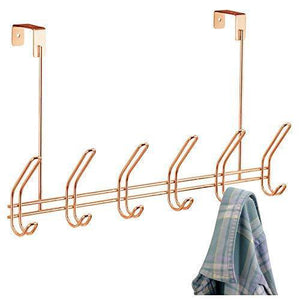 InterDesign Classico Over Door Storage Rack - Organizer Hooks for Coats, Hats, Robes, Clothes or Towels – 6 Dual Hooks, Copper
Brand: InterDesign
Color: Copper
Features:
WARM & BRIGHT: Decorative copper finish steel organizer rack - create additional storage.
DOUBLE DESIGN: Rack features 6 dual wire hooks - perfect for coats, hats, clothes, towels and more.
INSTALL IN SECONDS: Over door storage rack - no tools or hardware. Utilize unused hanging space.
STURDY STORAGE: Organizer rack measures 3.75" x 18.75" x 11", fits interior doors up to 1.5" thick.
THE INTERDESIGN PROMISE: Still designing innovative affordable products that look great wherever you put them - over 40 years later.
Publisher: InterDesign, Inc
Details: This simple over door organizer rack is the quick and easy way to create extra hanging storage in kitchens, hallways, garages, bathrooms and bedroom closets

Installing in seconds without tools, drills or hardware, the wire storage rack's 6 dual hanger hooks hang over any standard interior door measuring up to 1

5" thick

The door will even open and close normally thanks to the slimline top brackets, while the organizer rack provides secure, reliable hanging storage in the unused space behind the door

Ideal for keeping towels within easy reach while drying near the shower, it is also perfect for storing coats, hats and dog leashes in the hallway or hanging clothes and accessories in the bedroom

The generous 12 hanger capacity of this heavy duty steel organizer rack makes it an efficient storage solution for any modern home

InterDesign's creative products enhance your décor, turning simple home solutions into must-have accessories that shine

Designed in the USA, we are proud to produce a wide selection of high quality home, bath and storage solutions that excite, inspire and charm

Stylish, functional and affordable, our products have been enriching customers' homes for over 40 years

InterDesign: innovative products, exceptional value


UPC: 081492440192
EAN: 0081492440192
Package Dimensions: 18.8 x 11.3 x 3.1 inches