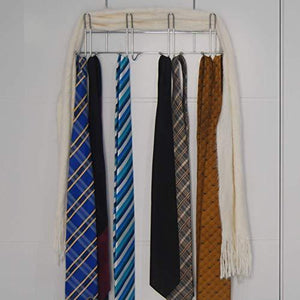 Catenus Strong Heavy Duty Chrome Plated Over The Door Hook Hanger with an Optional Removable Extension Hook for Extra Length - Hang Your Towels, Clothes, Coats, Hats and Bags at 3 Heights
STRONG - The heavy duty design has 4 evenly spaced hooks, each with 3 separate hanging options, that can support up to 15 pounds without any sagging or bending. This over the door organizer is sturdy and built to last.
ADJUSTABLE - You can't change the height of your door but the removable extension hook allows you to hang items at 3 different heights, one EXTRA LONG, so everyone can reach. Great for kids or the vertically challenged members of the house that need the hooks extended for easy reach.
PRACTICAL - No screws or tools required!! Take the hanger straight from the bag, hang it over your door and use it immediately. The hooks can then be extended by placing an extension hook over one of the top hooks.
VERSATILE - Use it for organizing and storing clothes, towels, robes, coats, jackets, hats, purses, bags, backpacks, ties, belts, scarves, the uses are endless. And the chrome plating allows you to use it in the bathroom or laundry without the concern of it rusting.