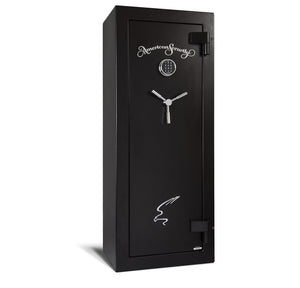 AMSEC TF5924E5 Rifle & Gun Safe
$1.20500

$1.205,00

Save $401,50
---
---
AMSEC TF5924E5 Gun Safe
Kids Getting Older? Wife on your case about putting the guns under lock and key? Cash a little tight? The AMSEC Gun Safe TF5924E5 30 minute fire rated CDOJ burglary is just the answer. As the largest manufacturer of commercial safes in the U.S., AMSEC knows a whole lot about securing items that are important to you. The TF Series Gun Safe Collection is no exception. Here are the details. New for 2015 is the Premium Door Organizer (PDO) as a standard feature.
FIRE PROTECTION:
The AMSEC TF5924E5 Gun Safe offers fire protection of an outside temperature of 1200 degrees for a period of 30 minutes without the interior temperature exceeding 350 degrees. Not bad for a safe at this price!
THEFT PROTECTION:
The body is constructed of 14 gauge steel with a 1 3/4 inch recessed door that includes 3/16 inch solid steel with fire insulating material. This economical 16 Gun Interior Safe is equipped with a AMSEC ESL5 Electronic Lock with illuminated keypad. Protecting those important guns and contents is a system of 3-way bolt work that has 14 active 1 1/4 inch diameter chrome-plated steel bolts.That's a lot of protection for the price. There are 4 anchor holes in the bottom of the safe that when used will provide additional theft protection. There is also a pre cut electrical access in the rear of the safe
OTHER IMPORTANT FEATURES:
The AMSEC TF5924E5 Gun Safe with it changeable interior (8 long guns with shelves or 16 long guns with no shelves) always has a full width top shelf. The back door cover and the fire walls are covered in rich velour while the shelves are a durable American Oak wood laminate finish. Again, a lot of features for the money. Oh yes! there is also external hinges that allows the door to swing 180 degrees for full access to the interior. The easy clean black textured finish on this economical 16 Gun Interior Safe adds even more value.
The AMSEC TF5924E5 30 minute fire rated gun safe is just one is a series of similar safes, so if this safe does not fit your needs, be sure to check out our other AMSEC gun safes. Call one of our safe consultants at 1-800-207-2259 and ask about this safe or other safes you have questions on.
DISTINCTIVE STYLE
Black textured finish with bold zinc die cast polished brass logos, a rich velour back cover and fire walls with durable American Oak wood finish interior.
Brass Spy-Proof dial.
External hinges easily provide full access to your safe.
INTERIOR CAPACITY
8-8-16 Gun + 1 Gun on the door organizer
FIRE PROTECTION
The TF5924E5 offers fire protection of 1200 degrees F, for a period of 30 minutes. Designed to maintain an interior temperature of less than 350 degrees F.
2 Stage Dual fire seals with silicone seal on door jamb and expandable Palusol seal on the door.
THEFT DEFIANT
High strength unitized 14 gauge solid steel body.
Massive 1 3/4" recessed door constructed of a 3/16" solid steel plate and a fire insulating material.
Comes standard with AMSEC's ESL5 Electronic Lock with illuminated keypad.
Dial Combination Lock available as an upgrade for an additional charge.
3-way boltwork with 14 1 1/4" diameter chrome-plated steel bolts.
Each safe offers 4 precut anchor holes and 1 precut electrical access hole.
TF Upgrade to the "Premium Package # 3 which includes the following (see picture below):
Please Order Above Under Options
HIWL120 LED Light Kit
Dehumidifier rod
Jewelry Tray
Plug Strip/Power Supply.