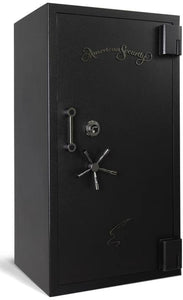 AMSEC RF582820X6 TL-30X6 High Security Gun Safe
$9.11300

$9.113,00

Save $3.037
---
---
AMSEC RF582820X6 TL-30X6 High Security Gun Safe (Formerly RFX582820)
A common question we get asked is: I have some high valued jewelry/cash that I want to protect but I also have some long guns, which safe will offer me the best protection? They get confused because most gun safes are not meant to protect a high amount of valuables and they don't want to purchase two safes (a high security safe and a gun safe). AMSEC has come up with the perfect solution; a high security safe and a gun safe in one. The AMSEC RF582820X6 is a U.L. Listed TL-30X6 gun safe, tested for burglar protection on all 6 sides (most gun safes have no test at all or only test the door). It is constructed with a 2-1/2" defense barrier of inner and outer steel plates enclosing a unique interlocking heavy duty steel barrier, 12,000 PSI high-strength concrete, and a high-density high-strength ceramic matrix.
The AMSEC RF582820X6 also features a two hour certified fire protection. The high-density insulating materials inside the door and body ensure this protection. The made in the USA design and superior craftsmanship make this high-security gun safe impervious to burglary attacks attempted by the most sophisticated equipment utilized today and the contents of the vault against fires. Protect your rifles as well as your high-value items in one safe.
The AMSEC RF582820X6 Series Safes now come standard with a premium door organizer. The Premium Door Organizer will vary in size. The AMSEC Premium Door Organizer (PDO) maximizes storage space and offers quick access to commonly used items. All PDO's include:
Various see-through pouches and zippered pockets to store valuables.
Two rows of holders for storage of choke tubes, small flashlights, and ammo.
Two full-width pistol storage systems with four holsters to accommodate multiple handguns. Additional holsters can be purchased separately.
A long gun storage system that accommodates two guns. Includes AMSEC exclusive "no hassle" quick release band.
Model PDO7240 offers a zippered pocket large enough to store letter-size folders.
Premium Upgrade Package # 2 Includes:
HIWL120 LED Light Kit
Dehumidifier Rod
Internal Power Strip
Jewelry Tray
The benefits of the AMSEC RF582820X6 include:
2-hour fire rating
TL-30X6 UL burglar rating
Holds 12 rifles on the left side, 12 rifles on the right side for a total of 24 rifles. (12-12-24 Rifles + 2 on the door organizer)
Weight: 3,418 pounds
Outside Dimensions: 64.00" H x 34.00" W x 29.25" D
Available in black textured, chocolate brown, granite and sandstone colors
Hardware colors include chrome or brass
Proudly made in the USA