The Ultimate Guide to Camping with Kids
Posted by admin on
The idea of camping overnight with kids can be overwhelming at first. While it does take planning and preparation, we are here to tell you that taking your kids on an enjoyable camping trip is very doable. All you need is a little preparation, the right gear, and a positive mindset! Today, Creative Team members, Colorado parents, and outdoor enthusiasts, Misha and Tyler, share how to relax, enjoy spending quality time with your family, and make some sweet memories camping with kids. They share everything from different types of campsites, supplies to bring, simple camping meal ideas, and so much more.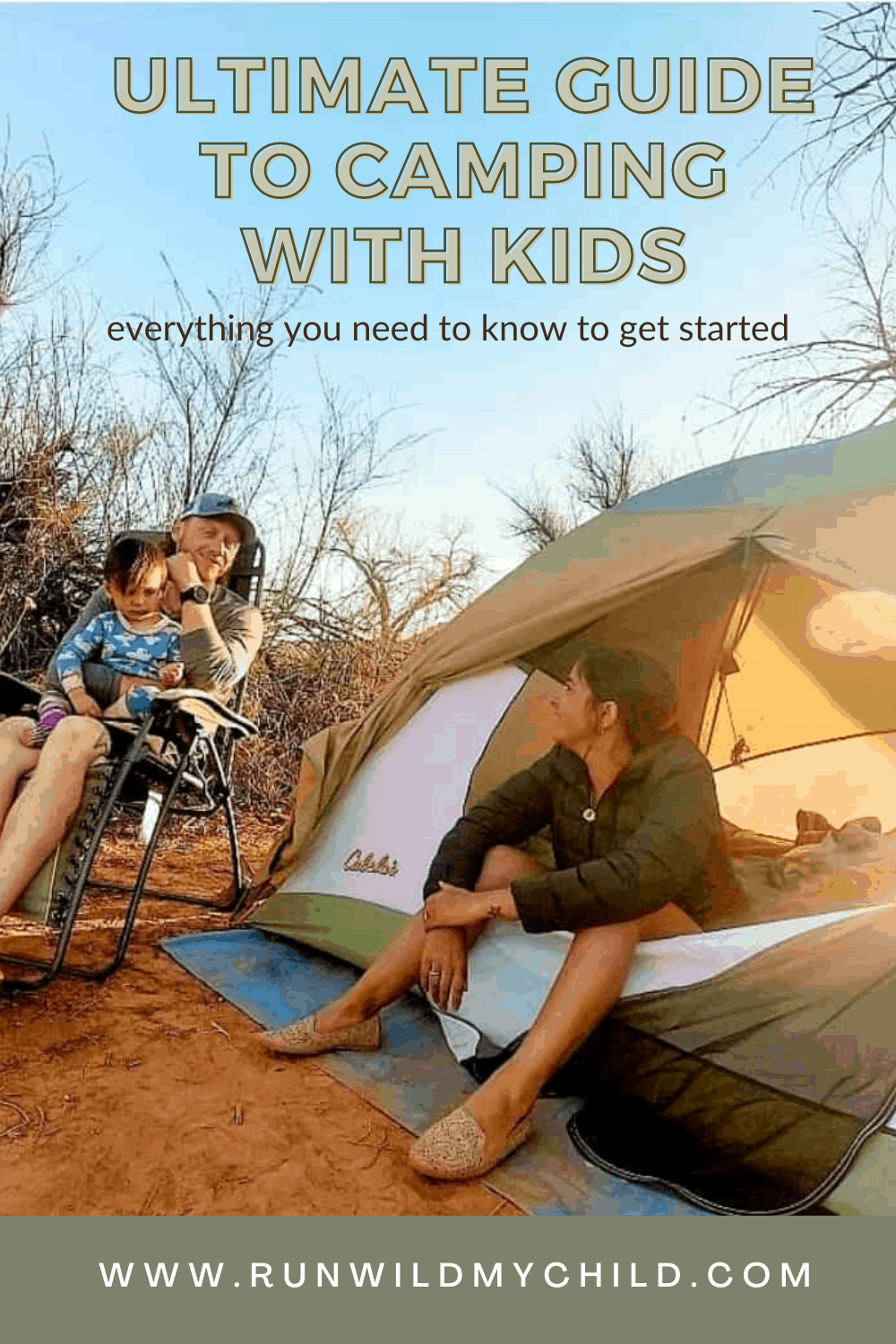 Overnight camping with kids
Hi! We are Tyler & Misha, an outdoorsy Colorado family enjoying and experiencing the outdoors with our kid. Overnight camping with your little ones in tow may sound like an expensive and stressful effort. However, it doesn't have to be. With a little bit of courage, some preparation, and the right gear, camping with kids can be easy and enjoyable! Not only will you appreciate the time outdoors, but your kids will also be thrilled with this new outdoor adventure.
Camping is one of our family's favorite outdoor summertime activities. Unlike most daily outdoor summer activities, camping can cool you down in the summer. This is especially true, if you venture up into the mountains, where the temperatures tend to be at least a few degrees cooler. We've spent a lot of time this summer camping with our little one and we've learned a lot about what works (and what doesn't) along the way. We're here to help guide you towards making a plan for your first (or next) overnight camping trip with your kids.
Camping is a learning experience
Our experience camping, especially with kids, comes with a lot of practice and trial and error. Don't expect to get everything right the first time. And don't be afraid to get things wrong. That's how you learn! (And for the most part, most camping mistakes and forgotten items tend to not be as big of a deal as you might expect). Confidence in overnight camping with kids will only come after you practice, make mistakes, and find your groove. And you can't make mistakes if you never go — so let's go!
A fair warning though, once you start camping with kids, there's no going back! Camping with  This amazing outdoor activity will be so much more fun than you can imagine. It'll be worth all the work. At the end of your trip, the stories and experience will pull on you and you'll be compelled to take your kids out almost every weekend for a fun camping trip.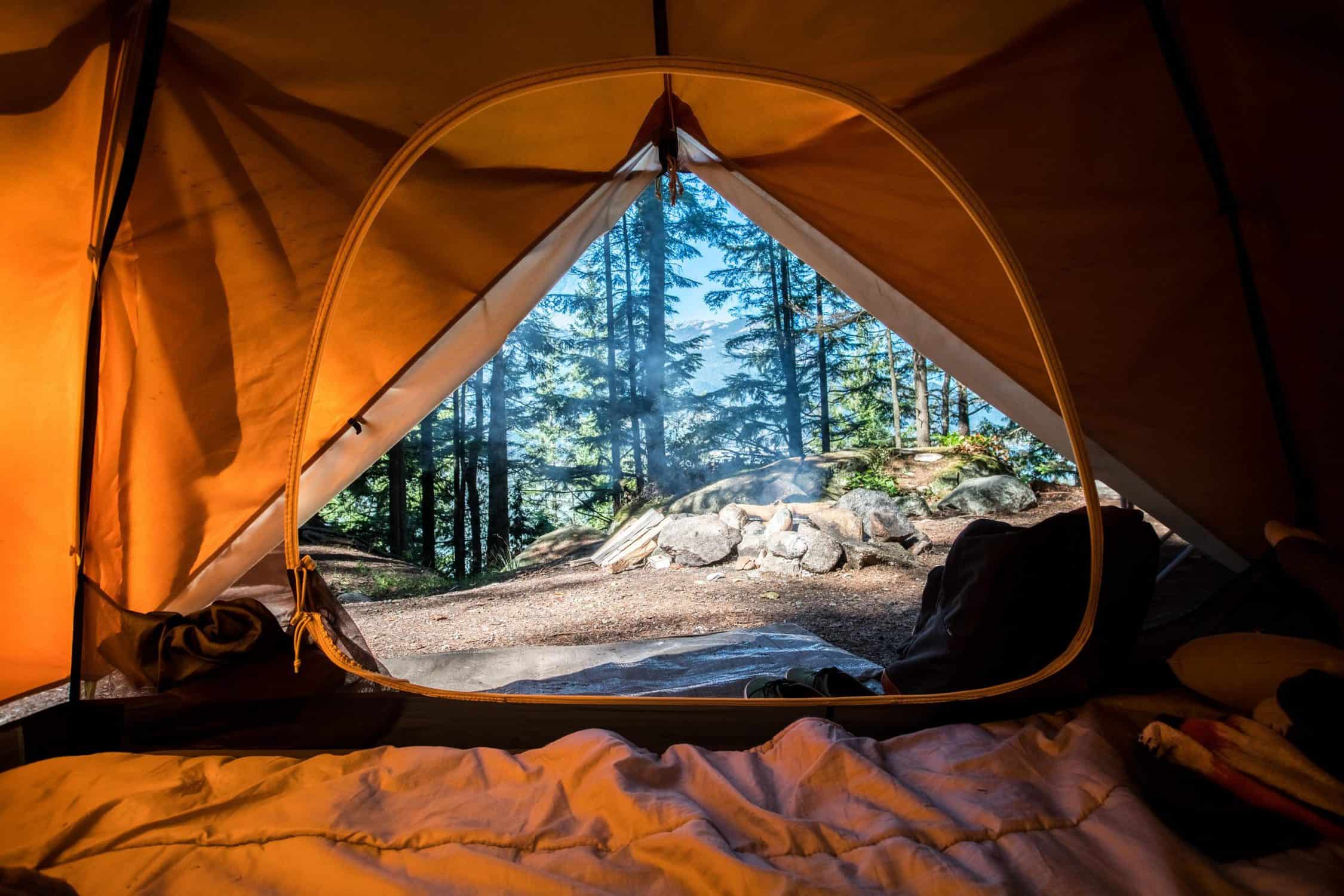 Benefits of camping for kids
There are so many benefits of camping under the stars and even more when you're camping with your kids. The biggest benefit to camping is breaking the monotony of daily life. Did you know kids love change? Not only does a new activity or location change a child's perspective, but it also stimulates their brains. Kids love challenges and doing something different from everyday routines. Introducing new activities with camping can also make the trip that much more of an adventure. They learn new things, try new things, and push their potential.
As a family, camping can also help you rediscover your bond, away from the creature comforts of home. While camping, kids learn valuable skills hands-on, responsibility and independence. It is a great time to introduce lifestyle changes and distribute responsibilities by giving simple chores for everyone to do at the campsite. Camping is not just a fun activity, but a life skill. It is a survival tactic and every kid deserves to get exposed at a young age. 
There's also no denying that kids love the outdoors and spending time in nature makes everyone feel better. Happiness doubles when they are able to be outdoors all day and night. The fresh air, sunshine, Vitamin D and lots of unstructured free time to play and explore are all great for kids.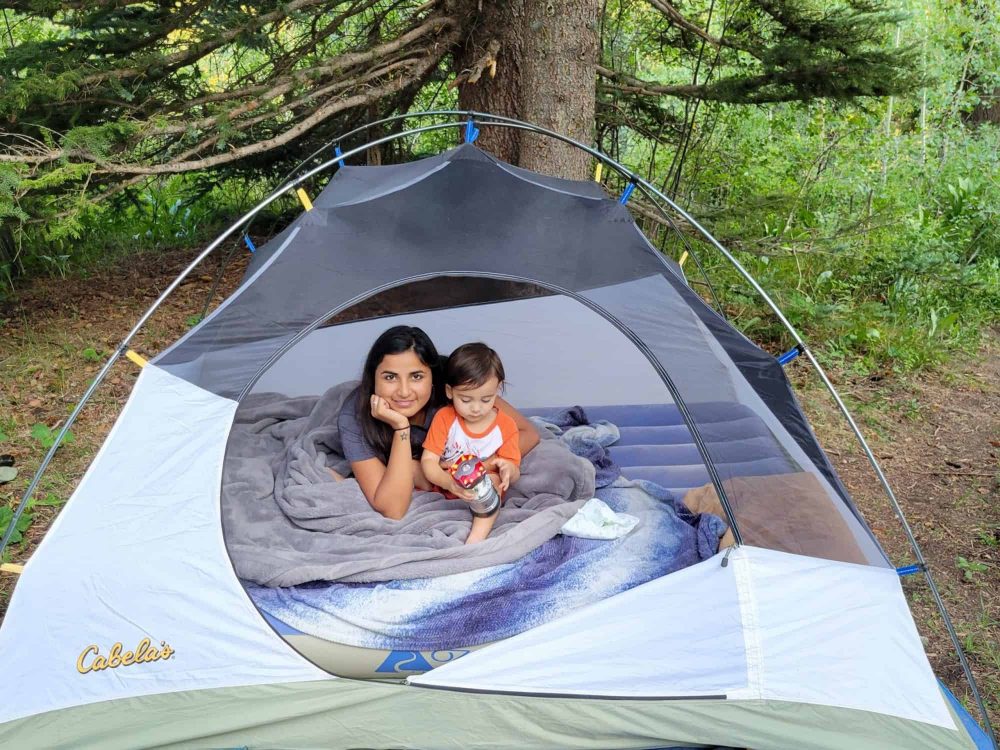 Planning a perfect camping trip with kids
There's no one right way to plan the perfect camping trip. Each family should evaluate what type of camping trip they'd like to experience and plan accordingly. Start by thinking about or writing down the things you want to accomplish with this family camping trip and/or things you'd ideally like to do. Once you've listed your target idea(s), do some research on the best location for achieving your goals and move towards the execution part of the trip.
It's always good to have a purpose, but the goals for your trip don't have to be lofty or aspiration. If your only goal for camping is to spend a great evening with your family in the woods around a campfire, then gear your preparation and research towards finding a wooded campsite and bringing lots of firewood and marshmallows. If you envison fishing, swimming or canoeing, look for a campsite near a stream. If you'd like your kids to be able to run around safely with a bunch of other kids and play, look for a group camping area in a park. 
Choosing the right camping location
We always recommend that for your first camping trip, choose a location close to home. Maybe within your city (or close enough to drive home if you need to bail in the middle of the night). If for any reason you find you or your kids are not enjoying the camping vibe and desperately want to leave, you can easily get back to civilization or your own home easily. With kids, you never know how they react to anything they are doing the first time. Being close to home and having the option to leave at any time gives first time campers extra peace of mind. Hopefully, you won't need to leave, but knowing you can makes the decision to try camping in the first place a lot easier. 
If you've gone camping before and are ready to venture out a bit farher, here are few tips for choosing the right camping spot for your family:
Check out overnight campgrounds nearby and the availability of camp spots at your local state park/national park. Pick a location that has trees or preferably a water stream. 
Look for locations that are not too remote. Camping areas should not disturb wildlife and should avoid wildlife encounters. 
Find a spot close t0 other people camping in a dispersed fashion. It's wise to choose an area as a first-time camper with other people just in case you need help at any point. Other campers are usually more than happy to lend a helping hand. 
Do a little research about the location you choose for camping. For example, read up on the local wildlife and know whether it's mosquito/tick season, rattlesnake season, what poisonous plants are nearby, etc., so that you can take necessary precautions beforehand (bring bug spray, warn kids of poison ivy).
Choose a spot that caters to your hobbies. For example. if you like hiking you can camp up in mountains or a state park that has trails to explore. Or if you like boating, paddle boarding, look for a campground close to a lake or water body. It's always fun to do activities you love along with camping.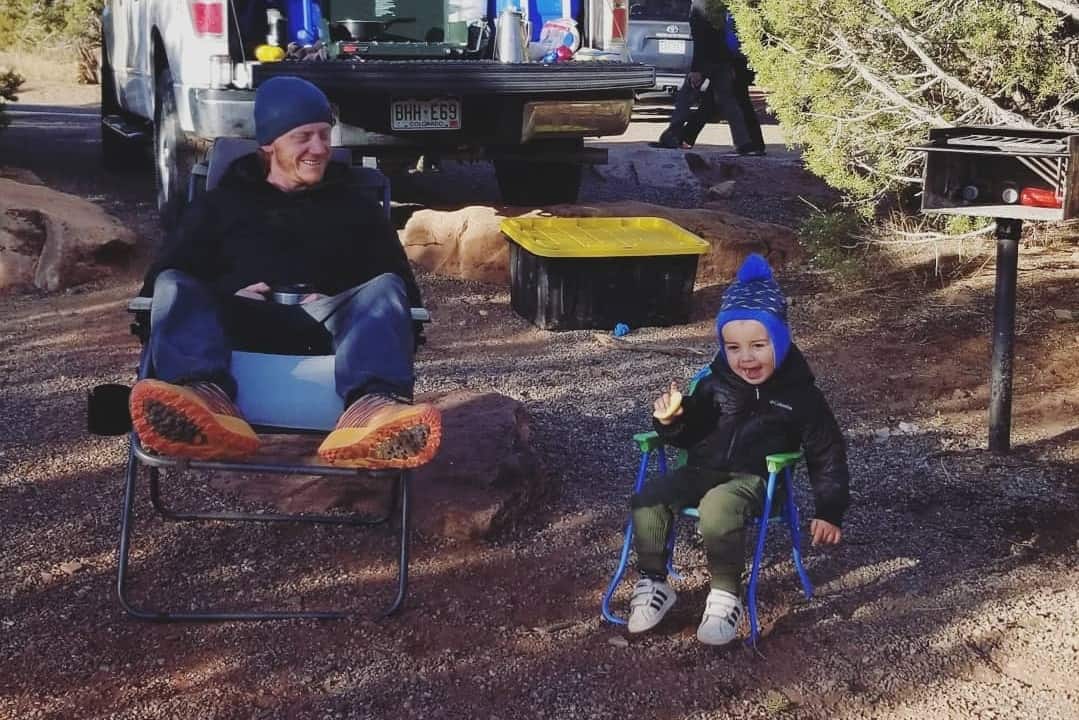 Types of campsites and camping locations
There are so many campsite options you can choose from when it comes to taking your family camping. Weigh your needs and requirements and choose the type of campsite and set up that suits you best. Timing can play a big role in choosing camp spots; it can be time-consuming to research options and during peak camping seasons, campsites book up quickly (and sometimes way in advance). Beginner campers should opt for comfort and safety when going with kids. However, with that said, camping is a rugged activity, so don't be afraid to get a little off the beaten path!
1. Reserved campground (paid )
If you're a first-time camper, we'd highly recommend you to choose the option of camping at a reserved campsite. 
Reserved camp spots are a hassle-free smooth option for convenient camping. For this, you will have to look into camping options at your local state parks, National Parks, lakes, BLM, etc. to book a spot. You can usually book online and get all the info on the website that you need about what ammenies are available nearby and what's provided. These spots are usually open reservations 6 months to 1 year in advance, so you need to be way ahead to book a spot for yourself. This is not always the case, but for peak season (summer) expect to book further out. 
Reserved camp spots are usually set up for you beforehand and offer you a site to pitch your tent and park your RV/camper. They often provide you with picnic tables, grill/campfire pit, trash cans, clean toilets (if you're lucky you may find clean showers). These campgrounds may offer a good amount of shade from the trees and are usually well maintained. 
2. First come first serve (paid or free)
Most US National Parks and National Forests hold a loop in the campground that is open for first-come, first-serve purposes. These are a great option for spontaneous campers. These spots are under the state authority hence they usually provide you with all basic amenities as the reserved camp spots. 
Sometimes these sites have restrictions, like tent camping only, so make sure to read the fine print and weigh your options before camping here. They also usually offer a picnic table, toilets, trash cans, and some shade depending on what state you're at. No prior booking is needed so there's a good chance you may find a spot if you arrive earlier in the day.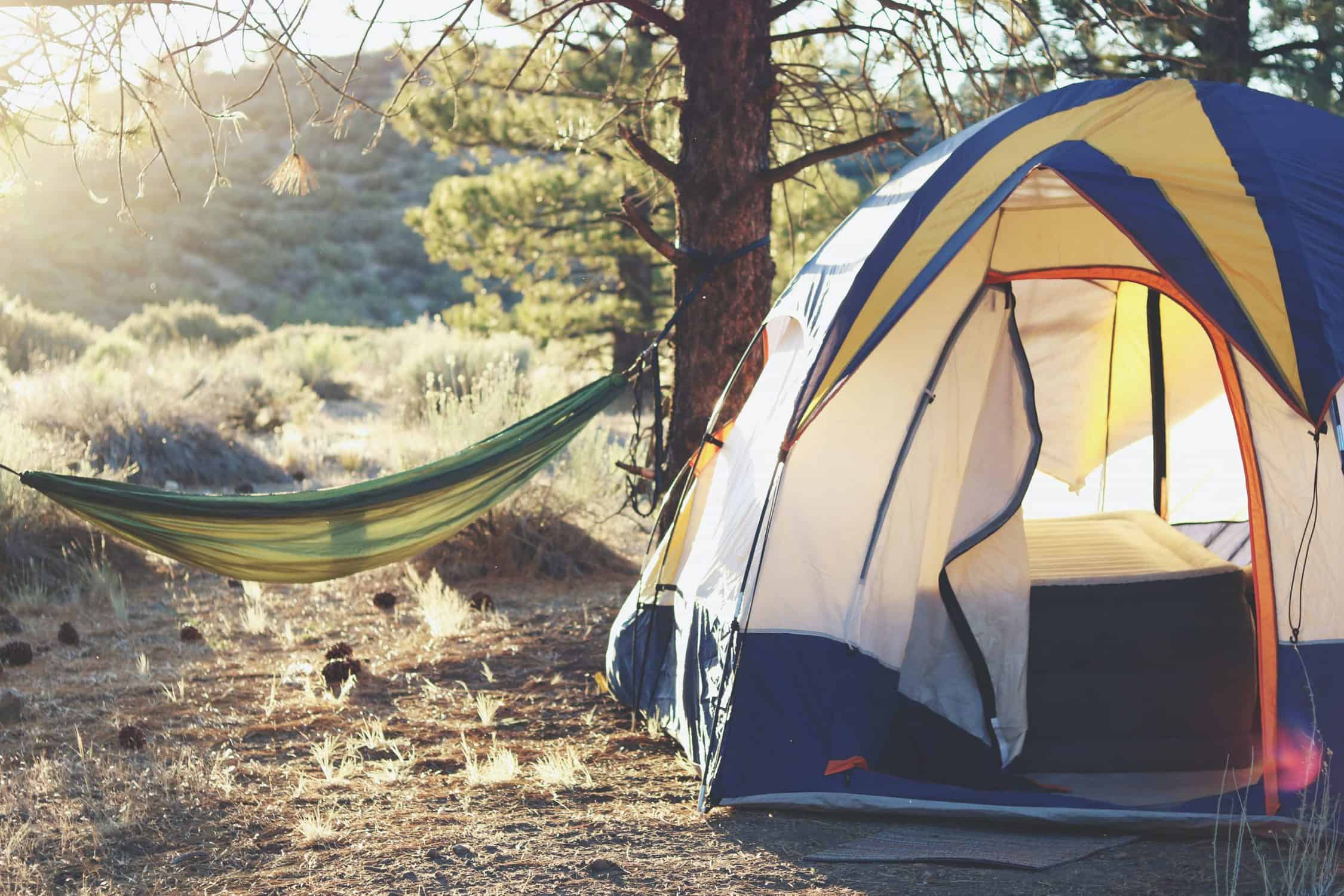 3. Dispersed camping (free)
Dispersed camping is a term used for camping on land outside of a designated campground. Yes, you guessed it right, it's camping on BLM (Bureau of Land Management) land. BLM land offers you the opportunity to camp anywhere on public land. You can take your RV's/campers/tents and camp under the stars wherever and whenever.
Sometimes there are readily used BLM campgrounds, which operate like first-come, first-serve campgrounds. They may have campfire rings and they may have toilets, but these are usually not part of the BLM camping experience.
There's almost always no fee involved for dispersed camping because there are usually no amenities that come with it. You just have a giant chunk of land all to yourself to enjoy with your family. This is our favorite camping style and the camping style we prefer 95% of the time. You're usually not dealing with any other campers nearby, so you don't have to keep the kids quiet (and you won't have rowdy campers waking you up in the middle of the night).
However, dispersed camping also calls for a lot of personal responsibility because there's no one around to help you out if needed and no one there to question your actions. That said, you must be mindful to pick your own trash and dump it at a nearby dump when you get a chance. Always remember the Leave No Trace principles!
4. Camping on private land (paid or free)
If you're lucky enough to know someone with private land, that's another option for camping. Similar to dispersed camping, camping on private land means that you'll probably have the entire area to yourself. There may not be cleared locations for a fire and/or tent, so be mindful of your surroundings and make sure you have permission to clear spaces or make a fire. 
You can also pay to camp on private land. Websites like hipcamp.com are great for finding provide land to rent that's away for others or only allows small dispersed groups. HipCamp rents tent and RV sites, as well as unique camping and glamping properties like teepees, hammock camps, cabins, etc.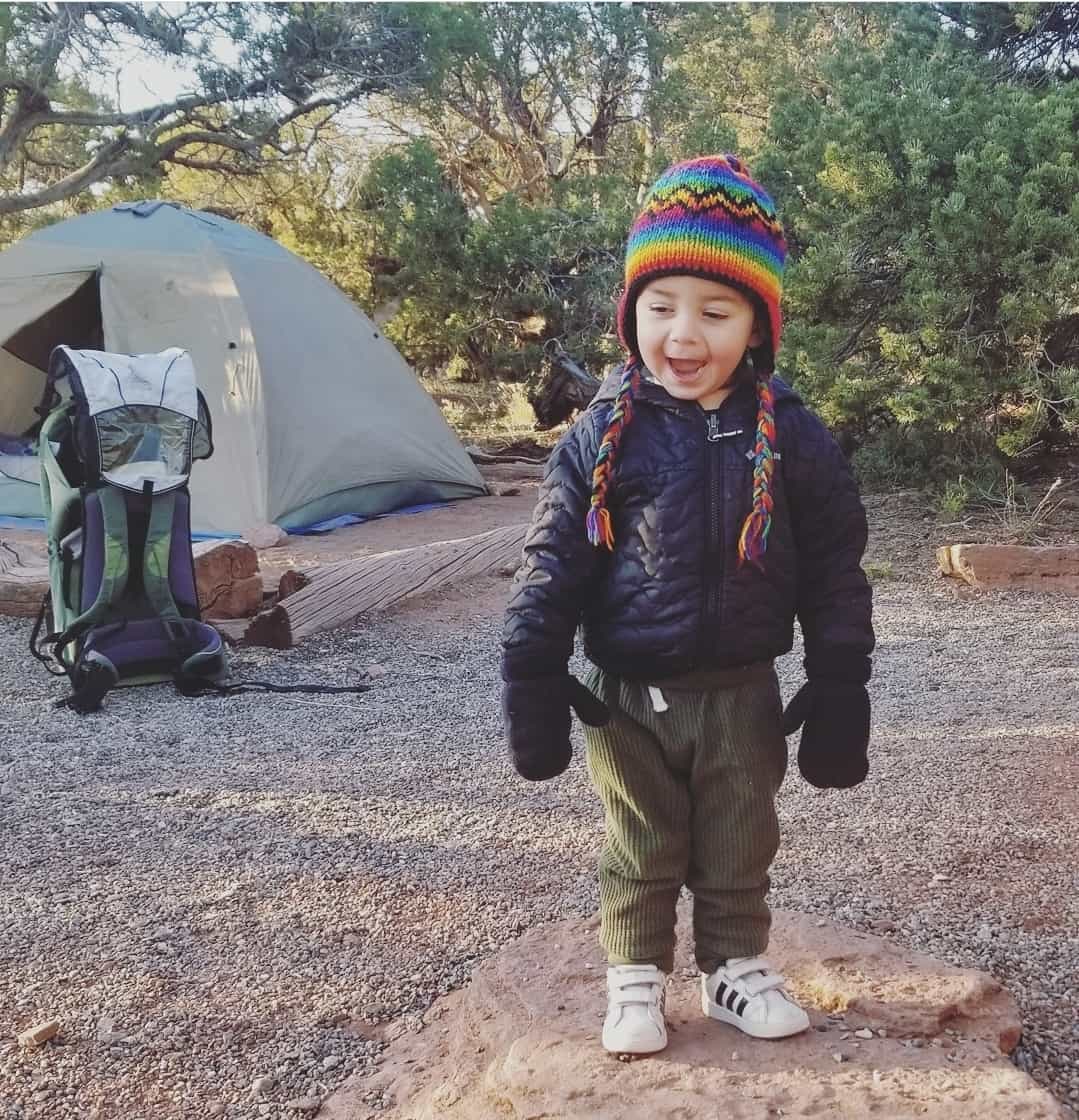 Choose a style of camping that suits you best
Just like there are a variety of different campsite options, there are also a lot of different ways to set up your camp. Whether you're tent camping, car camping, cabin camping or something in between, you're guaranteed to have fun. Try one, try them all! Find the style of camping that best suits your family and have fun experimenting along the way. Camping with kids is all about getting outside together. The point is to connect your kids to nature and encourage them to spend time outdoors right? Any form of camping does just that!
Tent camping
A good tent can cost anywhere from $250- $1000 new. However, you can also get a tent second-hand much cheaper, or you can borrow a tent from a friend, if you are new to camping and just want to try it out. In that case, any tent that will fit your family is perfect for this adventure.
Tent camping is the cheapest most affordable option without a doubt. It's also a lightweight option when camping with kids. Tent camping is our most preferred option because we love sleeping under the stars and feeling the earth beneath us. Also, this is the simplest style of camping. If you love the outdoors and love hiking, this will give you more opportunities to explore than any other option out there.
Please note, tent camping comes with a little more safety prep than other options.  (Please refer to the Safety section above for details.)
Rooftop tent
Rooftop tent can cost anywhere from $750 (basic) to $5000. These are more expensive than regular tents and you need to make sure your vehicle can handle them. We recommend looking for used ones.
Rooftop tents are an upgraded version of plain ol' on-the-ground tent camping. A lot of parents are opting for it due to the convenience of it being a smooth camping option, off the ground, but still under the stars. You don't have to worry about pitching and un-pitching a tent because your rooftop tent is practically already set up (you just have to unfold it). Plus, they come with a thick mattress pad and are set on top of your car roof, so you can basically take it anywhere and anytime without paying any extra cost.
This is a fun way to camp with your kids on the go! Also, you have a lower risk of bugs and critters bothering you.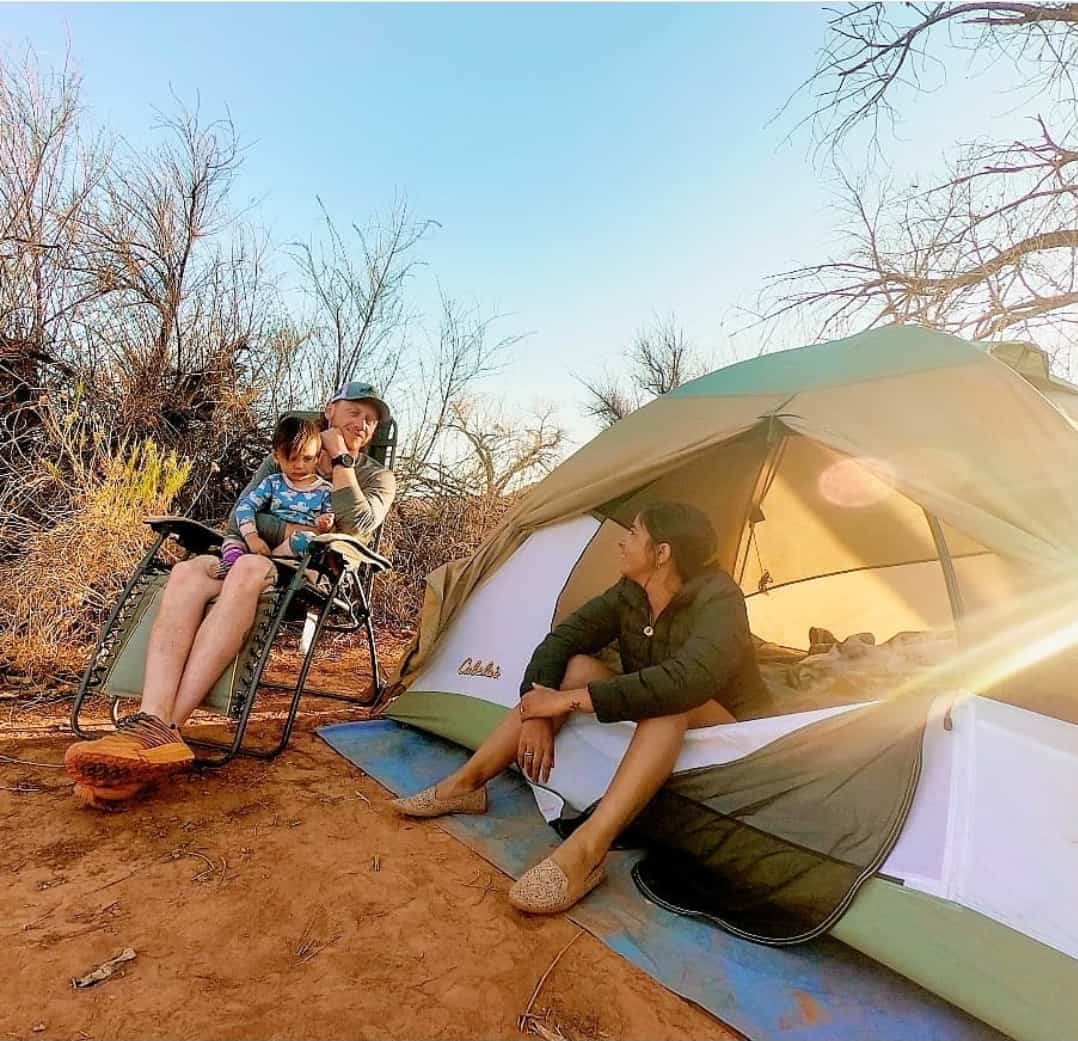 RV/camper camping
RVs and/or campers can run anywhere from $6000 and up (way way up). You can get them used (we highly recommend this) or buy a new one from a dealer. You can also rent an RV/camper before purchasing to see if this is the type of camping you and your family enjoy. 
If you're a first-time camper, unless you have a lot of money to invest on your first camping trip, this is not the most recommended option. RVs are expensive, so it makes sense to ensure you enjoy camping before you jump in and spend a lot of money. However, if you know you love camping and exploring the natural world around you, RV camping can enable you to extend your adventures, camp in dispersed campgrounds for longer periods of time, and camp in pretty much in all weather conditions very very comfortably. 
While RV camping is a more glamourous way of camping (glamping got its name from somewhere), you and your family will still spend a lot more time outside and will connect with your kids more than you may have by remaining at home. Campfires, hiking, playing with nature finds, digging in the dirt, playing card games or board games on a picnic table, swimming in the nearby water, fishing, cooking over an open flame, enjoying a campground playground, and so many more outdoor adventures still happen while RV camping.
Vehicle camping
Yes, it's a thing! And all you really need is a car (or truck, or minivan, or SUV) with room enough for all of you to lay down and a mattress pad for comfort. Vehicle camping means that you can camp even if you do not have a tent or RV. If you have a vehicle with seats that flip down, an air mattress, and some blankets, you can cruise over to the mountains for some car camping with your kids.
The most spontaneous camping trips we've ever done, and the most successful ones, have to be when we decided to take the road less traveled and made our way to the county roads. Try it once and thanks us later!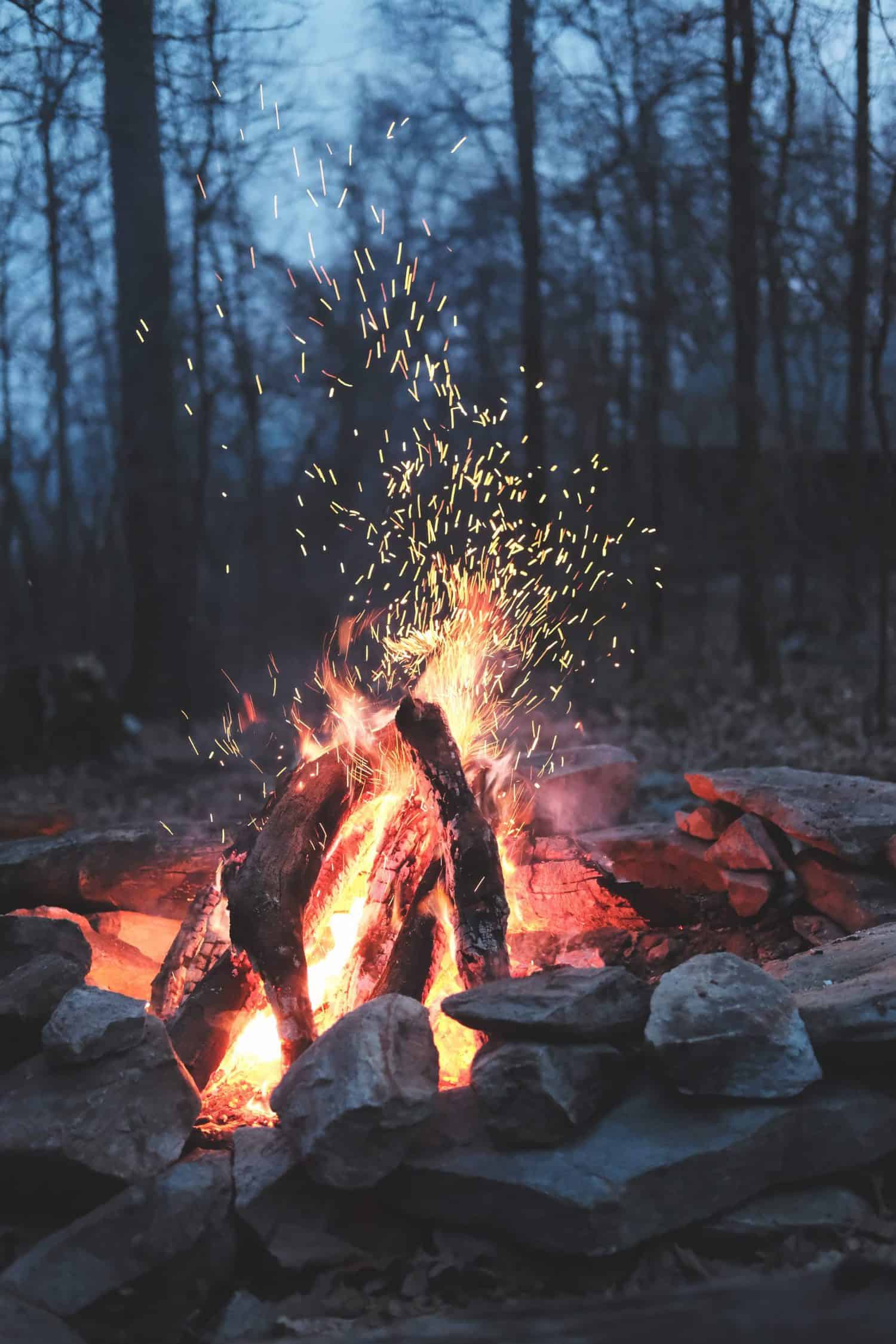 Be aware of the weather in your camp area
Weather plays an important role when it comes to camping. Prepare ahead of time by checking the weather forecast for the area to help you avoid forecasted rain, strong winds or storms. But also know that sometimes rain and other inclement weather can appear suddenly, without much warning.
Rain is a common thing when overnight camping in the woods. Luckily, tents usually come with a rain cover. Make sure your bring your rain fly and know how to use it. Also, be prepared with a few indoor tent activities (card games, coloring books, etc.) or rain gear (boots and rain coats), so that you can continue to enjoy your camping experience despite the surprise weather.
NOTE: Along with weather, you may want to check forest fires and flash flood warning in your area. Interstate openings/closing info to avoid waiting in long traffic and your local weather-related forecast.
Camping essentials
fo
r
first-time campers
There's a lot of gear you can take with you when you go camping. However, you don't always need all that stuff. Your first time caping with kids means that you'll probably significantly overpack (and that's ok!). With a little experience, you'll quickly realize that you don't need much for an overnight camping trip with kids. And actually, the less stuff you have, the easier it is to get out of the house and the more creative and resourceful you (and your kids) will learn to be. 
We have made a list of essential camping gear for overnight camping with kids that exclusively caters to tent camping/roof tent camping. 
Tent (with rain cover) 
Tarp
Mattress pad/air mattress 
Mattress pump
Sleeping bags, pillows, blankets
Down jackets (or any cold-weather jacket)
Rain jackets, boots
Water containers (keep two 10 gallons)
Water filter
Food supplies
Coolers/ice chests (to keep necessary food cold and fresh)
Stove/grill
Lighter/matches
Dry wood (for campfire)
Plates, utensils
Soap
Trash bags
Towels
Toilet paper (even if the campground has toilets, sometimes the bathrooms run out of TP)
Ziplock bags
Totes for supplies
Lighting (headlamps, lanterns, flashlights, fairy lights)
Music/speakers (optional)
Camping safety is important
Safety is of utmost importance when camping out in the wild, especially with kids. It is always good to be proactive and prepared. Below is a list of the most basic things you can take along with you to keep you safe and prepared for any situation.
First aid kit
Flashlights
Airhorn
Bear spray
Bug spray/tick spray
Sunscreen
GPS-device
Map of the location (internet may not work everywhere)
Tool kit
Rope 
Duct tape
Note: If a life-threatening emergency happens, do not fiddle around using your first aid kit, call 911 immediately. First aid kits are for minor injuries. Unless you are a skilled medical practitioner or have some kind of training related to a medical emergency, call for help!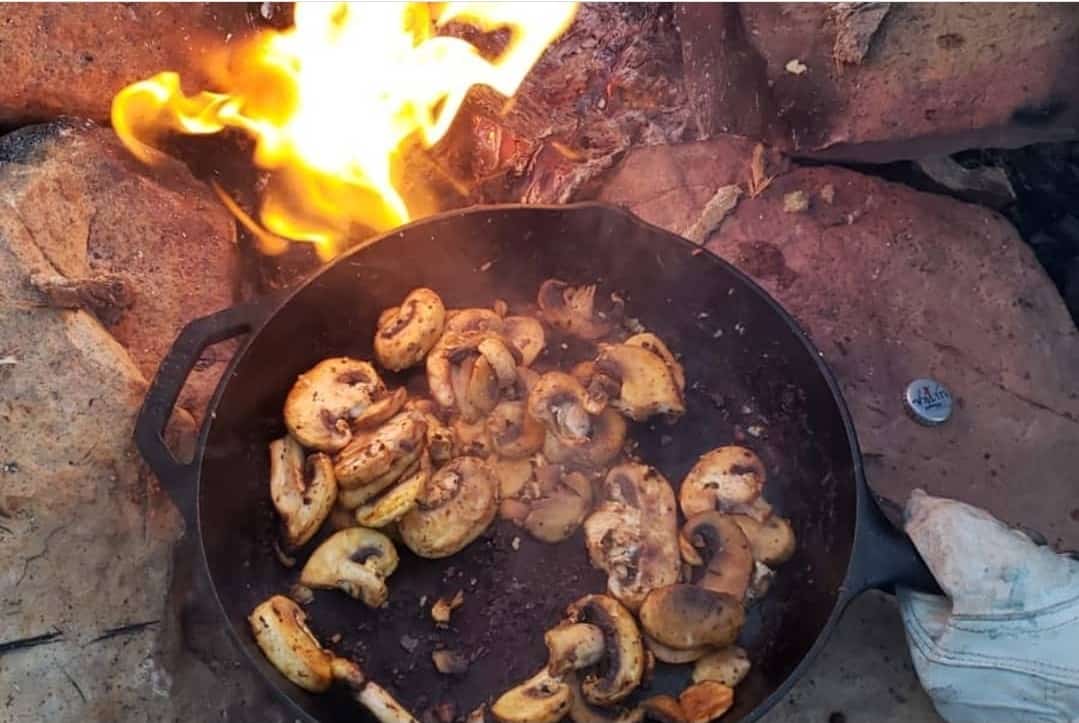 Camping food that can save you time and energy
Usually, when camping, you can take pre-prepared meals or raw produce to cook at the campsite. If you opt for the latter, we have some quick meals that we cook at the campsite and you'd enjoy it too. 
Chicken/turkey cheese sandwiches. All you need is sliced meat from a deli, some cheese, bread, and any condiments you like. You can eat it raw or grill on your campfire. (If you have never used a cast iron skillet before this is a great time to make good use of it)
Pasta/ mac & cheese. Kids love pasta (with tomato sauce or just butter) and mac & cheese. Both are pretty quick meal ideas or sides you can offer them.
Soup (any kind your family loves). You can make your own or buy cans or packets from the grocery store. Heating up soup is quick and easy.
S'mores! Do we have to explain that?
Burgers (or hot dogs) on the campfire. Burgers are the most cooked food at our campsite. Throw some patties on a cast iron pan, cheese on top, grill some buns and you have another quick meal ready. Hot dogs can be cooked on a stick!
Sauteed veggies, mashed potatoes, and campfire grilled chicken with toasted buns.

This looks like a super fancy thanksgiving dinner kinda meal but this is a very quick and yummy meal that gives everyone their favorite item on one plate.

Box of oatmeal – Oatmeal packets make for an easy breakfast. (Pancakes or waffles are other delicious easy to prepare options too.)
Pack some beverages of your choice and juice for kids to cool yourselves down. Make sure you have plenty of water in addition to your other beverages.
Coffee or tea for mornings, so you don't run around like zombies the whole time.
Chips and dips. 

Kids enjoy this snack and so do adults. It's a great appetizer to keep everyone satiated while you learn how to cook over the campfire. 

Grab and go fruit. Apples, bananas, mandarines, and even grapes are perfect fruits to pack on camping trips. They don't require any prep work (except washing) and are easy to store outside of an ice chest.
Lots of snacks & protein bars. These are obviously perfect for snacking on all day, but also for when you go off on adventures away from the campsite. 
You can add anything you like to this list. These are just simple food ideas we use on our camping adventures. Make sure you have good coolers so your food is fresh and ziplock bags to store leftovers.
NOTE: Do not put food anywhere close to your tent or even inside of it, as it will attract wildlife. To be safe lock the food in your car, use provided bear boxes or other campground recommended options.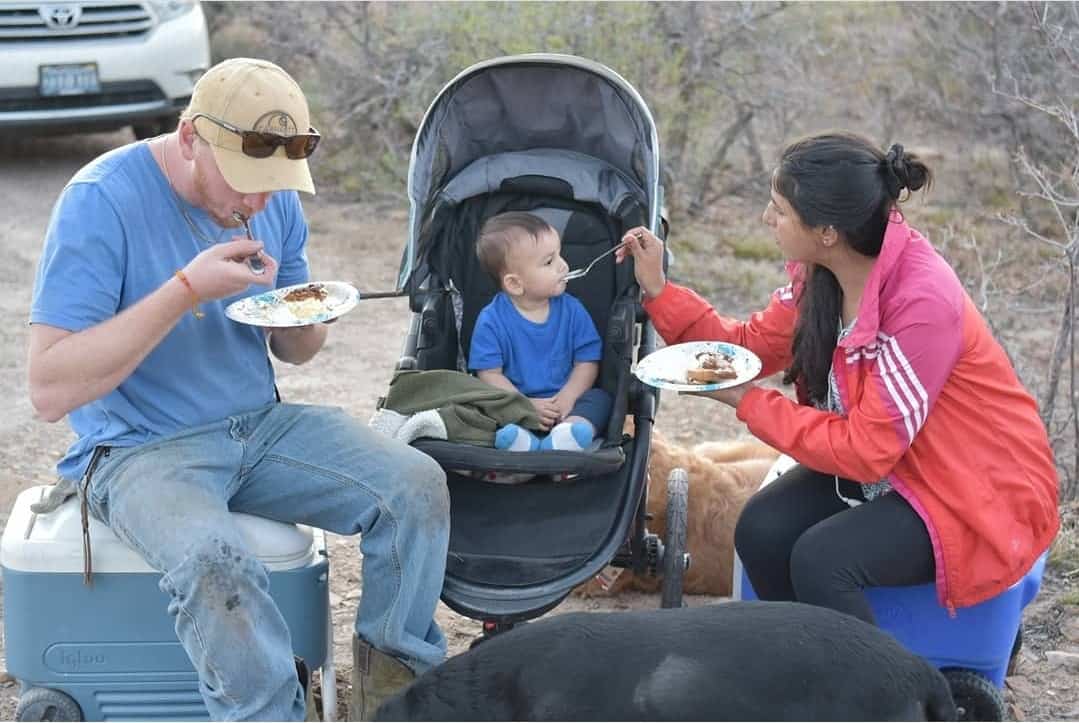 Easy ways to pack your food supplies and camp gear
When camping with kids, be sure to organize your supplies and camping gear in a way that makes sense and works for your family and situation. You do not want to reach your campsite and not be able to find important things. As a parent, we already have our hands full and we do not want to leave any room for more any issues or forgotten items. Camping with kids is not hard, but it is way easier when you pack what you need and can find it easily.
Organizing camp gears
When leaving for a camping trip, make sure you have everything organized and ready to load. Separate things into categories and pack accordingly. We suggest making separate totes/crates for these separate supplies.
Dry food & supplies
Camp gear
Coolers full of cold/perishable foods
Miscellaneous
Label your totes
Once you've separated things into totes, label and make sure they are closed securely. One trick is to take a piece of paper, write the contents of the totes, and seal it with clear tape. This looks like a lot of work but it comes in super handy for parents. If you have older kids this is a great way to start distributing responsibility amongst them and start your trip in an organized manner. That's right! Getting your older kids to help you organize for the camping trip, helps them build skills they can use their whole life.
Pack perishable food in a cooler
Invest in at least two good size coolers. We highly suggest having one 60-65 hard and one 40-45 Soft cooler. The hard cooler can be used to store all beverages, meat, milk, and premade food from home. The soft cooler for cheese, dips, sauces, and other quick food items you may wanna eat on the way. A bag or two of ice is gonna be good for an overnight trip, if you plan to extend the trip, dry ice is a better choice. You can always buy more ice at local grocery stores or gas stations if you are camping near a town.
Insulated coolers that keep the food cold and fresh for over 5 days are good to invest in. Also, look for bear-proof coolers, those are a game-changer.
Organize baby/toddler or kid items in a separate box
Basic everyday essentials for your baby/toddler should be easily accessible. Do not forget to bring extra diapers, wipes, itch/rash creams, or their favorite toys. Keeping it separate will keep your children from digging through other important supplies (where they shouldn't reach). Kids tend to dig into stuff and during camping trips because items that are usually inaccessible are stored in different locations. They can find lighters, matchsticks, or certain items they shouldn't play with or be close to.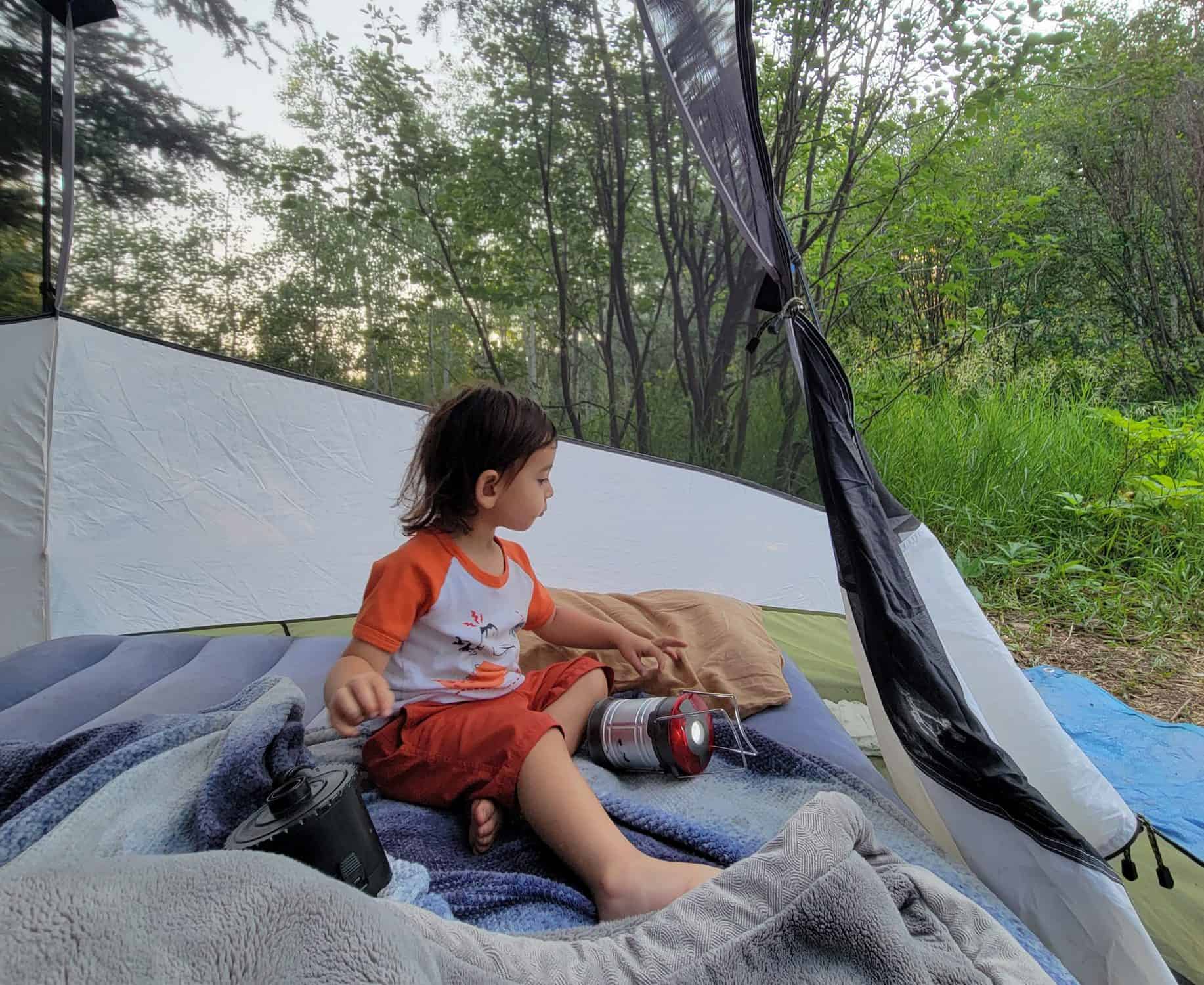 Explore, pitch, and enjoy your night
When you arrive at your destination, well equipped with all the essential items, the first thing is to find your campsite. If you have pre-reserved your camping location, you just have to unload and pitch your tent or park your camper in your designated spot. The site is almost ready for you to start your camping adventure.
If you haven't pre-reserved the campground and reach a National Forest for dispersed camping, here are a few tips to get started.
Explore the area thoroughly
Before you begin to unload your stuff, it's a good habit to investigate the area.  As parents we all have an instinct, we know if the place gives us the right vibe. Go explore the place and see where are you on the map. We mentioned GPS as one of the essentials and it comes in handy right now. It basically gives you a solid idea of your location, nearby forest, weather, etc. Also, you may want to decide where you want to park your family for the night so this is the time when you can find a spot at your dispersed camping area.
Pitch your tent
After you've found that perfect spot, it's time to unload your stuff. We recommend pitching your tent before unloading everything. You want to do it before dark unless you have a rooftop tent or a camper. Spread a plastic tarp under your tent before you pitch your tent, this will keep all the dirt and dust out of the tent and you will have a clean tent to step into.
Once you have pitched your tent, spray the bug spray inside your tent and zip your tent back up. You will have no mosquitoes or bugs all night this way. If you have made it to your camp early and you have a lot of daylight time, you can go and explore or do some fun activities with kids before the campfire or you can just let your kids play around and spend this time settling down and unload rest of the stuff.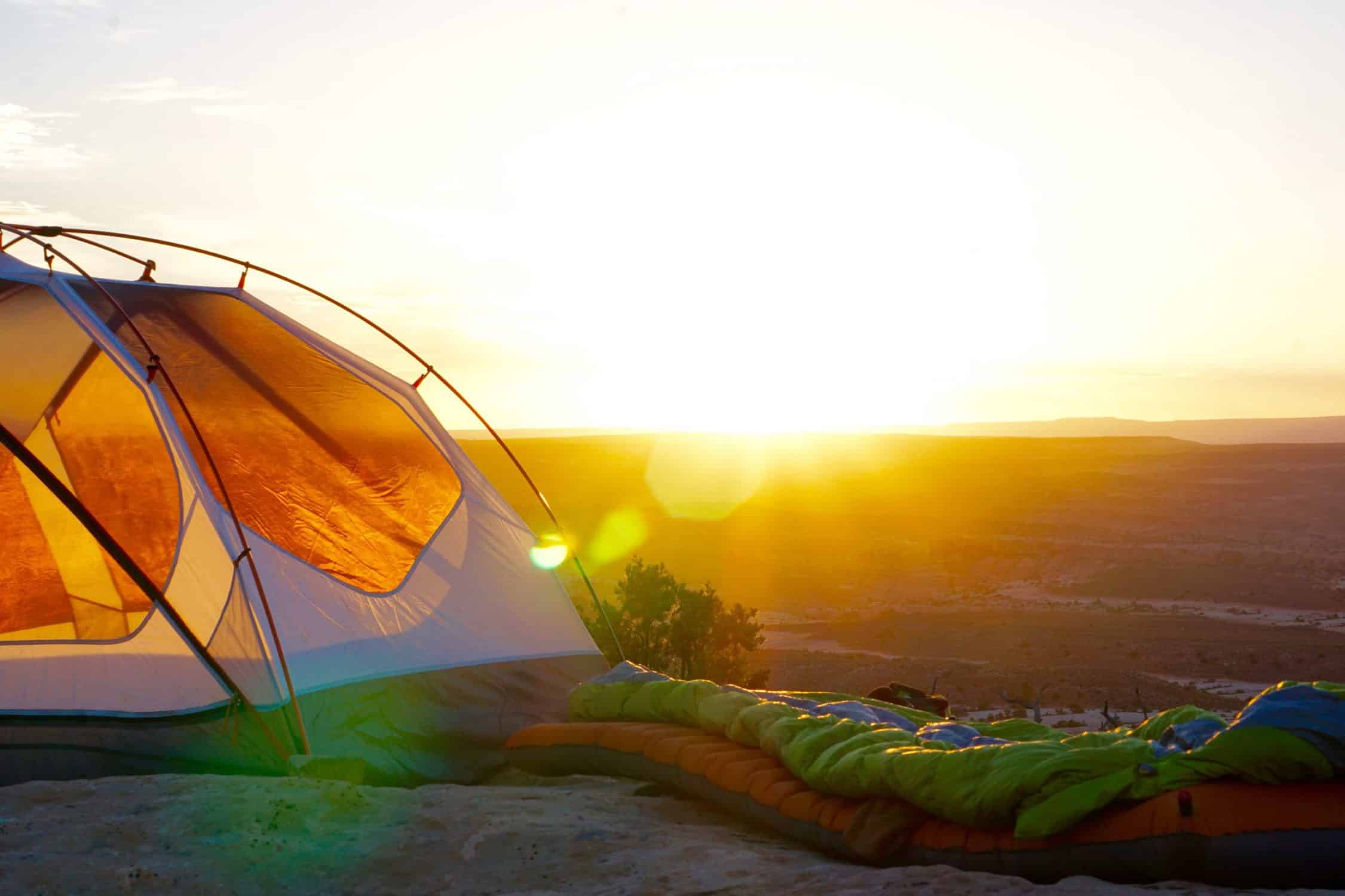 Campfire and food time
Gather the wood or use the dry wood you bought for this camping trip. If there is not an existing campfire ring, use some rocks/bricks to make one. We have a great post on how to build a campfire with kids. This is a great time to teach your kids fire safety and caution. This is also a great time during the camp night for music, discussions, or just fun with kids. The campfire is also perfect for making S'mores with your kids and cooking or reheat your meals.
Make good use of this time because we truly believe campfire nights are magical. You can make your own family campfire songs or a game that you play during overnight camping with your kids. Have a great time together, eat delicious food, and watch stars the whole night. Create something exclusive to your family, so your kids enjoy spending time with you and you can make some beautiful memories together. Here are some ways to make campfire and bonfires magical for kids! 
Sleep under the stars
As it gets dark, you will want to switch on your tent lights or lanterns for everyone to find their space to sleep. If you have a baby/toddler you might want to place a travel bed inside or co-sleep, whichever you are more comfortable with. Change your kids to warm clothes. Generally, nights are colder, and tents, cars, and RVs are not insulated as well are your home.
You all might want to wear an additional layer to keep yourselves toasty throughout the night. Get inside your sleeping bags or under your blankets and call it a night. It's gonna be a cozy night, so hug each other before bed. Have a wonderful night! 
Note: Go into a camping trip knowing that you probably won't sleep as well as you do at home in your own bed. Yes, you may be extra tired in the morning, but that's a small price to pay for the memories you'll have of this adventure. Knowing this before going into your trip will prepare you.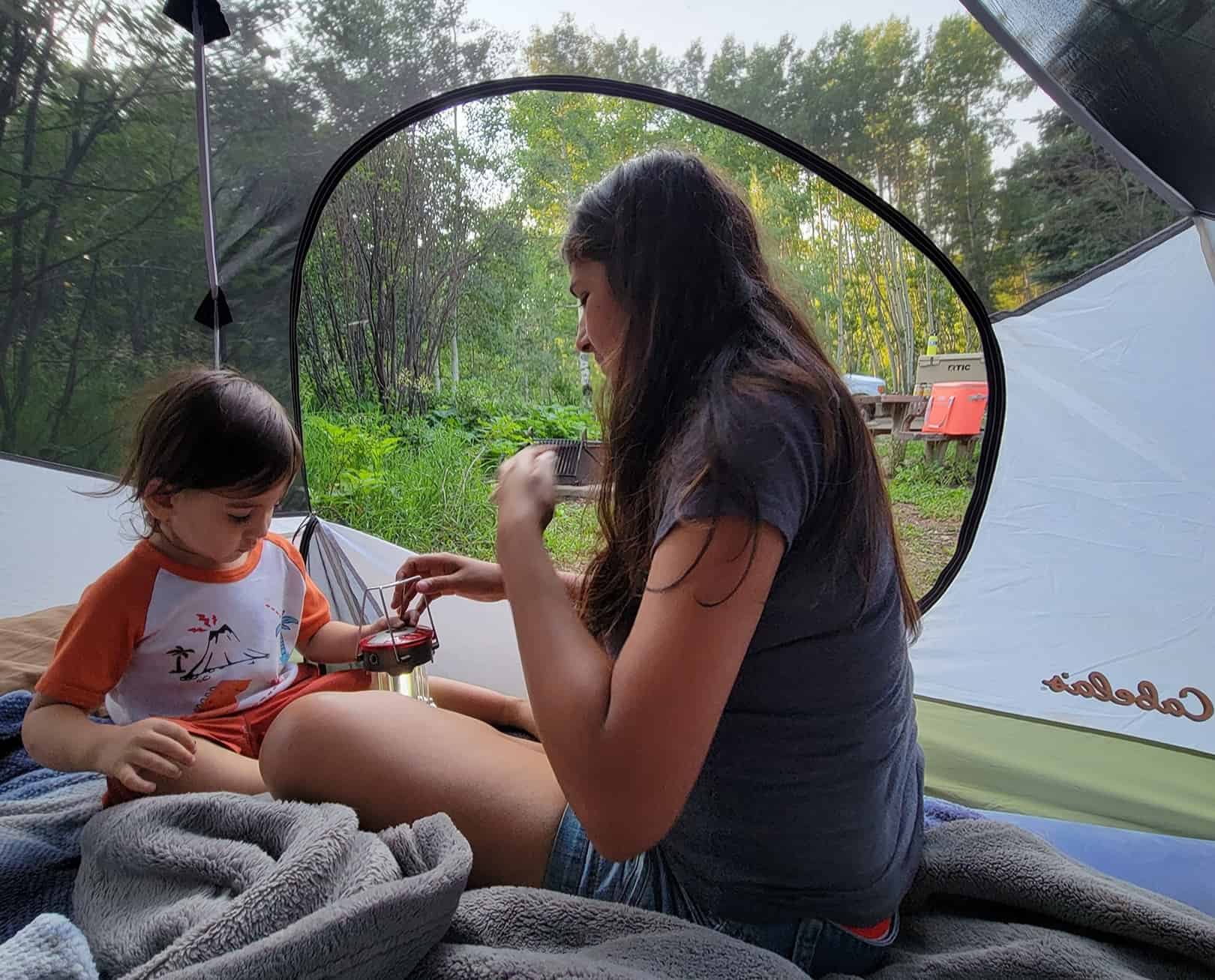 A few more tips and tricks for camping with kids
Plan and prepare your trip ahead of time. If you leave it for the last minute, important things may get missed.
Leave anything you find at the campsite as-is. If it doesn't belong to you, it may belong to people who camped before you. Leave it behind. Except for obvious trash. Always pick up trash and leave the campsite looking better than you found it.
Do not leave any traces behind. It should look like you never camped there.
Be extremely mindful of trash disposal. A simple trick is to throw trash in trash bags as you make it. Hang a trash bag from a table or your car and keep loading it until full. Do not litter. If there's a place to dispose of your trash properly, do so. Otherwise, take it with you and make sure it gets taken care of. 
Minimize campfire impacts. Use campfire wood in small chunks to avoid creating a big fire. Once you are ready for bed, calm down the fire and put the fire out before going to bed. Forest fires are a major issue! Be careful.
Please respect the wildlife in your camp area and do not disturb their lifestyle. Always remember you are visiting their home and you need to give them their space.
When camping at campgrounds with other people, make sure you are not disturbing their peace or encroaching their space. With kids, it's hard to not be loud but this is the time you can teach your kids to be considerate of other's space and privacy. Also, remind kids not to walk through other people's campsites.
Before you go into the tent at night, use your flashlight to check for bugs or other critters. This is just for extra peace of mind.
Keep the airhorn, bear spray, or other items like this in the tent, but away from the kid's reach. Maybe keep a child-proof box or just clip it in your tent.
We hope this guide, full of tips and tricks for an overnight camping trip with kids is handy for you as a parent. We would love to hear how it went for you as a first-time camper.
Where will your next (or first) camping adventure be?
Happy camping!

About the author
Indian Oracle is an Interacial family of 3 based in Boulder, CO: Juno (Tyler), Misha (Uplabdhi), and their 22-month-old boy Zen (Tarakshya). Juno and Misha have been raising Zen exclusively outdoors ever since he was born. His first outdoor exposure was a short hike at 2 weeks and an international flight at 2 months all the way across to India. Indian Oracle firmly believes that the outdoors brings out a holistic personality and growth of a child hence they are always in the wilderness, raising their kid in the wild outdoors. They are passionate hikers, mountain bikers, and motorbikers. The Indian Oracle family is always on the go and encourages other families to quit a monotonous lifestyle by opting outdoors. They share easy, doable, and feasible ways to live an outdoor lifestyle. "You don't need awesome gears and comfy campers to be outdoors, you need a passion and love for mother nature."
You can find more from Sara online in the following locations:
Instagram: @indianoracle
RWMC posts: Indian Oracle
The post The Ultimate Guide to Camping with Kids appeared first on RUN WILD MY CHILD.
---
Share this post
---
---