The Best Movies Of 2021 So Far
Posted by admin on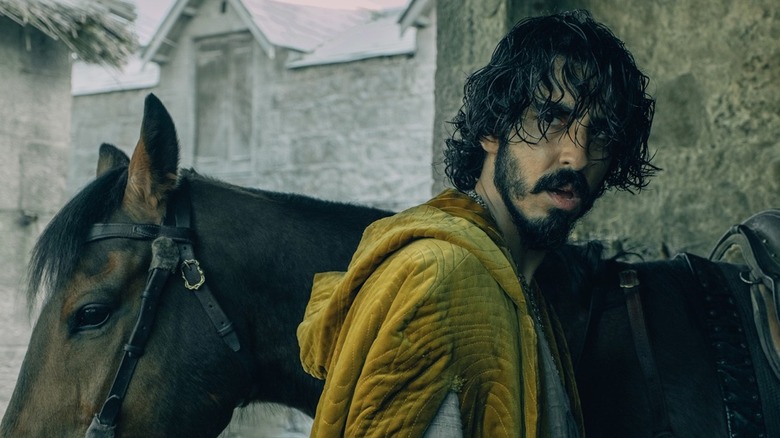 There's no getting around it. 2021 was a weird year for the movies. Audiences stayed away from theaters because of the pandemic. Studios rescheduled their major releases for 2022, crossing their fingers and gritting their teeth. Filmmakers and crews toiled away on sets protected by new Covid safety protocols. And perhaps most (in)famously, Warner Bros. decided to send its entire 2021 slate to theaters and HBO Max on the same day.
And while this was a banner year for everything feeling weird and wrong and not at all like how things used to be just two years ago (these times are unprecedented, have you heard?), there's no getting around it: the movies have been good. Really! Movies made before the pandemic and delayed into 2021. Movies filmed during the pandemic by cautious crews. Heck, even personal projects shot in apartments by acclaimed comedians hoping to tap into the dark and terrifying energy of this past year. 2021 is still managing to have a little bit of everything.
Here are the best movies of 2021 so far, as presented by the /Film staff. This list will be continuously updated throughout the rest of the year.
America: The Motion Picture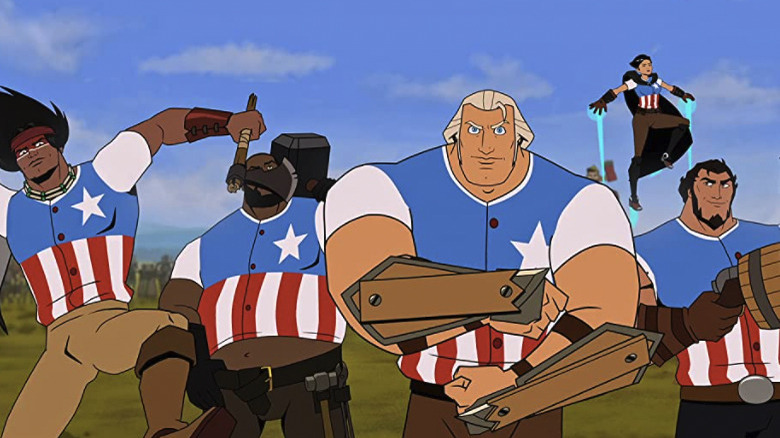 "Sealab 2021" and "Archer" director Matt Thompson made his feature directorial debut in 2021 with this outrageous and hilarious animated reimagining of America's earliest days. This version of the American Revolution features George Washington wielding a chainsaw, a beer-chugging Sam Adams, a female version of Thomas Edison who is such a great inventor that she builds herself what are essentially Iron Man repulsors, and a werewolf version of Benedict Arnold. So, you know, the whole thing is completely historically accurate. It's also incredibly foul-mouthed and ludicrously violent – in one scene, the werewolf rips out Abraham Lincoln's throat, and in another, an enraged Washington dismembers British soldiers on the battlefield with wrist blades as the Beastie Boys' "Fight For Your Right" blasts in the background. 
While this type of "America is awesome, bro!" storytelling could easily tip into uncomfortable and jingoistic territory, this film keeps its tongue firmly in cheek and actually calls out some of this country's worst tendencies after its big, climactic, "rah, rah" conclusion. At the end of the day, though, this is simply a fun and purposefully dumb comedy with an incredibly high success ratio for its jokes. Since studio comedies are becoming a somewhat endangered species in Hollywood, scrolling through Netflix and stumbling across a movie like this – one that's actually funny all the way through – feels akin to discovering some kind of rare animal living right in your backyard. Try to count all of the "Star Wars" shout-outs, and definitely keep your eyes peeled for an obscure but wonderful "Swordfish" reference. (Ben Pearson)
Cast: Channing Tatum, Jason Mantzoukas, Olivia Munn
Director: Matt Thompson
Screenwriter: Dave Callaham
Producers: Phil Lord, Chris Miller, Will Allegra, Dave Callaham, Reid Carolin, Christian Danley, Neal Holman, Peter Kiernan, Eric Sims, Channing Tatum, Matt Thompson
Runtime: 98 minutes
Rating: TV-MA
Annette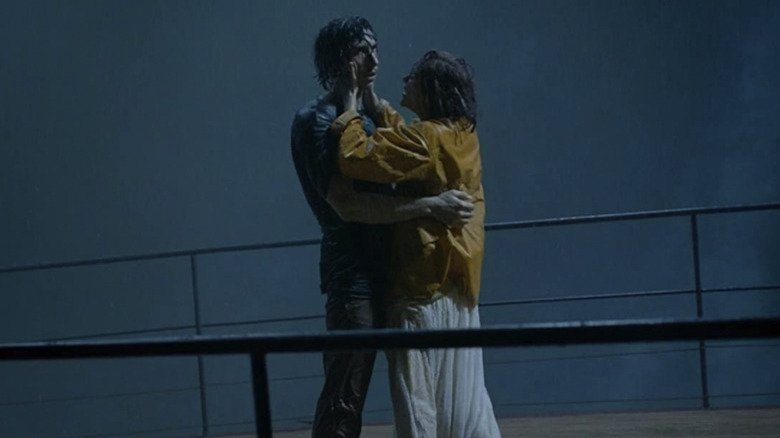 2021 has seen an unexpected resurgence in big-screen musicals. But fair warning: if you go into "Annette" expecting a traditional studio picture along the lines of "In the Heights" or "West Side Story," you're in for a rude awakening. Instead, "Holy Motors" director Leos Carax delivers something that you almost never find in Hollywood: a movie that feels truly and wholly original. Initially envisioned as a live theatrical presentation to accompany new album by Sparks, the pop band comprised of brothers Russell and Ron Mael, "Annette" was eventually reworked into a movie – one that defies easy explanation. Adam Driver plays an obnoxious stand-up comic, Marion Cotillard plays his opera singer wife, and the movie focuses on their romance and what happens to them after they have a young daughter. I won't give anything away, but let's just say things take a drastic turn from there. 
In contrast with the sweeping and showy songs that you'd find in a traditional musical, these songs are short, punchy, and sometimes don't even feel like songs at all. More than anything, "Annette" feels like the type of movie that will generate conversations. Whether or not those conversations are just variations on the words "what the f**k?" will depend on how deeply you want to engage with the movie's themes, which are plentiful but sometimes difficult to pin down amid all of the chaos. This intensely strange movie will definitely not be for everyone, but if you manage to get on its wavelength, you're in for quite a ride.
Cast: Adam Driver, Marion Cotillard, Simon Helberg
Director: Leos Carax
Screenwriters: Ron and Russell Mael (also known as Sparks)
Producers: Adam Driver, Charles Gillibert, Paul-Dominique Win Vacharasinthu
Runtime: 2h 21min 
Rating: R
Bad Trip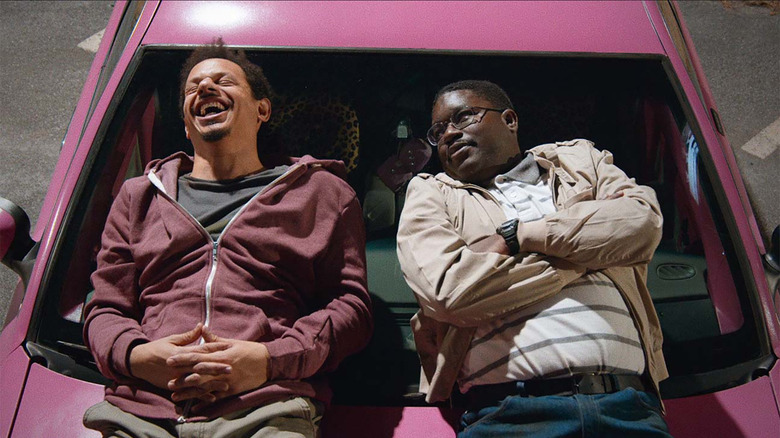 The hijinks you'd expect from "Jackass" are given new life with a road trip comedy narrative running through it led by comedians Eric André and Lil Rel Howery. When Chris (André) runs into his high school crush Maria in small-town Florida, he convinces his best friend Bud to embark on a trip to her art gallery in New York City so he can proclaim his love for her. Unfortunately, hot on their trail is Bud's escaped convict sister (Tiffany Haddish), who isn't too happy that the two friends are using her car for their road trip. Throughout "Bad Trip," Chris and Bud's story is interspersed with wild stunts and pranks played on unsuspecting people across the country. 
But what makes this movie so refreshing is that the pranks themselves aren't mean in spirit, and they actually prompt genuine kindness and care from those who are witness to the crazy shenanigans that Chris and Bud get into. It's not every you find someone willing to help you make a getaway from the scene of an exploding car or a prison escape. If you need a dose of hope for the human race, there's a surprising amount of it to be found in this raunchy comedy that is full of plenty of shock and awe. (Ethan Anderton)
Cast: Eric André, Lil Rel Howery, Tiffany Haddish
Director: Kitao Sakurai
Screenwriter: Dan Curry, Eric André, Kitao Sakurai
Producers: Eric André, Jeff Tremaine, David Bernad, Ruben Fleischer
Runtime: 84 minutes
Rating: Unrated (but basically R-rated)
Barb And Star Go To Vista Del Mar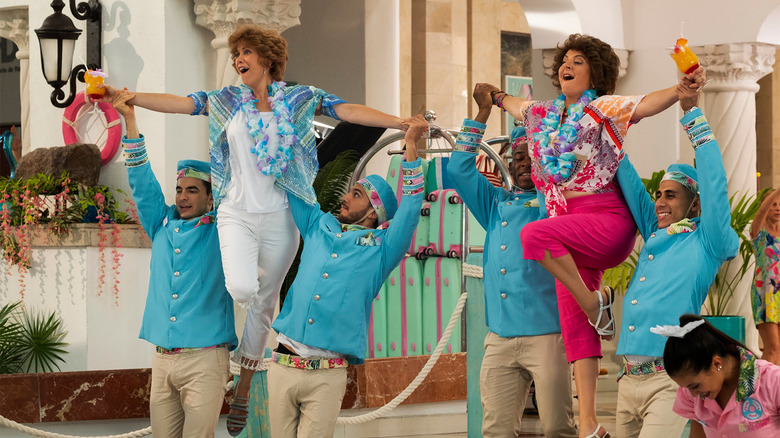 In one of the most surprising and silly comedies of the year (hell, of the 21st century), "Barb and Star Go to Vista Del Mar" took us on the wild vacation that we couldn't take ourselves due to the COVID-19 pandemic. Kristen Wiig and Annie Mumolo (who wrote "Bridesmaids" together) make for a delightfully goofy pair of suburban ladies dressed in their best culottes as their tropical getaway gets caught up in a dangerous espionage plot that just so happens to be carried out by an oddball villain who is also played by Kristen Wiig. With touches of "Austin Powers" and "Airplane," this kooky comedy is full of non-stop absurdity, including a crab voiced by "Morgan Freeman" and a stellar musical number by Jamie Dornan that more than makes up for the existence of the "Fifty Shades of Grey" movies (and that's not the only song in the movie that will crack you up). Stick around until the very end for what is undoubtedly one of the best cameos of 2021, making for the perfect cherry on a very silly sundae. It's weird, wonderful, and we can't recommend it enough. Just let the magic of "Barb and Star Go to Vista Del Mar" wash over you like the ocean when you're on an inflatable banana ride. Don't worry, you'll get that reference after you see the movie. (Ethan Anderton)
Cast: Kristen Wiig, Annie Mumolo, Jamie Dornan
Director: Josh Greenbaum
Screenwriter: Kristen Wiig and Annie Mumolo
Producers: Jessica Elbaum, Annie Mumolo, Kristen Wiig, Adam McKay, Will Ferrell, Margot Hand
Runtime: 107 minutes
Rating: PG-13
Benedetta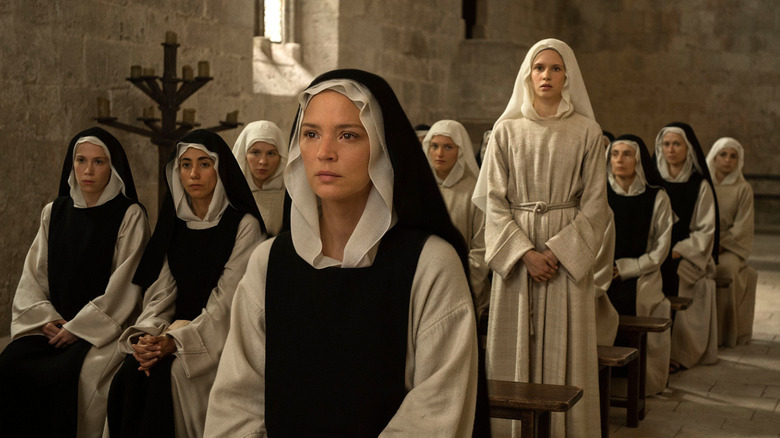 Paul Verhoeven's provocative religious drama is a delicious slice of sacrilege. Widely referred to as "the lesbian nun movie," "Benedetta" avoids the opportunities for satire by proving that it's also in on the joke. There's a cheeky streak of black comedy running through "Benedetta," loosely based on the "true story" of real-life Catholic mystic Benedetta Carlini, who lived in Italy at the height of the Black Death. Benedetta's story was chronicled in the 1986 non-fiction book Immodest "Acts: The Life of a Lesbian Nun in Renaissance Italy" by Judith C. Brown, which has a pretty self-explanatory title. Raised to the position of abbess of the Convent of the Mother of God in the small town of Pescia after she received various visions of Jesus Christ, Benedetta was denied sainthood after it was discovered that she engaged in a lesbian relationship with one of her nuns. 
Verhoeven's film is far from a biopic, however, taking great dramatic license to turn this steamy forbidden romance (that might otherwise be played straight in a more standard Oscar-bait drama) into a lurid dark comedy — where Benedetta's visions come in the form a rock-star Jesus Christ wielding a sword, or in which a wooden Virgin Mary statuette is turned into a dildo. "Benedetta" walks a tonal tightrope while managing to ask probing questions about the nature of sexuality and faith. (Hoai-Tran Bui)
Cast: Virginie Efira, Charlotte Rampling, Daphne Patakia.
Director: Paul Verhoeven 
Screenwriter: David Birke and Paul Verhoeven
Producers: Saïd Ben Saïd, Michel Merkt, Jérôme Seydoux
Runtime: 127 minutes
Rating: Not yet rated
Bo Burnham: Inside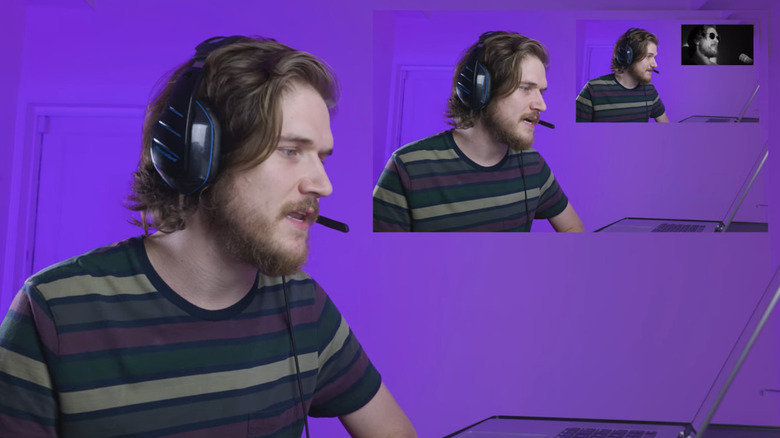 The words "brilliant," "genius," "masterful," and any other synonym thereof get thrown around a lot, typically loaded with hyperbole. That said, Bo Burnham's "Inside" is one of the most masterful pieces of media to be released this year.
Zero hyperbole.
It's essentially "2020: The Movie." Burnham eloquently and sardonically took most of our collective fears and feelings of impotence, fatalism, and nihilism and turned them into perhaps the best thing Netflix has ever produced. If I had to sum it up — a tonally difficult thing to do — I'd have to say "Inside" is what you'd get if you put Lenny Bruce, George Carlin, and Hannah Gadsby in a blender, and hired Mel Brooks and Charlie Kaufman to co-write and direct a movie about the resulting content.
What starts off with a facade of melancholic introspection quickly forces its tongue into its cheek, only to push so hard it eventually makes a hole straight through it. It's the streaming equivalent of laughing until you cry, becoming almost manic. Burnham's scrutiny of his own line of work is ruthless, especially when coupled with the helplessness of trying to make a difference while things are the way they are. If you're reading /Film, then chances are I don't need to break down the million different things that have gone wrong in the last 18 months or so — you know.
"Inside" will make you laugh one minute only to cause an existential crisis the next. It will make you face a huge part of yourself that's either been locked away because of the trauma of the pandemic or just needed a wake-up call. It's like an alarm clock for your conscience, but you wake up groggy and not entirely sure how to process what just happened. Other than maybe to cry and stare at the floor silently for a good hour and a half.
This is my favorite movie of the year so far, hands down, no contest. 10/10 recommend. Just have someone to cuddle or call after. (Ariel Fisher)
Cast: Bo Burnham
Director: Bo Burnham
Screenwriter: Bo Burnham
Producers: Bo Burnham, Josh Senior, and Cooper Wehde
Runtime: 87 minutes
Rating: 14A
Candyman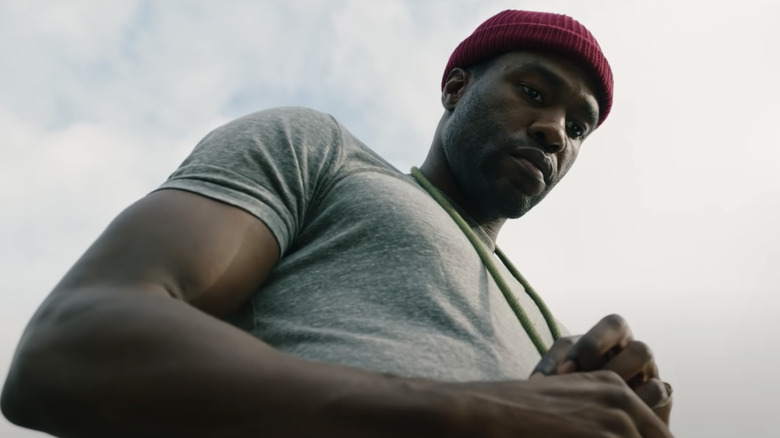 "Candyman" is the kind of major swing you hope to see from modern horror movies. Building upon the 1992 film's themes of race and class in America (this "remake" is actually a sequel), director Nia DaCosta revisits the same haunted Chicago settings, only to find them gentrified, safer, and very ready for an invasion from a hook-handed ghost who represents America's crimes against people of color. Aggressively political, incredibly violent, and filled with tension and dread, this film is the kind of technical marvel that makes it clear DaCosta will be making movies for a long time. And in the lead role as a young artist who finds himself embroiled in the legend of Candyman and gets far more than he ever bargained for, Yahya Abdul-Mateen II continues to be one of the most striking screen presences around today.Does everything here work? Nope. Not at all. "Candyman" is messy, its third act painfully rushed, its central metaphor sometimes pushed to the breaking point by the rules inherent in a slasher horror movie. But a horror movie being too ambitious is a good problem to have, and the problems here are actually interesting problems -- you'll want to talk to your friends after the credits roll, to dissect what you just saw. And like it or not, "Candyman" is a movie horror fans will be talking about for a long time. (Jacob Hall)
Cast: Yahya Abdul-Mateen II, Tyonah Parris, Colman Domingo
Director: Nia DaCosta
Screenwriter: Jordan Peele, Win Rosenfeld, Nia DaCosta
Producers: Ian Cooper, Win Rosenfeld, Jordan Peele
Runtime: 91 minutes
Rating: R
The Card Counter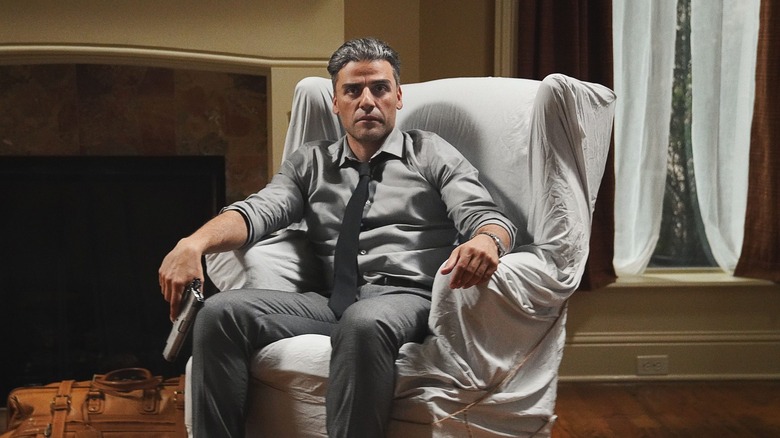 Paul Schrader continues his quest to make movies about lonely, angry men who sit in dark rooms writing down their stormy thoughts. Oscar Isaac is a gambler named Willem Tell (well, not really; that's an alias, obviously) who only bets enough to get by. But when a young, troubled outcast (Tye Sheridan) comes into his life, Isaac's card counter sees an opportunity for some form of redemption. But things won't be so simple. Schrader has made this kind of movie before, but doesn't make "The Card Counter" any less of an achievement. Simply put, there's no one making movies like Schrader right now. 
This is ultimately an anti-revenge movie. Schrader sets things up so we think we're going to get some sort of bloody confrontation. And in way, we do. But it doesn't go according to plan, with the filmmaker denying us any sort of violent catharsis we might revel in. Instead, "The Card Counter" is about the quiet moments. Moments spent alone, late at night, wondering where it all went wrong, and wondering if it can ever be set right again. 
There's heavy material here, but Schrader handles it all with a light touch. It helps that Isaac is compelling as hell in the lead role, carrying almost the entire film on his back. The cast around him is solid, too, with Tiffany Haddish playing against type and doing quite well, and Willem Dafoe briefly showing up but still packing a punch. "The Card Counter" isn't quite as good as "First Reformed," but it's cut from the same cloth. (Chris Evangelista)
Cast: Oscar Isaac, Tiffany Haddish, Tye Sheridan
Director: Paul Schrader
Screenwriter: Paul Schrader
Producers: Braxton Pope, Lauren Mann, David Wulf
Runtime: 112 minutes
Rating: R
CODA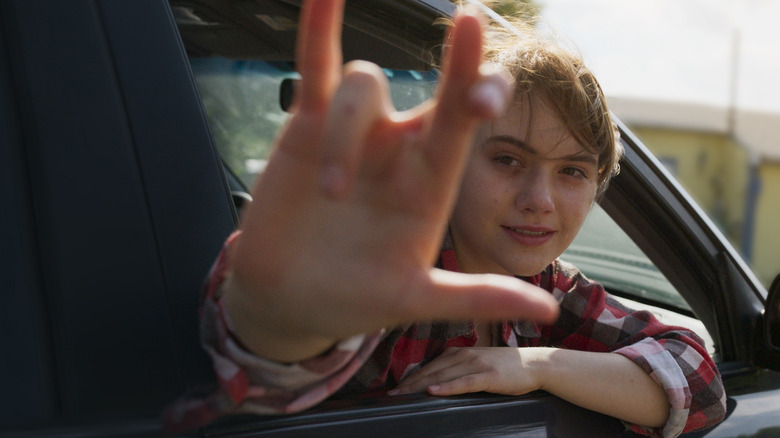 "CODA" was a sweet surprise at this year's Sundance Film Festival. A corny, emotionally affecting coming-of-age drama that managed to put a fresh twist on the genre, "CODA" follows young Ruby Rossi (Emilia Jones), the one hearing person in a deaf family and the de facto translator for her two parents Frank (deaf actor Troy Kotsur) and mom Jackie (Marlee Matlin) and her older brother Leo (Daniel Durant). But the thing is, Ruby dreams of being a singer — something that her family fails to understand, putting pressure on her to keep their fishing business going in a dying industry. Sian Heder writes and directs the remake of the 2014 French comedy "La Famille Bélier," turning the original's broad comedic strokes into something more poignant and affecting.
While a little dated in its jokes (there's just one too many "Pitch Perfect" references) and not breaking any new ground within the genre, there's something smart about how "CODA" manages to work within the limits of the coming-of-age dramedy and reject the labels that comes with it. Just like how "CODA" is a label that Ruby Rossi has been stuck with all her life, an acronym for "Child of Deaf Adults," taking one step toward achieving the other definition of "coda" — the conclusion of a movement or passage in a work of art — and become her own person. (Hoai-Tran Bui)
Cast: Emilia Jones, Eugenio Derbez, Troy Kotsur
Director: Sian Heder
Screenwriter: Sian Heder
Producers: Fabrice Gianfermi, Philippe Rousselet, Jerôme Seydoux, Patrick Wachsberger
Runtime: 111 minutes
Rating: PG-13
The Conjuring: The Devil Made Me Do It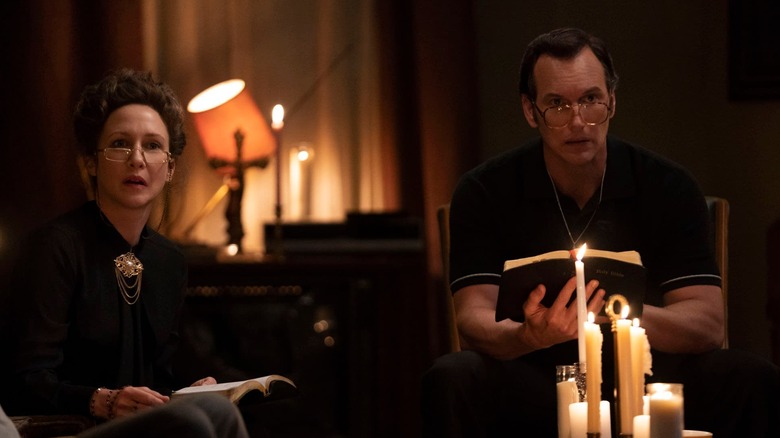 The "Conjuring" movies have emerged as the ultimate form of comfort food horror, films about good people facing great evil and emerging triumphant. And while real-life paranormal investigators Ed and Lorraine Warren have left a questionable legacy, the cinematic versions played by Vera Farmiga and Patrick Wilson have become bonafide genre icons at this point -- a demon-hunting couple who are really good at solving supernatural quagmires and are also very hot and very into each other. Horror is rarely this romantic, and horror films rarely let their heroes (rather than a flashy, freaky villain) take central focus like this.
"The Conjuring: The Devil Made Me Do It," the third film in the series, isn't quite as good as its predecessors. Director Michael Chaves doesn't have quite the same knack for playful jump scares as James Wan (who is still on board as a producer), but he recognizes something far more important. He knows we don't watch these movies just for the scares. We watch them to see Ed and Lorraine fall in love all over again every time they conquer another demonic threat. The film wisely abandons the haunted house set-up of previous entries and sends them on a sprawling road trip to track down the source of a curse, a format-breaking choice that allows the two leads to smolder and make eyes at each other and generally prove that horror can be a love story. (Jacob Hall)
Cast: Patrick Wilson, Vera Farmiga, Ruairi O'Connor
Director: Michael Chaves
Screenwriter: David Leslie Johnson-McGoldrick
Producers: James Wan, Peter Safran
Runtime: 112 minutes
Rating: R
The Dig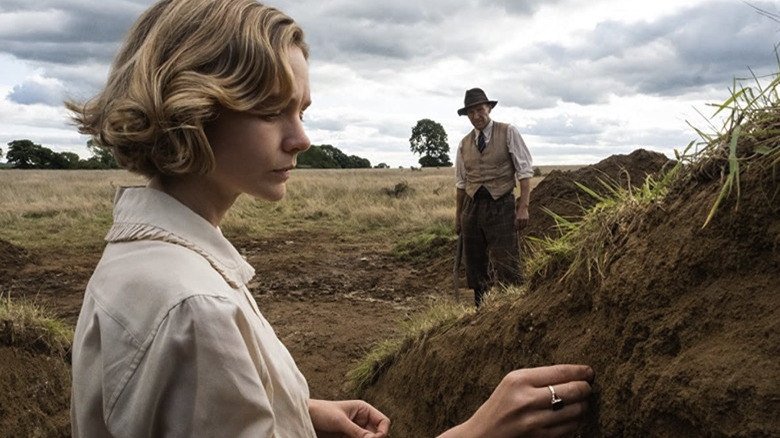 If the "cottagecore" and "nicecore" trends got together and had a baby, the result might be "The Dig," a throughly pleasant movie about digging a giant hole in the sprawling English countryside. This might be the simplest movie on this entire list from a plot perspective, but there's pleasure to be taken in this movie's gorgeously earthy color palette, its depiction of modernity as something that's always building on events of the past, and in the way director Simon Stone captures the film's beautiful landscapes. Ralph Fiennes is the standout of the film, playing Basil Brown, a real-life self-taught archeologist who was hired by wealthy landowner Edith Pretty (Carey Mulligan) to excavate some burial mounds on her property. Fiennes is terrific, balancing quiet determination with a wounded animal quality that is tremendously effective, especially when the British government steps in to try to take over his archaeological site. 
The film is literally about a backyard dig, but the relationship between Brown and Pretty allows for a secondary dig to take place as the adventure goes on, burrowing through his tough exterior and getting to the heart of his character. When the dig becomes too large for one man to handle and a crew is called in, the film devotes a subplot to exploring the tumultuous romances of one of the female crew members played by Lily James, whose energy nudges the film up to a slightly higher level. "The Dig" may not win any awards, but it's a great example of a quiet, comforting, adult-centric storytelling style that I hope never goes away. (Ben Pearson) 
Cast: Carey Mulligan, Ralph Fiennes, Lily James
Director: Simon Stone
Screenwriter: Moira Buffini
Producers: Carolyn Marks Blackwood, Murray Ferguson, Gabriella Tana, Ellie Wood
Runtime: 112 minutes
Rating: PG-13
Derek DelGaudio's In & Of Itself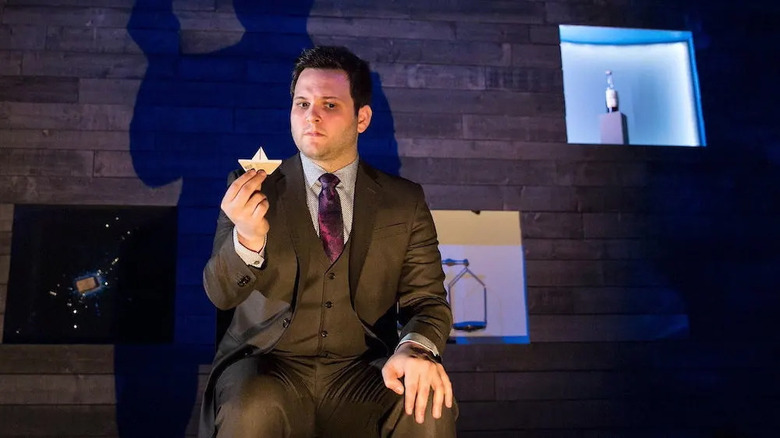 You might be turned off when you hear that "Derek DelGaudio's In & Of Itself" is most simply described as a one-man magic show that was recorded during several live off-Broadway performances in front of live audiences. But trust me when I say that this mini-biography of the titular artist and magician isn't like some kind of David Copperfield special on ABC where he makes a jet disappear. This is a mesmerizing experience that will have tears coming straight out of your face. Though there's some familiar sleight of hand and other assorted trickery, as with any show of this kind, the real magic DelGaudio brings is in his intimate connection to both the live audience and everyone watching at home. Trust me when I say that you'll feel something profound as he explores the importance of perception and identity in our lives and recalls significant parts of his own fascinating and heart-breaking life story. There are mind-blowing moments of pure emotion that will truly mystify you. To this day, I don't know how he pulled off this show. "Derek DelGaudio's In & Of Itself" is best experienced by knowing as little as possible before you watch, so if you haven't even heard of this before, just go to Hulu, turn it on, and make sure you have a box of tissues ready. (Ethan Anderton)
Cast: Derek DelGaudio
Director: Frank Oz
Screenwriter: Derek DelGaudio
Producers: Jake Friedman, Glenn Kaino, Vanessa Lauren
Runtime: 90 minutes
Rating: TV-MA
Dune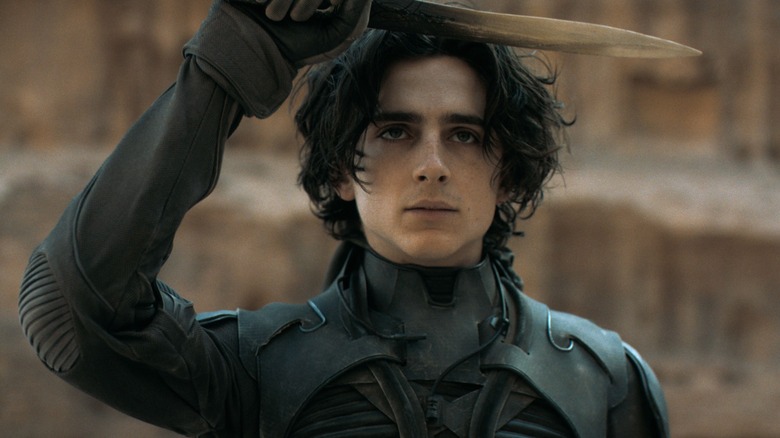 Denis Villeneuve's big, epic, overwhelming adaptation of "Dune" is not a complete movie. It ends in the middle of its story, with hope that a sequel will soon be on the way. This is a bit disappointing, but it doesn't take away from how effective the film ultimately is. Huge in scope and featuring near-flawless VFX work, "Dune" is an event picture, an extravaganza, a spectacle. Here's hoping audiences actually want that so we can get that sequel. The complicated story involves warring houses, ancient worlds, and spice – lots and lots of spice. But "Dune" is more than its story. 
The very nature of "Dune" might be overwhelming to some, with its world-building and strange terminology. But if you stick with the film, you'll find yourself witnessing great blockbuster filmmaking, and that's harder than it might seem. Whether or not the film is viewed on the biggest screen possible – an argument that keeps going around – really feels immaterial here. Will this look great on a big screen? Absolutely. But "Dune" will also work just as well at home. It's not the size that matters, it's the overall vibe, and "Dune" is overflowing with an atmosphere that feels entirely unique. Villeneuve's humourlessness often bothers some filmgoers, but it works to his favor here. "Dune" takes itself very seriously, and that helps make the film feel legitimately epic. (Chris Evangelista)
Cast: Timothée Chalamet, Rebecca Ferguson, Oscar Isaac
Director: Denis Villeneuve
Screenwriter: Jon Spaihts, Denis Villeneuve, Eric Roth
Producers: Denis Villeneuve, Mary Parent, Cale Boyter, Joe Caracciolo Jr.
Runtime: 155 minutes
Rating: PG-13
F9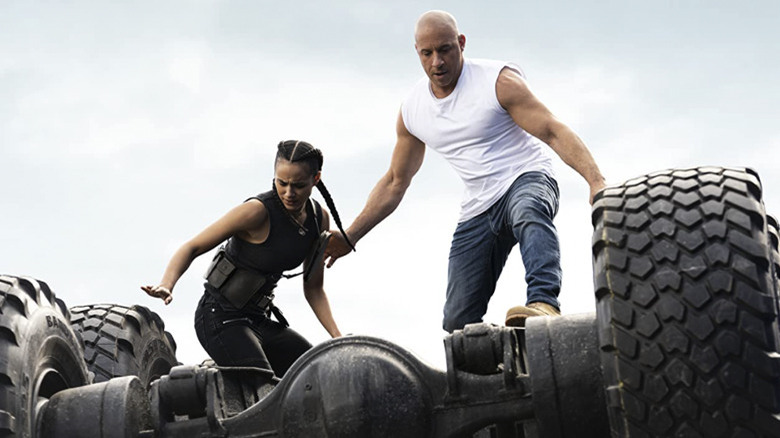 For years, people have been joking about the "Fast and Furious" franchise being so ridiculous that it would eventually take it characters to space. "F9" actually fulfilled that prophecy, and it did so in a way that actually kinda sorta made sense – at least within the confines of the larger-than-life cinematic world these characters inhabit. But I think one of the film's wisest elements was making the space thing a tiny subplot in a much larger narrative – one that, admittedly, will play like total nonsense if you're not invested in these movies. Luckily for me, I'm super invested, and I thought most of the creative decisions here worked very well. I was especially impressed with the decision to flash back to Dom and Jakob's younger days, detailing how their relationship fell apart in the wake of their father's death on a racetrack and exploring how that event sent huge ripple effects through the Toretto family. 
But there's plenty else to like about this movie: the fact that Helen Mirren and Nathalie Emmanuel are both given more to do this time around, the return of Sung Kang's Han (which could have been laughable but was handled pretty well, all things considered), and, of course, the explosive magnet-centric action in the film's climax, much of which was filmed practically. Justin Lin returned to the director's chair here for the first time in several movies, and he'll be the one steering this franchise across the finish line with an upcoming two-part sequel. I can't wait. (Ben Pearson)
Cast: Vin Diesel, Michelle Rodriguez, Jordana Brewster
Director: Justin Lin
Screenwriters: Daniel Casey, Justin Lin
Producers: Vin Diesel, Jeff Kirschenbaum, Justin Lin, Neal H. Moritz, Piya Pestonji, Joe Roth, Clayton Townsend, Samantha Vincent
Runtime: 143 minutes
Rating: PG-13
The Fear Street Trilogy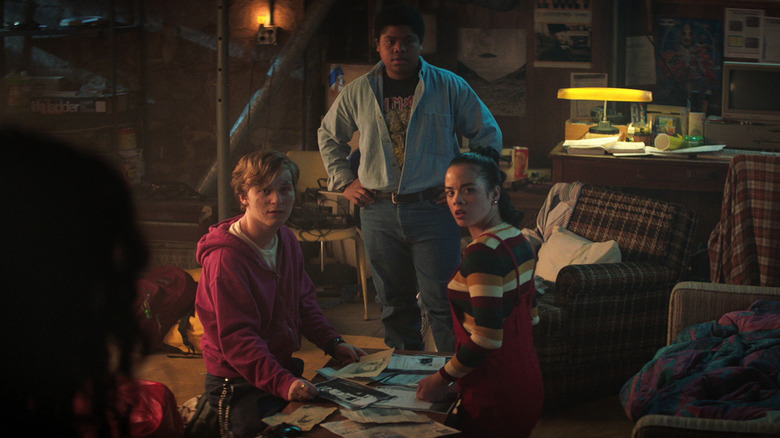 Netflix reinvented how we watch movies, and then promptly ... stopped reinventing how we watch movies. What the "Fear Street" trilogy suggests is that the work isn't done yet. Originally intended for theaters before pivoting to streaming, "Fear Street Part One: 1994," "Fear Street Part Two: 1978," and "Fear Street Part Three: 1666" represent one of the coolest experiments in media consumption since Netflix abandoned DVDs in the mail for streaming -- what if you could watch an entire trilogy of new movies over three weeks, instead of three or more years? The result: a buzzy experience akin to watching a popular TV show, but amplified to a proper cinematic event.
Of course, it helps that the "Fear Street" movies absolutely rule. Leigh Janiak shifts between subgenres with ease, delivering scares and heart in equal measure. The films know when to place tongue firmly in cheek, when to punch you in the gut, and when to deliver some of the gnarliest kills in recent horror movie history. The three films are the whole package -- it's hard to imagine your particular flavor of horror not being present at some point across these movies. When the various plot threads tie together in the third film and explode into the wildest horror climax since "The Cabin in the Woods," you'll be wondering if you've died and gone to genre heaven. (Jacob Hall)
Cast: Kiana Madeira, Olivia Scott Welch, Gillian Jacobs
Director: Leigh Janiak
Screenwriter: Phil Graziadei, Leigh Janiak, Zak Olkewicz, Kate Tefry
Producers: Peter Chernin, Jenno Topping, David Ready
Runtime: 107 minutes, 110 minutes, 114 minutes
Rating: R
Free Guy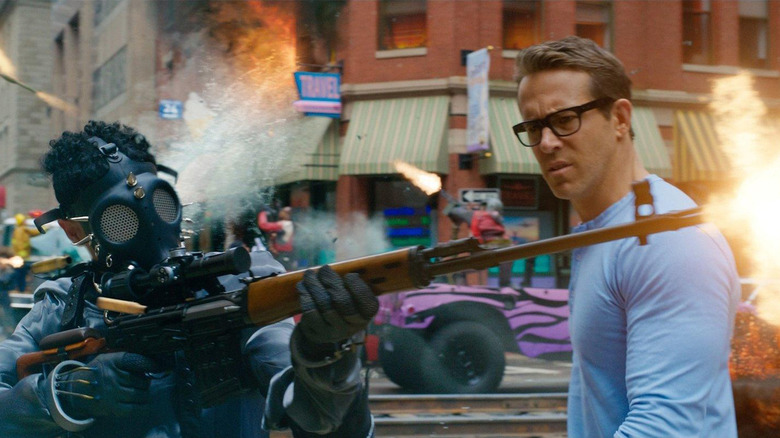 Take "Last Action Hero," "Ready Player One," and "The LEGO Movie" and put them in a blockbuster blender and you get this hilarious, charming, clever, and action-packed flick that makes excellent use of charming leading man Ryan Reynolds. Inside an open-world "Grand Theft Auto"-inspired video game called "Free City," non-player character Guy (Reynolds) suddenly wants more from his routine bank teller life, and he just might get it when he's awakened to the fact that he's actually an automated part of this massive video game world. Taking the power of real life video gamers into his own hands, and with a little help from a gamer (Jodie Comer) in the real world, Guy inadvertently becomes the last hope for stopping "Free City" from being deleted by the game's douchebag creator Antwon (Taika Waititi). The mechanics of video games have never been utilized on the big screen in such an entertaining fashion, even if there are some nonsensical elements in the real world for the sake of the plot. This could very well be the best video game movie ever made without actually being based on a real game. With a perfect blend of action, comedy, and heart, not to mention a few surprises in the final act, "Free Guy" is a 1980s movie in 21st century clothes, and it's better than it has any right to be. (Ethan Anderton)
Cast: Ryan Reynolds, Jodie Comer, Lil Rel Howery
Director: Shawn Levy
Screenwriter: Matt Lieberman and Zak Penn
Producers: Ryan Reynolds, Shawn Levy, Sarah Schechter, Greg Berlanti, Adam Kolbrenner
Runtime: 115 minutes
Rating: PG-13
Godzilla Vs Kong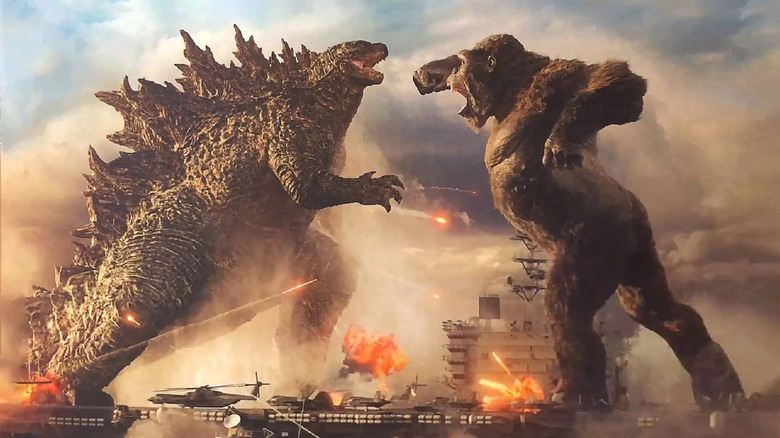 Even though we could do with a little less of the human story in this movie monster mash-up, the destruction and chaos caused by King Kong and Godzilla going head-to-head on the big screen is enough to make this a smashing good blockbuster. For my money, the neon-soaked battle between Kong and Godzilla in Tokyo is exactly what movie theaters were made for. On top of that, their first encounter on an aircraft carrier in the middle of the ocean feels like a video game brought to life better than any legitimate video game movie has ever done before. Godzilla uses his atomic breath to blast through a ship, giving King Kong his own "Die Hard" moment as he jumps away from the explosion King Kong uses some kind of mystical, other-worldly staff to bring lightning down on Godzilla! It doesn't get much better than that! Not only do we get these two ginormous creatures duking it out several times throughout the movie, knocking down buildings and creating endless problems for insurance companies, but we're rewarded with an even bigger battle in the film's finale that sees them team up to take on the mechanical monster known as Mechagodzilla. "Godzilla vs Kong" is the simple but entertaining blockbuster that we needed after enduring too much real world chaos thanks to the coronavirus pandemic. Come for the monsters, stay for the mayhem, and just ignore the humans. (Ethan Anderton)
Cast: Alexander Skarsgård, Millie Bobby Brown, Rebecca Hall
Director: Adam Wingard
Screenwriter: Eric Pearson and Max Borenstein
Producers: Thomas Tull, John Jashni, Brian Rogers, Mary Parent, Alex Garcia, Eric McLleod,
Runtime: 113 minutes
Rating: PG-13
The Green Knight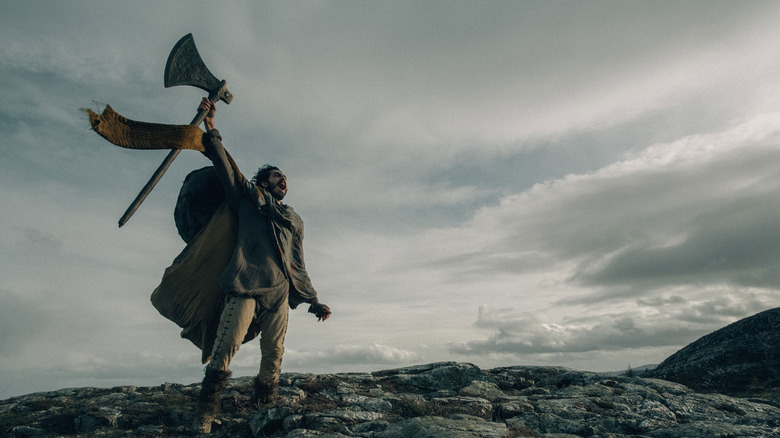 David Lowery's haunting, mesmerizing take on an Arthurian epic is positively rapturous. Based on the 14th century poem by an unknown author, "The Green Knight" feels like something that Lowery — who wrote and directed the film — unearthed from long ago. The surreal, slow-burning film follows Gawain (a never-sexier Dev Patel), the headstrong nephew of King Arthur, as he embarks on a journey towards his death after accepting a challenge from the Green Knight at the Camelot Christmas feast. After beheading the Green Knight with his own moss-covered axe, Gawain must travel to the Green Chapel one year hence and receive the same blow in return.
Unlike many the rousing sword-and-shield epics of Arthurian adaptations past, "The Green Knight" is a slow march to death. Gawain's quest is one of honor and glory, but one that comes at the cost of his own life — a cruel cosmic joke for which the arrogant knight-to-be only has himself to blame. But rather than try to bring about some comeuppance or catharsis for our young hero, Lowery's film only gives us inevitability: the Green Knight is less an antagonist than a force of nature, one that — like nature and the passage of time itself — can't be reasoned with or bargained with. The only thing left is for Gawain to accept his fate, and for all of us to accept that "The Green Knight" is one of the best, most astounding movies of the year. (Hoai-Tran Bui)
Cast: Dev Patel, Alicia Vikander, Joel Edgerton 
Director: David Lowery 
Screenwriter: David Lowery 
Producers: Toby Halbrooks, James M. Johnston, David Lowery, Tim Headington, Theresa Steele Page 
Runtime: 130 minutes 
Rating: R
The Humans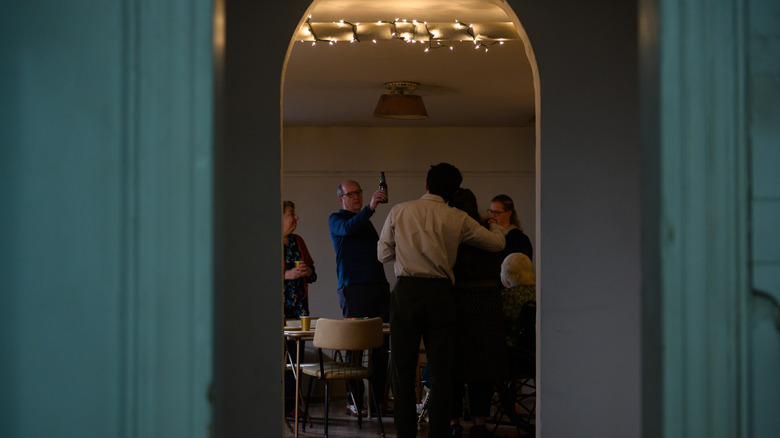 "The Humans" isn't technically a horror movie, but it sure feels like one. Focusing on a family during one long Thanksgiving, "The Humans" will have you on edge from the first frame as it drops you into a creaky, spooky New York apartment where it seems like ghosts are lurking around every corner. "The Humans" is based on a play, and often, stage-to-screen adaptations can be, well, stagey. But "The Humans" avoids this with its horror-movie style filmmaking that lures you into growing darkness. As I wrote in my review:
The lack of an overall plot may turn some off, but "The Humans" doesn't need one. It relies on its characters and their various neurosis. The specter of 9/11 looms over everything – we learn that Aimee was inside the World Trade Center for a job interview on that fateful day, while Erik was outside waiting for her.Often, when plays make the jump to the screen they can seem, well, stagey. Karam is able to mostly avoid this with interesting, and unnerving, shot compositions. Nearly every scene is filmed through a doorway or an entryway as if the viewer were someone eavesdropping on the family. This also contributes to the horror movie vibe of the entire film, along with the weird noises and other household problems – the lightbulbs have an odd habit of burning out suddenly, casting everyone into sudden darkness.
(Chris Evangelista)
Cast: Richard Jenkins, Beanie Feldstein, Steven Yeun
Director: Stephen Karam
Screenwriter: Stephen Karam
Producers: Louise Lovegrove, Stephen Karam
Runtime: 108 minutes
Rating: R
In The Heights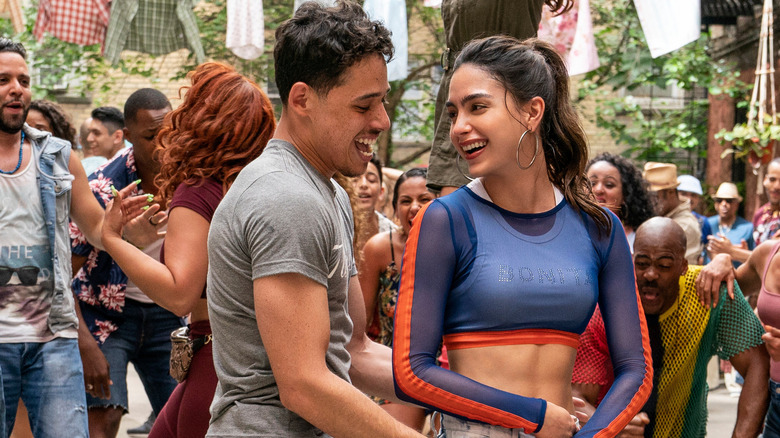 There's a sprawling sense of emotion and energy flowing through "In the Heights," Jon M. Chu's vibrant adaptation of the Tony-winning Broadway musical of the same name. Utterly unashamed of its medium, the film is packed with songs and extravagant dance numbers, most of which bend reality in ways both charming and disarming. It's the ideal blend of old school and new school -- it respects the long history of movie musicals while placing the camera in areas you would not expect to see during a song and dance number. A close-up on a character staring out a window, an army of dancers reflecting alongside him and providing the scale of major dance sequence with the intimacy of an actor's face, comes to mind.The film is straightforward enough, and that's part of its charm. Told over the course of a few days in New York City's Washington Heights, "In the Heights" explores various intersecting relationships and the hopes and dreams that power them in a community that is doing its best to shrug off gentrification and maintain its unique soul. The thin layer of melancholy beneath the joy arises just often enough to remind you that this world, full of music and love, is on the verge of extinction. Come live here, and be here, for two and a half hours. (Jacob Hall)
Cast: Anthony Ramos, Corey Hawkins, Leslie Grace
Director: Jon M. Chu
Screenwriter: Quiara Alegría Hudes
Producers: Lin-Manuel Miranda, Quiara Alegría Hudes, Scott Sanders
Runtime: 143 minutes
Rating: PG-13
Judas And The Black Messiah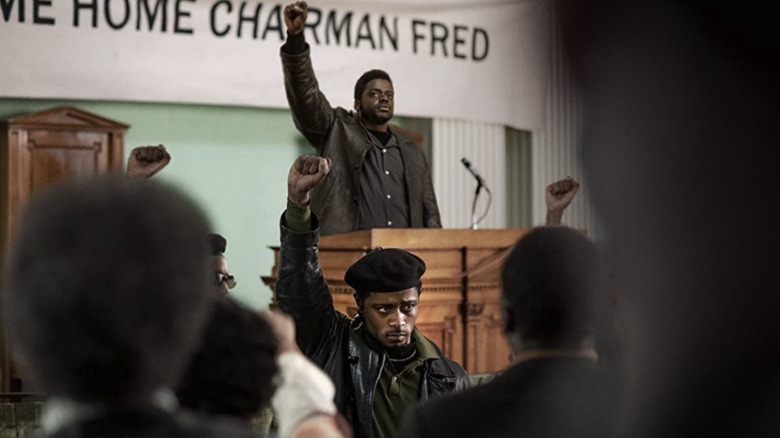 In this era of extreme political division, filmmaker Shaka King did something extraordinary: he managed to convince one of Hollywood's biggest legacy studios to finance and distribute a movie which puts forth truly socialist ideas and condemns the behavior of key players in a major federal institution. But the thing about "Judas and the Black Messiah" is that it's not just a movie with great and important ideas in it – it's also a great movie. King's energetic direction and propulsive script (which he co-wrote) help support the two fantastic performances at the center of the film. LaKeith Stanfield ("Atlanta") plays Bill O'Neal, a low-level criminal who is recruited as an FBI informant with the specific goal of infiltrating the Black Panther party and spying on Fred Hampton, the charismatic leader of the party's Illinois chapter. O'Neal is conflicted, and as he watches Hampton and sees the positive impact he has on his community, you can almost sense him teetering on the edge of whether or not he wants to go through with what J. Edgar Hoover and his minions are asking him to do. 
But the film belongs to Daniel Kaluuya, who delivers a towering, transformative, all-timer performance as Hampton, playing the role like his very life depended on it. Half fire-and-brimstone preacher and half revolutionary, Kaluuya manages to play Hampton as an icon in front of a crowd and as a simple man behind closed doors. Dominique Fishback, who delivers a heartbreaking and memorable performance as Deborah Johnson, is also stellar. (Ben Pearson)
Cast: Daniel Kaluuya, LaKeith Stanfield, Jesse Plemons
Director: Shaka King
Screenwriters: Will Berson, Shaka King
Producers: Ryan Coogler, Charles D. King, Shaka King
Runtime: 126 minutes
Rating: R
Last Night In Soho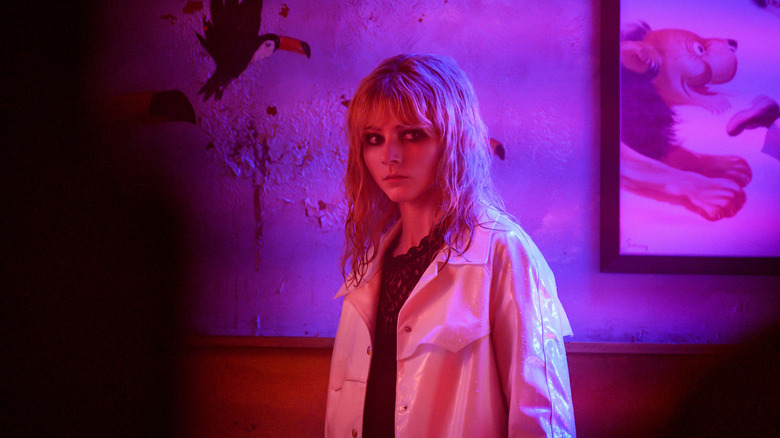 Edgar Wright fully embraces the horror genre with this loud, bloody, stylish time-hopping saga. Shy fashion design student Thomasin McKenzie suddenly finds herself having visions of the 1960s, where she becomes obsessed with a struggling singer, played by Anya Taylor-Joy. The visions start off harmless but quickly turn dark, and there's bloody murder in the air. This isn't one of Wright's best movies exactly, but it sure is a lot of fun to watch. 
This isn't Wright's most successful film, and there are a few decisions he makes here that just don't work for me. But, as is usually the case with his work, he directs the hell out of this thing, crafting sequences that are often brilliant, like this: 
The film follows fashion design student Eloise (Thomasin McKenzie), who moves to London for school. After being mocked by her cruel roommate, she ends up moving out and renting an apartment (or bedsit as they call it over there, in between sips of tea). Eloise is obsessed with the 1960s, from the fashion to the music, and one night, she climbs into bed, puts on a record, and then is transported back in time. This is the sequence that made me sit up in my seat, buzzing with Wright's skill on display. To travel back in time, Eloise strolls down a narrow alley in the past and suddenly comes out the other end in the 1960s. Wright shoots this wide, the camera swirling around Thomasin McKenzie as she takes it all in – the sights, the sounds, the landmarks. She makes her way into a nearby club where she suddenly catches her reflection in a mirror. Except it's not her reflection at all – it's that of songbird Sandy (the ever-ethereal Anya Taylor-Joy).What follows is a segment where we watch Sandy move around the club, and every time she's near a reflective surface (which is pretty much constantly), we see Eloise serving as her reflection. What follows is a swinging bit of filmmaking and editing, where Sandy ends up dancing with smooth operator Jack (Matt Smith). With seamless editing and VFX work, Wright constantly has McKenzie and Taylor-Joy switching places, often in the same shot within seconds. It resulted in me wondering, "I wonder how he did that?", and that's something I haven't wondered about a movie in a long, long time. There's more of this visual trickery throughout the film, but the club sequence is the true show-stopper and a perfect example of what Wright does well.
(Chris Evangelista)
Cast: Thomasin McKenzie, Anya Taylor-Joy, Matt Smith
Director: Edgar Wright
Screenwriter: Edgar Wright and Krysty Wilson-Cairns
Producers: Nira Park, Tim Bevan, Eric Fellner, Edgar Wright
Runtime: 116 minutes
Rating: R
Luca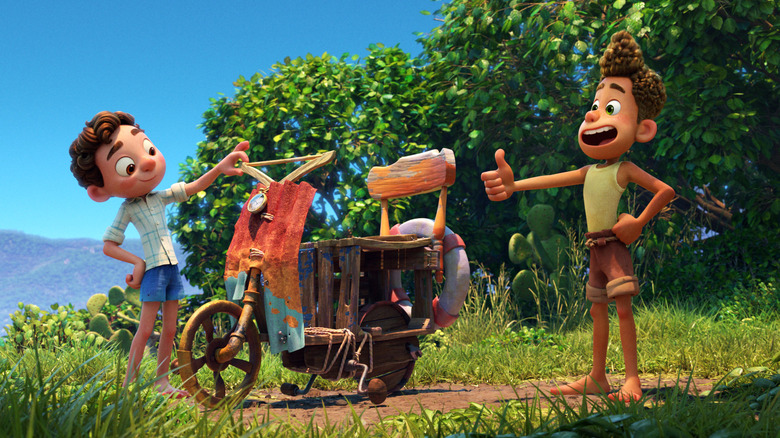 The biggest mistake you could make in describing "Luca" is writing it off as "charming." But what people might mistake as over-simple or facile is actually extremely rich and rewarding, when it comes to this Pixar coming-of-age film. Directed by Enrico Casarosa (making his feature directorial debut after wowing with his lovely Oscar-nominated short film "La Luna") and inspired by Casarosa's own childhood growing up on the Italian Riviera, "Luca" follows a young, shy sea monster named Luca (Jacob Tremblay) who yearns to explore the surface world. He's rudely granted his wish by Alberto (Jack Dylan Grazer), a fellow sea monster who had been living on the surface world without parent supervision for months. Together, the two of them build a makeshift Vespa and dream of touching the "fish" in the skies, eventually teaming up with Giulia, a human girl who wants to win the local town's annual children's triathlon. 
"Luca" couldn't get more low stakes, but nestled in its low-key story is a deep and bittersweet story of fleeting friendships and little betrayals. It's a gentle and lovely story that doesn't feel the need to grab its audience's attention, and there's nothing better than luxuriating in these characters' lives. And though the filmmakers may skirt around it, the subtle LGBTQ allegory of "Luca" (Luca and Alberto harboring a deep secret, Luca "out-ing" Alberto later on) add a deep complexity to this "simple" story. (Hoai-Tran Bui)
Cast: Jacob Tremblay, Jack Dylan Grazer, Emma Berman
Director: Enrico Casarosa Screenwriter: Jesse Andrews, Mike Jones Producers: Andrea Warren Runtime: 95 minutes Rating: PG
Malignant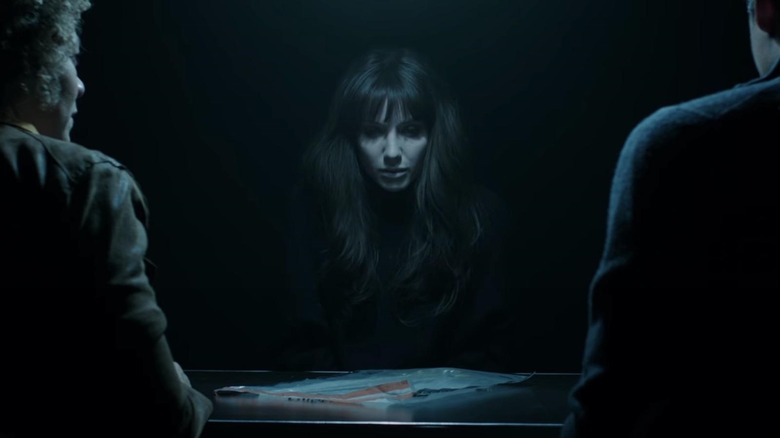 There are three horror movies I'm writing about (thus far, that may change as the year goes on), and they're all vastly different from each other. So much so, in fact, that many would likely dismiss two of them — or at least one — for being more of a psychological thriller than a horror movie.
Ah, the dreaded argument horror fans such as myself and many of my colleagues absolutely f**king loath. It's been going on for decades, gave birth to "elevated" horror, and makes folks clutch their pearls any time they deign to enjoy a scary movie. Nope, must label it something else because horror is ugly and nasty and violent and crude!
Well, "Malignant" is ugly, nasty, violent, and crude, and it's stunning in its vulgarity. James Wan returned to the horror director's chair after 5 years away and knocked it out of the park with one of the most absurd and unapologetic genre movies of the year.
Is it the most revolutionary horror movie ever made? No way, not even close. Is it highly referential and arguably a little derivative? Yeah, but what isn't? Hell, "Saw" was hugely derivative, and look at how many people tout that as a game-changer.
The key here is love and commitment. No, Seriously.
Wan knew he wanted to make something that felt original in a sea of "elevated" horror and big-budget productions. So he took the parts of the genre he loved most and molded them into a creature of his very own, nodding slyly to the folks who paved the way for him. It's referential but it's also reverent, managing to avoid the specific circle of hell dedicated to those who market their new movies as the latest cult classic. He took the entire process very seriously, and it shows.
It reminds me of Guillermo del Toro's approach to "Pacific Rim." In the film's special features, he talks about how imperative it is to approach even what may seem like the silliest thing in the world seriously. Pour your heart into it, treat it with respect, and take the process seriously, and what you'll get will shine as what it's supposed to be.
"Malignant" shines in the exact way it's supposed to — doused in blood while nodding admiringly at Frank Henenlotter and 42nd Street. (Ariel Fisher)
Cast: Annabelle Wallis, Maddie Hasson, George Young
Director: James Wan
Screenwriter: James Wan & Ingrid Bisu and Akela Cooper
Producers: James Wan, Chit Chau, Qing Li, Yedong Mu, Gary Tsui, et al.
Runtime: 111 minutes
Rating: R
The Many Saints Of Newark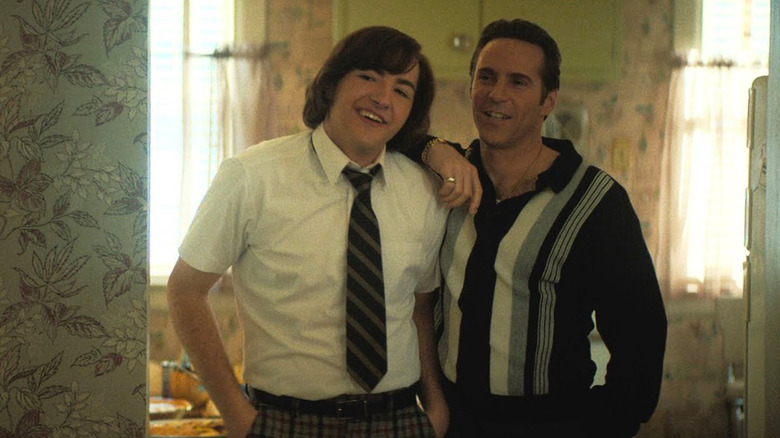 A "Sopranos" prequel could've backfired badly, but "The Many Saints of Newark" avoids stumbling – mostly. There are one too many references to the hit HBO show here, but once you get beyond that you find a bloody, funny, and ultimately tragic story of monstrous, violent men trying to justify all the terrible things they do. Alessandro Nivola is fantastic as the lead character, and Michael Gandolfini is something of a revelation stepping into his late father's shoes to play a young Tony Soprano. As I said in my review:
As for the young Tony Soprano, he's played here by Michael Gandolfini, son of the late James Gandolfini, who originated the role on "The Sopranos," and turned the part into one of the greatest TV characters of all time. Those are huge shoes to fill, and it must not have been easy for the younger Gandolfini to channel his late father. The results are often eerie — Gandolfini looks a heck of a lot like his dad, and he nails the older Gandolfini's mannerisms and diction to the point where there are times when it genuinely feels like we're just looking at a younger James Gandolfini up on the screen.The Tony here isn't the full-blown monster we saw on "The Sopranos," but we can see he's already headed down that path. Tests from school indicate he's a bright kid, but he doesn't apply himself at all and would rather pull off petty crimes — like when he and his friends steal a Mister Softee ice cream truck. ("We all do stuff like that when we're kids," Tony's father helpfully offers. "Beat up the Mister Softee man.")It doesn't help that Tony's mother Livia (Vera Farmiga, sporting a fake nose that miraculously doesn't take away from her bleakly funny performance) is an abusive narcissist who is prone to causing a scene wherever she goes. But "The Many Saints of Newark" is smart enough to point out that Livia isn't an anomaly in this world — she's just another borderline-sociopath who has found her place among murderous men. The ultimate tragedy is that we can see the tiniest glimmer of hope for Tony here, but we know it's a false hope. In the end, he'll never get away from this violent world. And he'll send those he claims to love straight to hell.
(Chris Evangelista)
Cast: Alessandro Nivola, Leslie Odom Jr., Michael Gandolfini
Director: Alan Taylor
Screenwriter: David Chase and Lawrence Konner
Producers: David Chase, Lawrence Konner, Nicole Lambert
Runtime: 120 minutes
Rating: R
Mass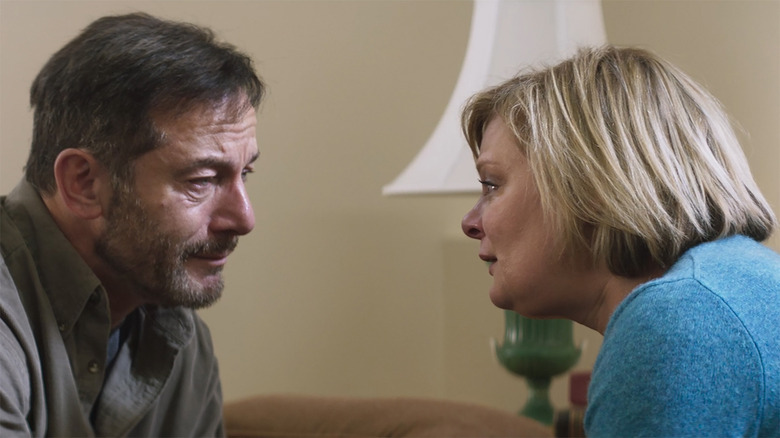 Filmmaker Fran Kranz, who you might remember as the unlikely stoner hero of "Cabin in the Woods," has made his directorial debut with "Mass," a stirring drama featuring what will undoubtedly be four of the best performances of 2021. Martha Plimpton, Jason Isaacs, Reed Birney, and Ann Dowd play four parents meeting in a small town church to hash out a harrowing history between their children that has devastated all of their lives. There was a school shooting some time ago, and one of their kids was the shooter while the other was one of the many victims. Volumes are spoken in the way that each of these parents desperately try not to upset each other, but the tension inevitably boils over, resulting in varied waves of sadness and hostility brought to life with gut-wrenching performances from all four leads. Even more is said in the silence between them, and there are several instances where all the sound seems to be sucked out of the room, allowing everyone to recover from the continued animosity. Despite taking place in a small room for the majority of the running time, you'll be glued to the screen and hanging on every single word of this delicately crafted dram. "Mass" is exhausting in the best way possible, and if there's any justice in the world, it will hopefully be up for some very big awards when the time comes. (Ethan Anderton)
Cast: Martha Plimpton, Jason Isaacs, Reed Birney, and Ann Dowd
Director: Fran Kranz
Screenwriter: Fran Kranz
Producers: Fran Kranz, Dylan Matlock, Casey Wilder Mott, J.P. Oullette
Runtime: 110 minutes
Rating: PG-13
The Mitchells Vs The Machines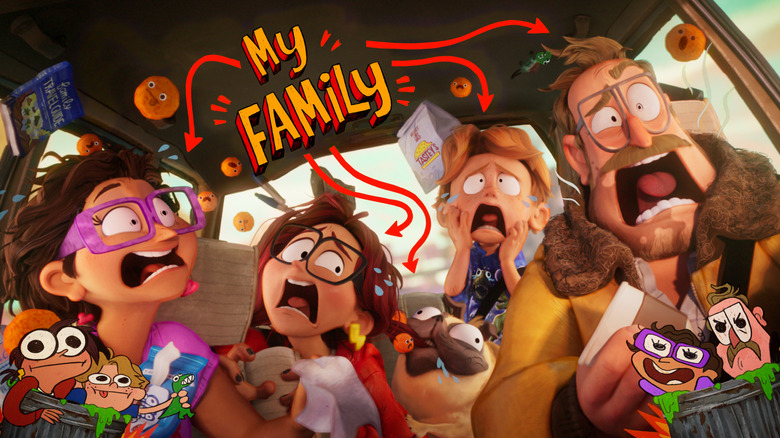 Growing up, I felt like Katie Mitchell (Abbi Jacobson). Maybe a little less free and fearless in my sense of self, but I felt just as weird and misunderstood, by the people around me as well as my own father. A man I love immensely and always have, my dad is very much like Rick Mitchell (Danny McBride), only if he were a pediatric researcher. He always loved nature and taught me to do the same along with respecting it, he got me into music (by way of Jethro Tull), and relentlessly showed my brother and me movies from every genre.
Despite all of this and how well we got along when I was little, as I grew up and my interests changed, he had a harder time understanding me. To this day, it's a struggle to get him to fully understand what I do for a living. And not unlike Katie and Rick, we had to make it through some really tough times together in order to see and understand one another.
It wasn't a robot apocalypse, though.
"The Mitchells vs the Machines" is, on its surface, a movie about a family — the titular Mitchells — who have to save the world from an AI apocalypse that's far less nuclear than Skynet would have intended. At its heart, however, it's about the work that goes into maintaining the relationships that matter most to us, and the love of family, whether it's the one you're born into or the one you make for yourself.
For me, it was about fathers and daughters who exist across sometimes cavernous divides but love each other immensely despite their differences. As soon as it was over, I immediately texted my dad — through ugly sobs, of course — how much I loved him and missed him. It hit at every part of my heart in a way that's rare, particularly for a movie that's so completely chaotic.
You may cry, but you'll definitely laugh. Sony's follow-up to the remarkable "Spider-Man: Into the Spider-Verse" raises the stakes and gives us more profound characters that reflect some of the most intimate aspects of ourselves. It's totally chaotic, but it's so full of heart that you can't help but smile the whole way through. (Ariel Fisher)
Cast: Abbi Jacobson, Danny McBride, Maya Rudolph
Director: Michael Rianda, Jeff Rowe
Screenwriter: Michael Rianda, Jeff Rowe, Alex Hirsch
Producers: Kurt Albrecht, Phil Lord, Christopher Miller
Runtime: 113 minutes
Rating: PG
The Night House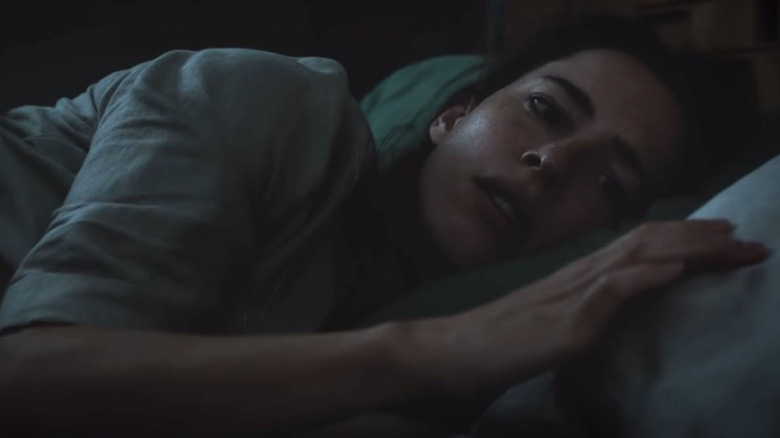 Grief is like a petri dish for horror: there's plenty of growth medium to help cultivate something fascinating. Is that a weird analogy? Yes, unquestionably, but go with me, here.
Grief has been at the heart of some of horror's most memorable entries, including but not limited to "Don't Look Now," "The Changeling," "Pet Sematary," and, more recently, "Hereditary." The genre is a great coping mechanism for grief and loss, so using it to portray such a visceral experience only makes sense.
David Bruckner's "The Night House" takes the concept of grief, death, and mourning and anthropomorphizes it. After the suicide of her husband, Owen, Beth (Rebecca Hall) starts to dig through his things to find out what else about him she didn't know. In the process, she unearths stuff that should have stayed buried, all while being haunted by a mysterious presence.
If you haven't seen "The Night House," it's kind of tough to talk about it and why it's so impactful without spoiling some things. You've been warned.
As far as depictions of suicide survivors in horror go, Rebecca Hall's Beth is an all-timer. Her depiction of that specific sadness, pain, and anger are genuinely exceptional, and in many ways, her performance validates those feelings, as endlessly complicated as they are, for other suicide survivors like myself. One of the most terrifying aspects of suicide for those who are left behind is the fear that you may never have truly known the person who took their own life, and when that person is your spouse, that fear can be earth-shattering.
Top all of that off with a metaphysical villain — think "The NeverEnding Story" but for grownups — and you'll be thinking about "The Night House" for hours if not days after the credits stop rolling. It will haunt you. (Ariel Fisher)
Cast: Rebecca Hall, Sarah Goldberg, Vondie Curtis-Hall
Director: David Bruckner
Screenwriter: Ben Collins, Luke Piotrowski
Producers: David S. Goyer, Keith Levine, John Zois
Runtime: 107 minutes
Rating: R
Nobody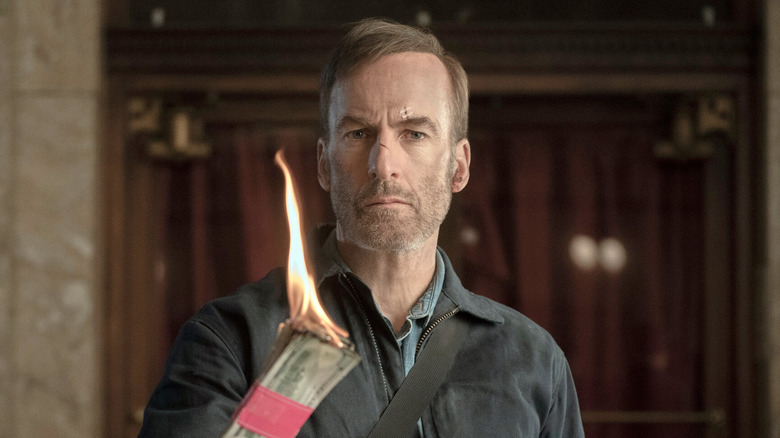 Bob Odenkirk's journey from celebrated comedian to stunning dramatic actor on "Breaking Bad" and "Better Call Saul" took its next evolutionary step when the actor decided to do the unthinkable. He would star in an action movie. And because Odenkirk takes his job seriously, this isn't a case of a middle-aged actor awkwardly holding a gun and throwing punches in disorienting close-ups -- he transformed himself for "Nobody," a giddily violent and hugely entertaining movie about a retired assassin who gets drawn back into a world of fists and bullets when a home invasion makes him question his purpose in life. Odenkirk is utterly convincing, and so much fun, as an ass-kicker.Although written by "John Wick" writer Derek Kolstad, Odenkirk is no pale imitation of that character. He's rougher around the edges, prone to getting his ass kicked (hard), and every action he takes looks like a struggle. Odenkirk sells the pain, but he also sells the idea of a man committed enough to work through the pain, to get back on the public bus full of violent thugs after they've literally thrown him out the window and onto the street. Director Ilya Naishuller has an eye for hard-hitting, small-scale action, and every single exchange in "Nobody" looks like it hurts. Hollywood action movies rarely hit this hard, this brutally. Sequel, please. (Jacob Hall)
Cast: Bob Odenkirk, Connie Nielsel, RZA
Director: Ilya Naishuller
Screenwriter: Derek Kolstad
Producers: David Leitch, Kelly McCormick, Braden Aftergood
Runtime: 92 minutes
Rating: R
No Sudden Move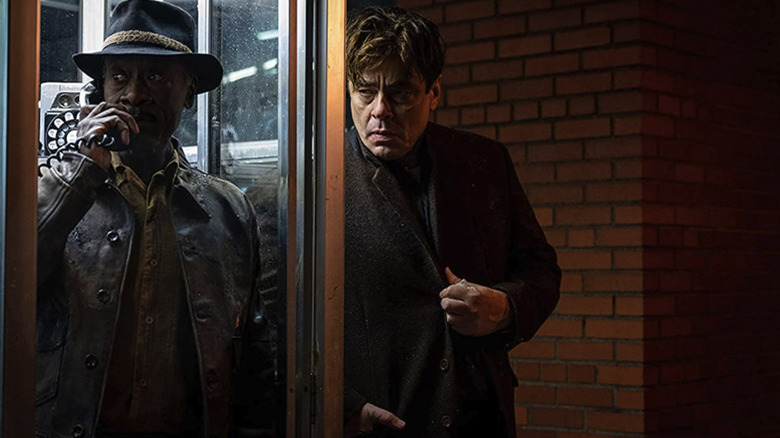 Hey, remember when we got a Steven Soderbergh crime thriller earlier this year? That was awesome. Soderbergh and writer Ed Solomon, who previously worked together on the ambitious and labyrinthine streaming series "Mosaic," reunited for this tension-filled 1950s-set caper about a group of mid-tier hoodlums trying to make a big score. It's a movie full of double- and triple-crosses, the type of film that keeps you on your toes all the way through as it introduces you to a wide array of characters and then slowly reveals their relationships to each other, maneuvering them across a complex narrative in fascinating ways. (Surprisingly, it ends up sharing a significant plot point with Shane Black's "The Nice Guys," another movie that absolutely rules.) 
Any time a film is packed this full of twists, it runs the risk of keeping the audience at arm's length; as a viewer, it can be tough to invest in anything if you feel like the rug is going to get pulled out from under you at any second. But "No Sudden Move" largely sidesteps that problem by amusing the audience with its lead trio of actors (David Harbour is particularly funny), helping to keep us locked in even when the movie occasionally gets a bit too clever for its own good. My favorite thing about the film (aside from its odd fish-eye cinematography) is its ending, which I won't spoil here. But suffice it to say that the movie's message is hammered home in memorable fashion by an unexpected character. (Ben Pearson)
Cast: Don Cheadle, Benicio Del Toro, David Harbour
Director: Steven Soderbergh
Screenwriter: Ed Solomon
Producers: Casey Silver
Runtime: 115 minutes
Rating: R
Passing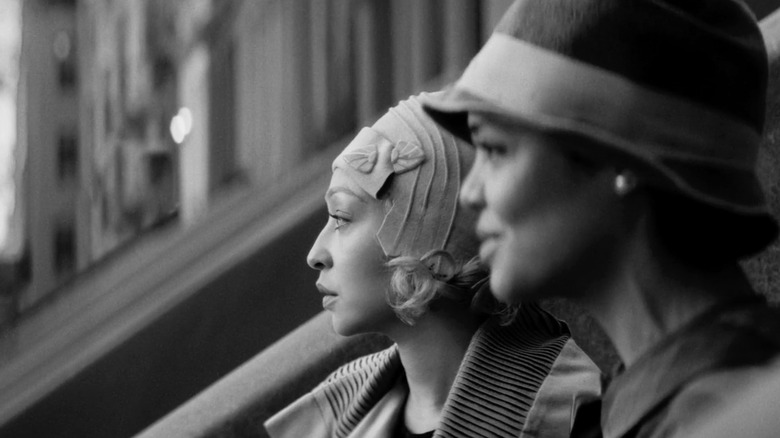 Rebecca Hall's assured directorial debut adapts Nella Larsen's 1929 novel of the same name, following two Black women (played by Tessa Thompson and Ruth Negga) who were once childhood friends. Both women are able to "pass" for white when they want/need to. But while Thompson's character avoids that, Negga is married to a white man who has no idea she's actually Black. This is tricky subject matter, but Hall handles it deftly, with Thompson and Negga both delivering layered performances as two complicated characters. 
When I reviewed "Passing" at Sundance earlier in the year, I wrote: 
The sorts of themes Passing is trafficking in could easily go wrong on the screen if they were approached in an unsubtle, heavy-handed way. But Hall, who makes her feature directorial debut and also adapted the script, deftly balances it all. There are no big outbursts, no speeches. Everything is just slightly beneath the surface, simmering. We know it can all boil over at any moment, and that lends the entire movie considerable tension. It's as if we're waiting for the other shoe to drop; for something to go horribly, irreconcilably wrong. Occasionally, Hall gives in to some flourishes that distract from the story she's telling her, such as several shots where characters deliberately go out-of-focus. And the decision to shoot the movie in 4:3 aspect ratio at times feels like a distraction. For the most part, though, this is a strong debut, proving that Hall is not just a great performer but on the way to becoming a great filmmaker, too.
(Chris Evangelista) 
Cast: Tessa Thompson, Ruth Negga, André Holland
Director: Rebecca Hall
Screenwriter: Rebecca Hall
Producers: Nina Yang Bongiovi, Forest Whitaker, Margot Hand, Rebecca Hall
Runtime: 98 minutes
Rating: R
Pig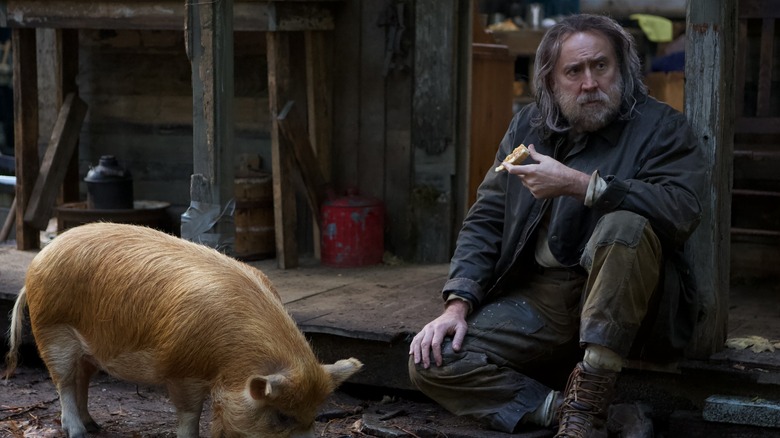 Nicolas Cage makes a lot of junk movies but that doesn't mean he's lost his talents. And in case you needed to be reminded of that, here's "Pig," which features one of Cage's best performances. The actor plays a former chef turned truffle hunter in search of his kidnapped truffle pig. That sounds like the set-up or a "John Wick"-style story, but that's not what "Pig" is. Instead, it's a quiet, soulful, reflective work that lingers with you long after it's ended. 
I don't like to toot my own horn, but "Pig" resulted in me writing a review I was quite proud of, in which I said: 
"Nicolas Cage is a guy looking for his stolen pig," the general premise of Michael Sarnoski's elegant, haunting, mournful movie Pig, likely inspires more than a few assumptions. You'd be forgiven for assuming that a movie like that would be some sort of goofy, indie John Wick knock-off. You'd also be forgiven for assuming that Cage, playing the man searching for his pilfered porcine pal, goes over the top. After all, Cage has become legendary for becoming unhinged on screen. And he's become notorious for appearing in a lot of junk, too.But within moments of starting, Pig demands you leave all those assumptions behind you. Because Pig is not the movie you think it is. It's something far more beautiful, and far more painful. It is an existential meditation on the search for something. Anything. A kind of cosmic loneliness envelopes this film. It's extraordinary.
(Chris Evangelista)
Cast: Nicolas Cage, Alex Wolff, Adam Arkin
Director: Michael Sarnoski
Screenwriter: Michael Sarnoski
Producers: Vanessa Block, Dimitra Tsingou, Nicolas Cage
Runtime: 92 minutes
Rating: R
The Power Of The Dog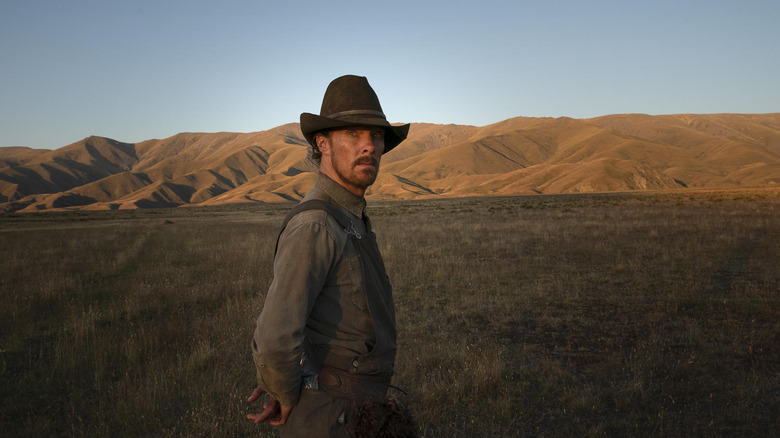 Jane Campion's neo-Western has Benedict Cumberbatch giving the best performance of his career. Cumberbatch plays a cruel, brilliant rancher who sets out to make life hell for his new sister-in-law, played by Kirsten Dunst. But when Dunst's son (Kodi Smit-McPhee) arrives, something changes. And to say anything more would do this film a disservice, because "The Power fo the Dog" will keep you in the dark until almost the very final frame, at which point it'll knock you back into your seat, stunned. And I really hope this finds an audience when it arrives on Netflix, just like I said in my TIFF review: 
As "The Power of the Dog" rolls into its jaw-dropper of a conclusion, we are left drained, pulverized, as if we've been put through the wringer. Campion hasn't helmed a feature film in nearly 12 years, and here she comes back with a vengeance, with supreme command of her imagery. I'm not anti-Netflix by any means, and I'm thrilled the streaming giant continues to throw money at great filmmakers. But it seems almost a pity to picture such a subtle, emotionally pulverizing movie playing on Netflix while the viewer spends most of the time checking their phone. But perhaps I'm generalizing. Perhaps "The Power of the Dog" will find exactly the audience it needs and deserves. An audience ready to be transported into a completely different world; a fully realized scary-beautiful world brimming with meticulously drawn characters who intrigue, confuse, frighten, and ultimately thrill us.
(Chris Evangelista)
Cast: Benedict Cumberbatch, Kirsten Dunst, Jesse Plemons
Director: Jane Campion
Screenwriter: Jane Campion
Producers: Emile Sherman, Iain Canning, Roger Frappier, Jane Campion, Tanya Seghatchian
Runtime: 126 minutes
Rating: R
A Quiet Place Part II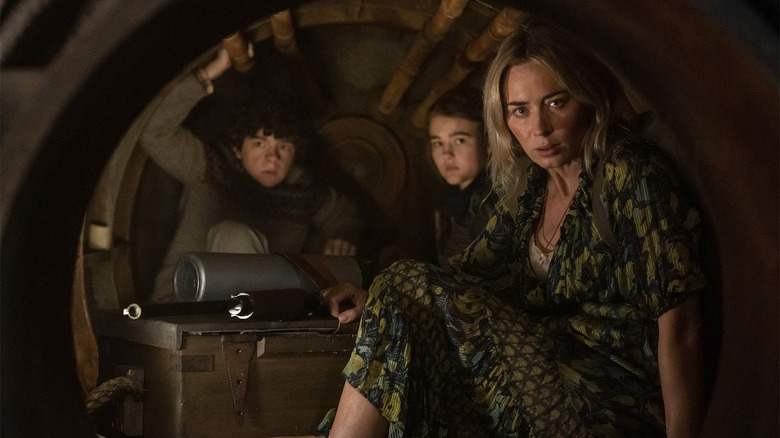 Picking up after the events of the first nerve-racking sci-fi horror movie that made movie theaters more silent than they've ever been before, "A Quiet Place Part II" ups the ante by venturing out into the world ravaged by sound-sensitive aliens who seek out anything louder than a whisper. "The Office" star John Krasinski returns to direct this stress-inducing sequel, which also takes us back to the beginning of the alien invasion in a masterful opening sequence that could stand on its own as an impeccably crafted sci-fi short film that seamlessly weaves through a suddenly devastated small town. Emily Blunt takes the lead this time (though Krasinski also has a pivotal role in the opening), with Noah Jupe and Millicent Simmonds returning as her adolescent children, and the cast also expands with the addition of Cilian Murphy as another compelling survivor. Every performance in this film deserves praise as each and every cast member is forced to convey most of their emotion through facial expressions and body language, mostly because they can't speak above a whisper, tossing almost all of the inflection from their voice out the window. This is one of those movies where the phrase "non-stop thrill ride" is actually accurate, and it's worth turning out the lights and trying not to jump out of your seats. (Ethan Anderton)
Cast: Emily Blunt, Millicent Simmonds, Noah Jupe
Director: John Krasinski
Screenwriter: John Krasinski, Bryan Woods, Scott Beck
Producers: John Krasinski, Michael Bay, Andrew Form, Brad Fuller
Runtime: 97 minutes
Rating: PG-13
Raya And The Last Dragon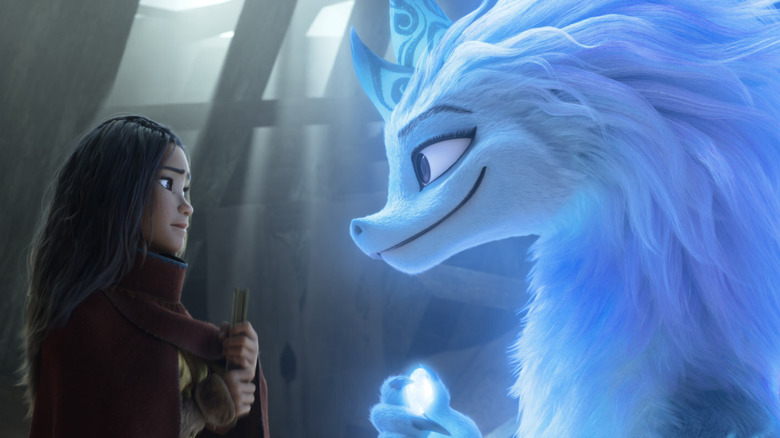 "Raya and the Last Dragon" was a grand achievement in representation and in Disney Animation. And while the former has its flaws, there's no denying that "Raya and the Last Dragon" is the most visually stunning and borderline uncannily realistic of the Disney animated films.
Set in the fictional country of Kumandra, "Raya and the Last Dragon" follows the titular lone warrior as she embarks on a quest to find the last dragon and save the five distinct lands — Fang, Spine, Talon, Tail, and Heart — from the Druun, malevolent beings that turn every human they touch to stone. But the country is divided and broken, and Raya faces hardships and obstacles every way she turns.
A real barn-burner of an adventure epic, "Raya and the Last Dragon" is full of chases and elaborate action sequences make the film a real treat to watch. Disney animation has never looked better, the sweeping tundras and twinkly night markets carrying a real-world weight to them, aided by the frequent use of shallow depth of field that adds a hazy beauty to the movie. The fight scenes are simply jaw-dropping, full of energy and oomph, and a terrifying realness that would have you believe the film's directors flirted with an R-rating. And Tran, who is absolutely perfect as Raya, imbuing a casual coolness to the prickly character, unleashes a frightening rage during the battle scenes that feel raw and unhinged in a way that Disney has rarely felt. She could not be a better pick for Disney's first Southeast Asian princess. (Hoai-Tran Bui)
Cast: Kelly Marie Tran, Awkwafina, Gemma Chan
Director: Don Hall, Carlos López Estrada
Screenwriter: Qui Nguyen, Adele Lim
Producers: Osnat Shurer, Peter Del Vecho
Runtime: 107 minutes
Rating: PG
Saint Maud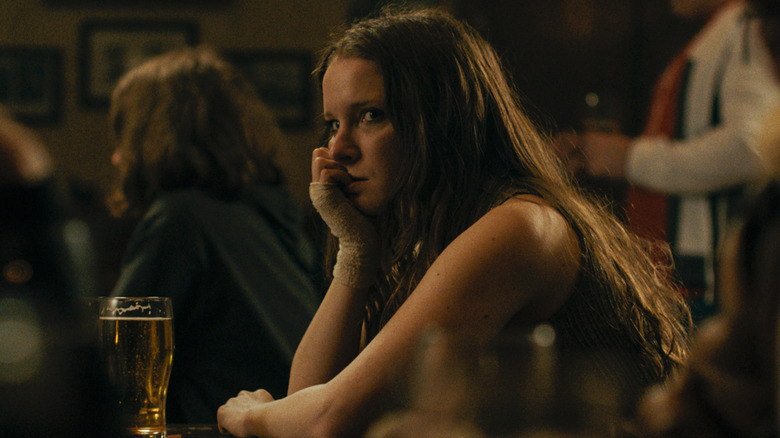 I first saw "Saint Maud" at TIFF in 2019. You know, the Before Times. I was intrigued by the premise, but couldn't entirely prepare myself for the impact of the final product. A fever dream fueled by misguided piousness and obsessive Catholicism, it keeps you guessing as to whether or not what you're seeing is actually real until its final seconds.
The feature directorial debut from filmmaker Rose Glass is about Maud (Morfydd Clark), a young hospice nurse who's recently found god in the form of devout Catholicism after a mysterious incident that nearly cost her her career. Her new charge, Amanda (Jennifer Ehle), is a retired dancer with a soul Maud is desperate to save.
"Saint Maud" derives its chill and terror from the fragility of our own consciousness. It taps into the notion of mental illness and the fear of becoming our own unreliable narrator while viciously challenging our convictions and our preconceived notions of truth. Depending on how you look at it, it also wags a very knowing finger at religious fanaticism. Frankly, I subscribe to that notion, but I'm an agnostic Jew, so of course, I think a fanatically devout Catholic is a bit extra.
I'm making light, but I don't take "Saint Maud" lightly. It terrified me when I saw it at TIFF, and I couldn't stop thinking about it for a while after. Sure, it has more traditional and ephemeral scares throughout the film — including an absolute banger from Ehle near the end that genuinely makes you question everything. But it's the nuanced, psychological elements of the film that will linger for a long time, sticking to the inside of your mind like a bad dream that you just can't shake.
The most effectively terrifying aspects of "Saint Maud" aren't the sparse jumpscares or unnatural contortions. It's the unrelenting fallibility of the human mind. (Ariel Fisher)
Cast: Morfydd Clark, Caoilfhionn Dunne, Jennifer Ehle
Director: Rose Glass
Screenwriter: Rose Glass
Producers: Andrea Cornwell, Oliver Kassman
Runtime: 84 minutes
Rating: R
Shang-Chi And The Legend Of The Ten Rings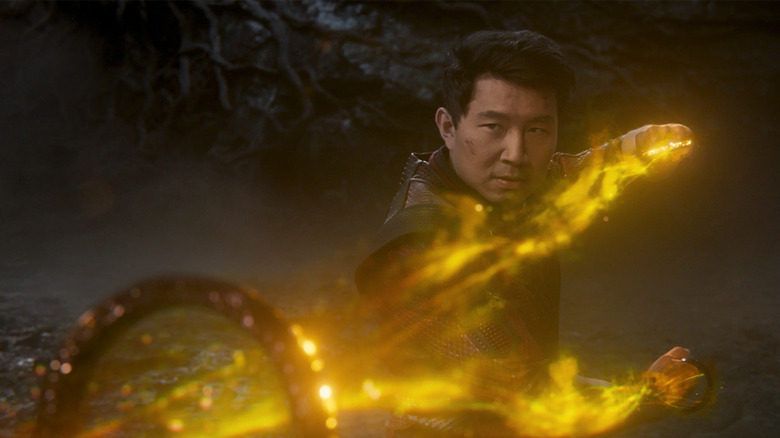 After Marvel's Infinity Saga came to an end a couple years ago with "Avengers: Endgame," the Marvel Cinematic Universe is in a period of rebuilding with a new slate of superheroes stepping up to the plate alongside the remaining assembly of Avengers. The first new superhero out of the gate is Shang-Chi (played by Simu Liu), with an origin story unlike any you've seen in the MCU before. Not only is this a refreshing origin story after years of interconnected superhero sequels, but it also finally brings a lead Asian superhero into the MCU, and that's something that has been long overdue. Mixing the traditions of Asian martial arts and fantasy films, "Shang-Chi and the Legend of the Ten Rings" has some welcome improvements to the MCU formula alongside all the hallmarks you've come to love about Marvel movies, including a satisfying sidekick turn from Awkwafina. "Shang-Chi" has meticulously crafted fight sequences, making for some of the best action Marvel Studios has ever produced for the big screen, and a finale full of vibrant fantastical visuals. And we'd be remiss if we didn't point out the legendary Tony Leung as a stellar villain who brings both intimidation and authenticity to the role, giving us a character who is a step above your typical comic book foe.  (Ethan Anderton)
Cast: Simu Liu, Tony Leung, Awkwafina
Director: Destin Daniel Cretton
Screenwriter: Destin Daniel Cretton, Dave Callaham, Andrew Lanham,
Producers: Kevin Feige, Jonathan Schwartz
Runtime: 132 minutes
Rating: PG-13
The Sparks Brothers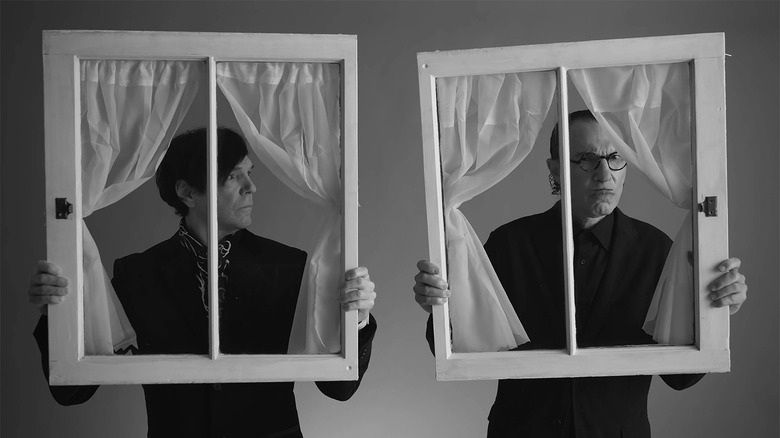 Edgar Wright is known for giving us expertly crafted fun flicks like "Shaun of the Dead" and "Scott Pilgrim vs the World" that pay homage to many beloved genre films that came before them, all with the beat of a kick-ass soundtrack. So of course his first feature length documentary is a must-see that plays with the familiar formula of films about famous rockers and perfectly utilizes the discography of the film's subjects for an entertaining and informative profile. Cheekily titled "The Sparks Brothers," the film focuses on Ron and Russell Mael, the duo known simply as Sparks, a group whose career has spanned over 50 years and 25 albums. Described as "your favorite band's favorite band," the career and musical stylings of Sparks are fascinating and funny, providing a playful portrait of the group whose music will have your toe tapping the whole way through. There's an heir of mystery about the group that has lasted throughout their various reinventions and comebacks over the years, so much that there might even be some intentionally misleading details just for the hell of it. Even if you've never heard of Sparks before, you'll be wowed by just how beloved they are by some of the most well-known names in music and pop culture. When all is said and done, you might have a new favorite band to enjoy for years to come. (Ethan Anderton)
Cast: Ron and Russell Mael
Director: Edgar Wright
Screenwriter: N/A
Producers: Edgar Wright, Nira Park, George Hencken, Laura Richardson
Runtime: 140 minutes
Rating: R
Spencer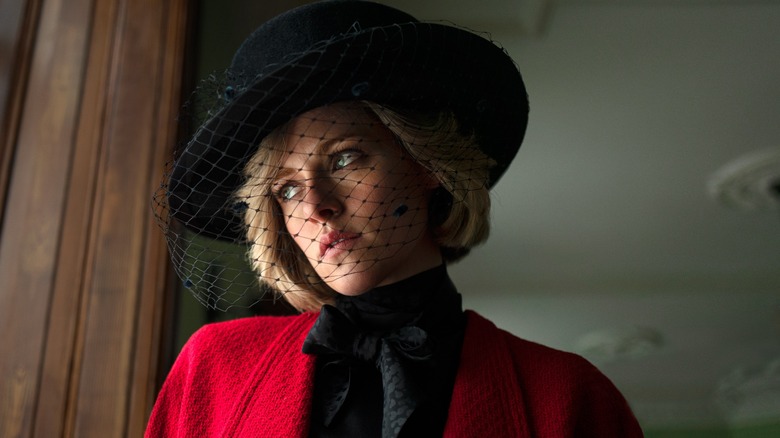 Using a similar approach as his film "Jackie," Pablo Larraín's "Spencer" follows a historical woman over a period of a few sad, lonely days. This time that woman is Princess Diana, played brilliantly by Kristen Stewart. It's Christmas, and Diana is forced to spend time with the royal family. But she's an outcast, misunderstood, and troubled – and she spends the holiday filled with dread. This is, of course, a tragic story – we all know Diana will eventually die young. But there's an unexpected ray of hope burning through the film, buoyed by Stewart's fearless performance. I spoke more of this in my TIFF review:
"Spencer" is an ultimately sad film, but that's not to say it's a non-stop misery train. While we all know the eventual tragedy that will befall Diana, there are glimmers of light that peek through, just like the light Diana struggles to find when servants sew up her bedroom curtains after she keeps refusing to keep them shut. One of the film's final moments, which involves an unexpected pop song, is so wonderfully light, like a sudden cool breeze on a stifling day, that it radiates a kind of wholesome power.Stewart's Diana is an unhinged, hopeless, lonely tragic figure in a desperate search of some sort of friendliness, some sort of understanding, some sort of love. And she will eventually find it, however fleeting. But the fleeting moments are the ones that often end up meaning the most to us. The ones who tuck away in our hearts, keeping them there like an ember of fire ready to be stoked. "Spencer" will break your heart, but it will bring it warmth, too.
(Chris Evangelista)
Cast: Kristen Stewart, Timothy Spall, Sally Hawkins
Director: Pablo Larraín
Screenwriter: Steven Knight
Producers: Juan de Dios Larraín, Jonas Dornbach, Paul Webster, Pablo Larraín, Janine Jackowski, Maren Ade
Runtime: 111 minutes
Rating: R
Stillwater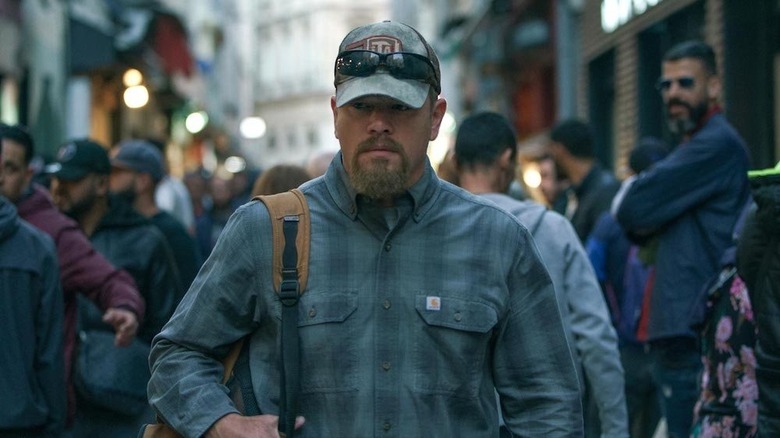 "Stillwater" has become the butt of many a joke thanks to its vague title and that poster of a bearded Matt Damon looking like a Trumpian blue-collar hero. And its premise isn't much better: "Stillwater" has the kind of ripped-from-the-headlines story that is sure to immediately get eyes rolling and already invoked the ire of Amanda Knox: an American student is convicted of the murder of her roommate in a foreign country, and her father will have to take the law into his own hands to try to liberate her. It sounds like Amanda Knox meets blue-collar Taken, and it's surely the kind of sordid, sentimental thriller that is barely worth a second thought. But, surprisingly, "Stillwater" is much messier and interesting than its poster and premise would make you think.
Five years after Allison Baker (Abigail Breslin) was convicted of the murder of her roommate and girlfriend, Lina, while studying abroad in Marseilles, France, her father Bill Baker (Damon) has still not gotten used to the routine of taking a two-week break from his oil rig job to visit her. But after Allison catches wind of the real culprit, Bill tries to find justice for his daughter on his own — to no avail. Following that brief stint into the kind of vigilante drama we expect, "Stillwater" instead relaxes into a found-family character drama where, remarkably, the case itself almost becomes inconsequential. Instead, it luxuriates in sweet moments between Bill and his motel neighbors Virginie (Camille Cottin) and her daughter Maya (Lilou Siauvaud), as director Tom McCarthy uses the film's slower moments to explore failures both personal and systemic. Despite a baggy structure and disappointing ending, these elevate Stillwater to be something more than its true-crime trappings. (Hoai-Tran Bui)
Cast: Matt Damon, Camille Cottin, Abigail Breslin
Director: Tom McCarthy 
Screenwriter: Tom McCarthy, Marcus Hinchey, Thomas Bidegain, Noé Debré 
Producers: Steve Golin, Tom McCarthy, Jonathan King, Liza Chasin 
Runtime: 140 minutes 
Rating: R
The Suicide Squad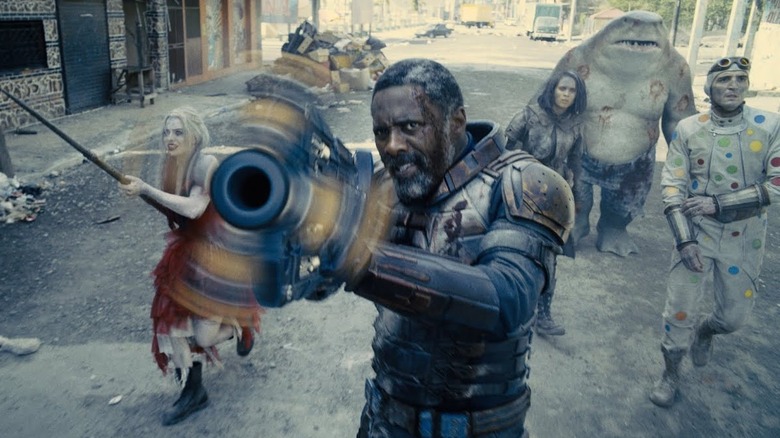 Just when you think superhero movies are starting to get a little stale, "The Suicide Squad" arrives to kick the genre right in the groin and send it flying off a cliff. All bets are off. Representing the perfect halfway point between writer/director James Gunn's early work as a button-pushing member of Troma's filthy filmmaking collective and his slick, polished, approachable "Guardians of the Galaxy" films, this sequel/reboot takes one of the of worst mainstream releases in recent memory (that would be 2016's "Suicide Squad," without the "the") and rebuilds it into a world worth your time and energy.The premise is still the same: a group of low-tier comic book supervillains are given a chance to have years taken off their prison sentences if they agree to go on a dangerous mission for the government. Chances of survival? Very low, of course. Did you see the title of the movie? And Gunn doesn't pull any punches, introducing a sprawling cast of weirdos and creeps (some of them even a little bit lovable) before slaughtering them in bleakly hilarious ways. The film eventually builds around a core crew, including an appropriately weary Idris Elba as the assassin Bloodsport and the always-game Margot Robbie as Harley Quinn, and that's when Gunn exposes the ooey, gooey beating heart at the center of this crass, brash supervillain adventure. You will tear up at the sight of an army of rats battling an alien starfish. (Jacob Hall)
Cast: Margot Robbie, Idris Elba, John Cena
Director: James Gunn
Screenwriter: James Gunn
Producers: Charles Roven, Peter Safran
Runtime: 132 minutes
Rating: R
Summer Of Soul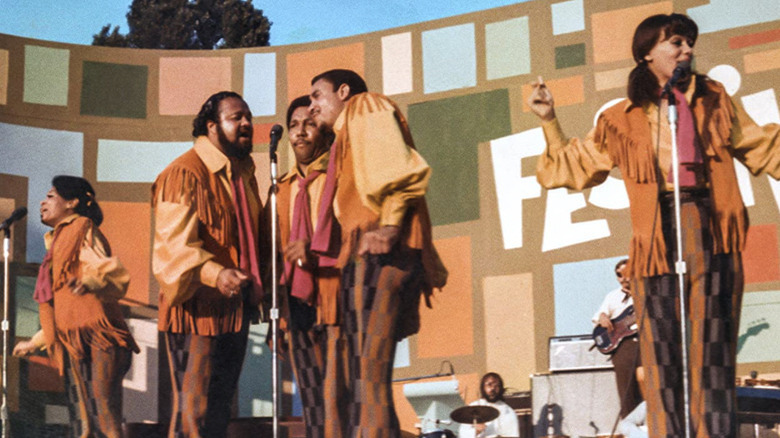 Ahmir "Questlove" Thompson has built an unbelievable career as a musician, so it's not exactly surprising that music would be the focus of his feature directorial debut. What is surprising, however, is the treasure trove of footage he puts on display in "Summer of Soul (...Or, When the Revolution Could Not Be Televised)." The story goes that this footage sat in a basement somewhere for fifty years, never seen before, until Questlove and his producers discovered it and signed a deal to be able to use it in this movie. It turns out that story is not strictly true, but if you're able to wade past some of the inconsistencies with how the movie is being sold, the film itself is a remarkable piece of work that is absolutely worthy of discussion. 
Questlove takes the opportunity to recount the history of Harlem during that era, using certain songs and musical acts as bridges to discuss the social and political changes taking place at the time. But it's the concert film aspect of this movie that's truly jaw-dropping, largely due to the incredibly impressive quality of the performances: Stevie Wonder absolutely kills a drum solo at one point, and Nina Simone crushes a version of "Are You Ready Black People" that brings the house down. It's also wild to think about how this music festival took place around the same time as Woodstock and featured a comparable lineup of legendary performers, only to fall into legend and mostly live on in the memories of the 300,000 people who attended it. There's a scene near the end where Questlove interviews a man who attended the festival as a child, and the man has an emotional experience when he realizes that this event actually happened and wasn't something he just dreamed up as a kid. It's a powerful, human moment unlike anything else you'll see this year.
Cast: Gladys Knight, Stevie Wonder, Jesse Jackson
Director: Ahmir "Questlove" Thompson
Screenwriter: N/A
Producers: David Dinerstein, Robert Fyvolent, Joseph Patel
Runtime: 1h 58min 
Rating: PG-13
Sundown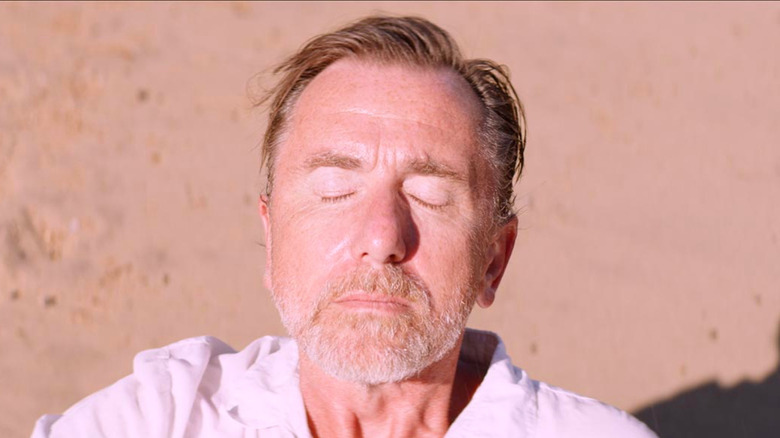 "Sundown" may be set in abundant sunshine, but it's going to chill you to the bone. Tim Roth plays a wealthy man vacationing with his family. When a death summons the rest of the vacationers home, Roth stays behind in Acapulco and starts living a completely different life off the grid. Why? Well, that's just one of the many secrets of "Sundown," which unfolds at a deliberate pace and is occasionally punctuated with bursts of brutal violence. Here's some more on the movie from my review:
The genius of "Sundown" is how little it tells us while keeping us glued to what we're seeing. The mystery makes us hang on every moment, every line, no matter how simple. A one-word answer is suddenly loaded with weight. A silent glance says a million different things. And then the violence starts. There are multiple occasions where, seemingly out of nowhere, sudden bursts of shocking violence erupt, featuring gunfire that's been mixed to sound as if it's a massive explosion. It jolts us from the stillness and leaves us shaken.Whenever I say something like "The less you know about this movie, the better it will be" in a review, I feel like it's a cop-out, like I'm not doing my job. But the fact is that there are some movies that play best when you have as little information as possible, and "Sundown" is one of them. All you need to know is that Franco has supreme control over what he's doing here, guiding us along by the hand towards destinations, and answers, unknown. Even when you think you know all the answers, "Sundown" will still leave you unsure, still guessing, haunted by all that was left unspoken.
(Chris Evangelista) 
Cast: Tim Roth, Charlotte Gainsbourg, Iazua Larios
Director: Michel Franco
Screenwriter: Michel Franco
Producers: Michel Franco, Jonas Kellagher, Eréndira Núñez Larios
Runtime: 83 minutes
Rating: R
Titane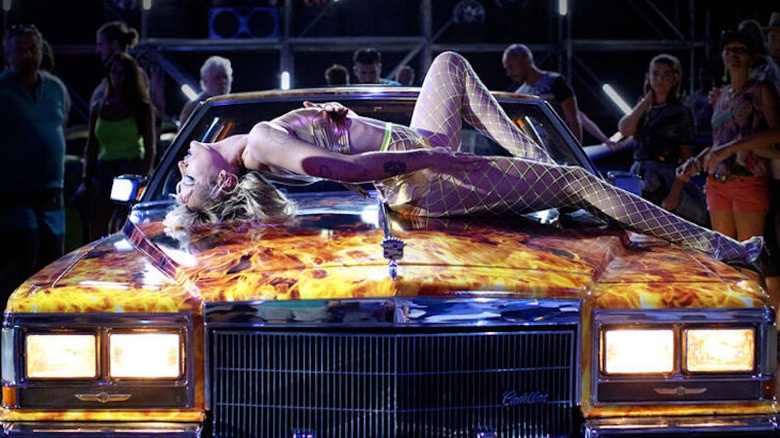 By now you will have heard of the insanity and off-the-rails twists of "Titane," but I will write about what surprised me the most about Julia Ducournau's body horror thriller film: its tender heart. What happens when someone who has only been harmed and hurt by people (and hurts people in return) finds themselves falling into a strangely sweet and twisted love story? How does a psychopath who feels more connections to machine gradually learn to find their own humanity? That is the real thrust of what makes "Titane" so good, and what keeps its rusted, glass heart beating within its cage of blood and steel. 
In Julia Ducournau's follow-up to "Raw," Agathe Rousselle is an erotic dancer who, as a child, got severely injured in a car accident that resulted in a titanium plate being implanted in her head. As a result, she seems to harbor more affection for cars and machinery than for people — a weird, unusual relationship that becomes literal when she gets impregnated by a car. Yes, that's what happens. There are more twists and turns in this movie, but that just about sets the bar for the shadowy, strange corners that "Titane" will take you down.
To say anymore would give away the joy of seeing "Titane" with fresh eyes, so all I will say is that it's no surprised that the filmmaker who made a moving coming-of-age movie out of cannibalism could give a soul to a machine-loving serial killer. (Hoai-Tran Bui)
Cast: Agathe Rousselle, Vincent Lindon, Garance Marillier
Director: Julia Ducournau 
Screenwriter: Julia Ducournau
Producers: Jean-Christophe Reymond
Runtime: 108 minutes
Rating: R
Undine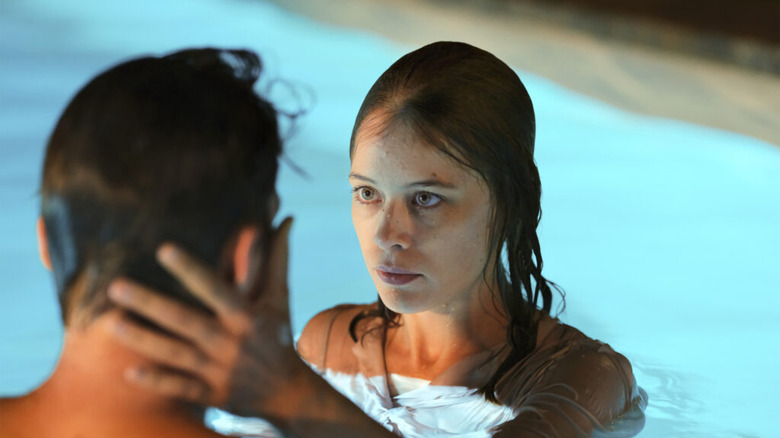 Director Christian Petzold teams up with his "Transit" stars Paula Beer and Franz Rogowski once again for a contemporary spin on an old folk tale: that of the undine, an ancient water nymph that lacks only one thing — a soul. To gain that soul, an undine must marry a human being, rendering them mortal but delivering unto them an immortal human soul. Beer plays the title character, a perpetually lovelorn woman named Undine with piercing eyes, who warns her latest lover that if he breaks up with her, she would have to kill him. It sounds like the kind of desperate plea that any heartbroken woman would say to her dismissive lover, and Petzold plays up the soap of it in his most overtly melodramatic film yet.
In "Undine," Petzold takes the audience on a whirlwind journey through Undine and Christoph's romance, which quickly moves along and distracts Undine from her last heartbreak. Petzold lavishes a surprising amount of attention on their ordinary romance and to the Berlin cityscape and the miniature models that Undine, a city historian, is so familiar with, letting the camera linger on the empty spots where Undine goes through her life. It's almost mundane, with Petzold rarely making allusions to Undine's nature or past, making the viewer question whether these strange happenings are all in their head. But slowly, moments of magical realism start to seep in: a shattered aquarium, a woman kidnapped by a giant catfish, an impossible phone call. "Undine" gradually unfolds from a sweet romance film into a dark, mythic melodrama. (Hoai-Tran Bui)
Cast: Paula Beer, Franz Rogowski, Maryam Zaree
Director: Christian Petzold
Screenwriter: Christian Petzold 
Producers: Rémi Burah, Florian Koerner von Gustorf, Margaret Ménégoz, Andreas Schreitmüller, Caroline von Senden, Michael Weber
Runtime: 91 minutes
Rating: Not rated
Val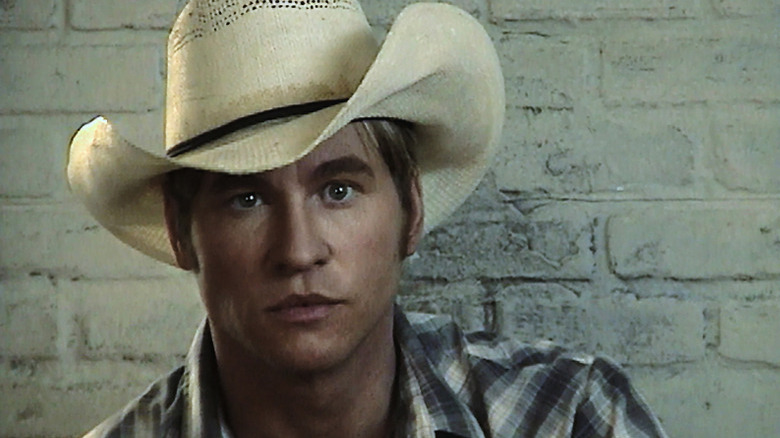 Let's get this out of the way right up front: I do not think that "Val," Amazon's documentary about the life of unpredictable actor Val Kilmer, sufficiently engages with Kilmer's legendary reputation as a "difficult" collaborator. The stories about his behavior on sets are the stuff of Hollywood legend, and if you're looking for this movie to directly address many of those in a substantive way, you'll be disappointed. But putting aside what I wish it had done and engaging with the movie on its own terms, there's still a lot to like here. Kilmer has always been a live wire actor, the type of guy who can truly disappear into roles despite his movie star good looks. This film intercuts tons of home video footage which Kilmer personally shot over the decades with present-day slice of life moments of the actor and his family, delving into a traumatic moment in his childhood that reshaped his entire life and exploring the aftermath of that event. It also touches on many of his movies from "Top Secret" to "The Saint," and then jumps forward to when he got throat cancer and lost the ability to easily speak. 
Aside from the visceral fun of seeing behind the scenes moments from fan-favorite classics like "Top Gun" and "Tombstone," "Val" provides a glimpse into how this man chose to react to two significant traumatic experiences in his life, and in the face of unimaginable loss, how he wrestled back the narrative and demanded to be the one who tells his own story. (Ben Pearson)
Cast: Val Kilmer, Kevin Bacon, Marlon Brando
Directors: Ting Poo, Leo Scott
Screenwriter: N/A
Producers: Ali Alborzi, Andrew Fried, Val Kilmer, Brad Koepenick, Dane Lillegard, Ting Poo, Leo Scott, Jordan Wynn
Runtime: 109 minutes 
Rating: R
Wild Indian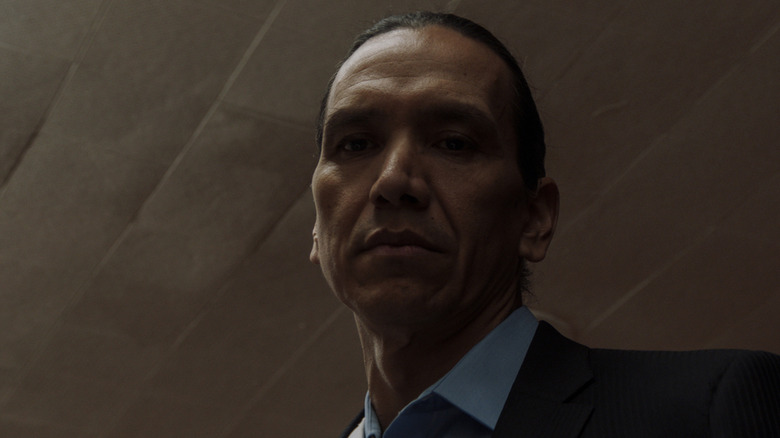 Michael Greyeyes is nothing short of amazing in "Wild Indian," an unsettling drama about identity and self-loathing. Greyeyes is Makwa, an Anishinaabe man who now lives his life as Michael Peterson. He hates and shuns his indigenous roots, and when we bear witness his abusive childhood in flashback scenes at the start of the film, we can understand why. But when a face from his past (Chaske Spencer, who is also great here) resurfaces, a buried tragedy is in danger of being uncovered. 
When I caught "Wild Indian" at the virtual Sundance Film Festival at the start of the year, I immediately knew it would end up on my "best of the year" list. I wrote:
Greyeyes perfectly balances these warring factions; the cruelty of the adult man and the gentle nature of the child buried within. A heartwrenching moment arrives when Michael says of his son, his voice quivering, "I want him to be normal. And good." He might as well be saying, "I don't want him to be me." Wild Indian is not about redemption. It's not about atoning for the sins of the past. There can be no peace for Michael, once known as Makwa. There can only be some sort of understanding. Some sort of memory, however fleeting, of the past. Of a time when he could've possibly thought of himself as normal, and good.
(Chris Evangelista)
Cast: Michael Greyeyes, Chaske Spencer, Jesse Eisenberg
Director: Lyle Mitchell Corbine, Jr.
Screenwriter: Lyle Mitchell Corbine, Jr.
Producers: Lyle Mitchell Corbine, Jr., Thomas Mahoney, Eric Tavitian
Runtime: 90 minutes
Rating: R
Worth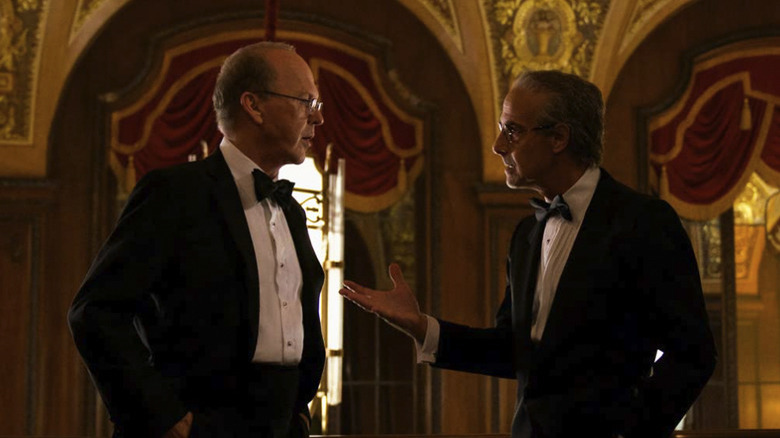 I never would have guessed that a movie like "Worth" would be written by Max Borenstein, who is best known for writing Legendary's MonsterVerse movies. Seeing Godzilla and King Kong smash stuff (and occasionally each other) has its joys, of course, but those films are severely wanting when it comes to crafting convincing human drama. Thankfully, human drama is the name of the game in "Worth," which gathers an excellent cast of pros to explore the aftermath of the 9/11 terrorist attacks from the perspective of the man who is hired by the government to assign a financial value to the lives of each of the victims. Michael Keaton is excellent as always, giving an understated performance as a man who shoulders a gigantic burden: if he doesn't convince the victims' families to approve his amounts, they could sue the United States and cripple the country's entire financial system. Stanley Tucci (another actor who is consistently on point, regardless of the project) plays a man whose wife was killed in the attacks, and who stands opposed to Keaton's character's approach of dispassionately assigning value to human lives. 
Putting two heavy hitters at odds with each other leads to some electric results, but this is not a movie about screaming matches or set pieces. Ultimately, director Sara Colangelo's film is a quiet, thoughtful, and frequently profound recontextualization of a tragic event, one that transforms the victims from statistics back into living, breathing human beings with complex lives and devastated families left behind. (Ben Pearson)
Cast: Michael Keaton, Stanley Tucci, Amy Ryan
Director: Sara Colangelo
Screenwriter: Max Borenstein
Producers: Max Borenstein, Marc Butan, Bard Dorros, Anthony Katagas, Michael Keaton, Michael Sugar
Runtime: 118 minutes
Rating: PG-13
Wrath Of Man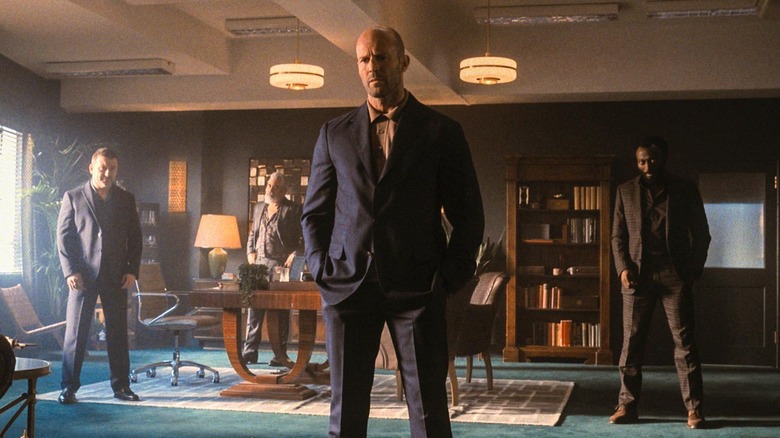 I had more or less given up on Guy Ritchie, and then came "Wrath of Man," which is probably the best picture the filmmaker has ever made. A brutal, twisty crime saga, "Wrath of Man" stars Jason Statham as a powerful criminal who inexplicably takes a job as a guard at an armored truck company. There's a method to Statham's madness, and this is all part of a plan for personal revenge. Ritchie doesn't fall back on his usual tricks here, instead letting the raw brutality of the film speak for itself. 
"Wrath of Man" unfolds out of order, and it keeps reminding you of other films. That's not a design, not a flaw, because it lulls you into thinking you know exactly where this is going, since you think you know exactly which films it's ripping off. But the movie is full of surprises, and there's an overwhelming, ominous atmosphere to the entire thing that blankets "Wrath of Man" in rage and darkness. This is an angry movie; a furious movie; and you can feel the rage radiating off of every scene. It's honestly impressive to see a Hollywood pic like this these days, and I hope Ritchie keeps making things like "Wrath of Man" instead of the other junk he's been churning out for a while now. (Chris Evangelista)
Cast: Jason Statham, Holt McCallany, Jeffrey Donovan
Director: Guy Ritchie
Screenwriter: Guy Ritchie, Ivan Atkinson, Marn Davies
Producers: Guy Ritchie, Ivan Atkinson, Bill Block
Runtime: 119 minutes
Rating: R
Read this next: /Film's Top 15 Films Of 2020
The post The Best Movies of 2021 So Far appeared first on /Film.
---
Share this post
---
---