MusiBaby vs. INSMY Portable Bluetooth Speaker – Review and Compare
Posted by admin on
If you're in the market for a new pair of speakers, Bluetooth is the way to go. This used to only be true for pricier speakers. At more modest price points, Bluetooth speakers have only been worthwhile for a couple of years. But competition and innovation has driven prices to the point where there's no reason to be tethered to a wire.
Of course, simply because a speaker is relatively new isn't any guarantee of quality. With so many options on the market, it can be challenging to find a worthwhile choice. We understand the struggle. We've interviewed several Bluetooth speakers in the past, and not all of them perform equally well. Fortunately, during that time, we've learned a thing or two about what you should look for in a Bluetooth speaker.
Today, we're going to be looking at two budget-priced Bluetoooth speakers. The first is the MusiBaby Portable Speaker. This is an ultralight, ultra-compact 5-watt speaker that's built first and foremost for portability. Next, we'll look at the INSMY Portable Bluetooth Speaker. This is a standard, 20-watt speaker that's designed for everyday around-the-house use. There are other differences between these speakers as well, and we'll discuss all of them. Let's take a closer look, and see what both of these budget-priced Bluetooth speakers have to offer!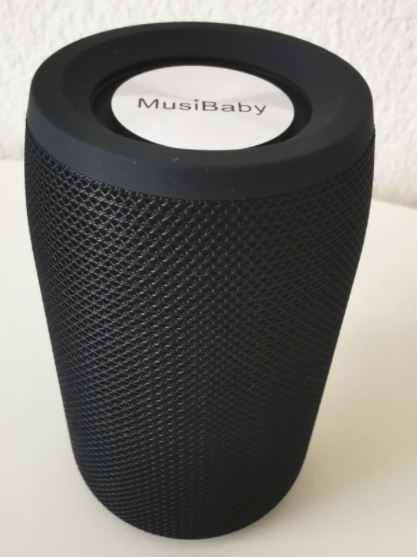 MusiBaby Portable Speaker
The MusiBaby Portable Speaker is a tribute to its own name, and is about as easy to transport as they come. At only 4.9 inches long and 2.9 inches in diameter, it's slightly smaller than a soda can. And at only 3.52 ounces, you'll hardly even notice you're carrying it. For this reason, the speaker ships with a simple hanging line. You can wrap the line around a backpack strap or through your belt, and listen while you're on the go.
The speaker is black and cylindrical, with a 360-degree design that's fairly standard for a cylindrical speaker. The bulk of the sides are covered by a fine plastic mesh, which protects the speaker's internal elements. Down the front, there's a narrow vertical stripe that houses all the controls. The controls are fairly basic, but it's still easy to pair your speaker or adjust the volume. Underneath, there's a small plate that can be unscrewed to reveal the speaker inputs. We'll talk about those more in a second.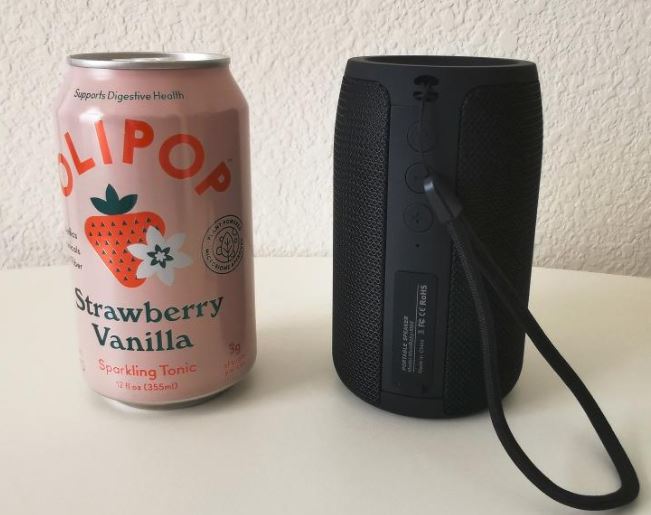 The MusiBaby Portable Speaker is IPX5-rated for water resistance. This means it's splash-resistant, and not rated for submersion. In other words, go ahead and use it while you're doing dishes, but don't set it next to your pool. Another thing you should be aware of is that the speaker inputs themselves are not water-resistant. So if the cover is unscrewed and you splash water directly into the USB port, your speaker may get damaged.
In addition to the speaker unit itself, the box includes a pair of cables to get you started. There's a Micro USB cable for charging your speaker, and a 3.5mm aux cable for making a wired connection. Getting accessories is par for the course these days, but it's nice to get cables even with a budget speaker.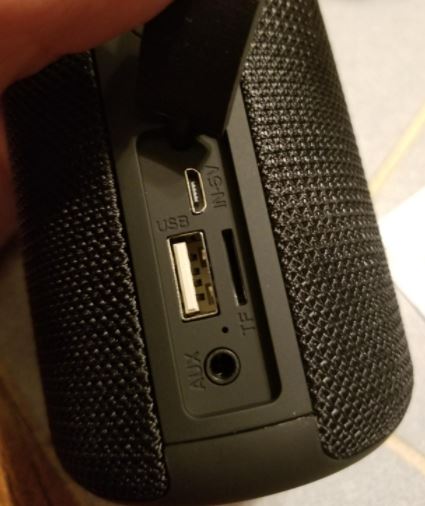 Battery & Connectivity
The MusiBaby speaker's internal battery is rated for 25 hours of playtime on a single charge. This is a manufacturer's rating, and assumes that you're listening at 50 percent volume. In other words, your exact playtime can be more or less depending on how loud your speaker is. Regardless, you get enough stamina to get through your day without plugging in. Recharging is quick and painless. The battery will go from zero to full in about two hours when the Micro USB cable is plugged in.
The MusiBaby Portable Speaker utilizes the latest version of the Bluetooth protocol, Bluetooth 5.0. This version of Bluetooth has virtually zero latency, so your audio will stay synced while you're watching a movie. The signal has a 100-foot range, so you can move your speaker around the house to a reasonable degree. You can connect two speakers to your device at once. In this mode, the speakers will go into stereo mode, and you'll also get more volume.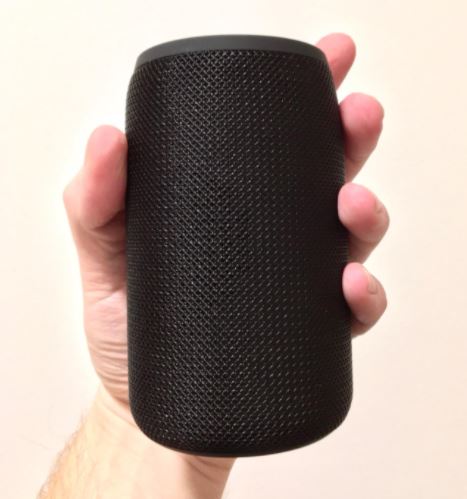 Alternatively, you can plug into your speaker directly with a 3.5mm aux cable. You won't be able to move around as freely. However, you also won't drain your battery as quickly. You can also play music from a USB drive or Micro SD card. The lack of a companion app means you'll be limited to shuffle mode if you're listening this way. Still, it's nice to have the option if you need it.
Sound Quality
Before we talk about sound quality, it's important to set expectations. This is a budget-priced speaker, not a brand-name workhorse. As a result, you shouldn't expect over-the-moon quality. That said, suffice it to say that we were impressed when we started playing. We were expecting a lot of fuzz, minimal bass, and maybe even some rattle. That's what you get with affordable speakers, right?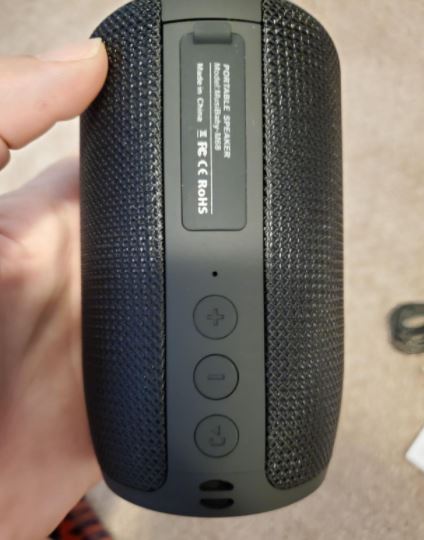 Instead, what we heard was crisp, clean audio across the spectrum. There's a reasonably wide soundstage, so you can distinguish different instruments easily without any trouble. Even the bass is present. We say "present", not "loud" because the EQ is relatively flat. Nonetheless, you can still hear the bass just fine compared to most speakers in this price range.
The only major downside of the MusiBaby speaker is the fact that it has a tiny, 5-watt driver. This means it can't put out a whole lot of sound. You're looking at a solid desktop speaker, or even a speaker for hiking alone. But if you want to play music for a party or host a rave, you'll want a speaker with more volume.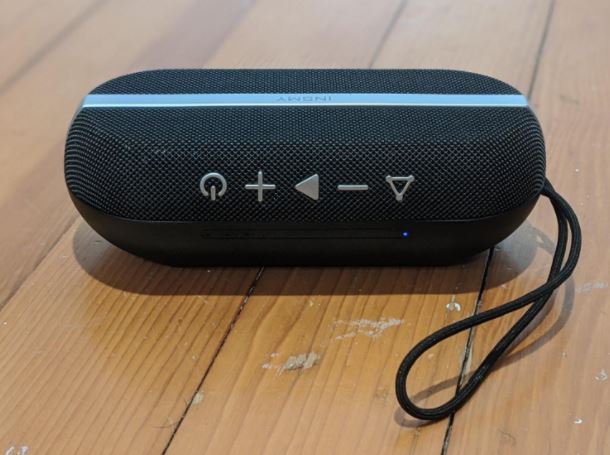 INSMY Portable Bluetooth Speaker
The INSMY Portable Bluetooth Speaker is more elongated than the MusiBaby speaker. At 8.1 inches long and 2.44 inches in diameter, it's easy to hold in one hand. It also has a playful design, with blue, red, and light purple colors available in addition to standard black. But as soon as you pick it up, you'll quickly realize the INSMY speaker is no toy. At 14.1 ounces, you can tell there are some powerful internal components.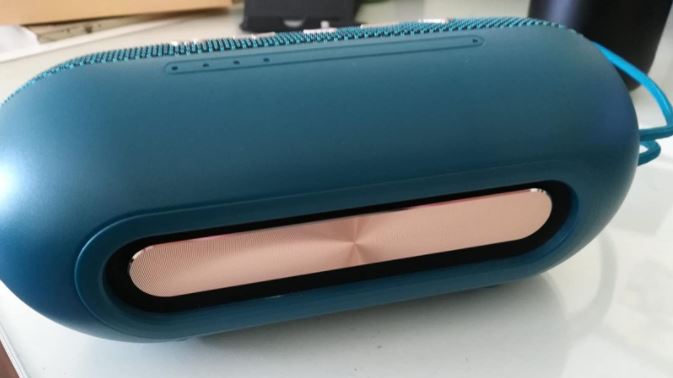 The speaker has a pill shape, with a flattened front, back, and bottom. The front half consists of a tight metal mesh, in the same color as the rest of the case. The back consists of a sturdy ABS plastic case, with LED lights on top to indicate the battery status. At one end, you'll find a small rubber plug that charges a USB Type-C charging port. A Type-C cable is included in the box, along with a color matching lanyard for tying your speaker up.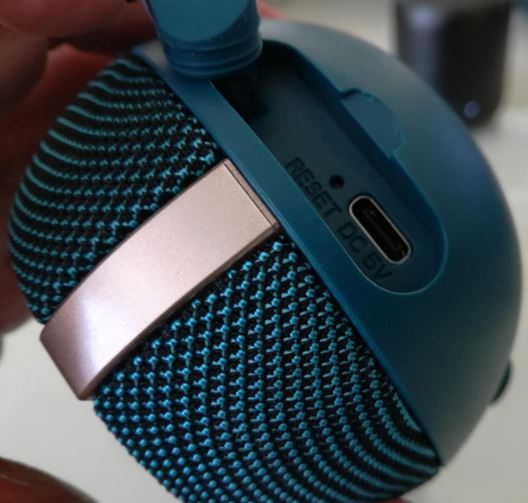 The controls are located along the top, and consist of either gold or silver plastic icons to match the case. From left to right, you'll see a syncing/pairing button, a volume down button, a play/pause button, and volume down. There's also a power button so you can easily turn your speaker on or off.
The INSMY Portable Bluetooth Speaker comes with a water-resistance rating of IPX7. This means it can be fully submerged in 1 meter of water for up to 30 minutes. If you're looking for a shower speaker, you're looking at a great choice. You also don't have to panic if someone kicks it into your backyard pool.
Battery & Connectivity
The INSMY speaker offers 24 hours of total playtime, which is comparable to the MusiBaby speaker. Allowing for variances due to volume and other conditions, and you're basically looking at the same performance. Recharging takes a bit longer, at just over 4 hours via USB Type-C. Then again, if you're overcharging overnight, it won't matter one way or the other.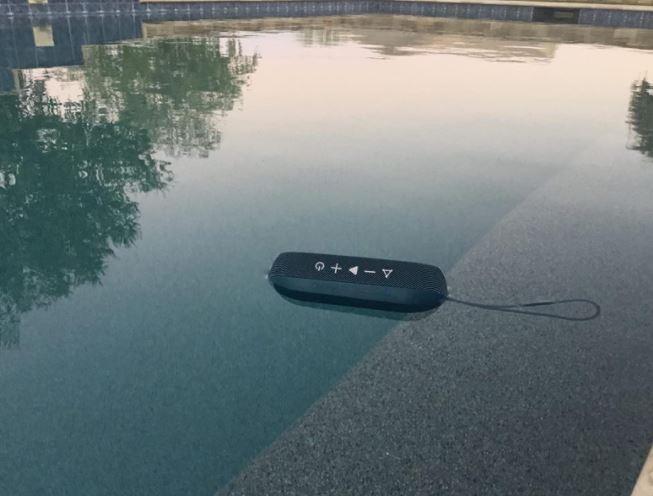 Also like the MusiBaby, the INSMY speaker connects via Bluetooth 5.0, and has a range of 100 feet. It can also be paired with a second INSMY speaker and used in stereo mode. With the dedicated connect button on the speaker, pairing is quick and painless.
On the downside, the INSMY Portable Bluetooth Speaker will only accept audio via Bluetooth. You can't use a 3.5mm cable, USB stick, or flash drive. To be fair, this is largely related to the INSMY speaker's high degree of water resistance. With fewer possible ingress points, it's easier to keep the inside dry. But if you were looking for anything but Bluetooth, you're going to be disappointed.
Sound Quality
The INSMY Portable Bluetooth Speaker boasts a 20-watt driver that's very powerful for the price point. This translates to more than enough volume to fill a large room. In stereo mode, it's entirely possible to fill an entire backyard barbecue with music. Of course, this assumes that you're cranking the volume up, but even at top volume battery life doesn't suffer terribly.
Unfortunately, cheap 20-watt drivers won't deliver the same clarity you'd get from mid-tier or higher speakers. There's not a lot of texture to the music, so the highs, while present, lack soul or sizzle. Similarly, the bass is on the weak side. Again, for what you're paying, it's not like you should expect powerful, thumping bass. But it's still something you should be aware of.
Final Verdict
So, which one of these portable Bluetooth speakers is the better choice? As is so often the case, it all comes down to what features you need. If you're looking primarily for portability, the MusiBaby Portable Speaker is the clear winner. At half the size and a third of the weight of the INSMY speaker, it's about as portable as they get. It's also surprisingly versatile for the size. With 3.5mm, USB, and Micro SD inputs, you can play audio from pretty much any source. The only serious drawback is the volume, which is limited by a small, 5-watt driver.
The INSMY Portable Bluetooth Speaker's 20-watt driver offers much louder volume. You can easily fill a room, or even a backyard. The audio quality suffers some loss of clarity, but the volume is superb for the price point. The design is also fun and playful, and can even withstand being submerged.
The post MusiBaby vs. INSMY Portable Bluetooth Speaker – Review and Compare appeared first on Nerd Techy.
---
Share this post
---
---