Ireland is about to reopen to international tourists — including Americans
Posted by admin on
Starting next week, tourists can once again visit the lush land of Ireland, as the country reopens its borders to non-essential travel on Monday.
The Irish government had previously set July 19 as the anticipated deadline for lifting strict testing and quarantine restrictions placed on non-essential travel that made visiting the country difficult for most.
It's especially good news for fully vaccinated visitors who will now be able to bypass pre-travel testing and quarantine requirements, including Americans. Unvaccinated travelers will still need to show results of a negative PCR test prior to entering the country and quarantine for five days.
Additionally, all passengers must complete a Passenger Locator Form online at least 48 hours prior to arrival in Ireland, per Aer Lingus, the national airline of Ireland.
For the latest travel news, deals and points and miles tips, sign up for our daily newsletter. 
Who's allowed to enter Ireland?
As of July 19, the country is allowing both vaccinated and unvaccinated travelers alike, including Americans.
Children between the ages of 12 and 17 will be required to show results of a negative PCR test taken within 72 hours prior to arrival unless they have proof of vaccination or recent recovery from COVID-19.
Children of any age, traveling with accompanying vaccinated or recently recovered adults will not be required to self-quarantine post-arrival. However, in situations where one accompanying adult is self-quarantining, then all children must do so as well.
For passengers arriving from outside of the European Union/European Economic Area (so excluding EU countries, Iceland, Lichtenstein and Norway), note that Ireland is participating in a coordinated EU effort to react to the emergence of a variant of concern/interest by issuing an "emergency brake mechanism" in origin countries.
If an "emergency brake" has been issued in your origin country at the time of departure for Ireland, additional entry requirements apply.
Vaccinated travelers departing from an "emergency brake country" must:
Show results of negative PCR test taken within 72 hours before arrival
Self-quarantine
Undergo post-arrival testing provided by Ireland's Health Services
Unvaccinated travelers departing from an "emergency brake country" must:
Show results of negative PCR test taken within 72 hours before arrival
Undergo a mandatory hotel quarantine
Undergo post-arrival testing
None of the above travel-related testing or quarantine will apply to vaccinated travelers coming from non-emergency brake countries. See the Irish government's website for more information regarding this.
For those arriving from within the EU/EEA, passengers should upload their travel information to the EU Digital COVID Certificate.
Note that travelers coming from certain high-risk countries will be subject to a mandatory hotel quarantine.
The pre-travel requirements also apply for passengers transiting through Dublin.
Related: Americans to be welcomed back to Ireland without quarantine beginning July 19
How can Americans Visit?
As mentioned above, international visitors, regardless of vaccination status, are allowed to enter the country, and must complete a COVID-19 passenger locator form, at least 48 hours before departure.
Before departure, unvaccinated travelers must:
Secure proof of a negative PCR test taken within 72 hours before arrival, to be presented to Irish immigration officers upon arrival and keep written evidence of this test for at least two weeks, per the government.
Upon arrival, unvaccinated travelers must:
Self-quarantine on arrival for days, at which point you will take a second PCR test through the Irish Health Service. If that test is negative, you are free to exit quarantine.
How to Get There
Aer Lingus currently operates daily flights from Boston (BOS), Chicago (ORD) and New York (JFK) to Dublin (DUB), and will be re-commencing three flights a week from D.C. (IAD) to Ireland on August 14, 2021.
"Aer Lingus…is ready to welcome US travelers back on-board, to reunite families and friends and facilitate long-overdue vacations," the airline said in a release. "To celebrate the lifting of the travel ban, Aer Lingus has a flash offer of $100 off round-trip flights on selected US routes starting today [July 15] and live until 6:59 PM ET on Wednesday, July 21, 2021."
To take advantage of these discounted Aer Lingus round-trip flights to Ireland from New York, Chicago and D.C., you must book your travel by July 21. All economy flights include one carry-on bag and a checked bag would cost you $55. The cheapest flight I found between the three cities was departing from Chicago, where you can get an economy roundtrip ticket for $435, as shown below.
Related: Three versions of Avios: When to use Aer Lingus, Iberia and British Airways


Flights out of D.C. fell somewhere in the middle, still under $500 for a round-trip economy fare to Dublin.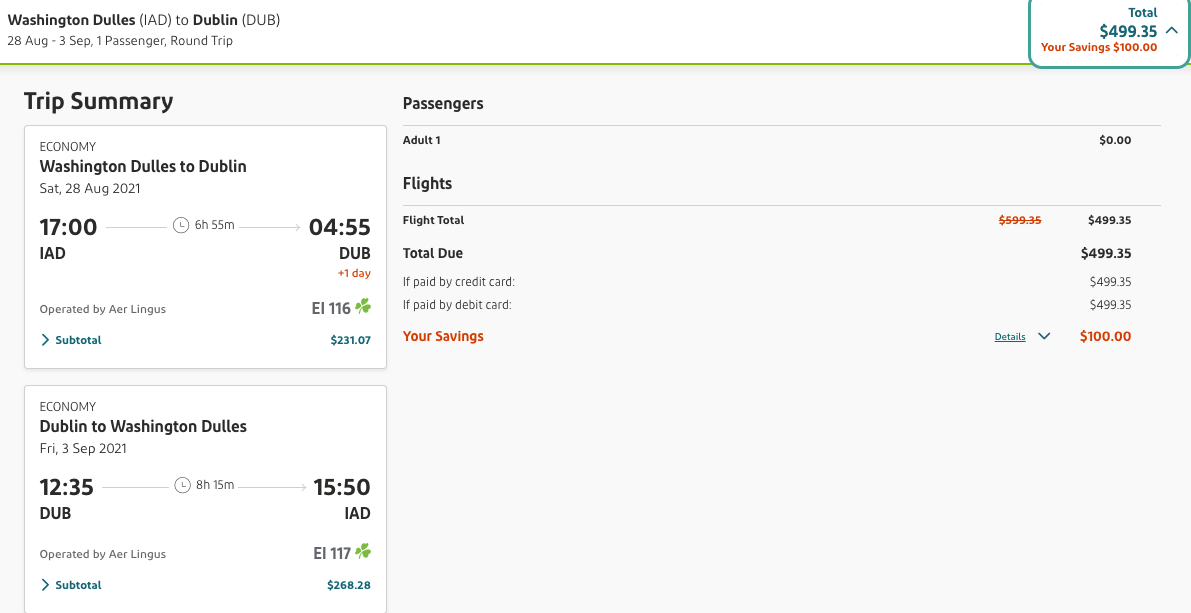 Related: Good bonus, lacks benefits: Aer Lingus Visa Signature credit card review
You'll see the $100 discount for booking today, and note that it applies to non-economy fares as well — Plus, Smart, Advantage, Flex, Business and Business Flex.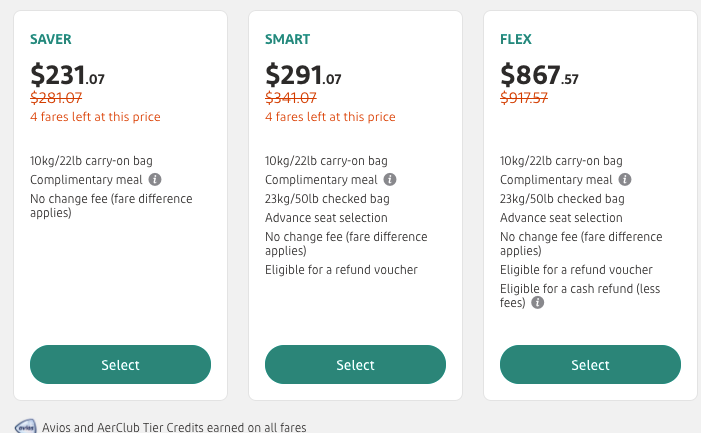 Flying from New York City to Dublin was the most expensive of the three cities but still a good deal around $550.

The airline has also waived change fees for all fare types through the end of this year, which is helpful should COVID-19 affect your trip.

Avios, which is the rewards currency used by Aer Lingus and partners, allows you to use your Avios credits to pay for any Aer Lingus or Aer Lingus Regional flight booked directly through the airline and on flights with Aer Club partners, including British Airways and Iberia. The 4-tier credit program allows you to unlock travel rewards as you go, including lounge access and complimentary upgrades.
Read more: Sweet Spot Sunday: Fly to Hawaii from 13,000 Avios each way
Off-peak economy flights from Dublin/Shannon/Manchester to select North American cities, including Boston, Chicago, Hartford, New York,  and Toronto would cost you 13,000 points or 20,000 for peak economy fares.
"Travellers can fly Aer Lingus with peace of mind, as a range of safety measures have been implemented to ensure a pleasant and safe trip for all. Safety measures such as mask requirements, additional cleaning, and new boarding and deplaning procedures are in practice," the airline said. "Thanks to the air filtration systems on board, and how airflow is managed on-board, it has been proven that the only other indoor environment with comparable air quality is an operating theatre."
In addition to Aer Lingus, American Airlines and United Airlines are currently flying to the U.S. from Ireland, with service from Dublin to Boston, Chicago, Dallas, Newark, and New York.
I also found an even cheaper deal for November on TAP Portugal from Newark (EWR) to Dublin for $372 roundtrip, but it stops in Lisbon (LIS) both ways.

And finally, if you're flying to Ireland from within Europe, beware of Ryanair, the ultra-low-cost airline with bases in Dublin and London Stansted (STN), which I came to know unfortunately all too well as a college student studying abroad in London in 2013. My first reaction to Ryannair was realizing upon boarding that the plane appeared to be made out of plastic and designed for children — my head nearly hit the ceiling at 5'10" tall. I'll spare you the details of the forthcoming illness induced by mega turbulence.
Related: Deal alert: 50% off business-class flights to Europe
Where to Stay
Just last month, TPG writer Lori Zaino compiled a list of some of the best hotels throughout the country, seven of which are in Dublin:
The Shelbourne (Autograph Collection property) is a self-diagnosed "national treasure" is more than 200 years old, a five-star property and known for hosting the Rolling Stones at its Horseshoe Bar (temporarily closed)
The Westbury Hotel (Doyle Collection Hotels) features canopy beds with Lissadell sheets and marble bathrooms
The Hyatt Centric is located in one of the city's oldest areas near St. Patrick's Cathedral
The Conrad Dublin overlooks the National Concert Hall and neighboring park, St. Stephen's Green
The chic Marker Hotel (NH Hotel Group) features an award-winning spa and designer-clad guest rooms
The InterContinental Dublin (IHG), located in the upscale Ballsbridge neighborhood, features a suite that pays homage to poet and playwright W.B Yeats for a cool €6040.00 ($7135.78)
The Clontarf Castle (Tifco Hotel Group) is just outside of Dublin but more than makes up for it thanks to its location next to the Irish sea and castle-like design
Read more: 16 of the best hotels in Ireland
Of course, there's much more to see beyond Dublin, including much of Western Ireland, specifically the Cliffs of Moher in County Clare (a personal favorite) and the Dingle Peninsula on Ireland's southwest Atlantic coast, marked by beaches, cliffs and small towns such as Dingle in County Kerry.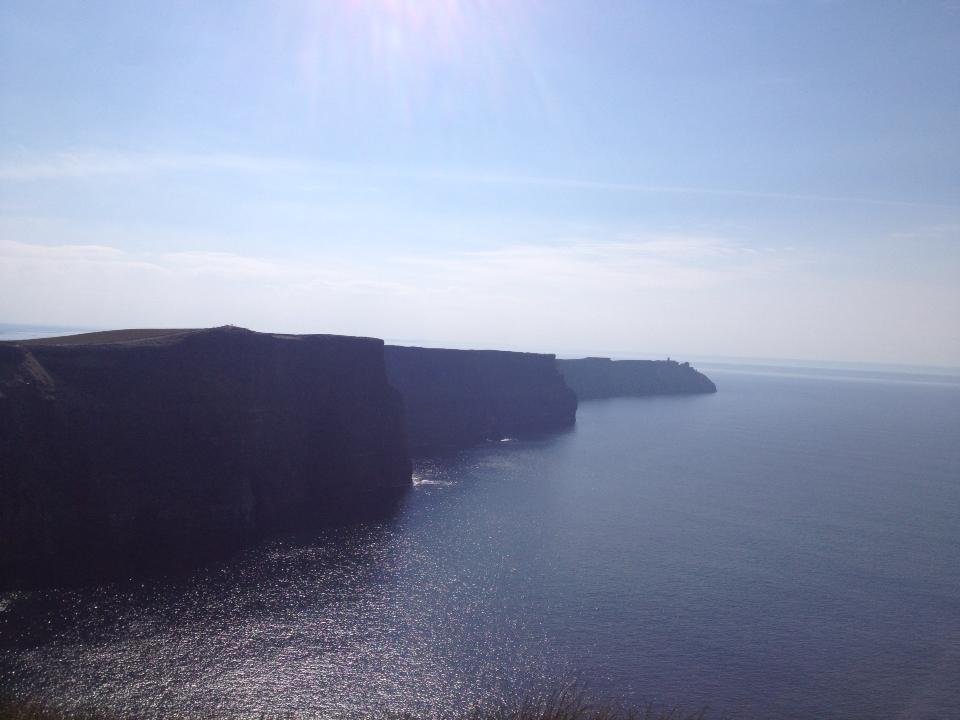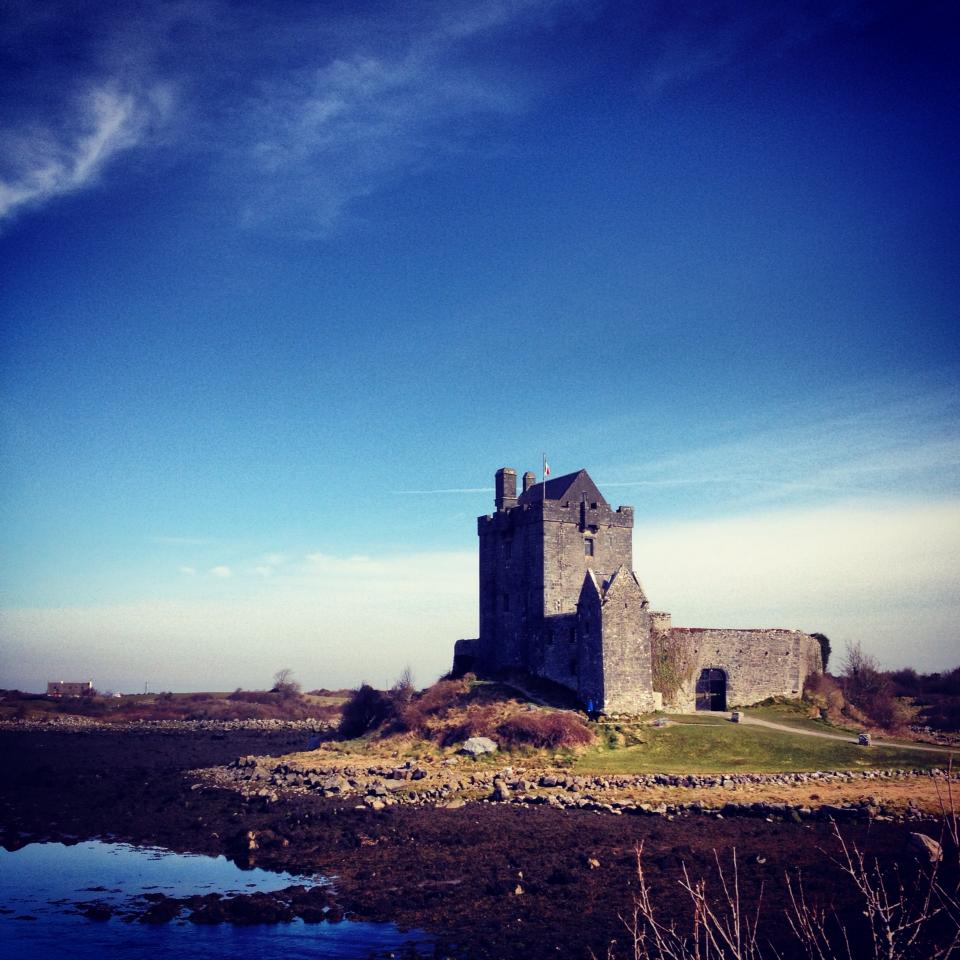 Related: 8 places to visit in Ireland besides Dublin
Bottom Line
Although Americans have technically been allowed to Ireland since June 2021, the government's lift against nonessential international travel, along with the elimination of quarantine and pre-travel testing requirements for vaccinated travelers, makes Ireland an attractive option.
There have been approximately 280,000 confirmed cases of COVID-19 and just over 5,000 deaths in Ireland as of July 2021, according to data from the World Health Organization. Almost 45 percent of Irish natives are fully vaccinated.
Ireland is only about 300 miles long and just over 170 miles east to west, meaning you can drive from one side of the country to the other in half a day. In my experience, Irish people are some of the most jovial locals I've met abroad and there's no shortage of pubs, soda bread or Irish stew to go around.
Read more: Reopening Europe: When can you visit again? A country-by-country guide
Featured photo of the Irish countryside in 2013 by Caroline Tanner/TPG
---
Share this post
---
---