Hamelin Flash 2.0 Index Cards Review
Posted by admin on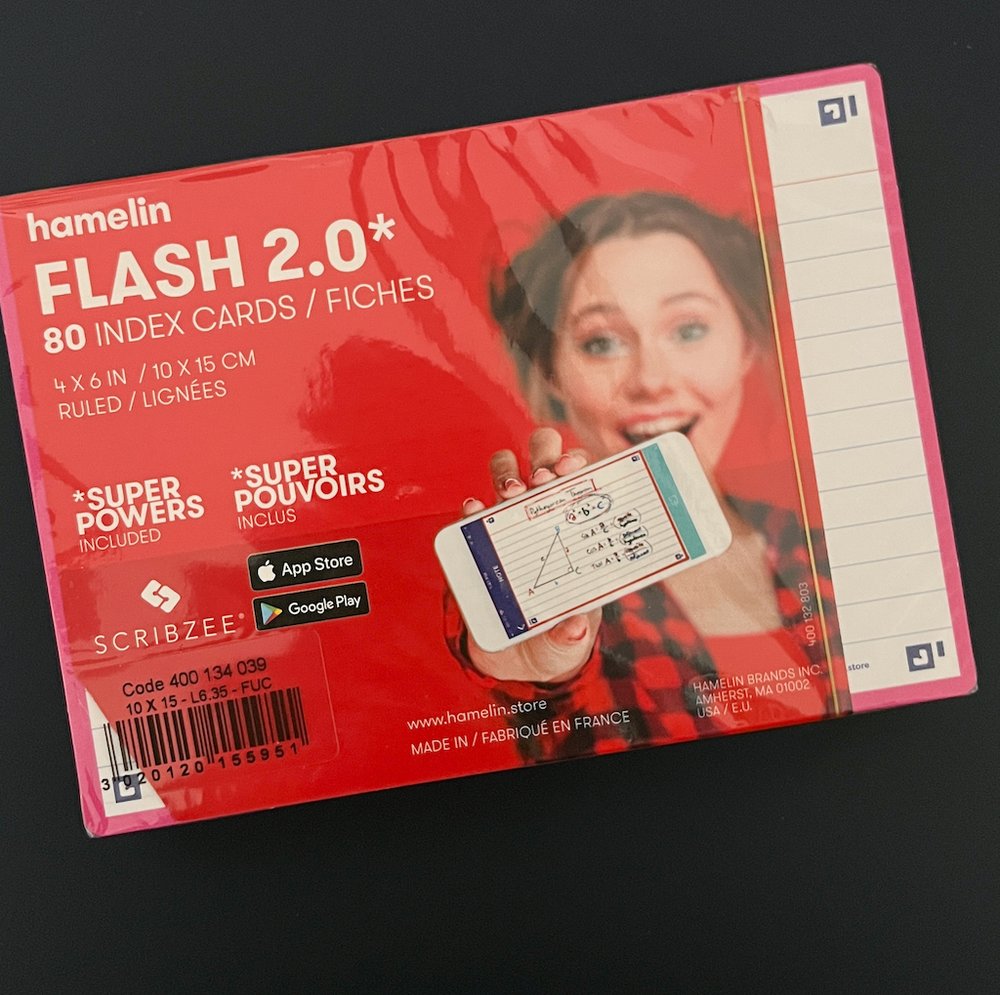 (Kimberly (she/her) took the express train down the fountain pen/stationery rabbit hole and doesn't want to be rescued. She can be found on Instagram @allthehobbies because there really are many, many hobbies!.)
Back in August of last year, I won a pack of flash cards in an Instagram giveaway from Hamelin, a French paper company. I was familiar with Hamelin as I have been a fan of their OPTIK PAPER TM in both their Black n Red notebooks for letter-writing (I only wish it came in dot grid and not only lined), as well as Oxford Paper (the one with the 2 lions in their logo), but I don't really use index cards very much so I wasn't aware that they even had them.
My prize was a pack of Flash 2.0 Index Cards - 80 - 4 x 6"/10 x 15 cm, lined and in Fuchsia. They are available in 12 colors and 2 sizes (the other size being 3 x 5"/7.5 x 12.5 cm). You can find them on Amazon and Walmart for $8-10/pack depending on size and color. They are also available from Hamelin's online store, where they also have a buy 3 get 1 free bundle for $21. Other than that, I didn't know of any of the usual fountain pen/stationery stores that carry them.
There is no information on the pack or on their website about the paper, other than it is "heavyweight card stock". Going purely by feel, the Hamelin felt a wee bit thicker than the Exacompta index cards that I reviewed a few months ago and busting out the scale proves it: the Hamelin weighs in at 0.13 ounces/3.78 grams, while the Exacompta 4x6 card weighs in at 0.11/3.12 grams. But yeah, this is barely anything worth noting, unless you're carrying hundreds of them, in which case that may add up. They feel like what an index card should feel like, not too smooth, scratchy, nor too thick or thin.
The index cards have a nice colored border around all edges and on both sides. The colored edges make it easy to sort based on topics etc, while still having a white background to write/draw on. One side is lined and the other is blank. On the corners of the cards are little markers which their Scribzee app (available on the App Store and Google Play) uses to align and capture index cards. (As an aside, the asterisk in the Flash 2.0 name refers to "Super Powers Included", which I think is a silly marketing way of saying that you get both the analog and digital flashcards experience.) The corners are also rounded which I think is a nice touch. The lined side has the colored border (less than 1/8 " / 3 mm), then 9/16"/15 mm gap, followed by lines that have ¼"/7mm spacing.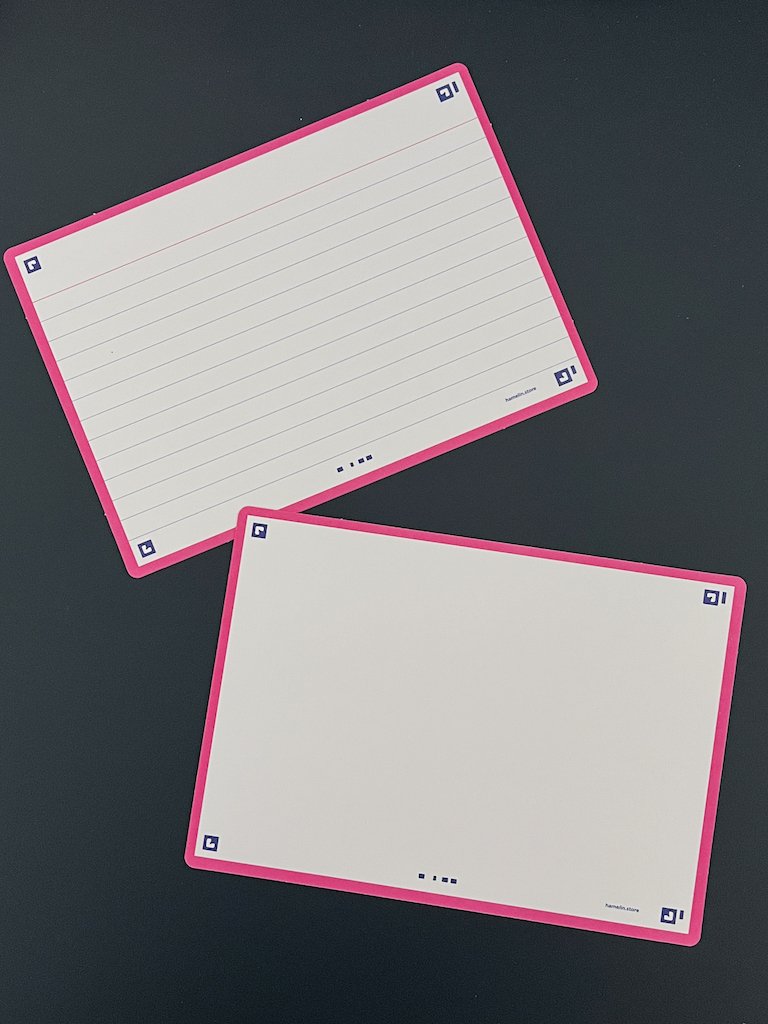 I picked out some of the wetter and broader inks/pens from my currently inked pens as well as some flex pens too. For the most part, the cards performed really well with a variety of pens and inks. The one major exception was from the Waterman 52, which is a vintage flex pen and lays down a lot of ink. There was some bleed through to the other side, but otherwise there was zero ghosting or bleedthrough from any of the other pens.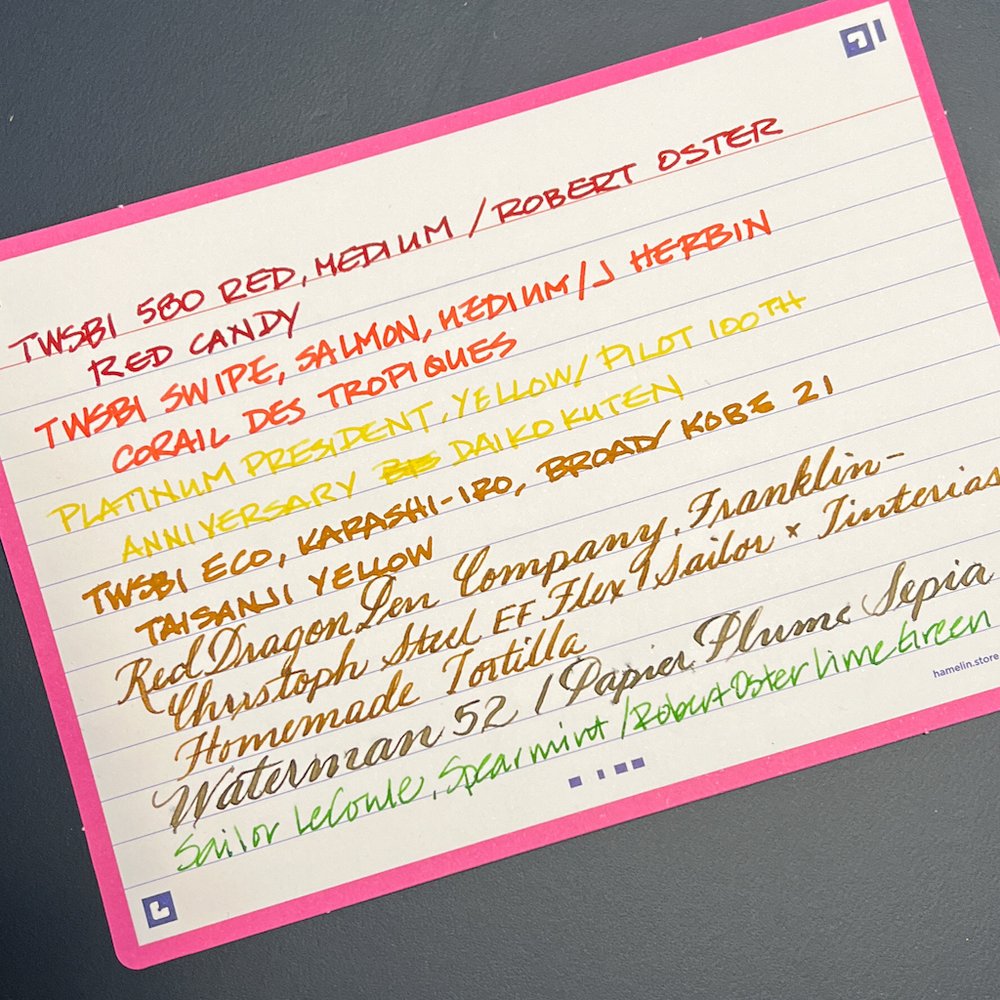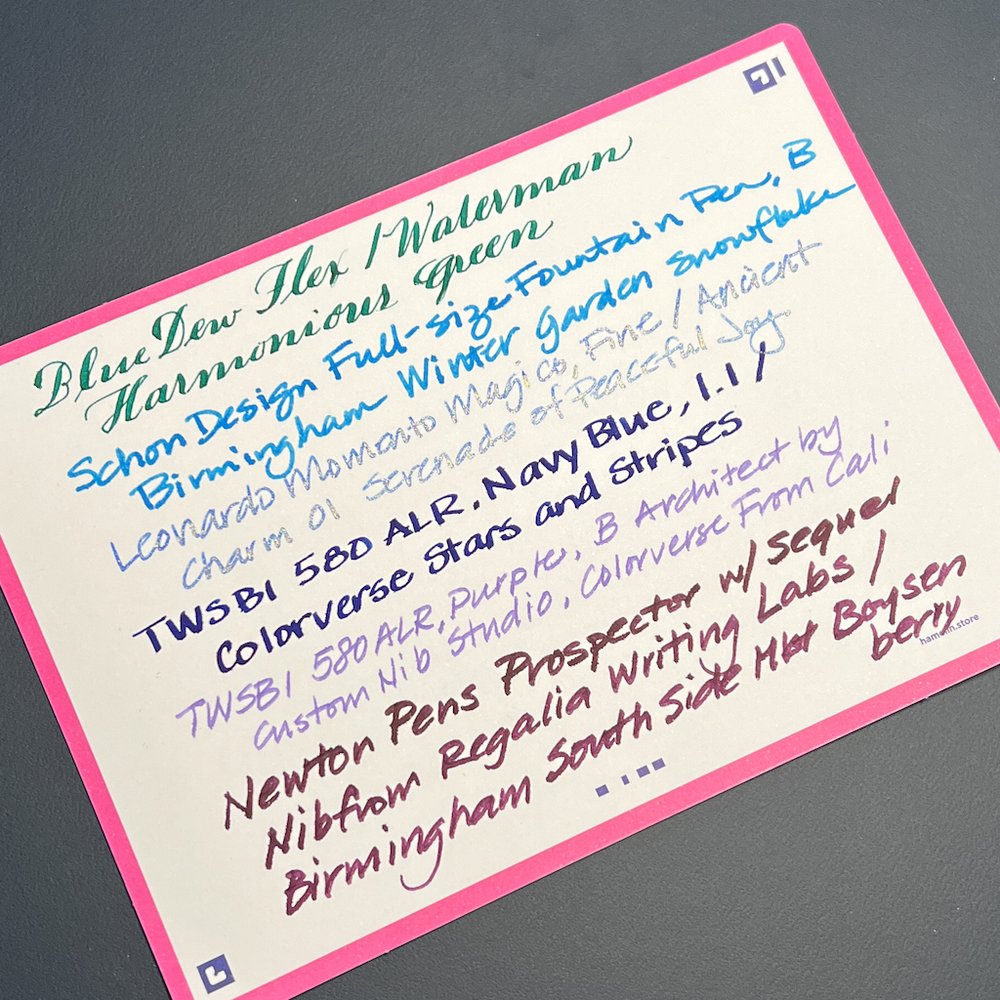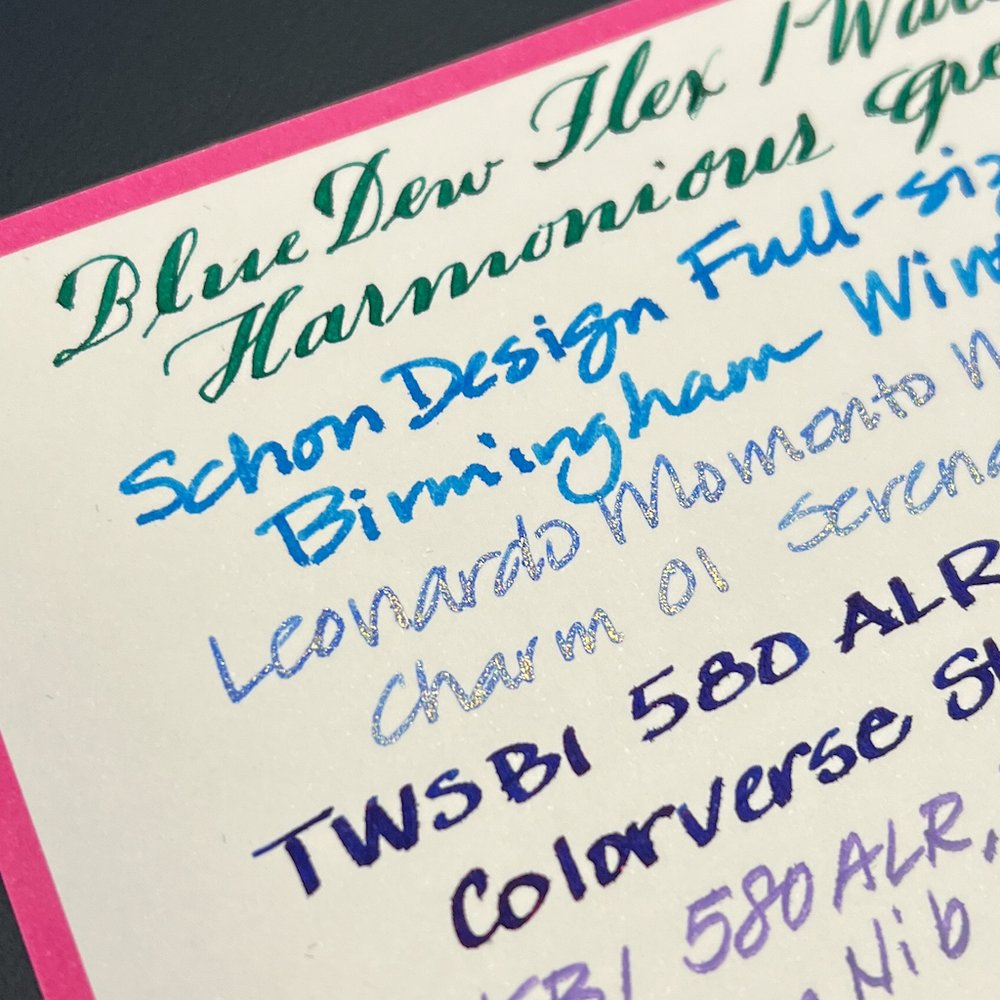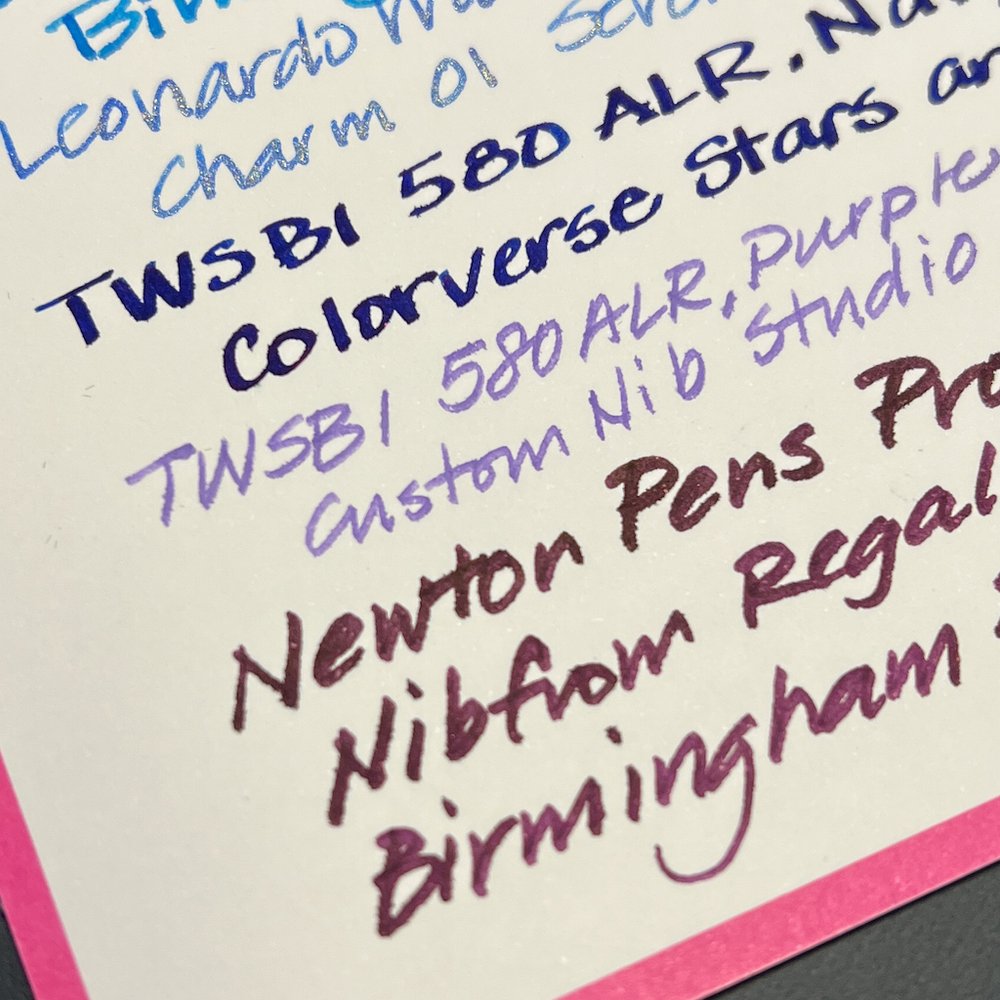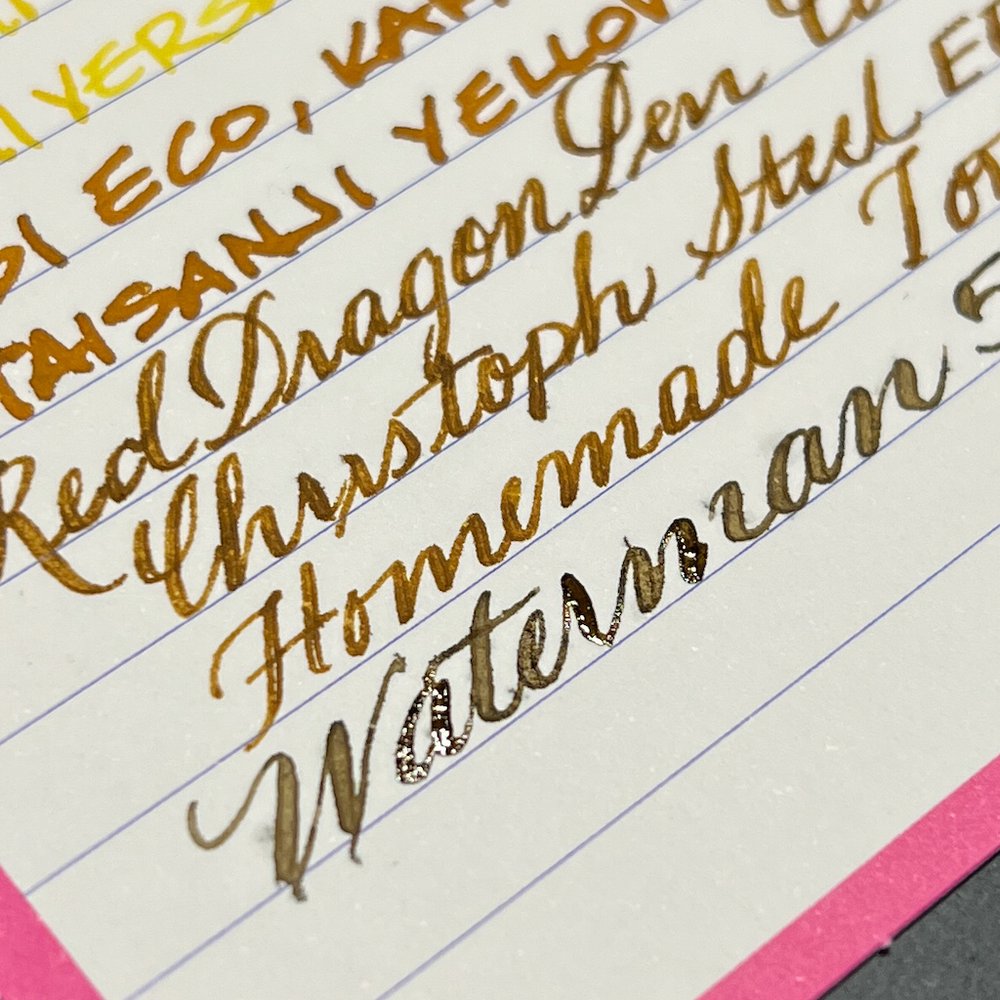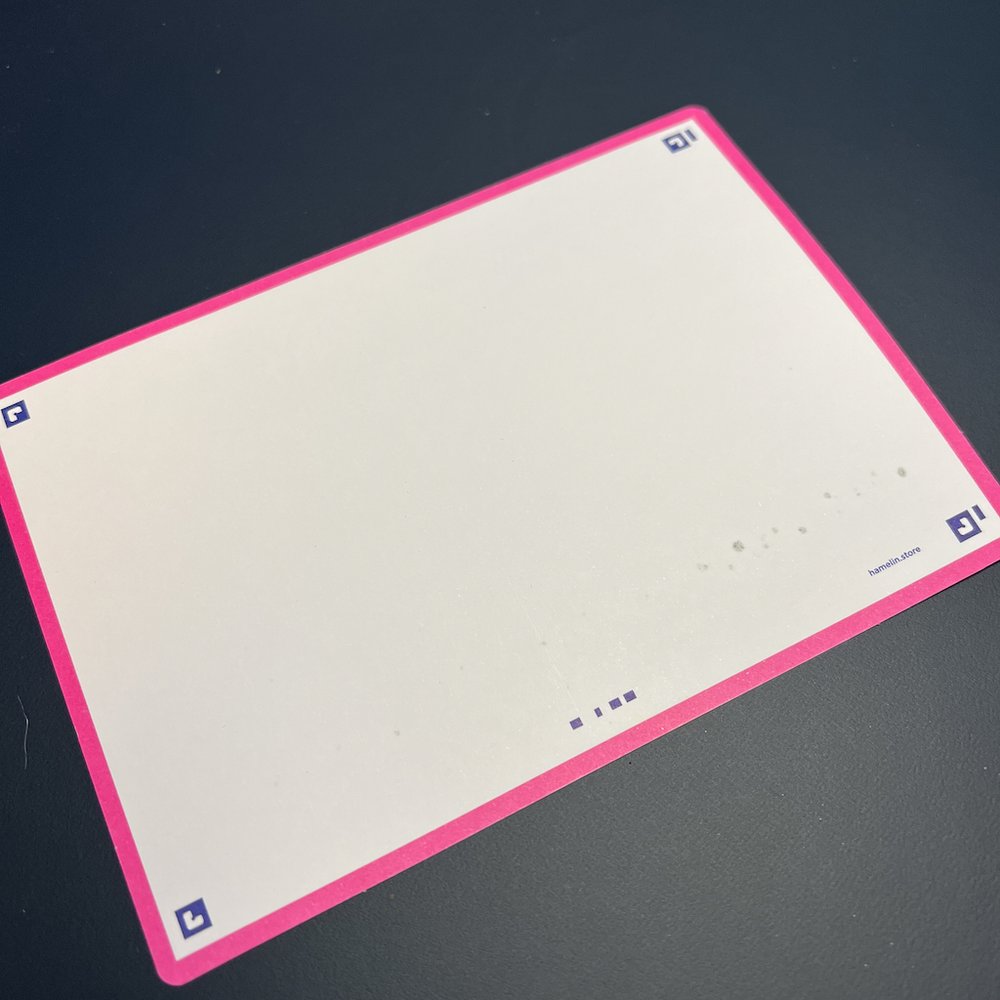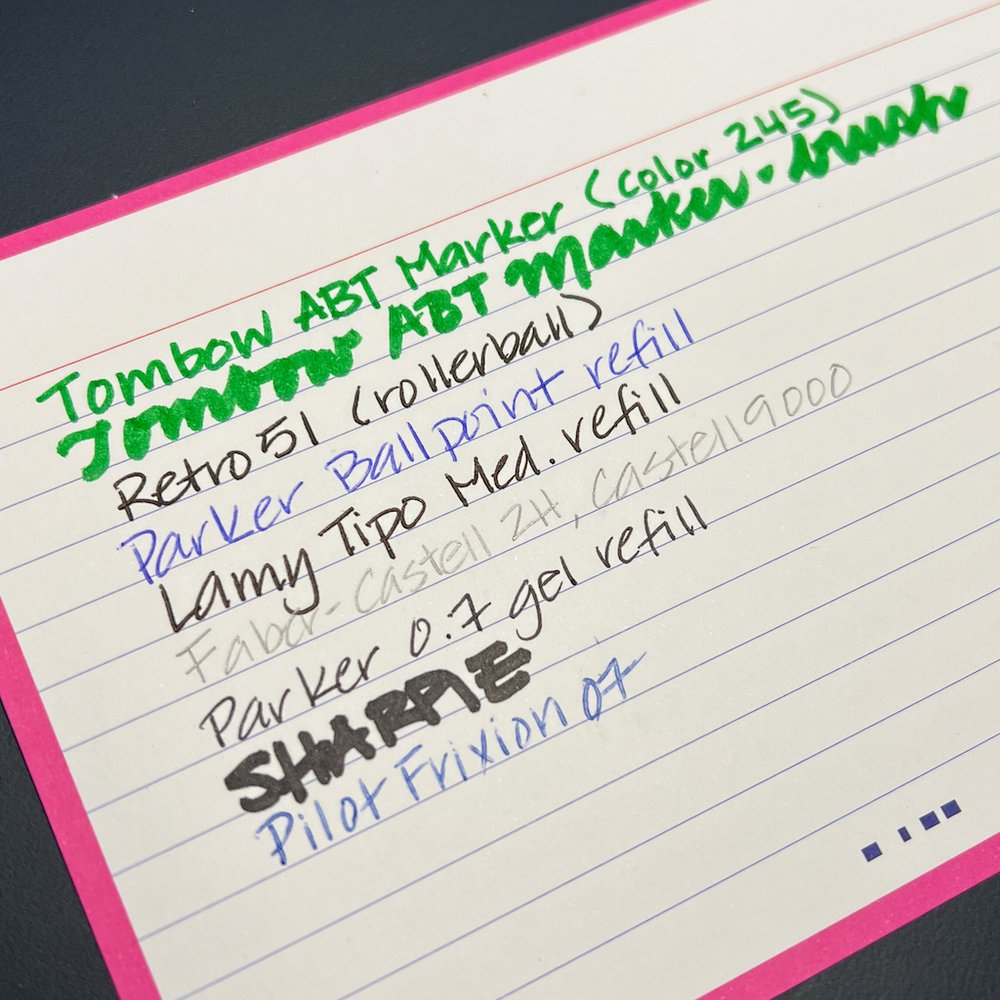 I wasn't sure how the Scribzee app worked, so I used a variety of handwriting styles to get varying amounts of ink to lay down and also to see if I could trip up any handwriting recognition. Spoiler alert, there is none in the app - it just takes pictures of your index card and gives you options to sort them in folders. I didn't spend a lot of time with the app but it felt a little kludgey to use, but I also don't use index card apps either, so maybe it's just me and not the app.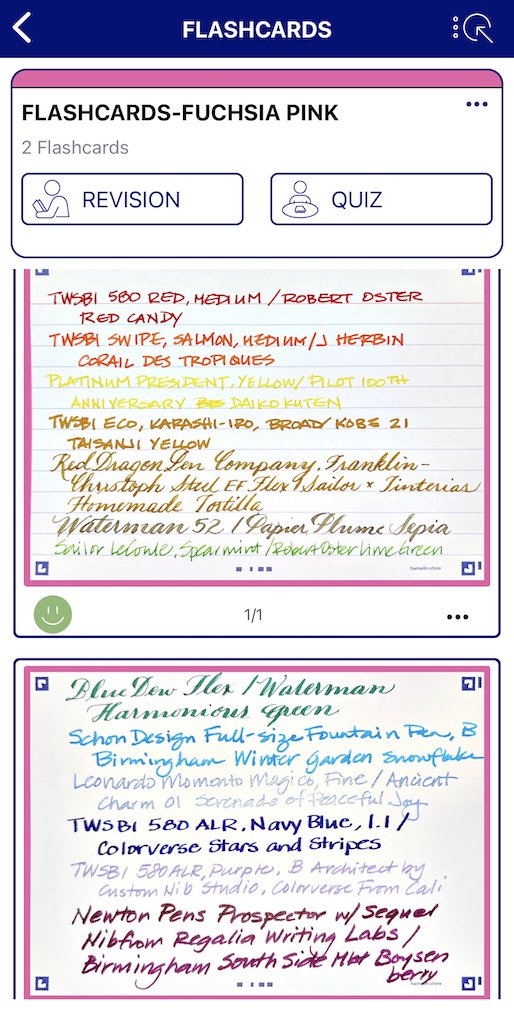 Like with the Exacompta index cards, the Hameline Flash 2.0 cards doesn't necessarily show off the ink colors as well as typical fountain-pen friendly paper like Tomoe River. If you're hoping to see chromashader/multishading properties or sheen, you're not really going to see much. Shimmer inks do work just fine though. Except for some of the inks in the flex pens, most of the inks didn't really shade much.
Pros:
Somewhat easier to find in the US at a decent price than Exacompta cards
Comes in two sizes
Blank and lined on the same card
Colored edges are fun and make sorting easy (and yes, white is available too)
Generally works well with fountain pens and other writing implements
Neutral
Scribzee app is available to digitize your index cards but many flash card apps already exist.
Cons:
Some feathering with wetter nibs, broader nibs and wetter inks.
Fun ink properties not really visible
No grid/graph option
Price - Yes, I said it's a decent price above, but if you're using them for study, $8-10 for 80 cards is still a lot to spend, especially since you're likely to be using hundreds of them.
Overall, I think these were really good as long as I don't go crazy with flex or really broad nibs. I probably won't use them as index cards, but I think they'd make a great note card or recipe card.
(Disclaimer: I did not purchase these index cards. I won them in a giveaway and I was not asked to review them in exchange for winning them. I was not compensated by anyone or any company for inclusion of any of these products or links in this article.)
---
Share this post
---
---