A fever dream of beautiful things: My obsession with the new NoMad London hotel
Posted by admin on
The first time I traveled to London, I was 21 years old. 
It was right before my senior year of college, and I was studying abroad for a summer semester. It was one of the highlights of my academic career: I made a great fuss about reading British literature in all the parks and gardens, visiting the array of free museums and galleries, wandering around Spitalfields and satisfying my appetite with complimentary samples at Borough Market.
I was, after all, on a very tight budget (I'd often make meals of hummus and vegetables from Tesco, and I ate more McDonald's from the 99p menu than I ever did at home in the U.S.). I had a roommate, and we lived in sterile, fluorescent-lit student housing. 
When I returned to London in November for the first time in years to visit the TPG U.K. office, I was excited to experience a decidedly more luxurious version of the city. It wasn't difficult for me to decide where I should bed down during my four-night stay: The NoMad London, the boutique brand's first overseas property, which opened in May 2021. 
For more TPG news delivered each morning to your inbox, sign up for our daily newsletter.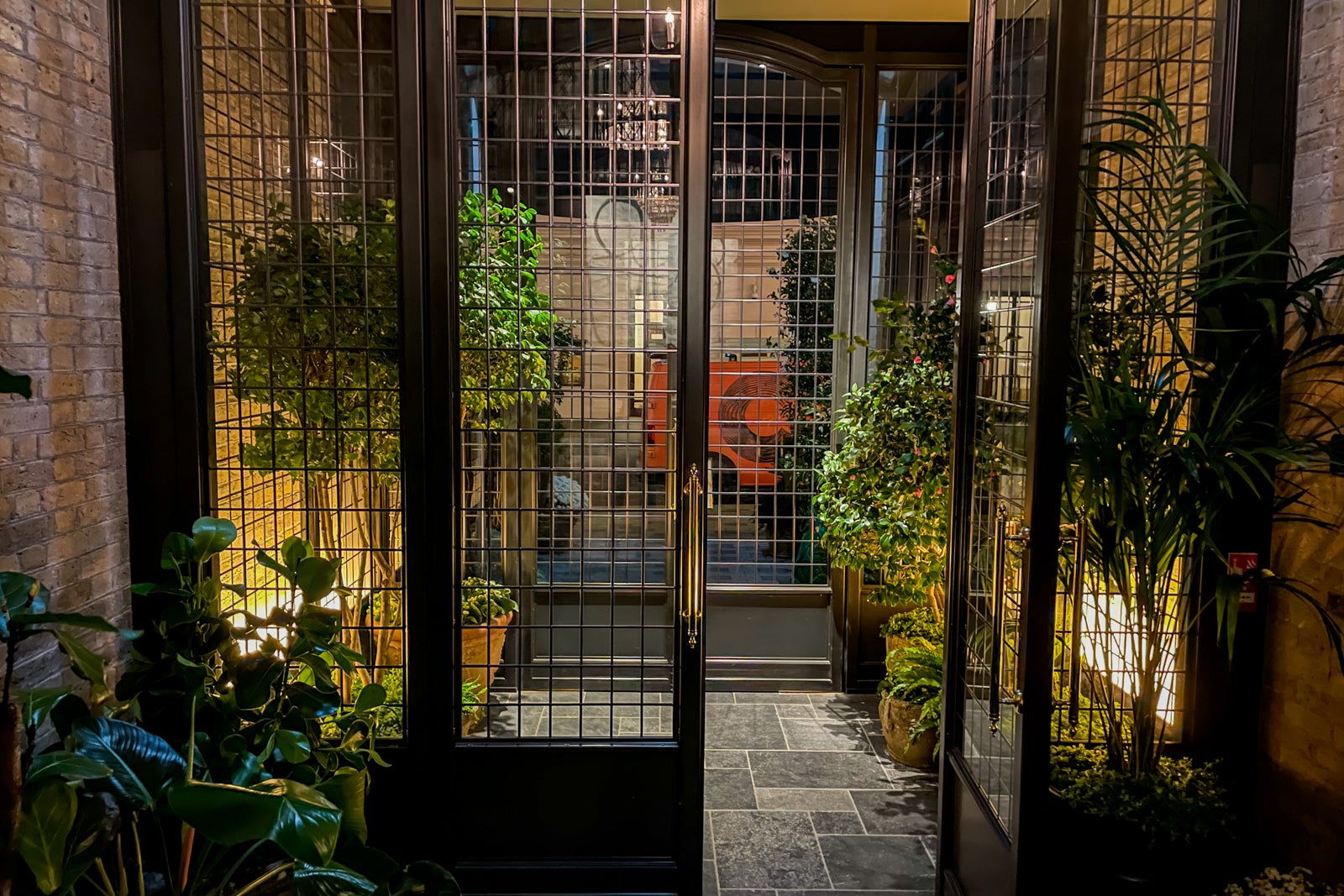 The NoMad hotel brand debuted in New York City a year before I moved there, and it has since cropped up in other U.S. cities (Los Angeles and Las Vegas). I have fond memories of the New York property, which was long a centerpiece of the city's social scene until it permanently closed its doors just as the London property was making its grand debut.
Even across the Atlantic, the brand-new NoMad hotel leans hard into its New York City roots and plays on the kinetic energy between the two metropolises. 
In fact, the hospitality company behind NoMad, Sydell Group, is continuing to explore that dynamic by bringing The Ned, an exclusive hotel and member's club in London, to New York City when the former NoMad hotel property in NYC is reborn as The Ned NoMad later this year. 
So, you can see why The Nomad London would be an obvious choice for a New Yorker visiting the London office. 
Getting there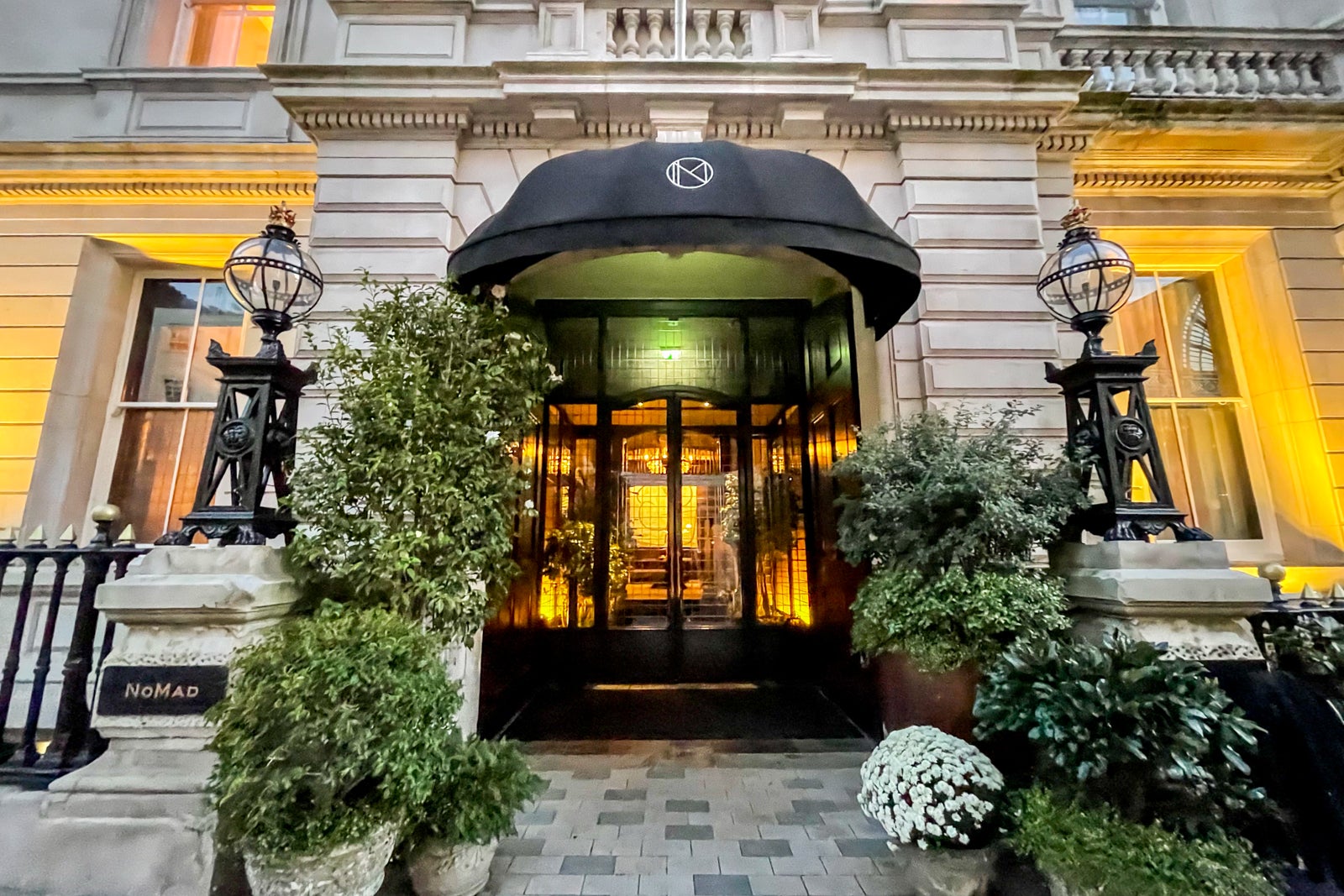 The NoMad London is conveniently located on Bow Street in London's Covent Garden district, in the West End. It's about a 40-minute drive from London Heathrow (LHR), but you can also easily get there on the Tube. When I landed at Heathrow, I took the elevator down to the Underground, where I caught the Picadilly line and rode it straight to the Covent Garden station, just a three-minute walk from the hotel. (Between £5.30 and £3.30, or about $7 and $4.50, depending on the day and time). 
My TPG U.K. colleagues would have had me take the Heathrow Express (from about £5.50 or $7.50 if booked in advance, but as much as £25 or $34 if you buy a last-minute ticket) and transfer, but I will always opt for the nonstop route when I'm traveling with a suitcase.
Booking details
I booked my stay at the NoMad London through the Chase Travel Portal, using my Chase Sapphire Preferred Card to earn bonus Ultimate Rewards points on my not-inexpensive stay ($424 per night). Because this is a relatively new property and not part of any major hotel loyalty program, there aren't many ways to redeem points for a stay here. I suspect that, like its sister hotel, the NoMad Los Angeles, it will join The Hotel Collection by American Express soon.
If (or, more likely when) that happens, you could book with an eligible Amex card and enjoy elite-like perks during your stay such as an on-property credit and a room upgrade on arrival, when available. Just remember, you'll need to stay at least two nights to take advantage of such offers. 
Highlights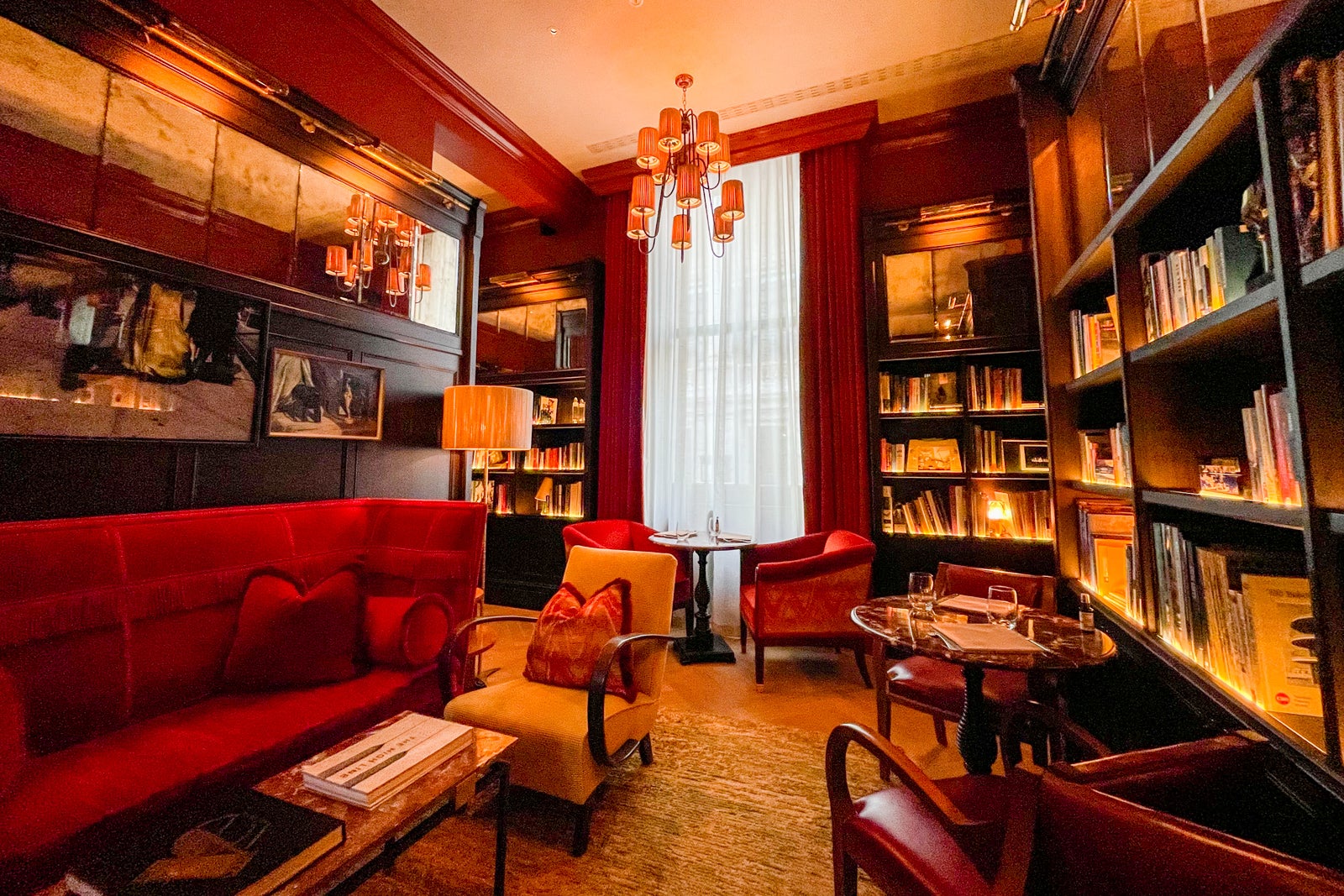 I am still not over the NoMad in New York, and I think often about chef Daniel Humm's impossibly elegant butter-dipped radishes (there are entire articles devoted to this single, simple dish all over the internet). So, it's no surprise I loved the crudites at the hotel's eponymous restaurant, which came with herbed creme fraiche and — you guessed it, radishes. 
A library fit for a boudoir shoot or a private jazz club with red velvet and leather furnishings and shelves stocked with texts that would fall somewhere between highbrow and brilliant on The New Yorker's "Approval Matrix."
Premium amenities, including a bottle of custom NoMad hand sanitizer in a travel-friendly spray bottle,  Babyliss styling tools and sturdy wood-handled umbrellas for those notoriously drizzly London days.  
Drawbacks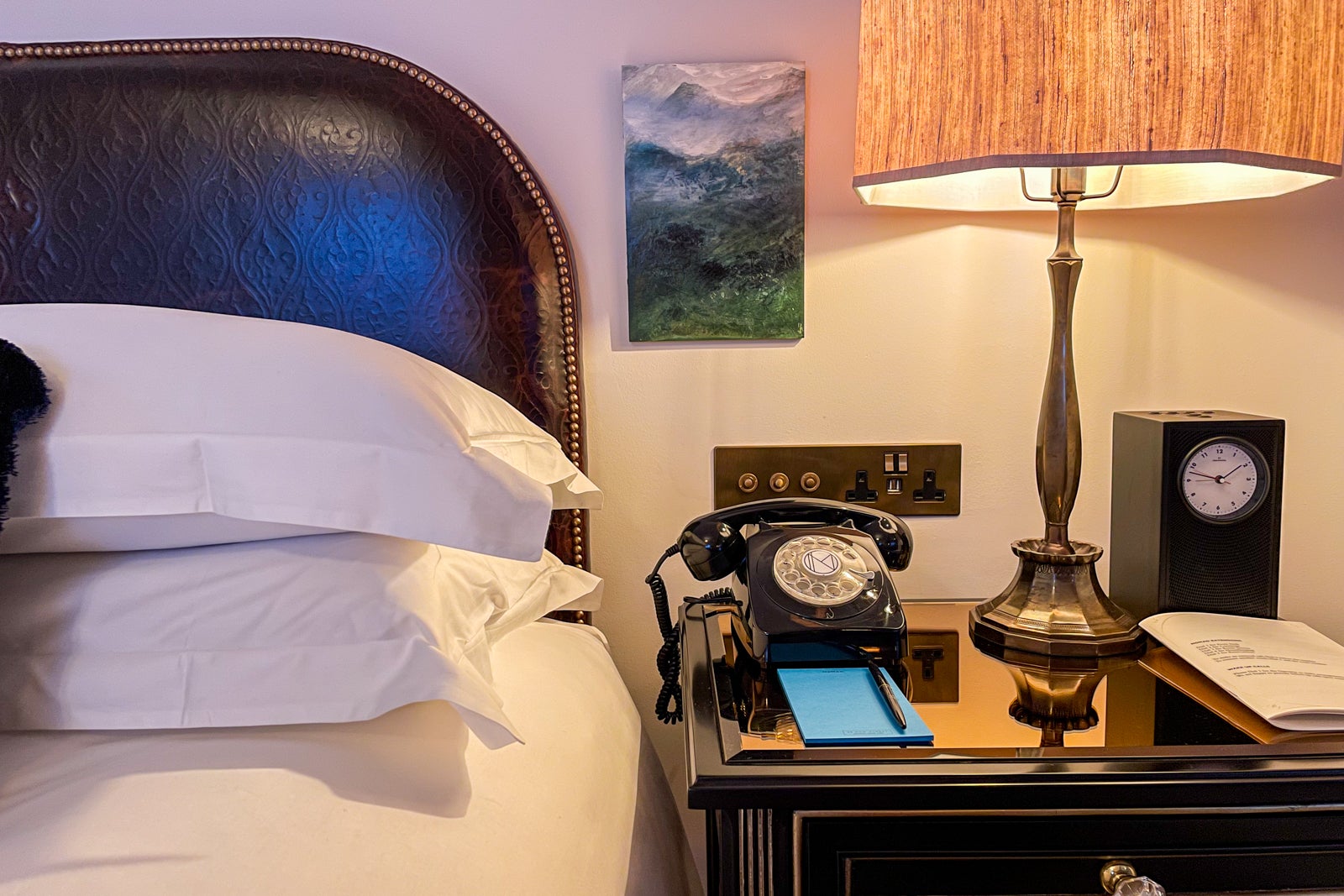 As is common with high-design hotels, there were a few details that really left me befuddled. I'm not proud to admit this, but I tried to call the front desk using the in-room rotary phone before just giving up and plodding downstairs instead (I'm just going to blame jet lag and my millennial sensibilities for this one). The push-button light switches were also not intuitive — it always took me ages to turn the right lights on or off. 
The entire hotel is rather dark. It's a vibe, but even in my room, the lighting could be tricky. On my way to work around 9 a.m. I had the sensation that the NoMad hotel exists permanently on the edge of cocktail hour.
There's nothing affordable about the NoMad London. Ordering a simple Americano with breakfast will set you back £4, which doesn't look all that bad until you remember the exchange rate. Suddenly, your morning coffee costs nearly $6. 
The vibe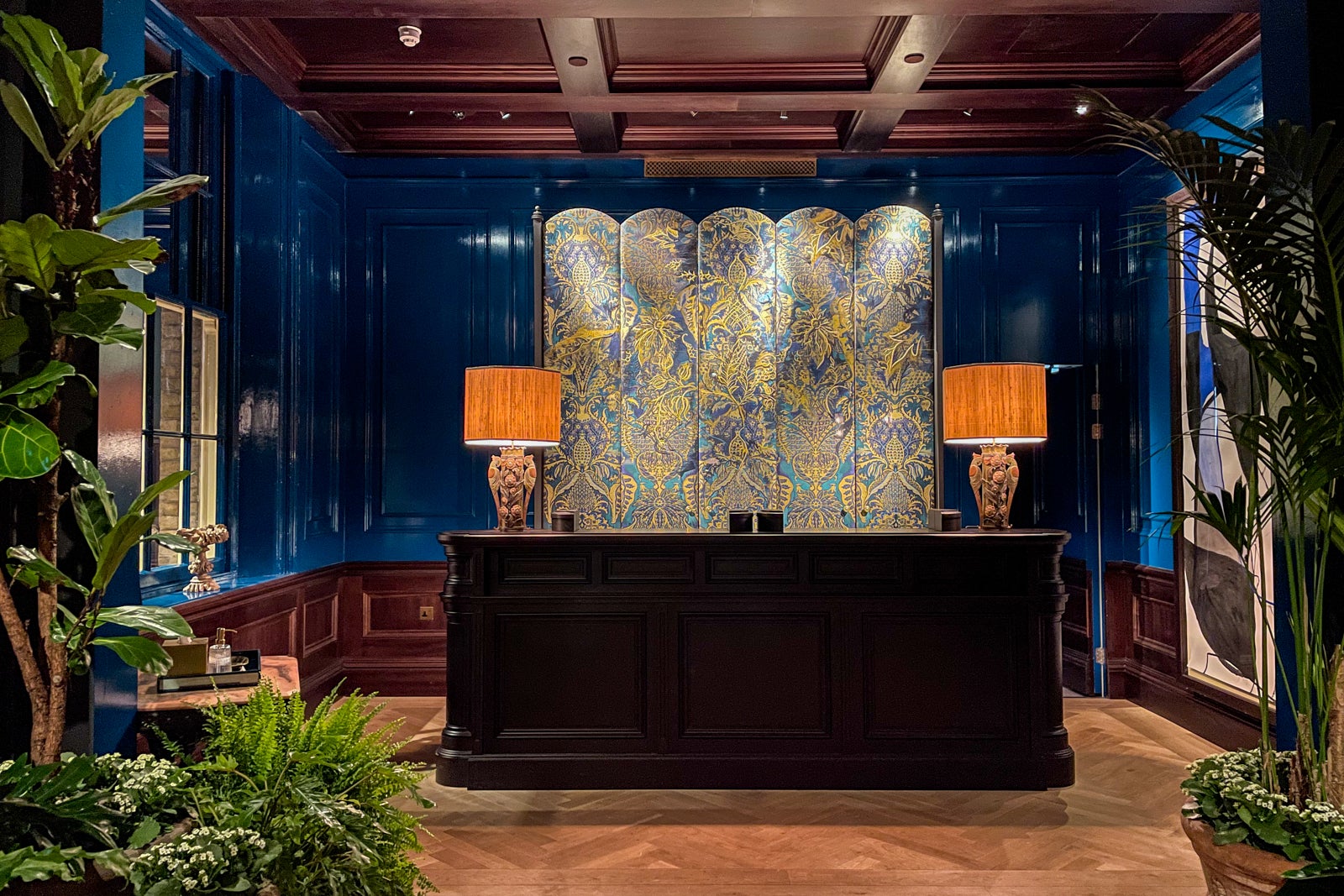 Inside the hotel, which occupies the 19th-century former Bow Street Magistrates' Court and Police Station, guests will discover a deliberately moody space: dark lacquered woods, jewel-tone velvets and oxblood leather. There's nothing subtle about this hotel, which is a veritable reverie of tassels, brocades, Carrara marble and hand-painted wallpaper. Just lock me up and throw away the key, will you?
Ample greenery and botanical prints add a sense of whimsy and keep the hotel from feeling too stuffy.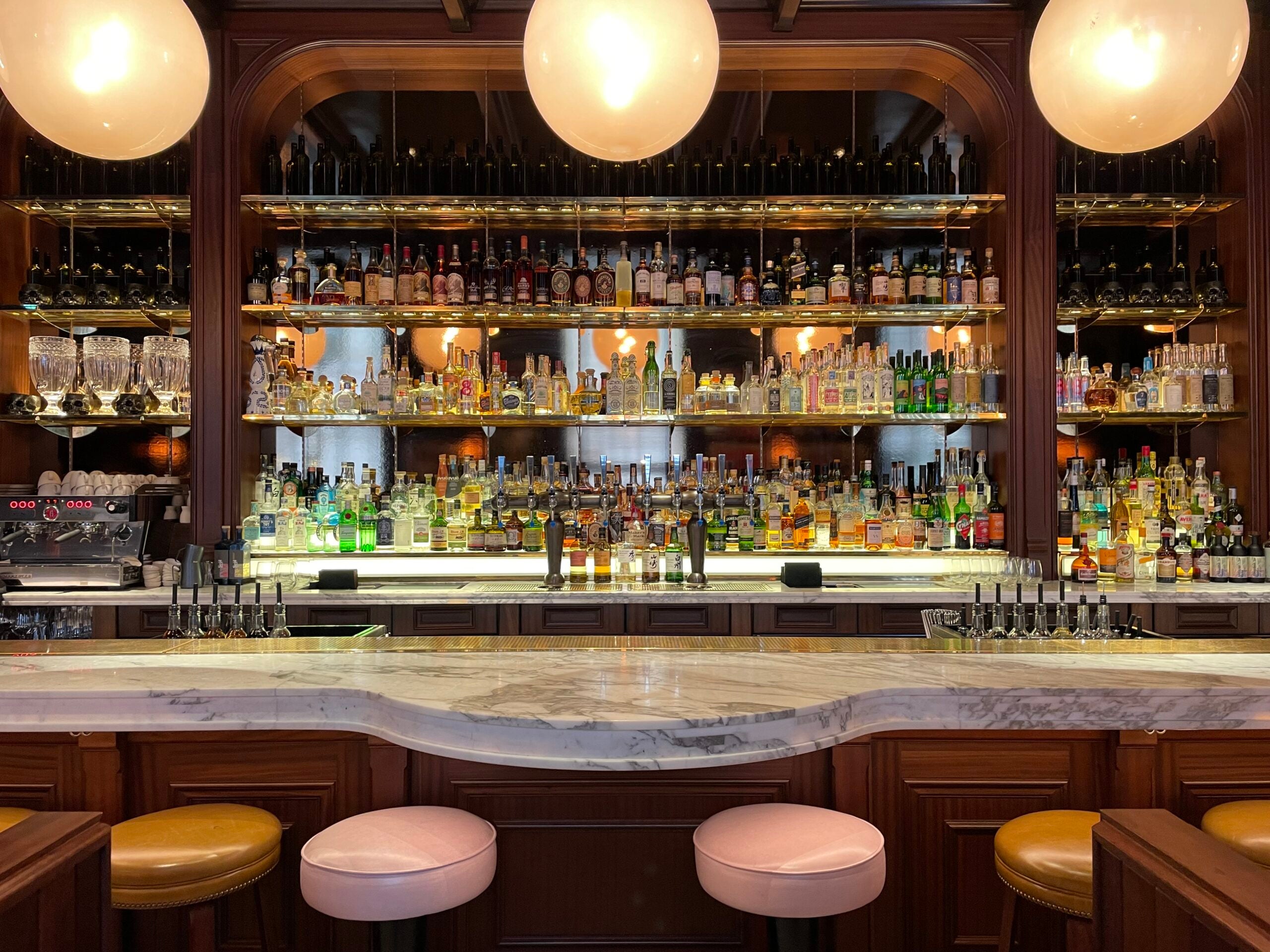 Wandering around the hotel, I'd often stumble upon what looked like an important business meeting transpiring in a stylish sitting area or see a painfully well-dressed couple dining in a corner of the library. I wouldn't have been at all surprised to find Oscar Wilde seated at the bar, a flash of fur lapels and silk stockings, waxing poetic about the importance of art and romance between dramatic flourishes of his very fashionable cape. 
The room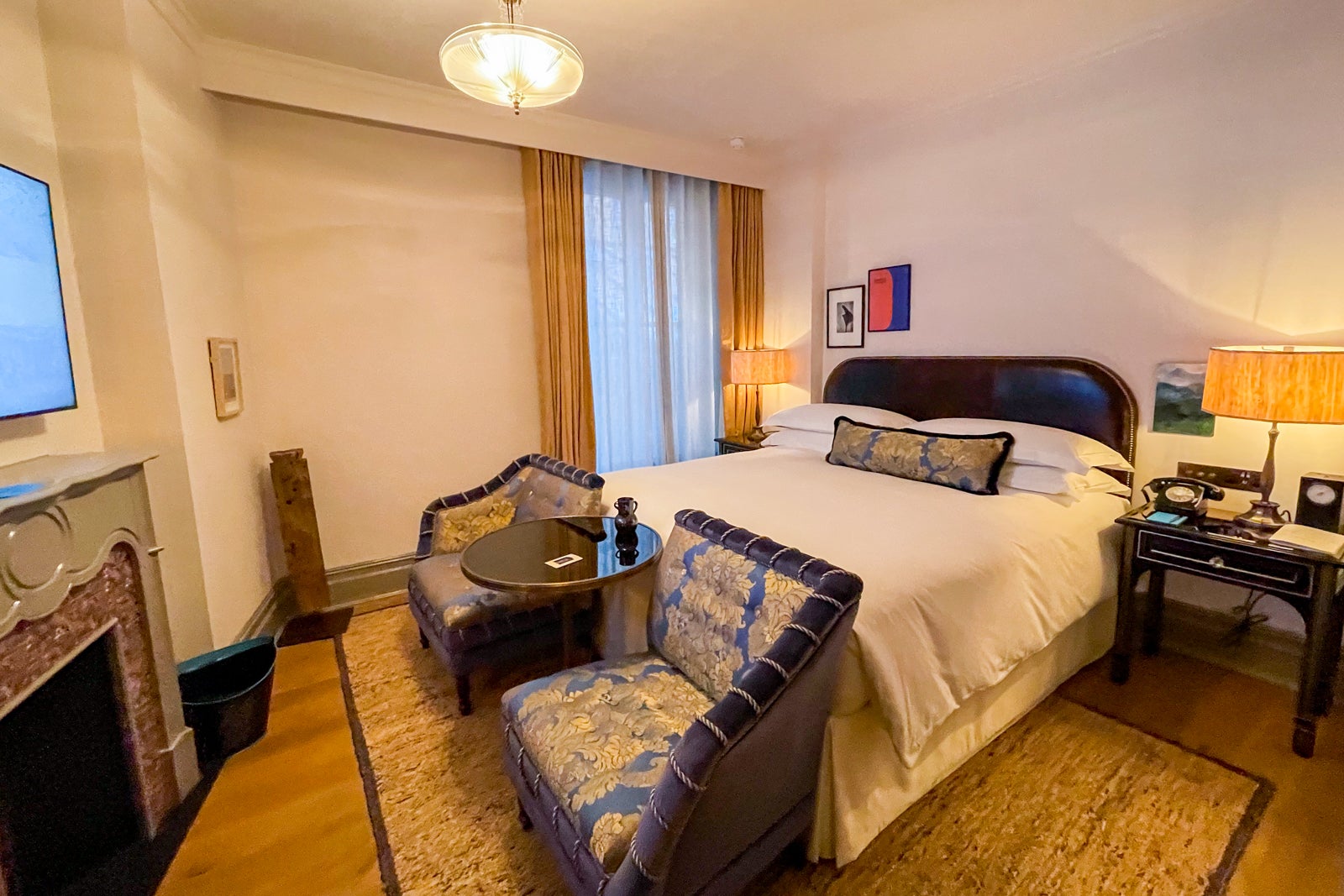 My entry-level "Classic" king room was so spacious, I thought I'd been given an upgrade to a higher room category (I was told I had not, but I'm still not sure I believe it). With only one window overlooking the atrium, the room was dark, but that fit with the hotel's generally serious atmosphere. Warm lighting and feminine details kept the space from feeling too earnest.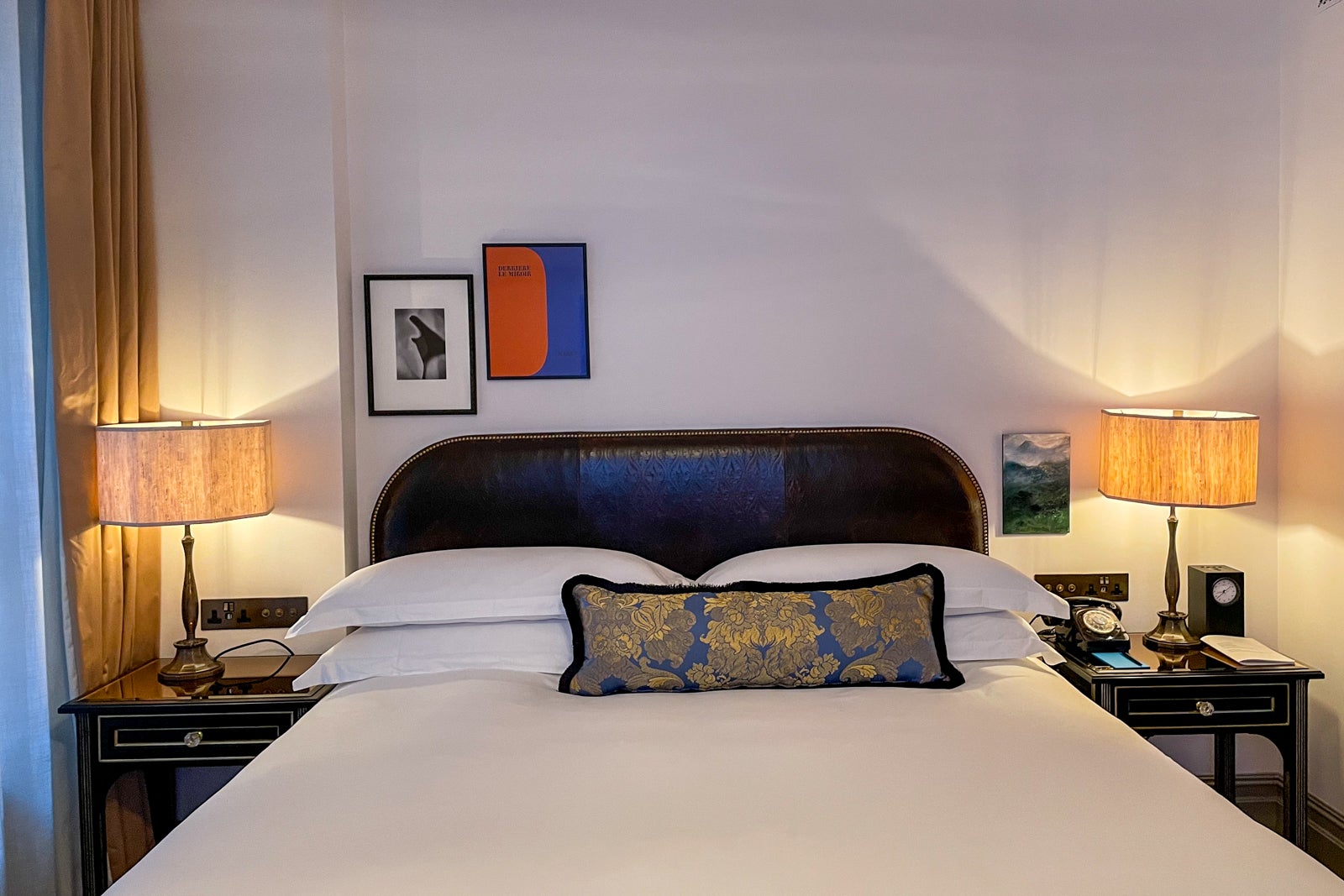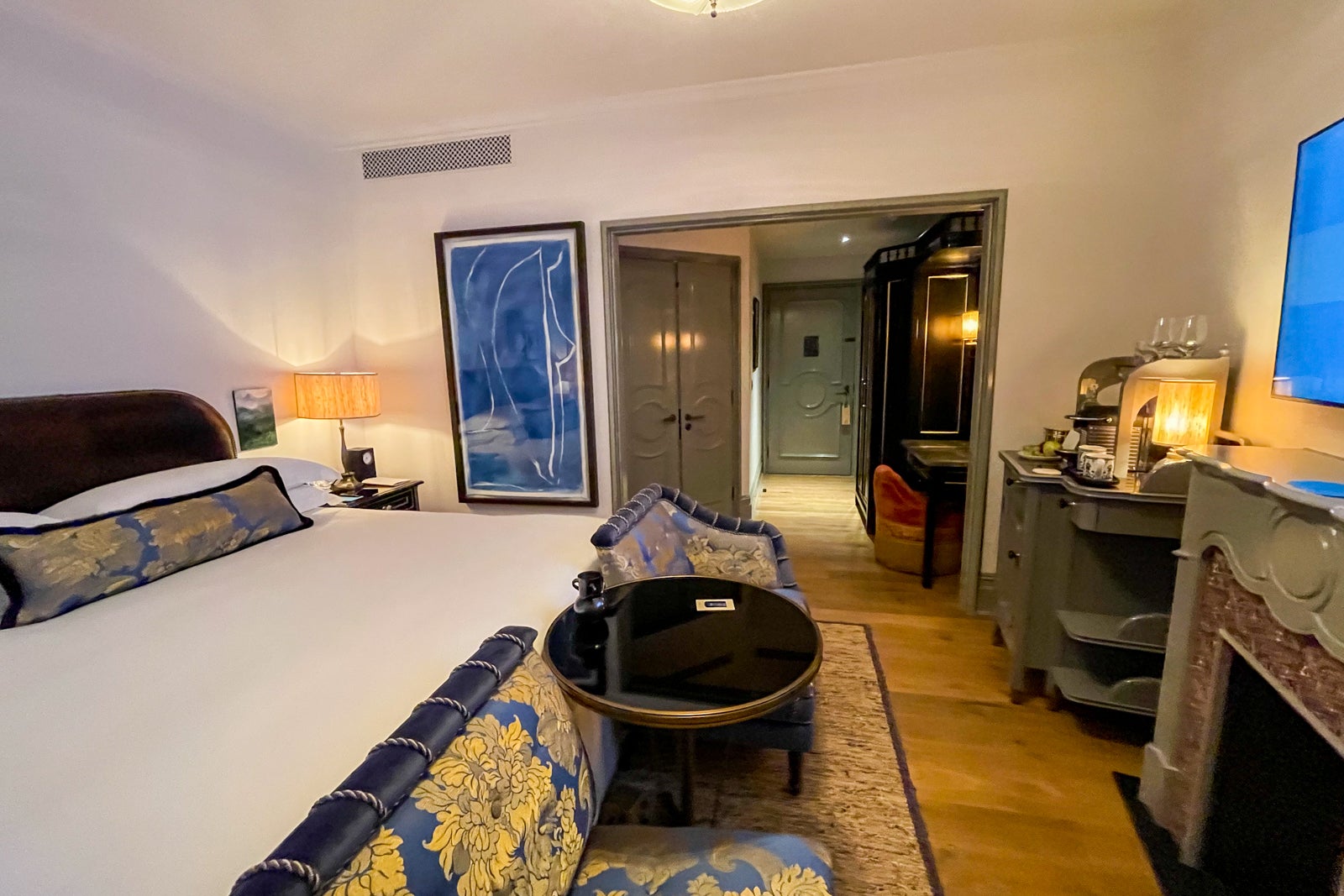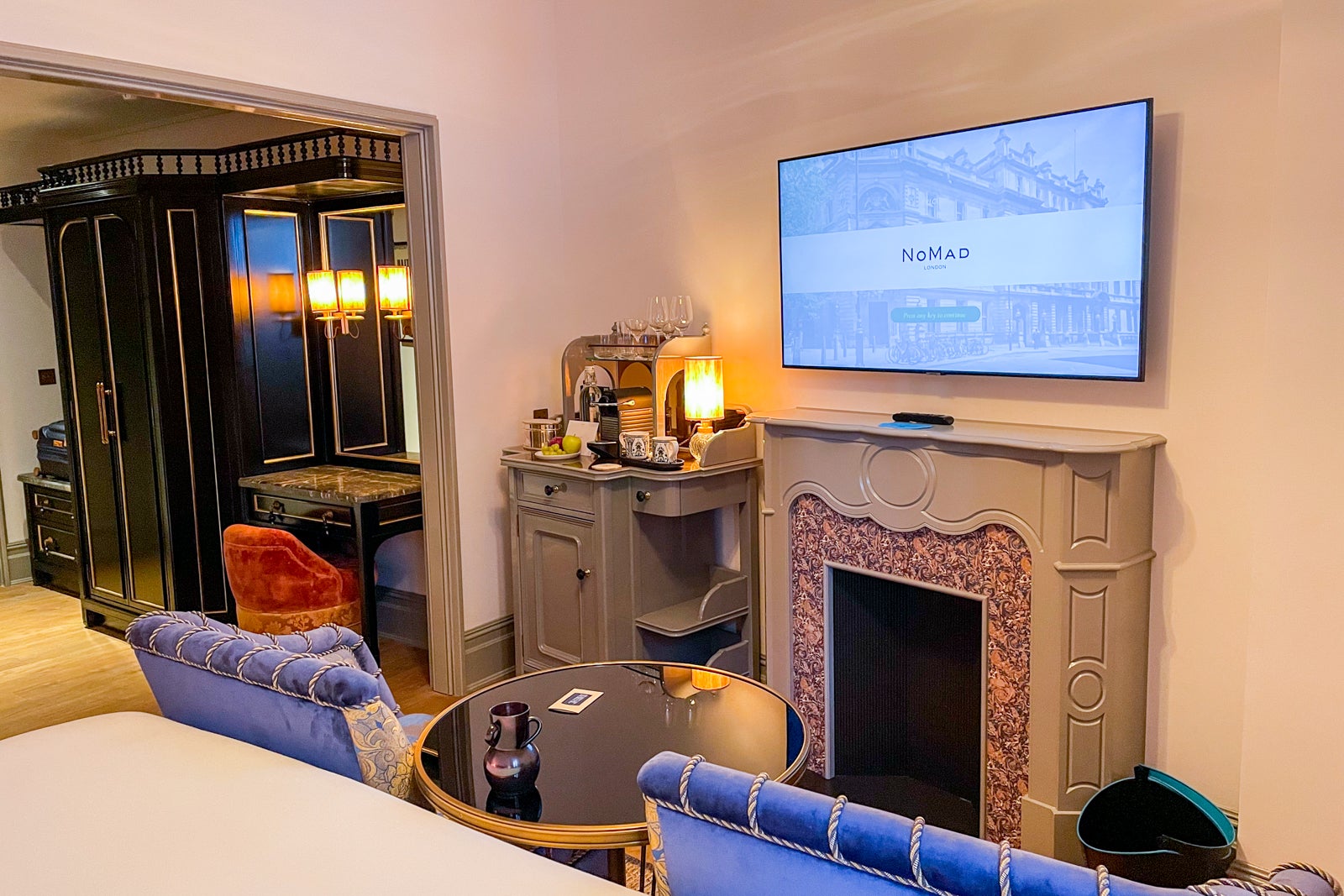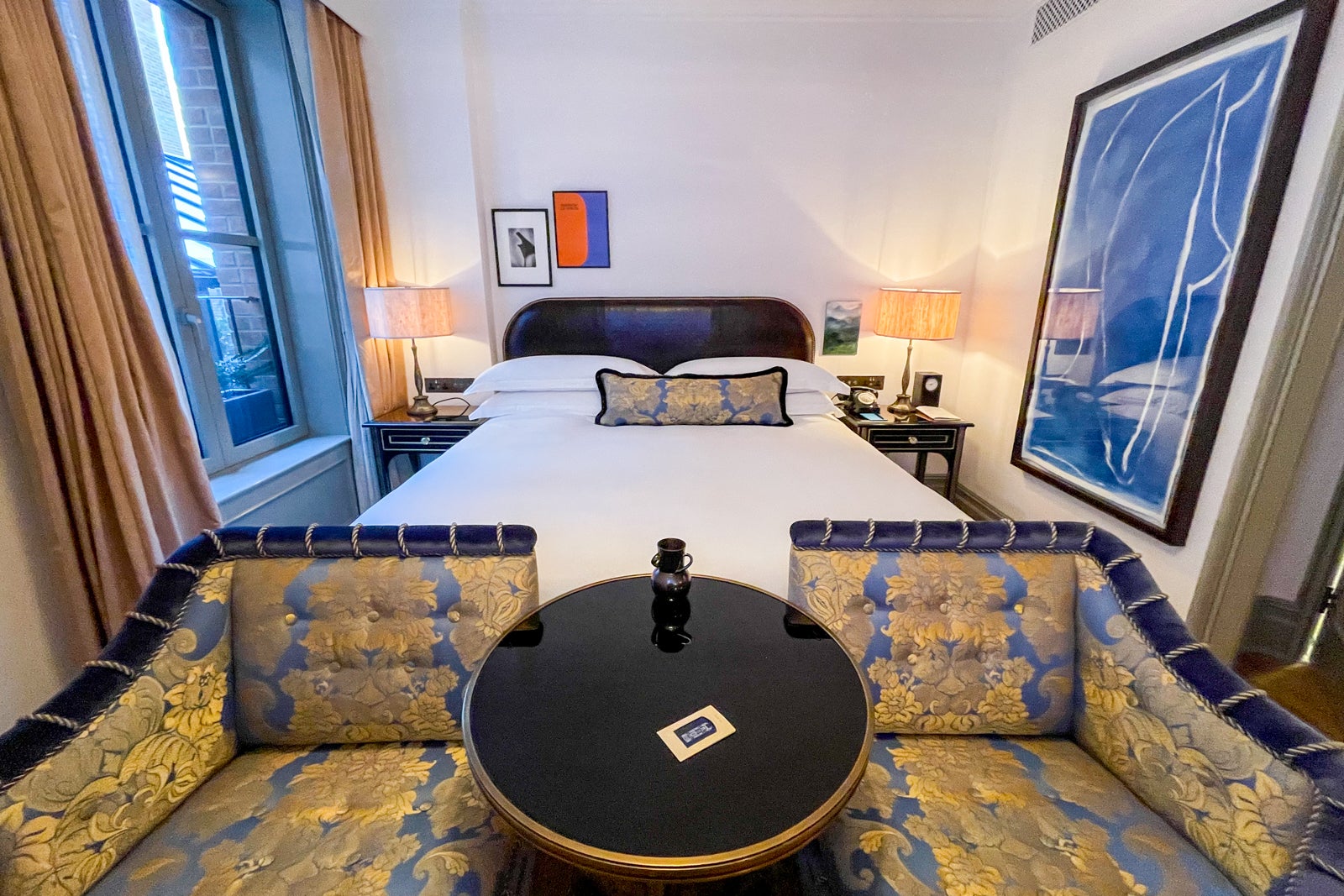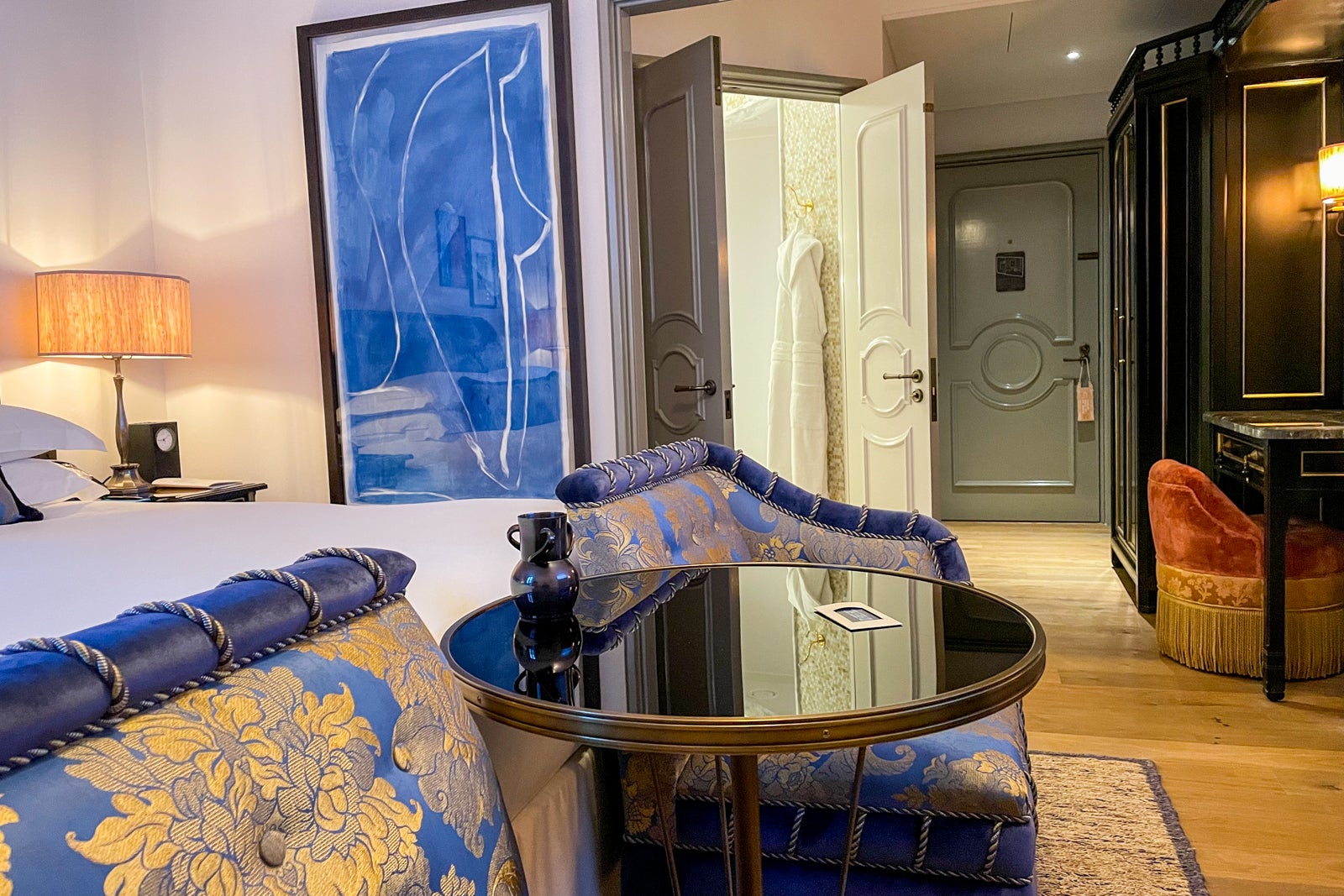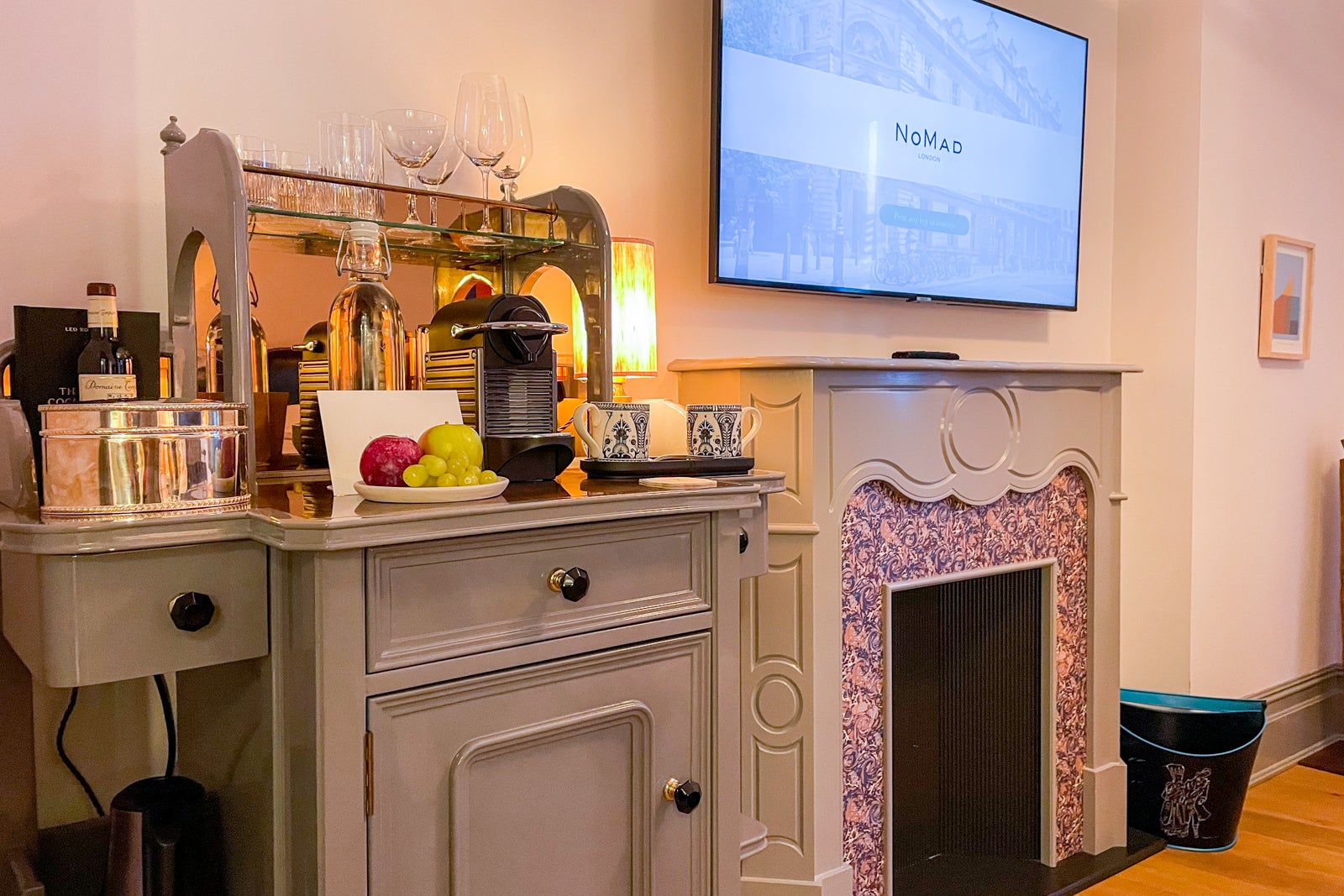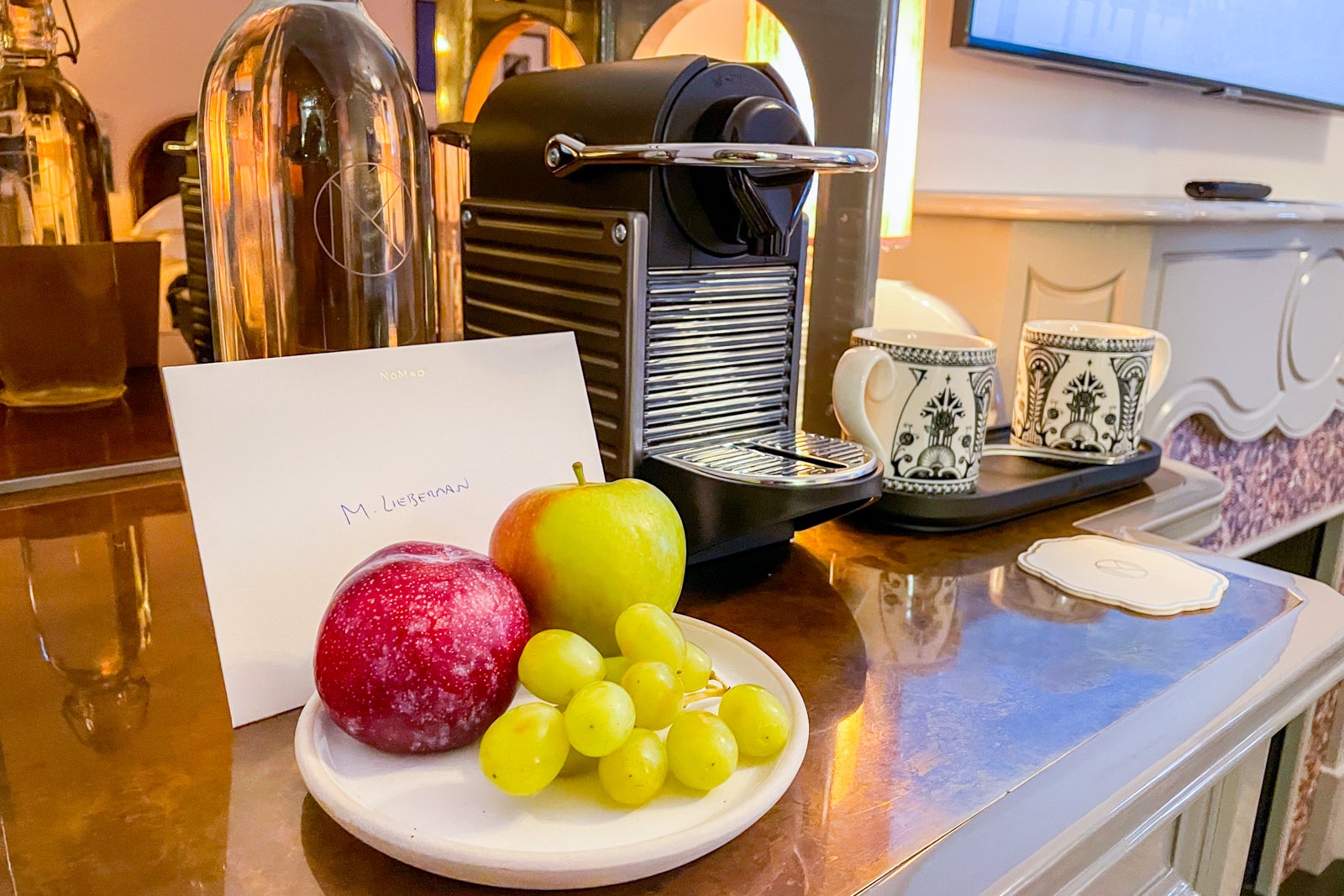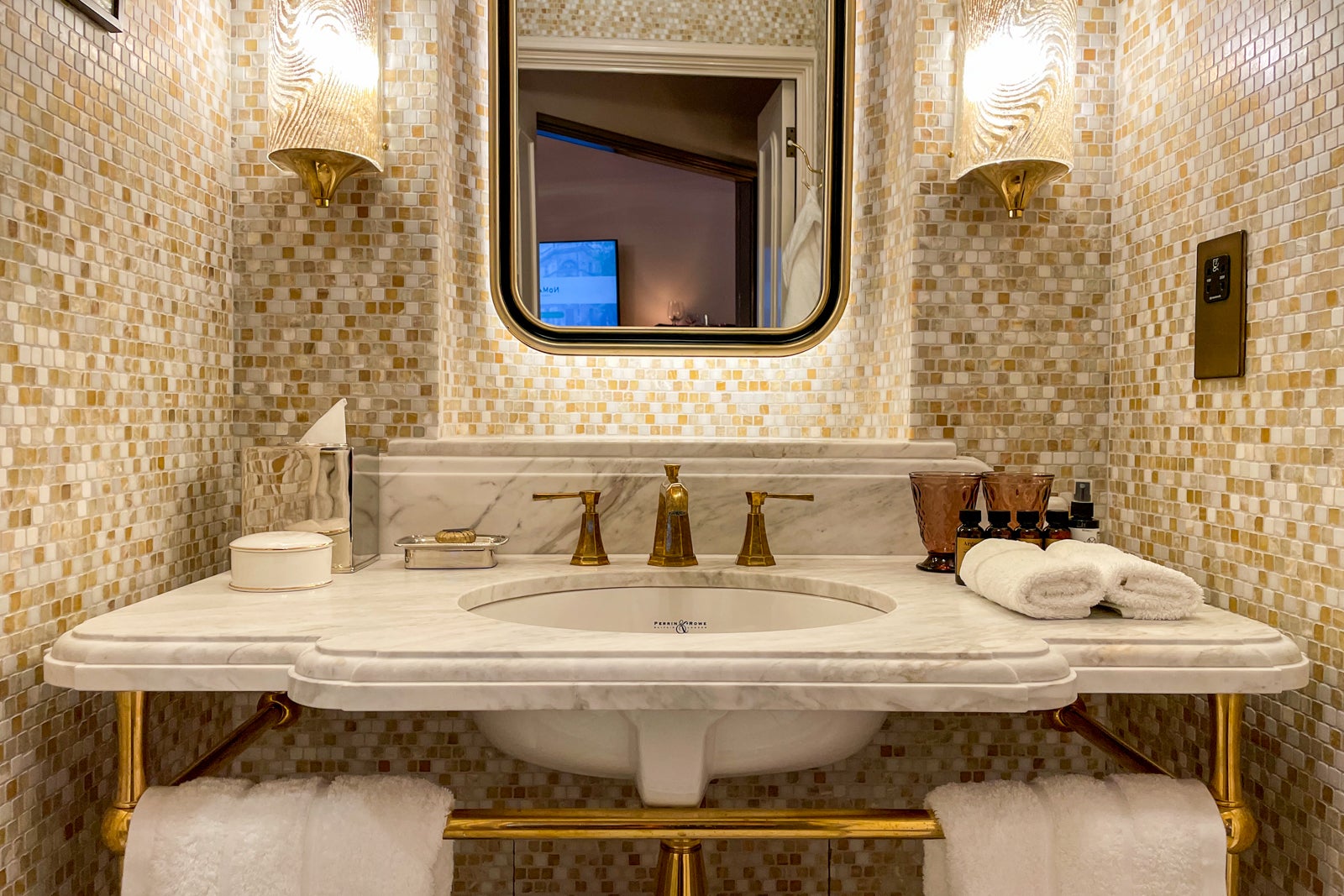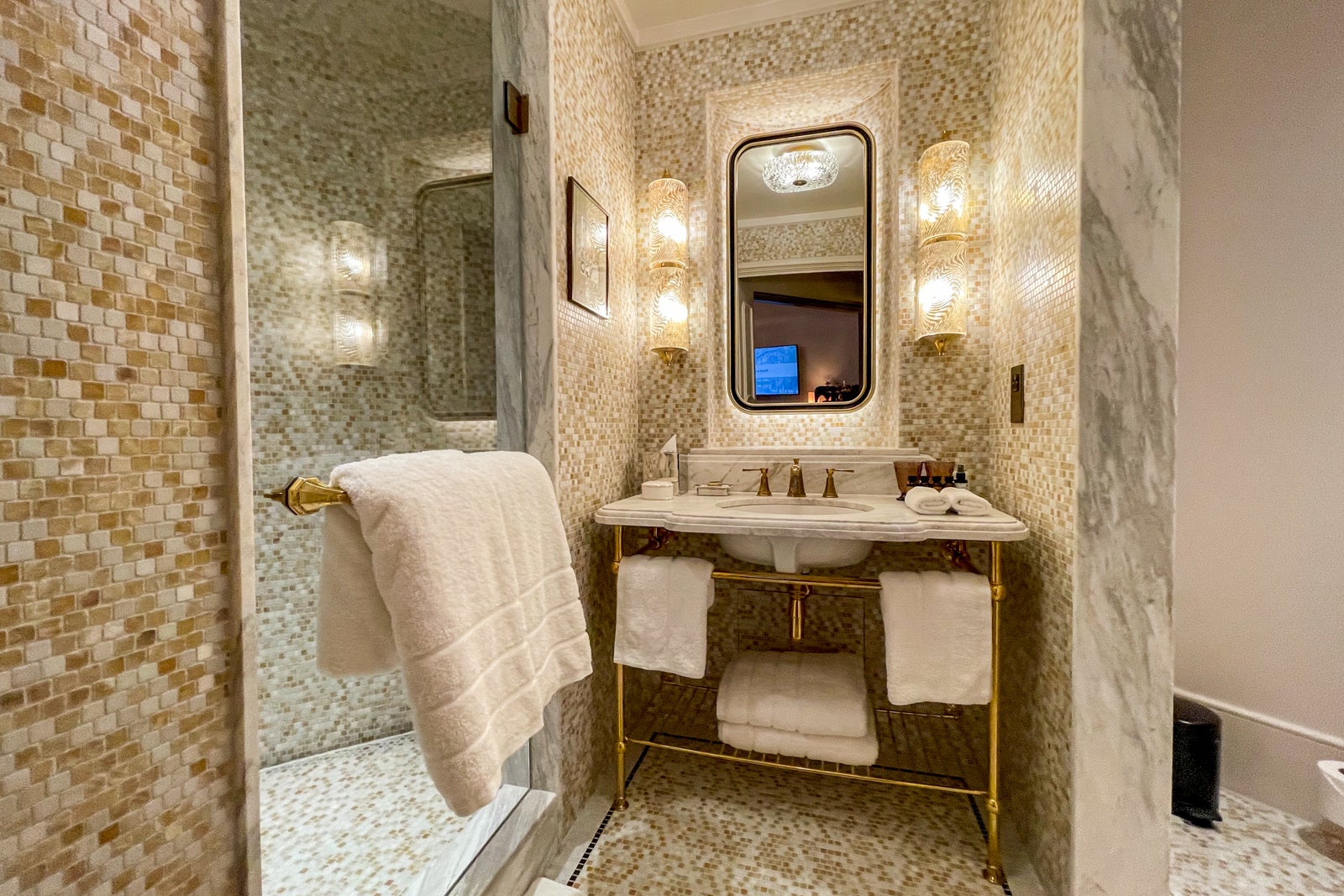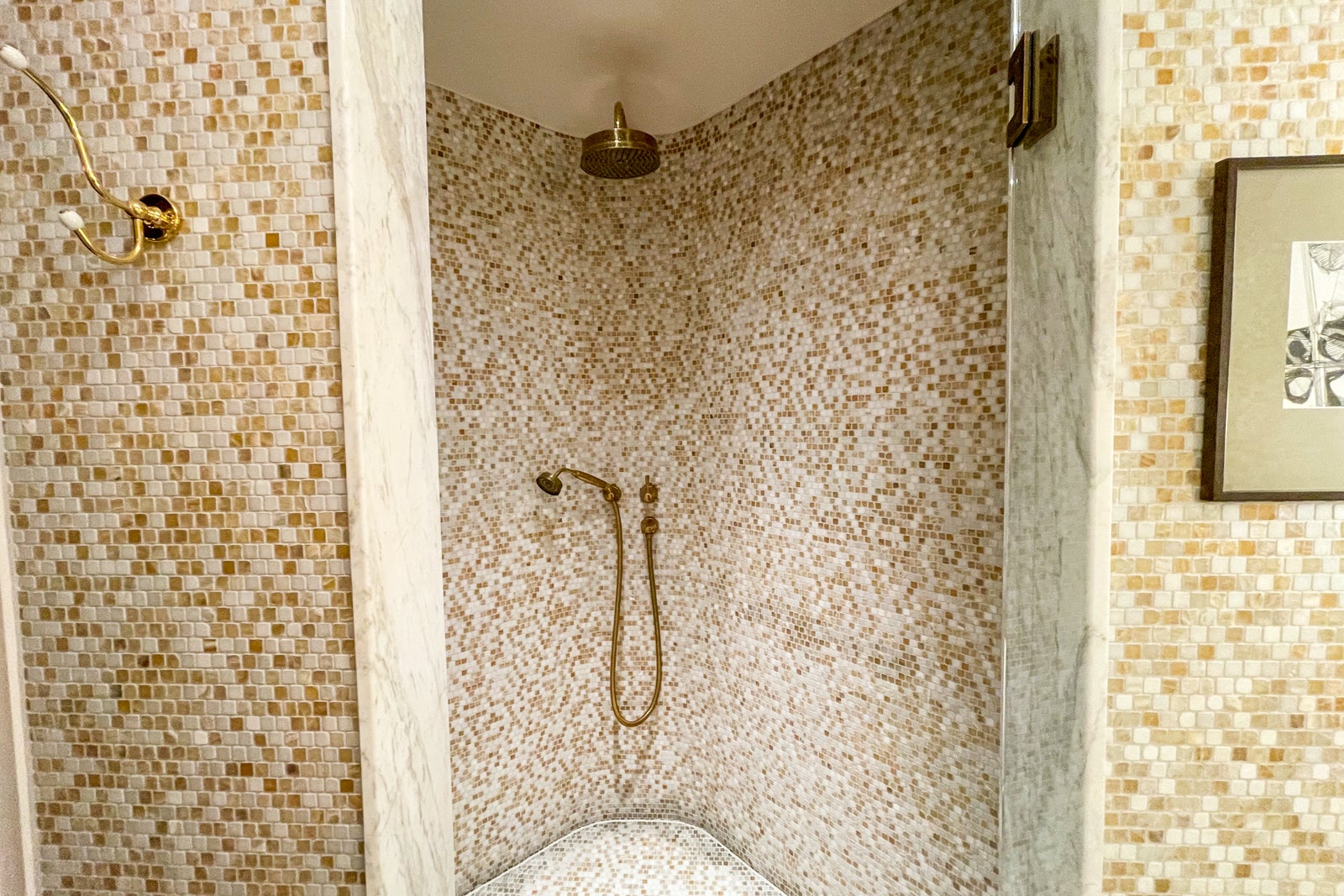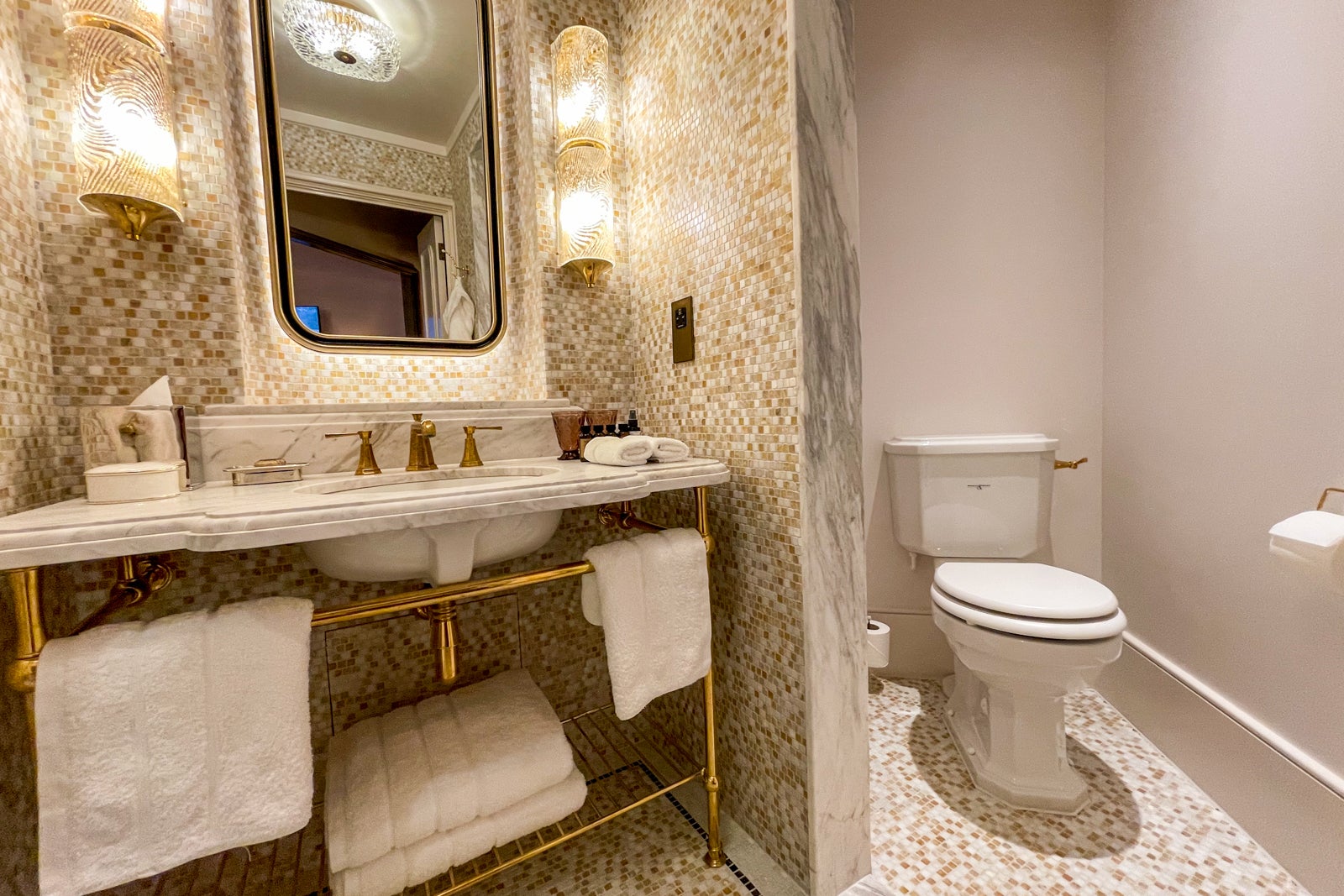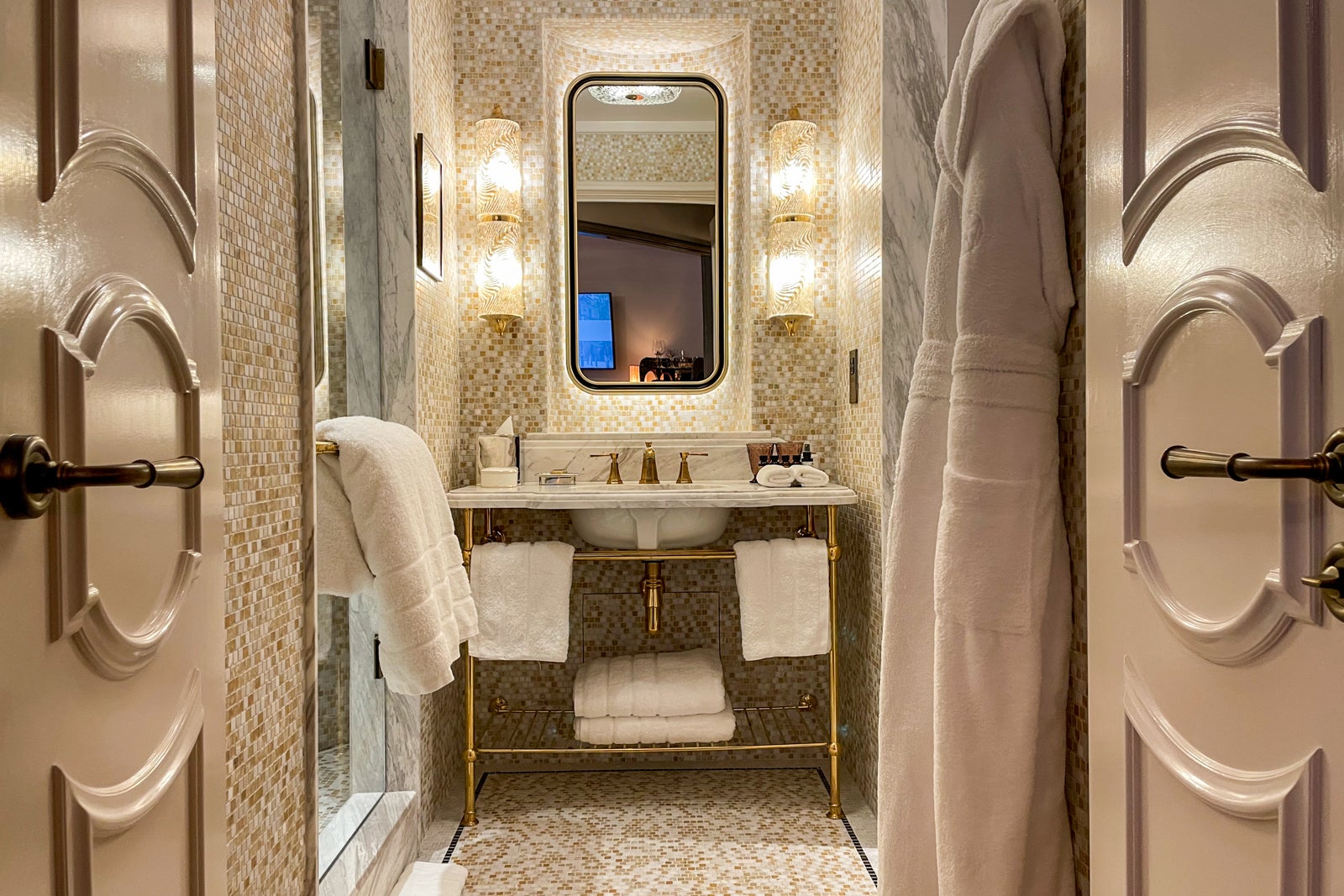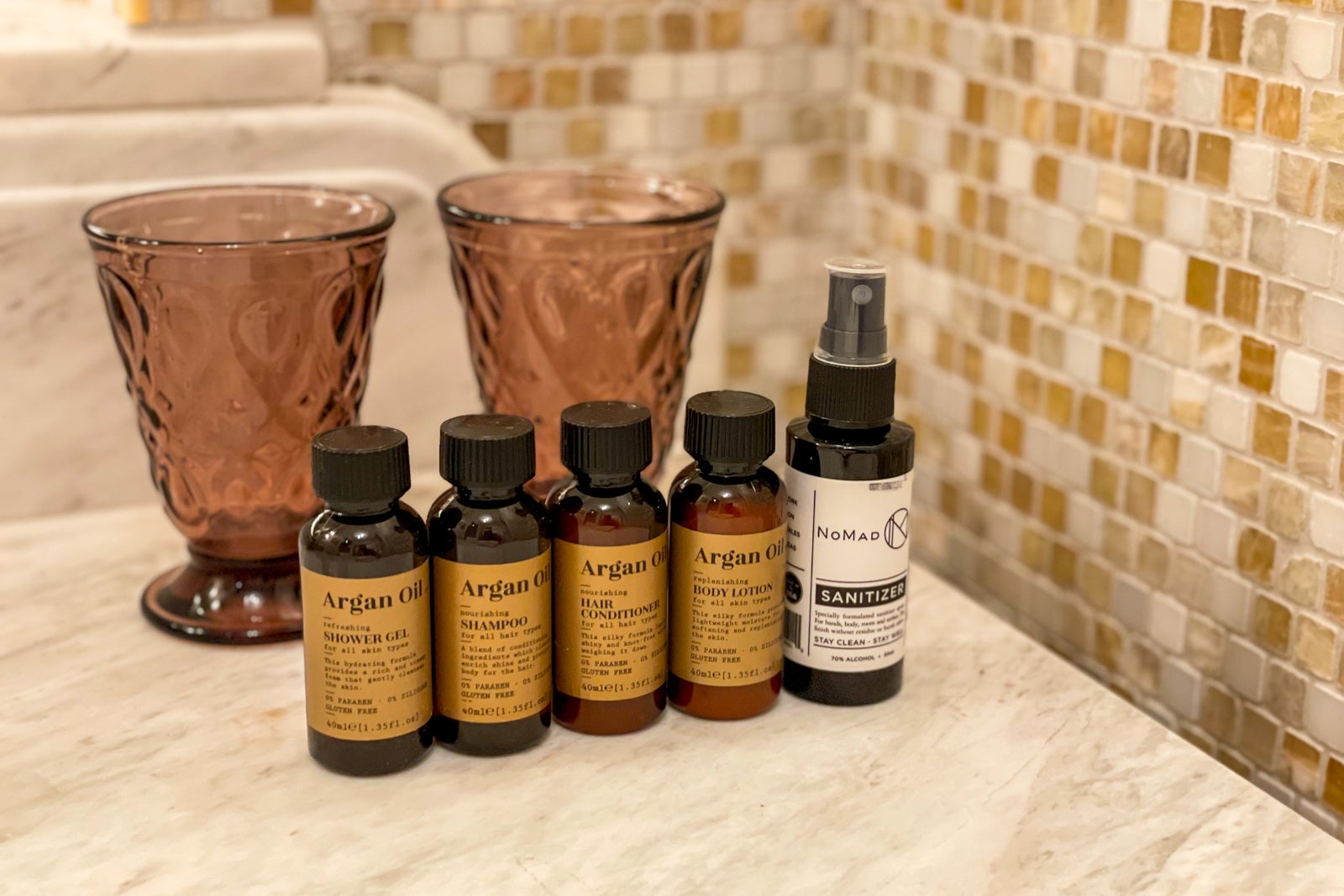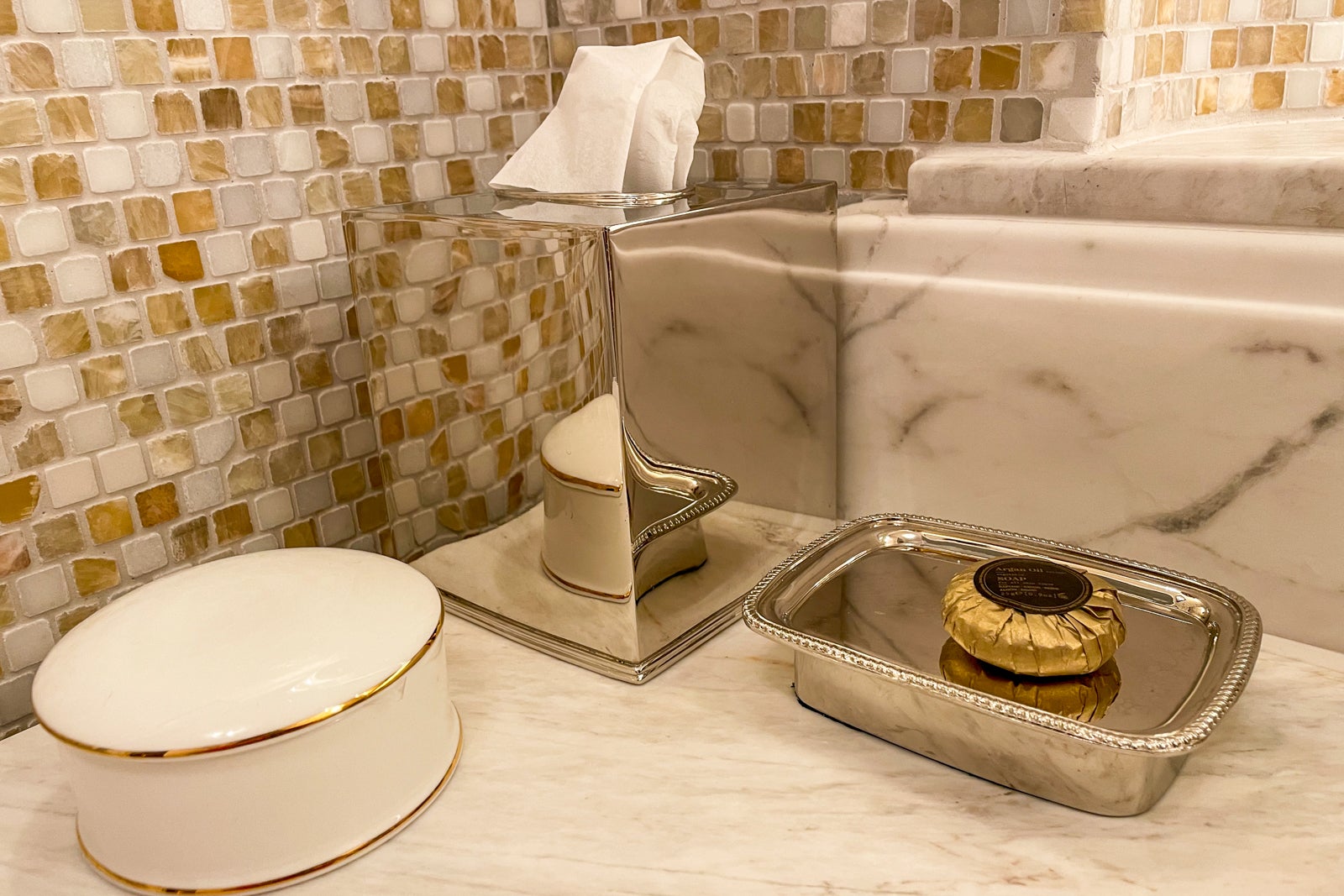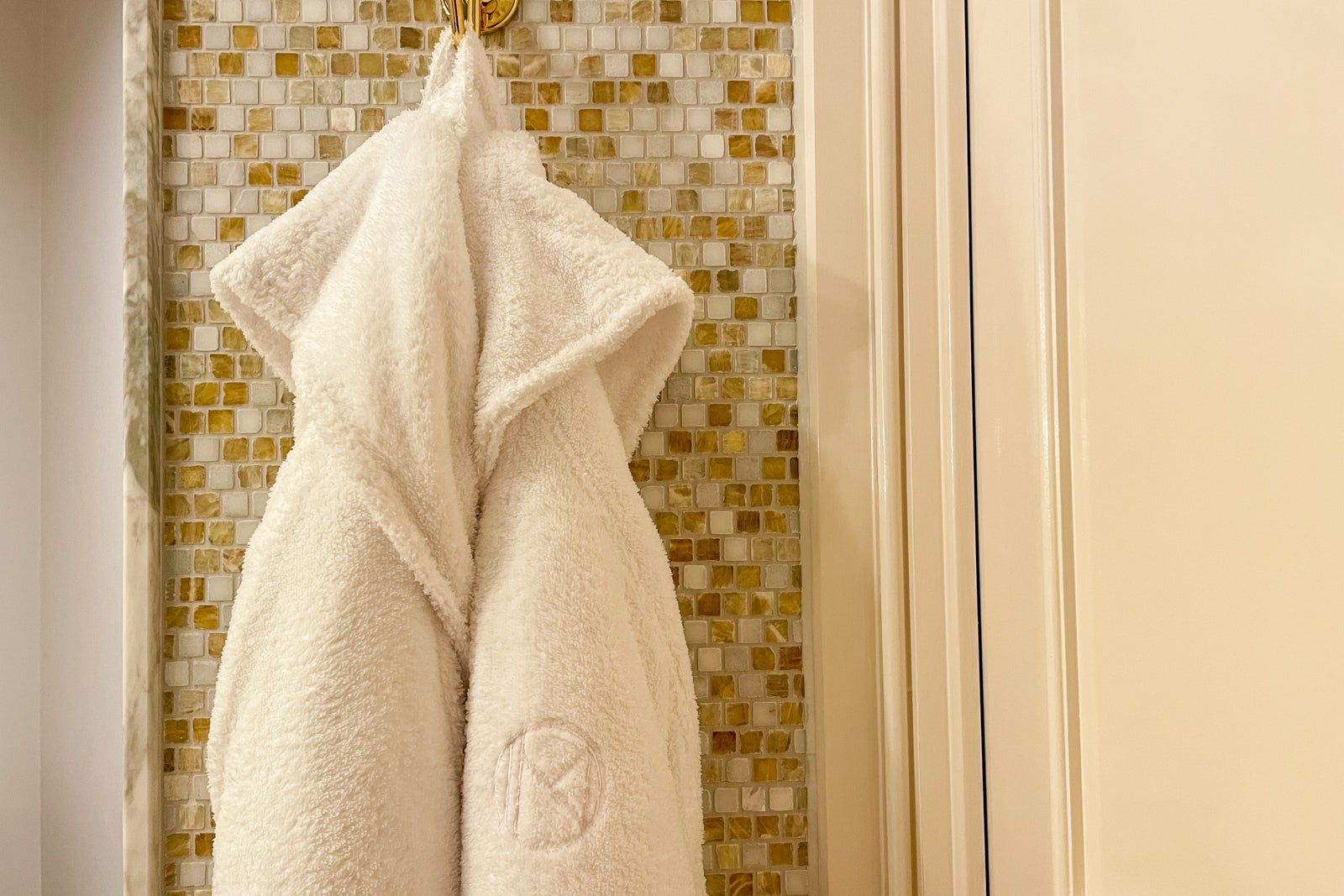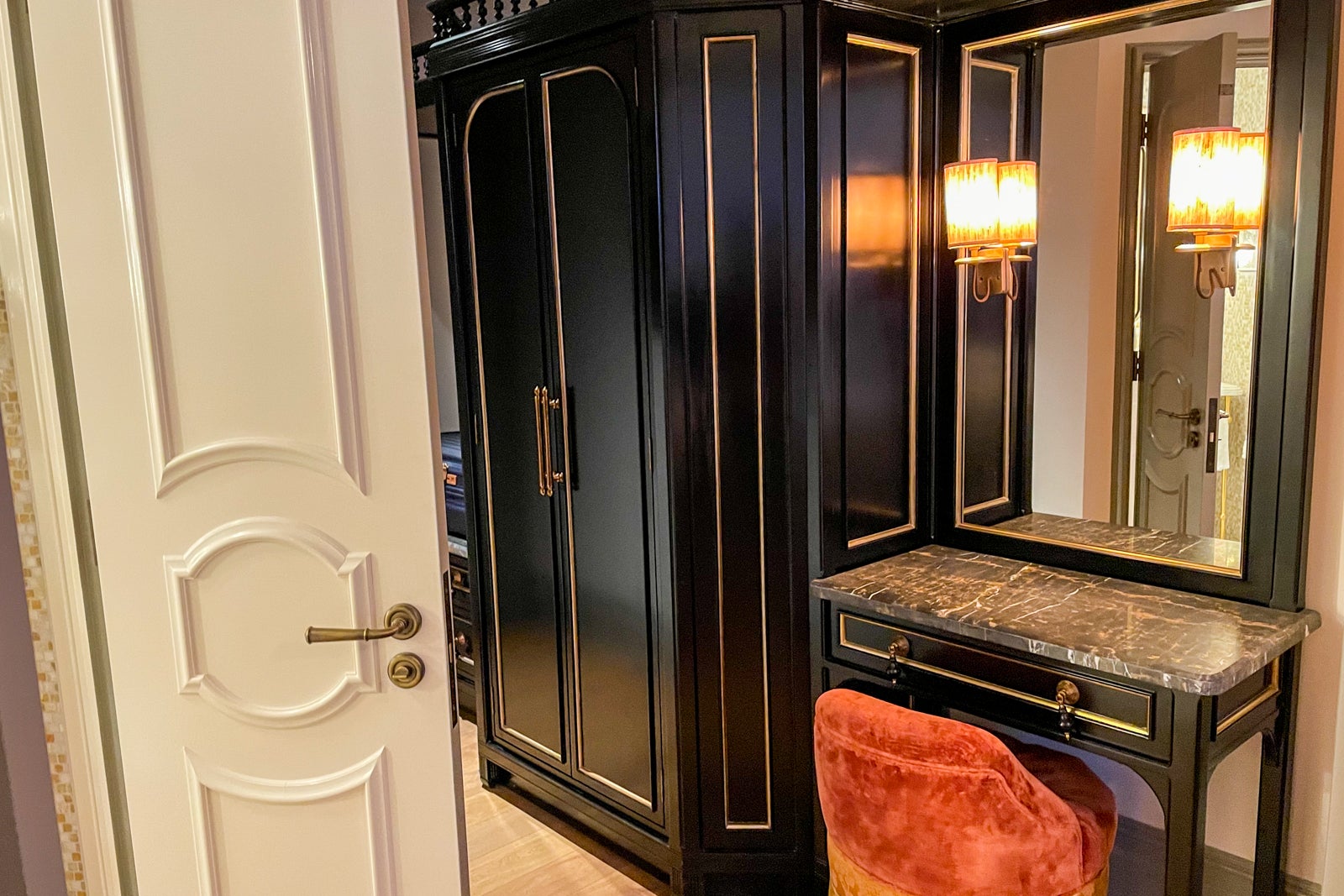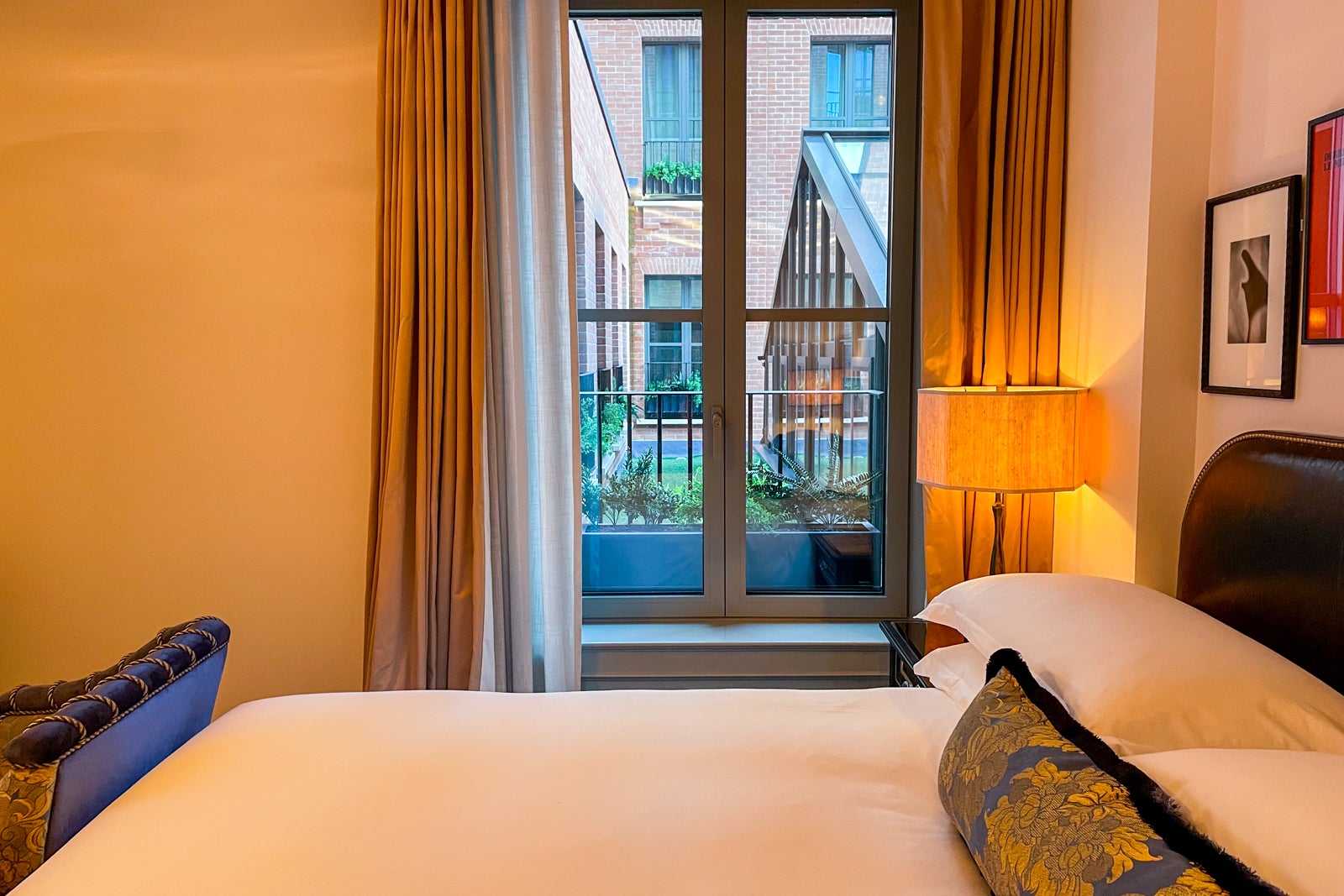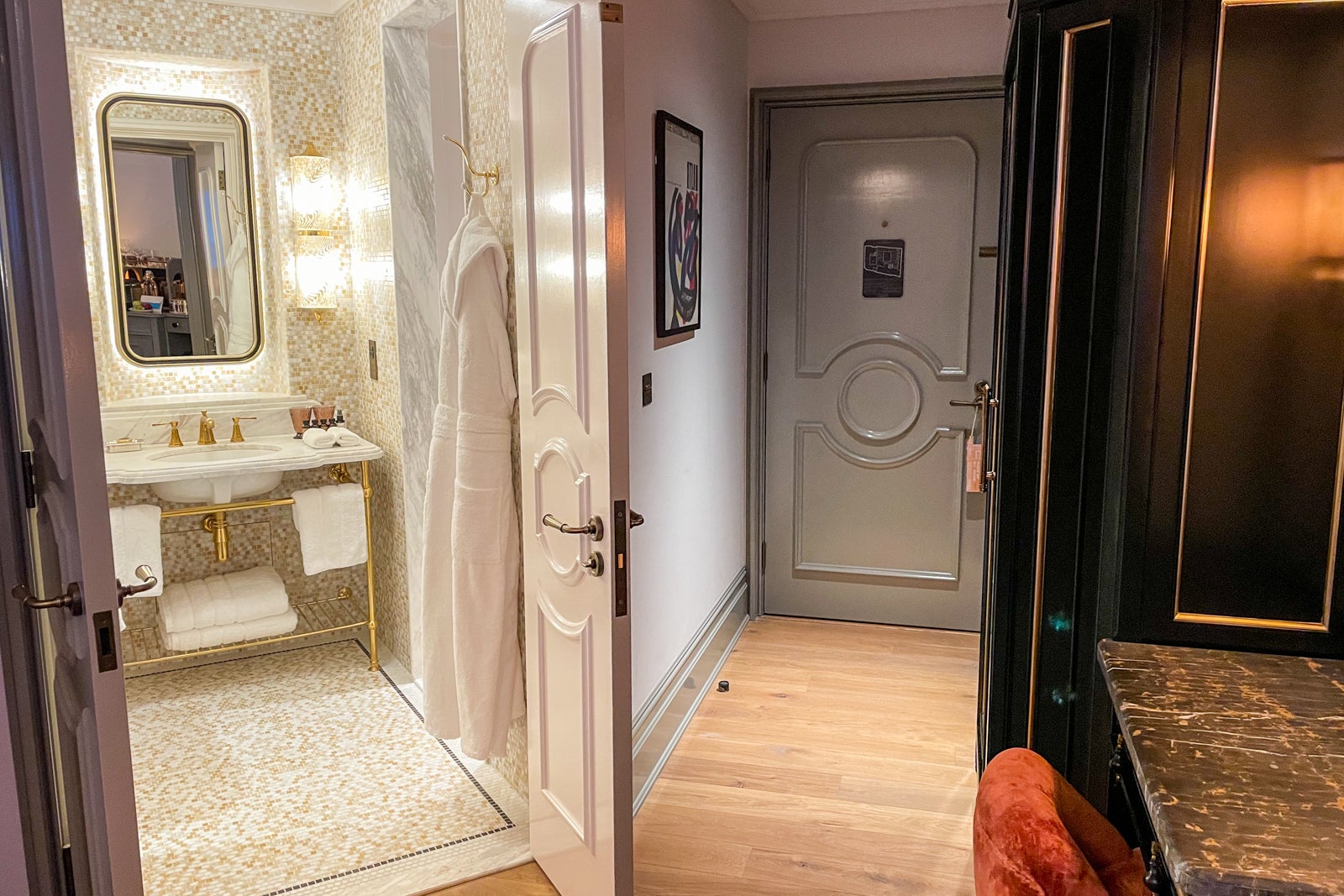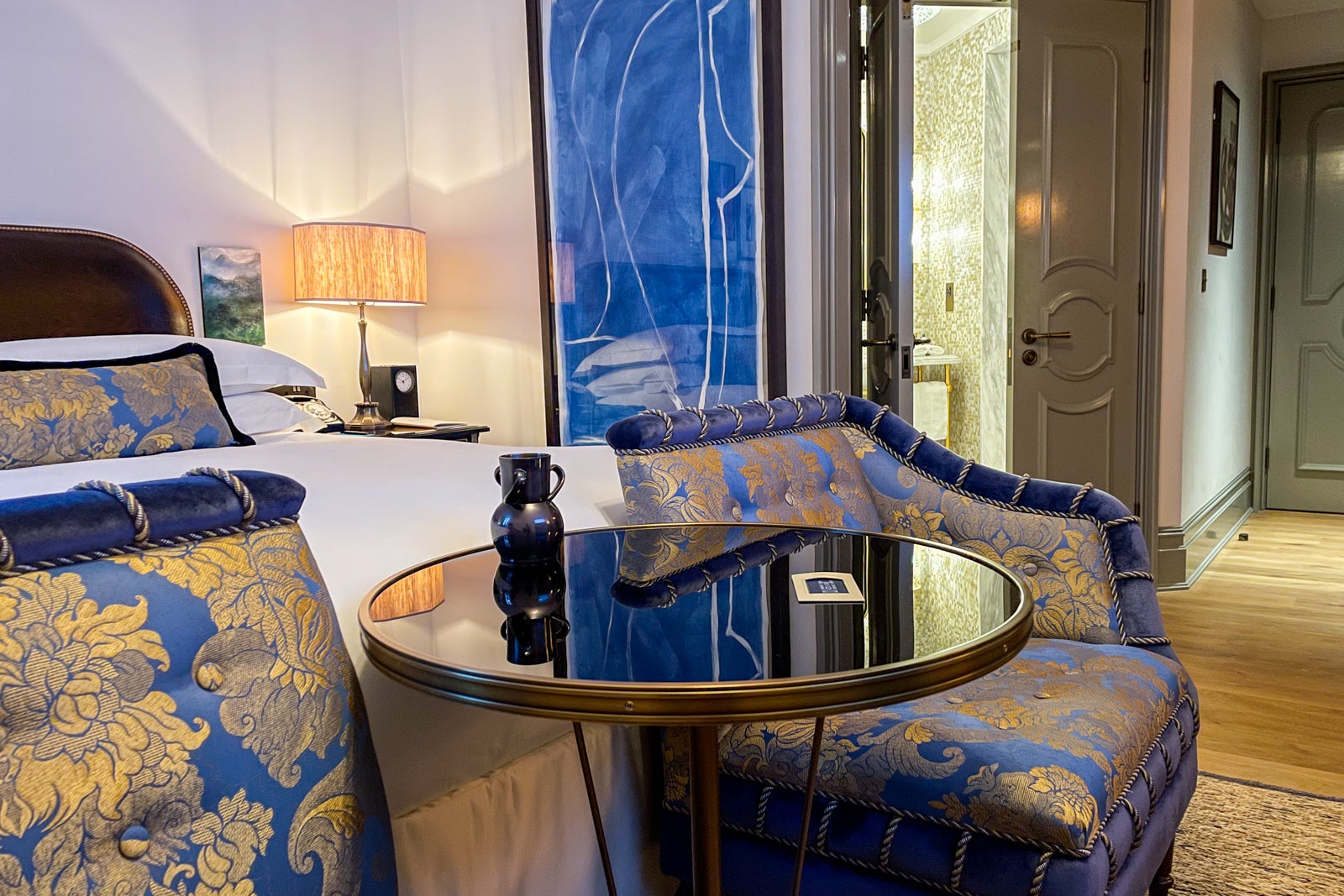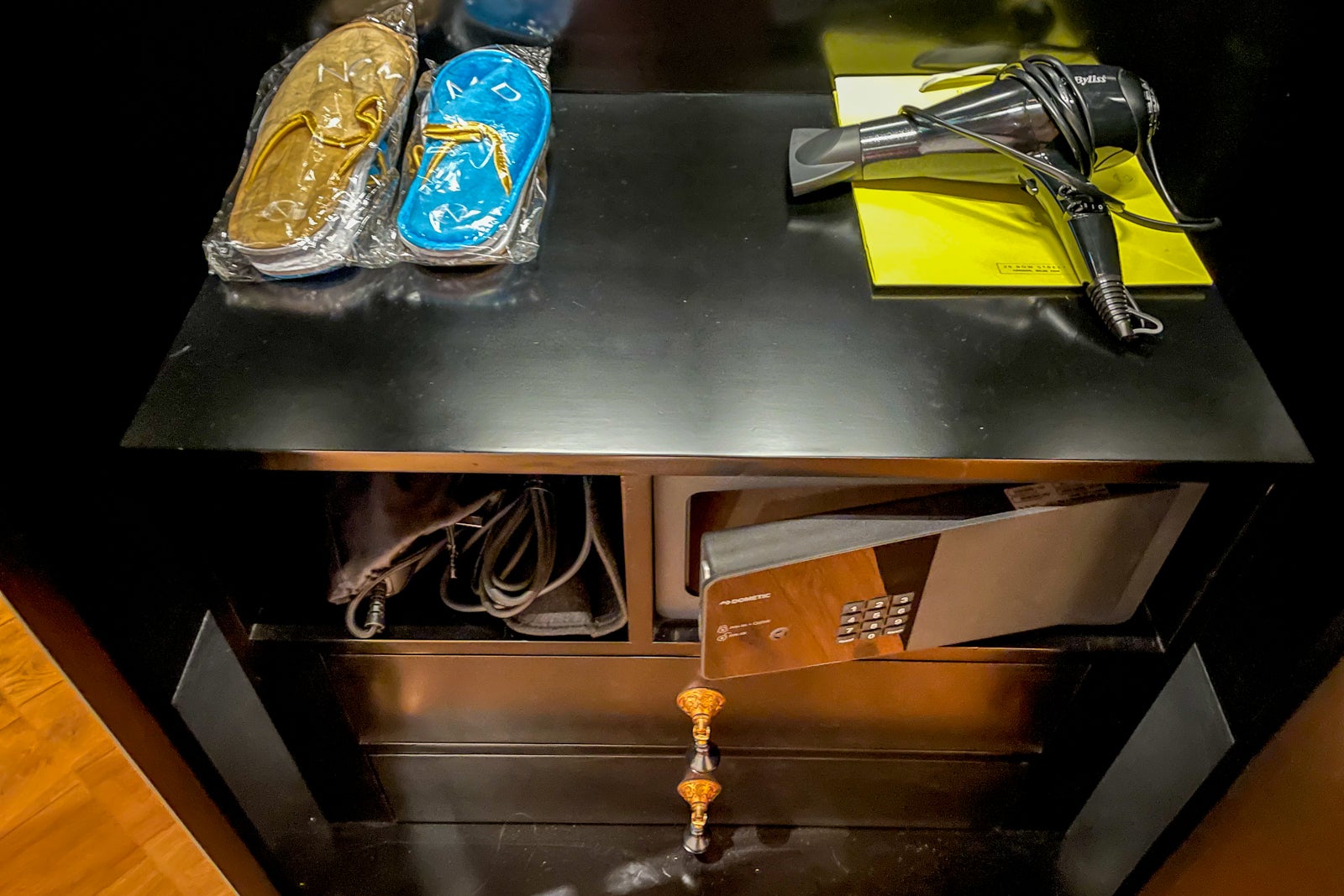 My eye was immediately drawn to the small sitting area at the foot of the bed: sapphire velvet and damask-print club chairs (like a settee split in two) flanking a coffee table and facing a decorative fireplace, treated to look like the marbled endpaper you might find in a first edition of "Dorian Gray." 
At the in-room bar, there was a small plate of fresh fruit and a Nespresso machine, as well as elegant glassware if you were tempted to pour one of the premium minibar selections (bottles of premixed Negroni with Beefeater gin, Perrier-Jouët Grand Brut and Jax Coco coconut water, along with a more lowbrow selection of very ordinary M&Ms and cans of RedBull).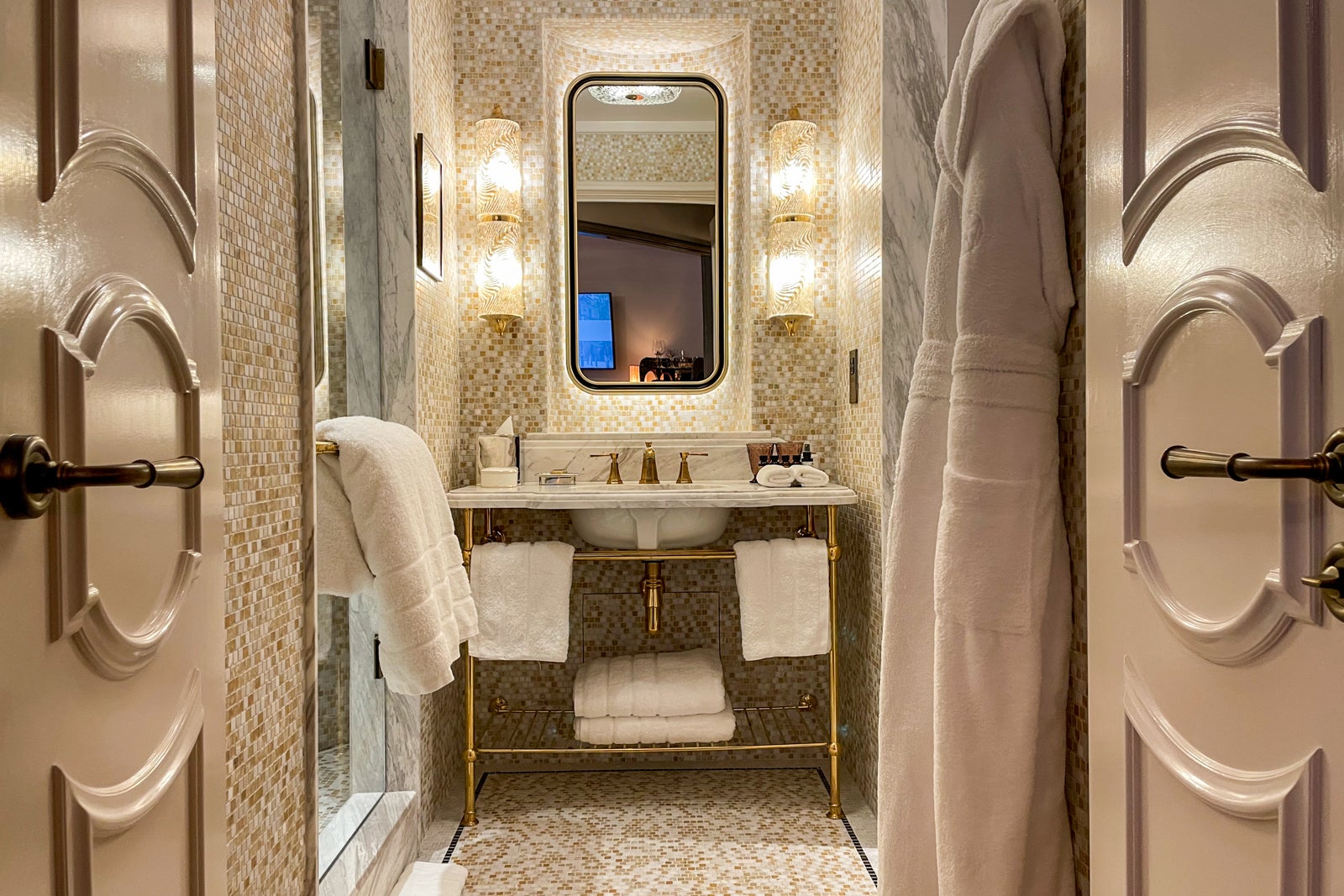 If you know me, you'll know I am an absolute sucker for a hotel bathroom. Double doors opened to reveal a glittering mosaic-tiled bathroom with a separate, walk-in shower and toilet room. It was a study in detail with gold hardware, white marble, Argan Oil bath amenities and heavy glass water goblets. Some suites even have freestanding soaking tubs. 
Returning to my room at night, I felt as though I might have slipped into an alternate universe. I could imagine a version of myself who never left London all those years ago, stumbled upon a gorgeous flat in the center of the city and hung Ellsworth Kelly lithographs on the bedroom walls. That's not how it happened, of course, but at the NoMad hotel, it's easy to feel like you're floating through a well-decorated fantasy. 
Food and drink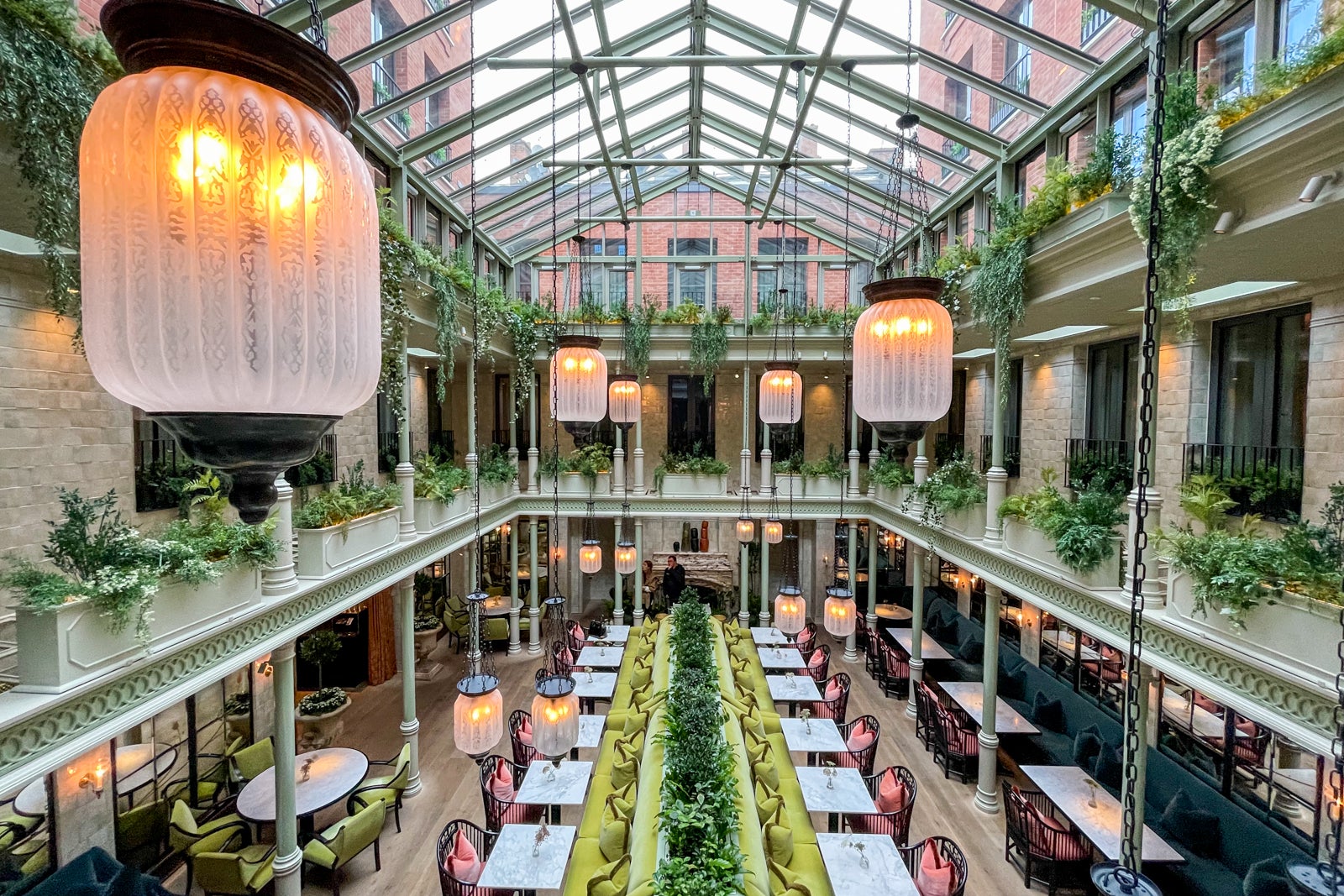 One evening, my colleagues joined me for dinner at the NoMad's main restaurant, where we sampled a number of cocktails, starters and entrees. During the day, the multistory atrium restaurant was drenched in light, creating a greenhouse-like effect with its chartreuse banquettes and foliage draping down along the colonnade. At night, the space was transformed: Candlelight illuminated the white marble tables which were filled with plates of pan-roasted cod with fried mussels (£32, or $44), oysters on the half shell with frozen cucumber (£20, or $27, for a half dozen) and suckling pig (£39, or $53) with a side of smoked carrots (£9, or $12).
Everything was expertly prepared (the cod, which can be a pretty underwhelming fish, was the texture of warm butter). On the topic of flavor, everything I sampled was relatively subdued. Nothing knocked me out of my seat, but I still scraped every plate clean.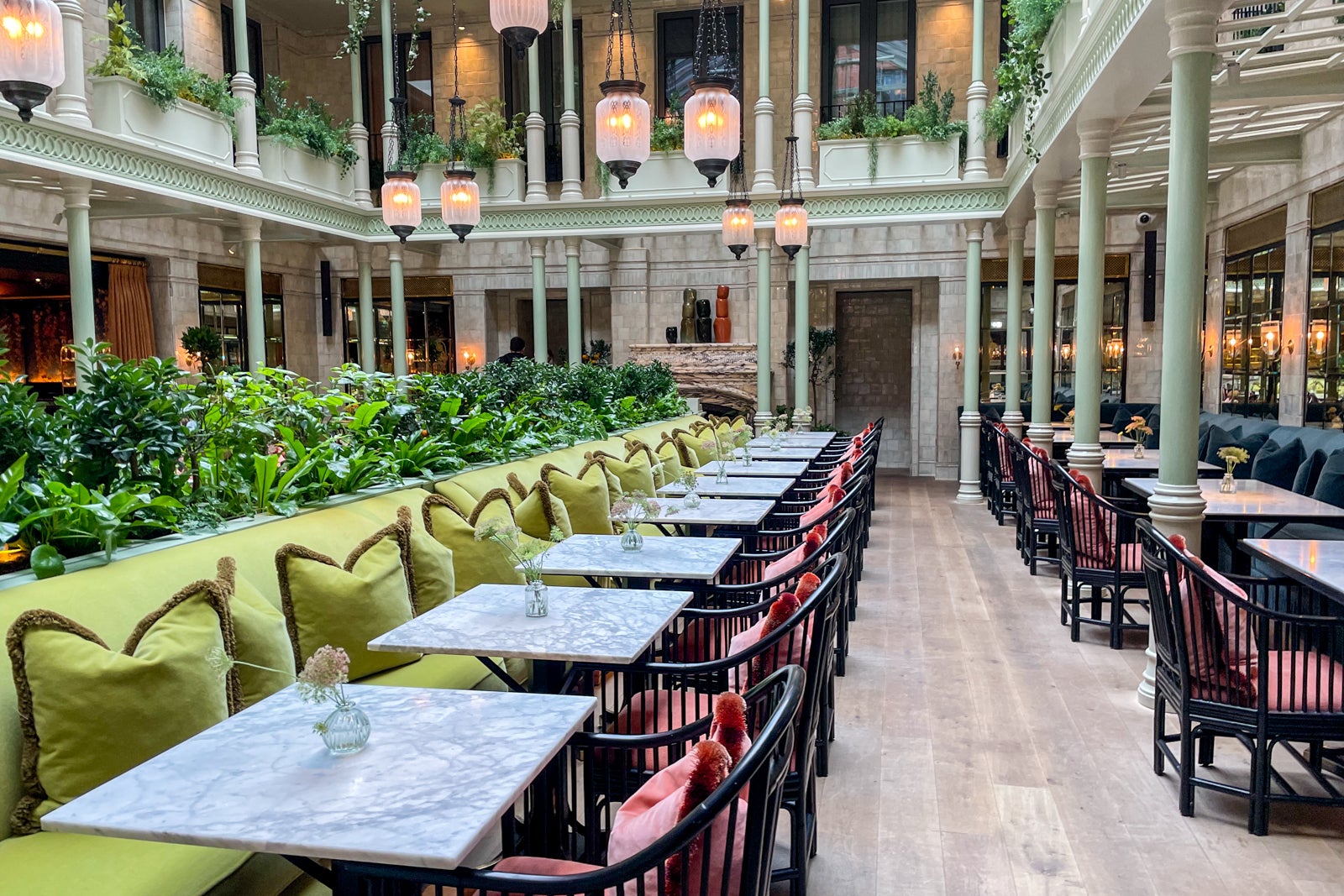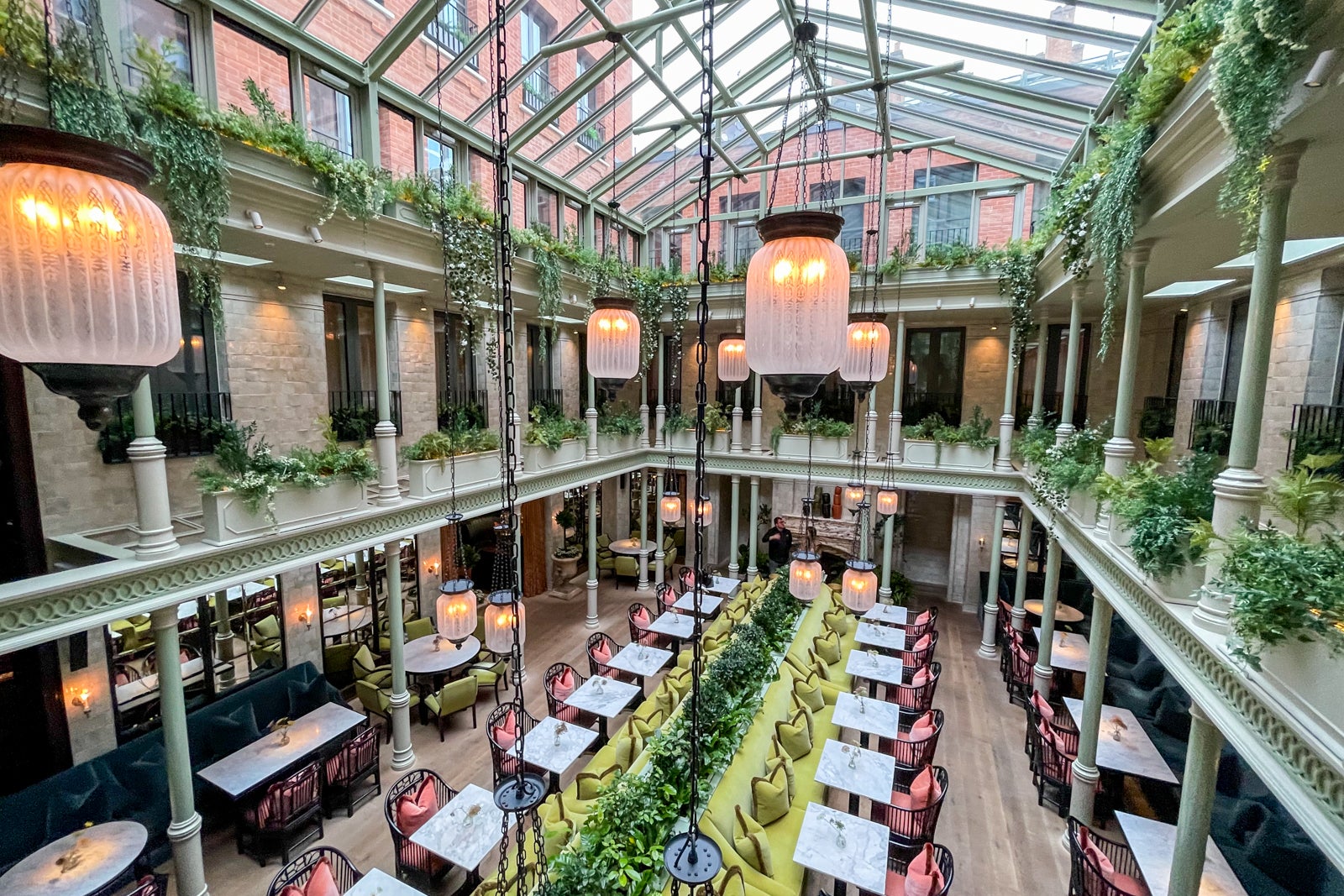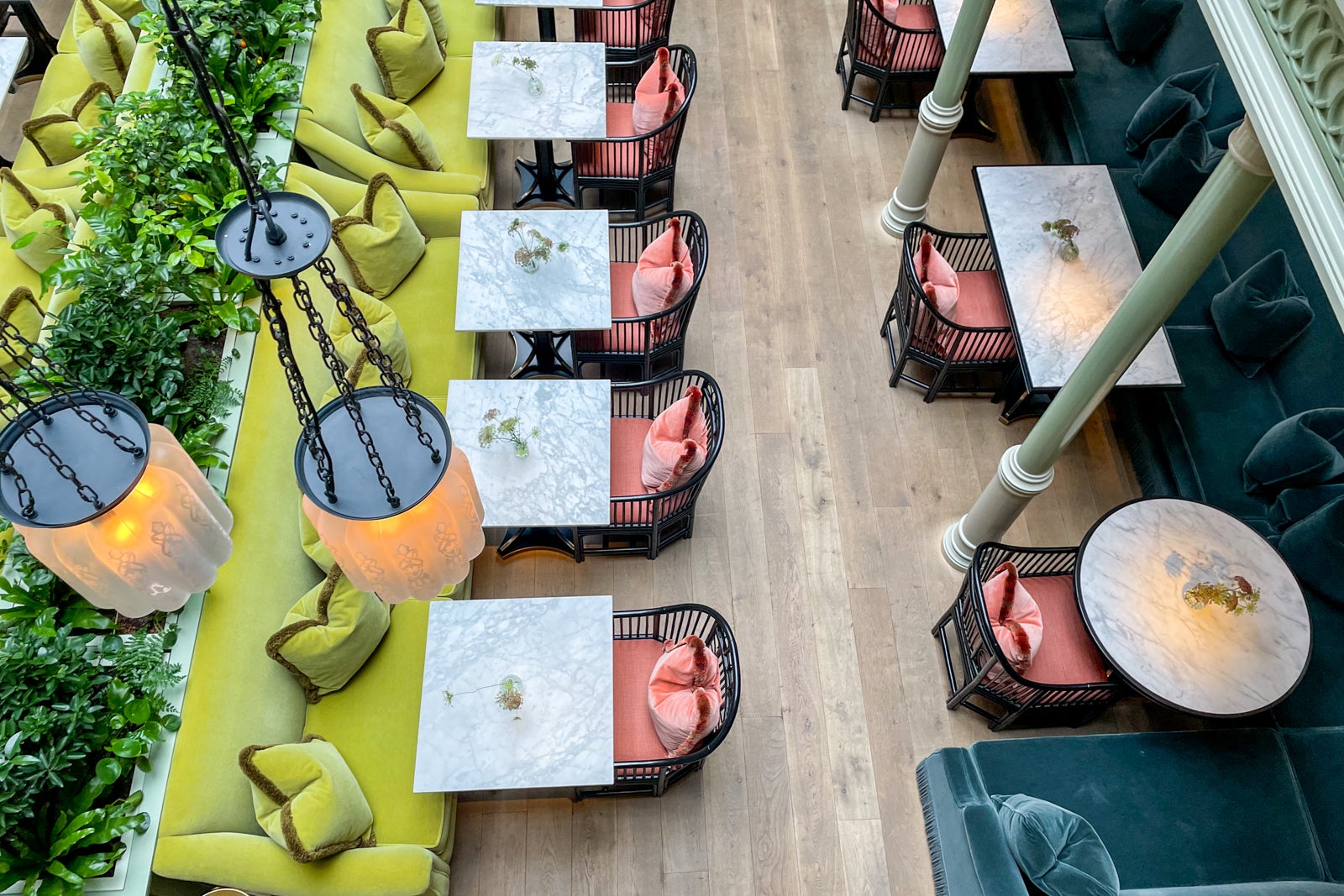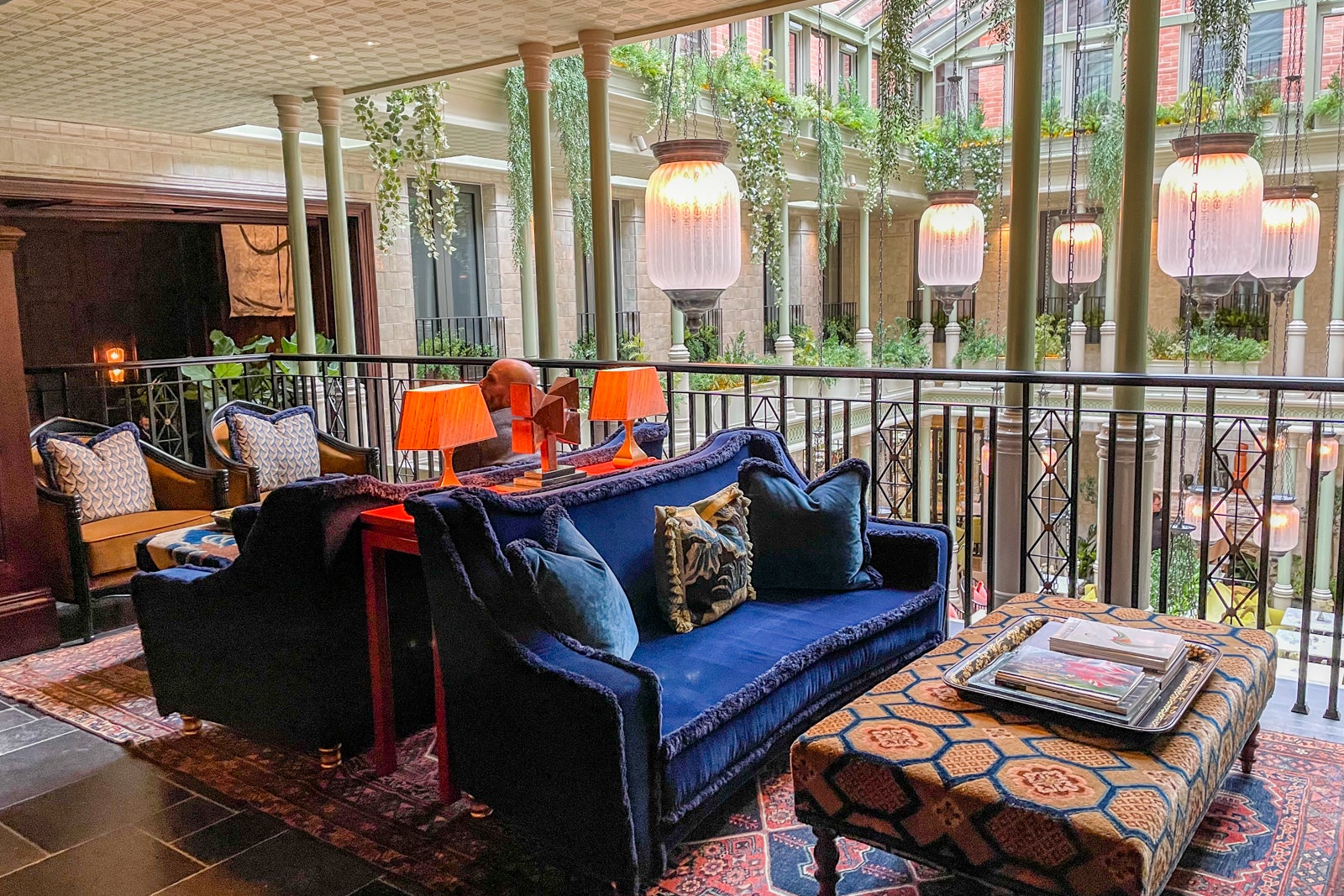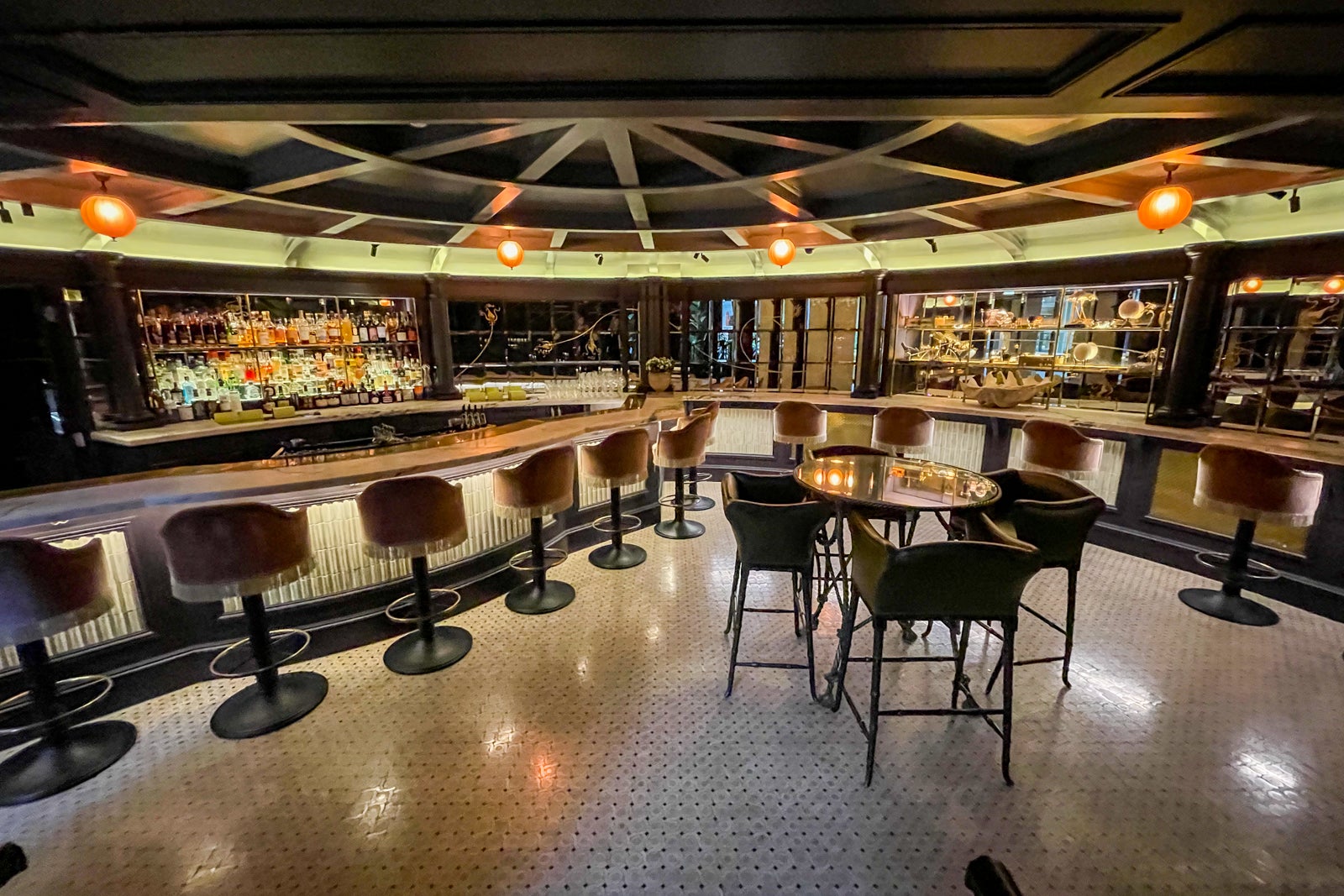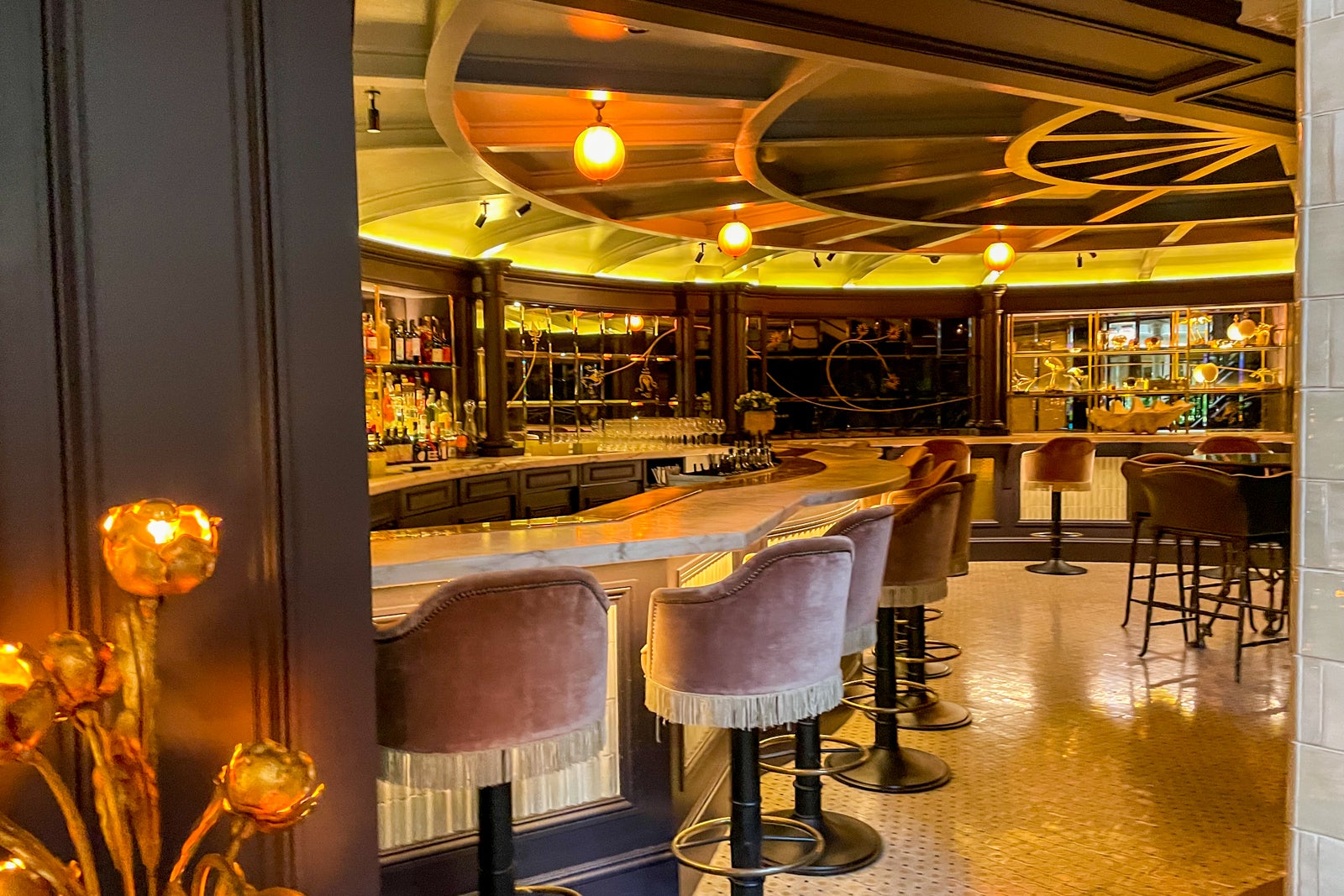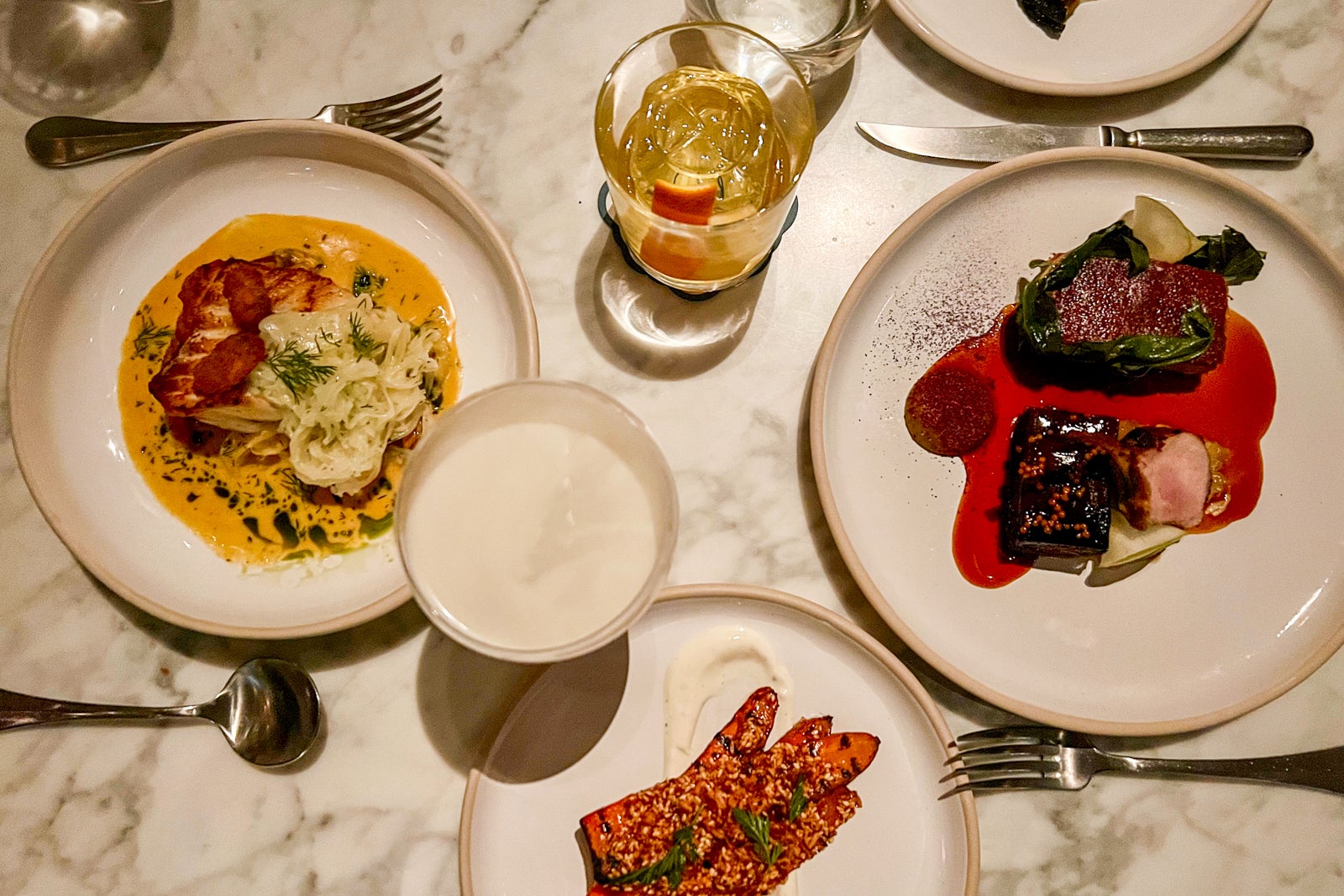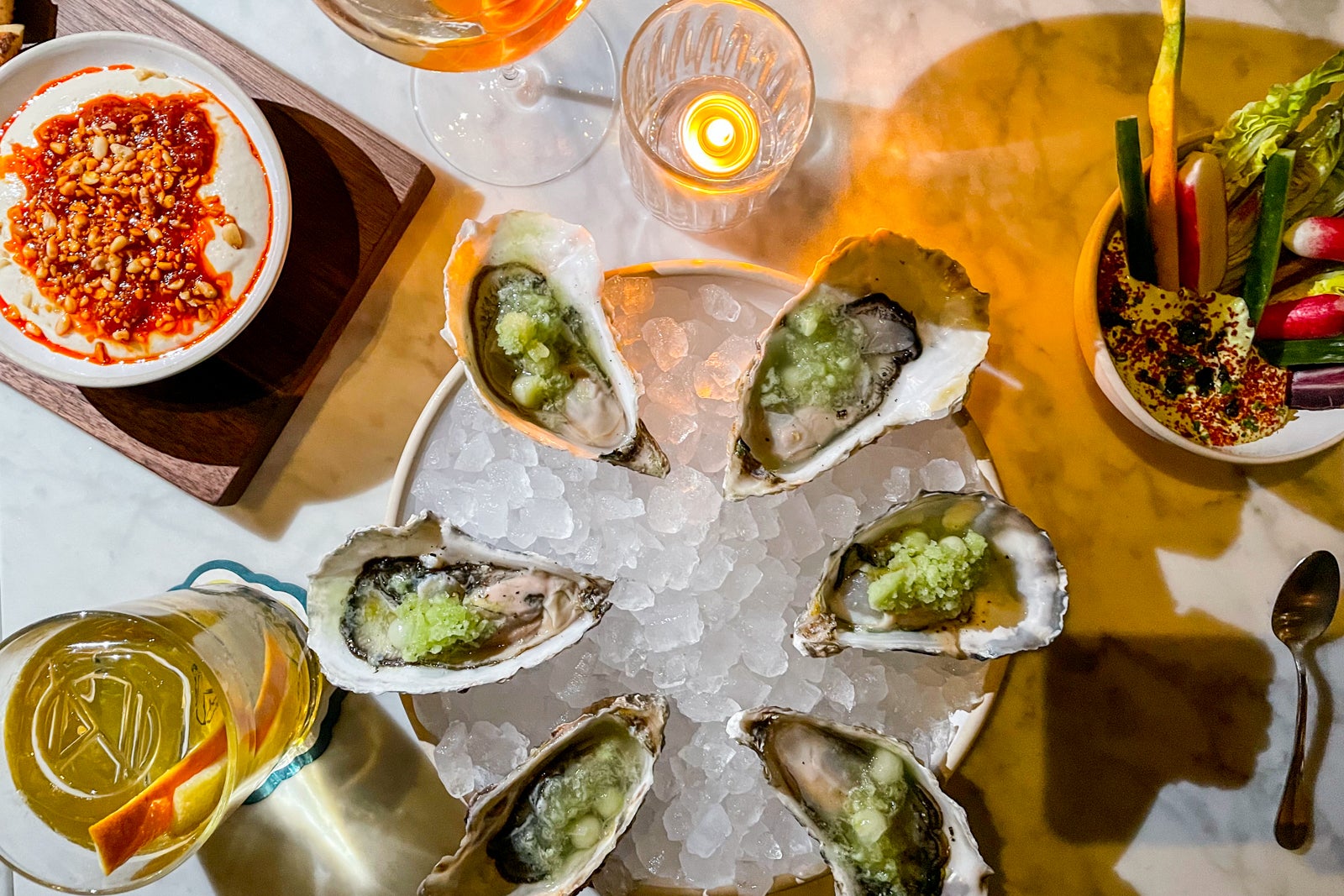 The cocktails were solid, if not overthought: I ordered a Walter Gibson (£16, or $22) from the list of NoMad Classics, and though it featured some of my favorite things (dry gin, pickled vegetables and vodka), I found some of the other ingredients made it far too sweet.
I much preferred after-dinner drinks at the Mexican-inspired Side Hustle bar, where a few of us got a round of theatrical tequila Mai Tais (£20, or $27)  presented in heavy skull barware with slices of fruit and a rosette of pineapple leaves. The atmosphere was lively and just the right level of loudness.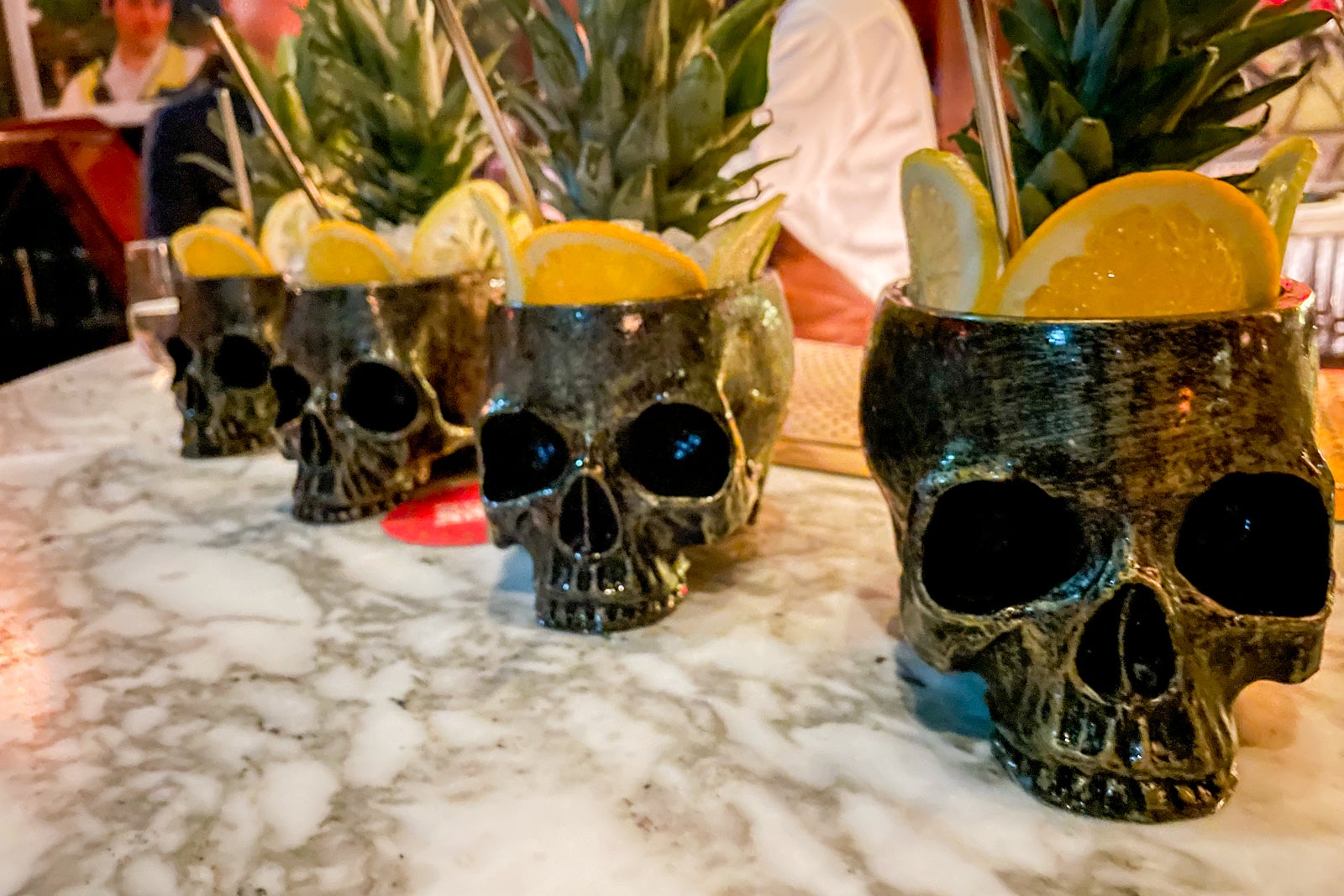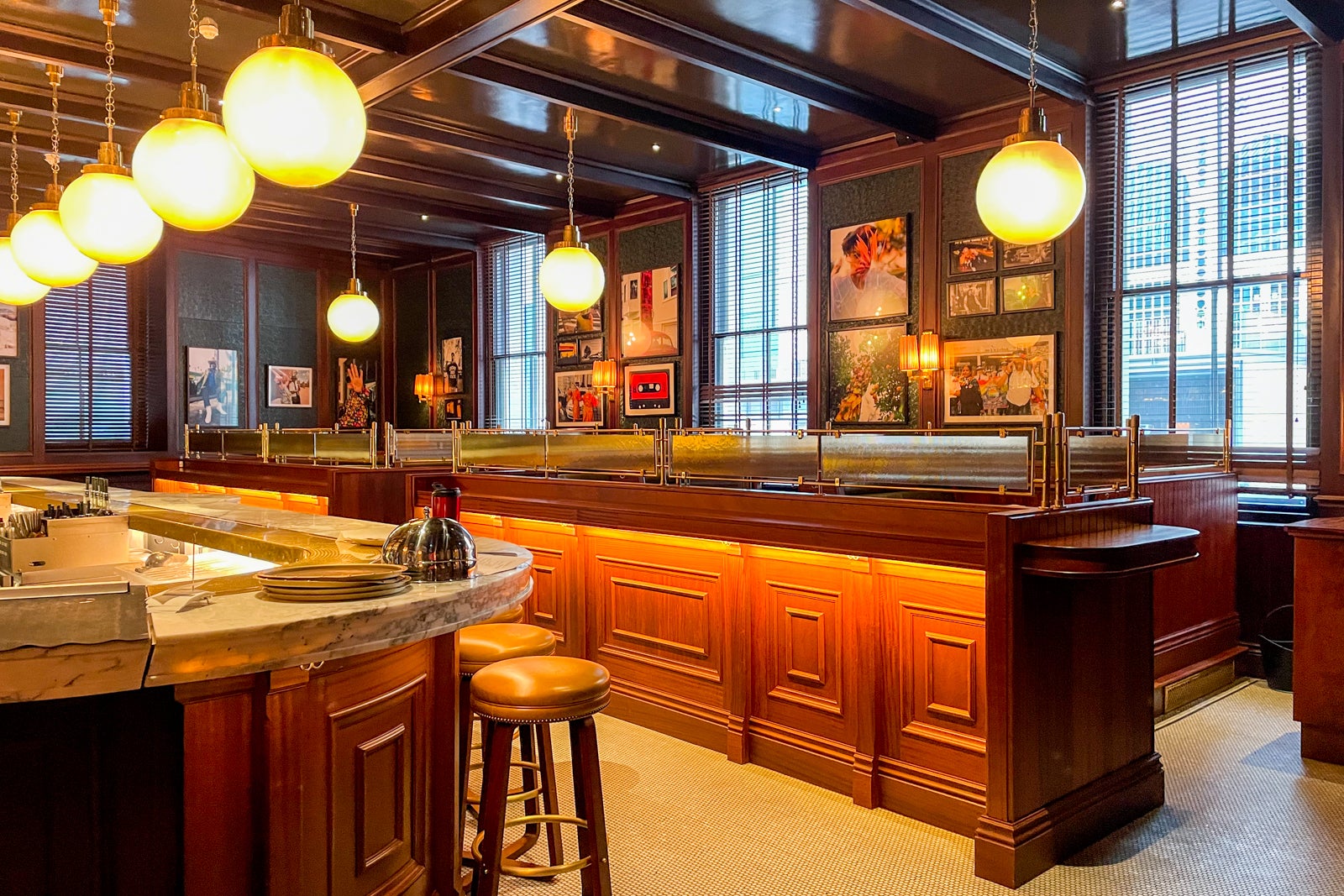 Guests can also enjoy breakfast, lunch and beverages throughout the day at the Library, located off the lobby.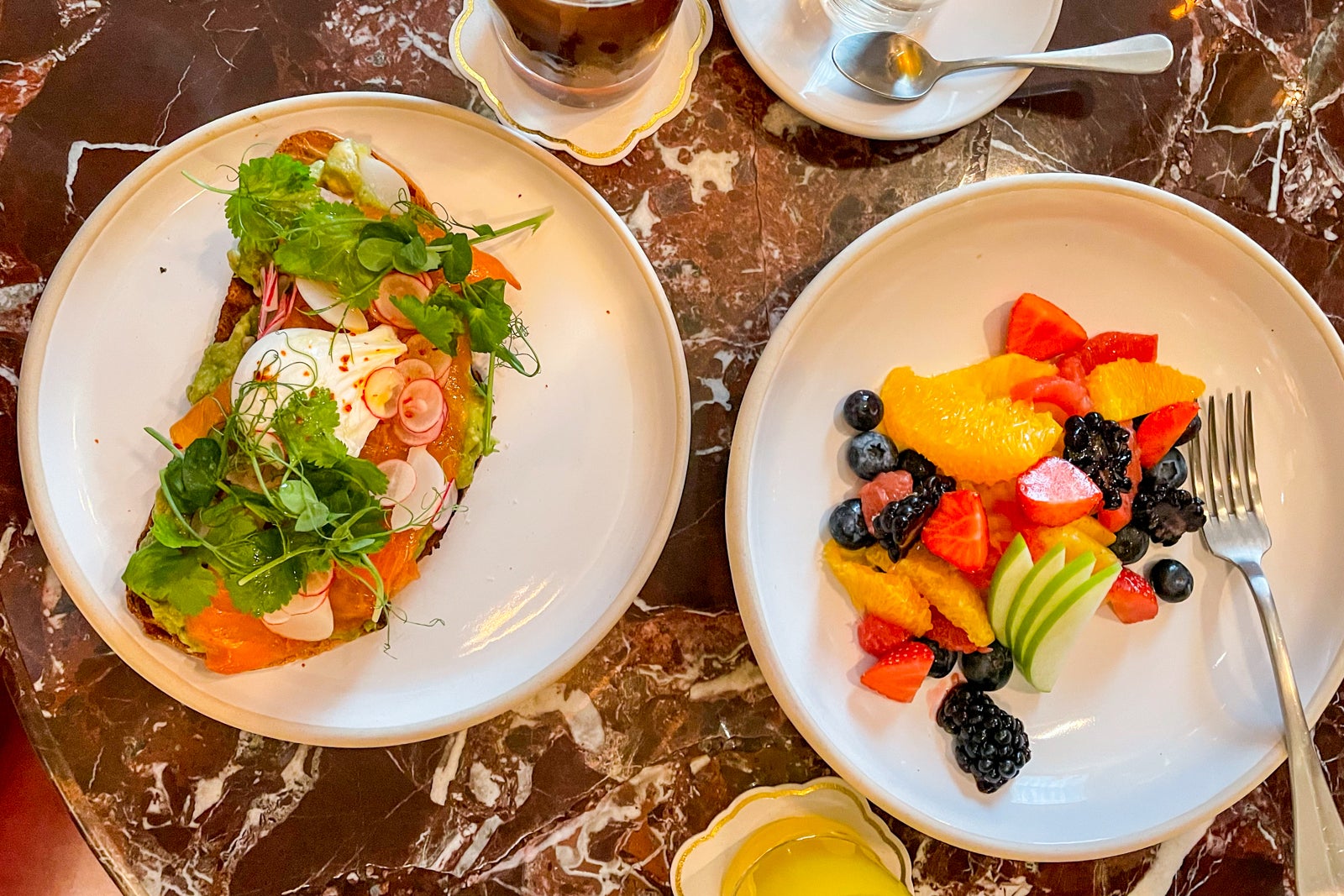 You quickly get spoiled on a work trip when you can order avocado toast with sunflower seeds, Aleppo pepper, a poached egg, smoked salmon and — what else? — translucent slices of those sensational radishes (from £16, or $22). I rounded out breakfast with a glass of orange juice, a side of fresh fruit and an iced Americano. 
And because I wouldn't be an American in London without committing at least one English language faux-pas, I ordered late-night room service one evening (a Bibb lettuce salad with a side of rosemary and lemon chips) and was surprised to find a tower of French fries on the tray. It was a happy accident, though, as I think we can all admit fries are better than chips. 
Amenities and service
One of my favorite features of the former NoMad hotel in New York that's been gloriously reborn in London is its cozy, over-the-top library that has an unusually high level of sex appeal for books. If a bordello doubled as a bibliotheque, it would probably look something like the Library at the NoMad London.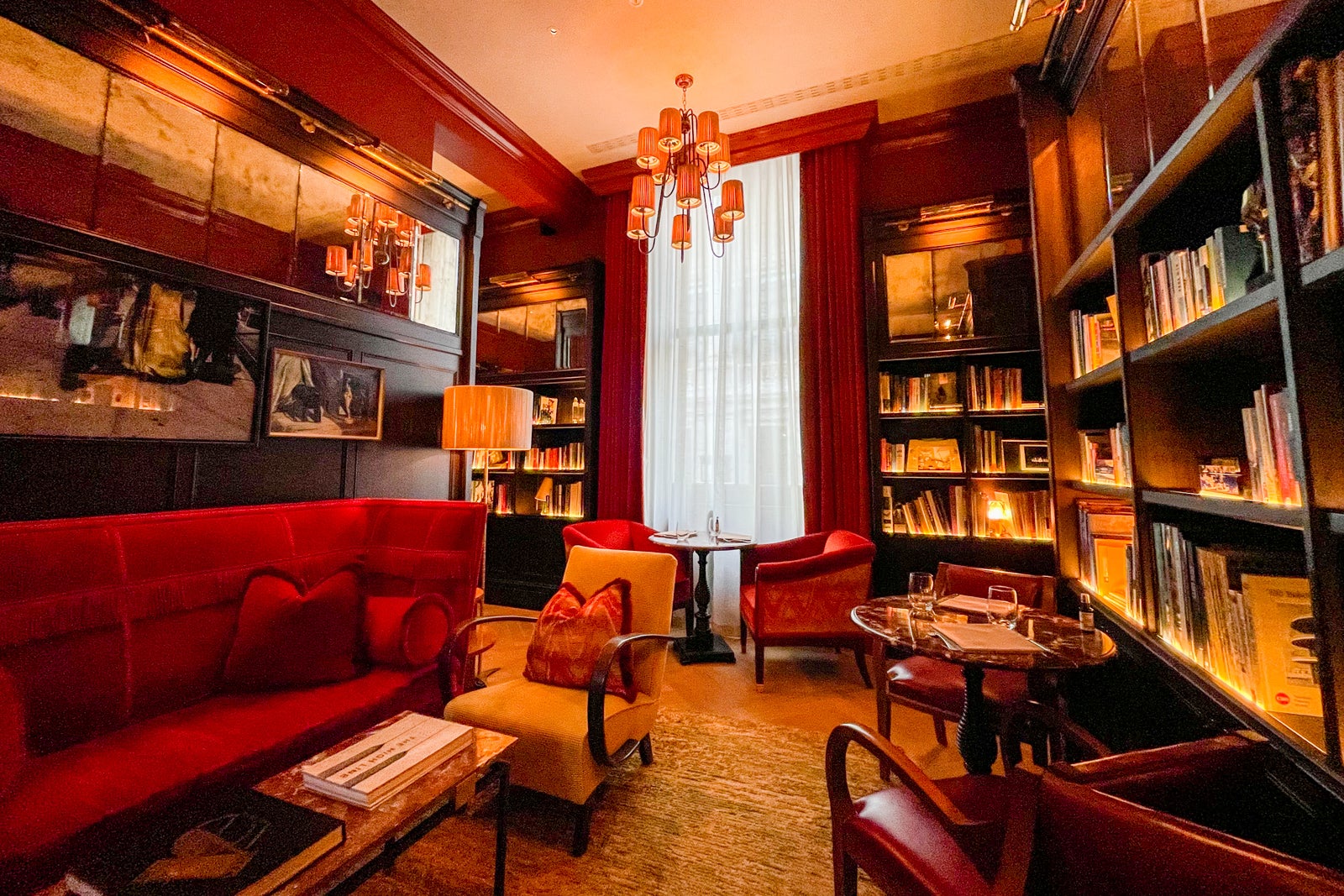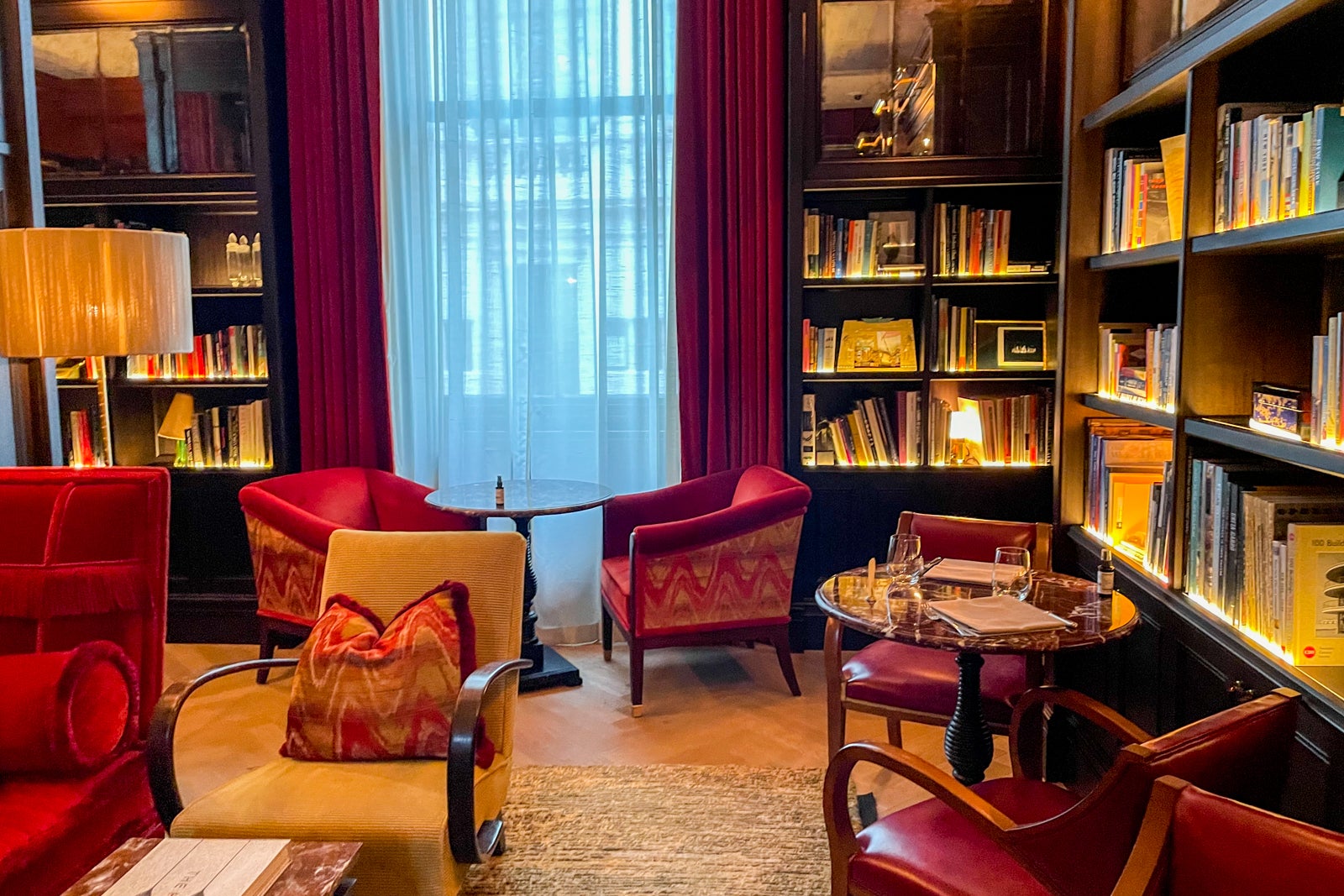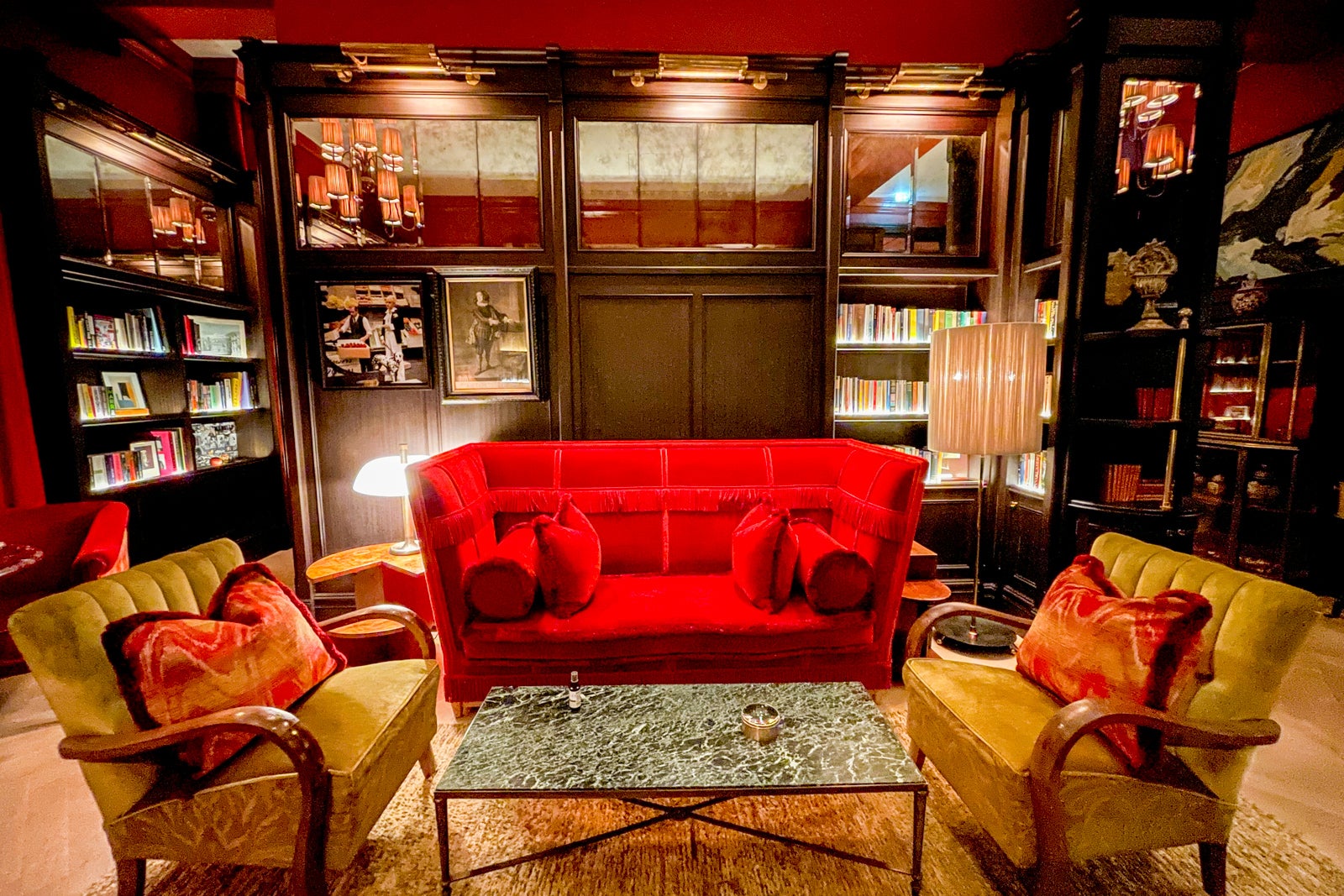 The shelves are full of highbrow texts on every imaginable topic (art, architecture, cuisine and pop culture) that positioned "The Landmarks of New York" a few spines down from British artist Sue Webster's Kunstlerroman, "I Was a Teenage Banshee," and a selection of well-worn Agatha Christie novels across from titles like "New York Cult Recipes" and "Must Eat NYC."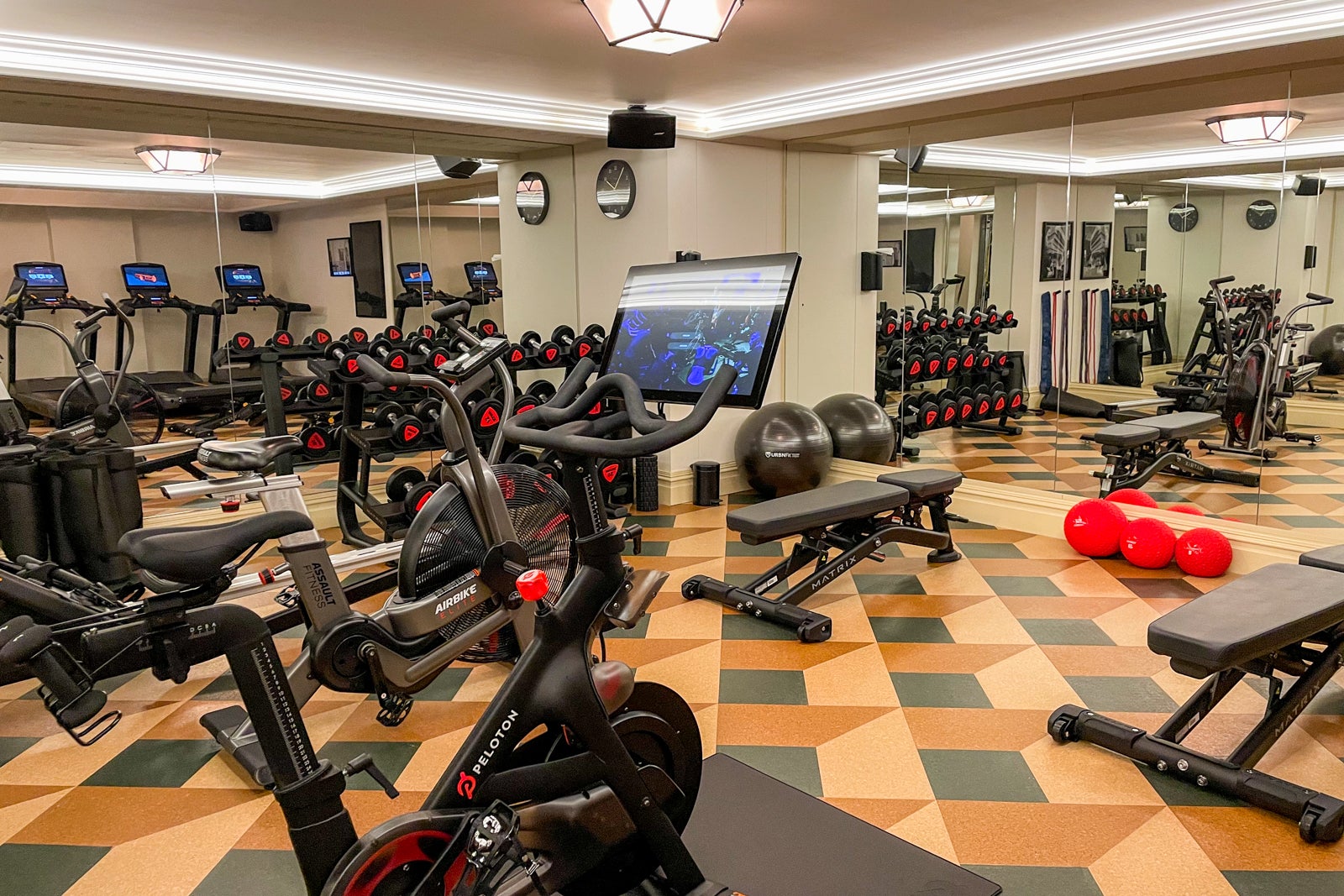 The hotel also has a basement-level gym with free weights, a handful of treadmills and a single Peloton, and has a partnership with Ricari Studios and de Mamiel for wellness treatments such as sculpting facials and a very intense-sounding body remodeling experience. 
Even though the NoMad hotel feels like it's been plucked from an HBO drama about Oscar Wilde's romantic life, there was nothing uptight or Victorian about the service. Everyone was warm, friendly and accommodating, from the porter at the hotel who, after just a few days, had a sense of my routine (and when I was straying from it) to the restaurant staff who called me at my room almost immediately to accommodate my last-minute reservation request.  
Out and about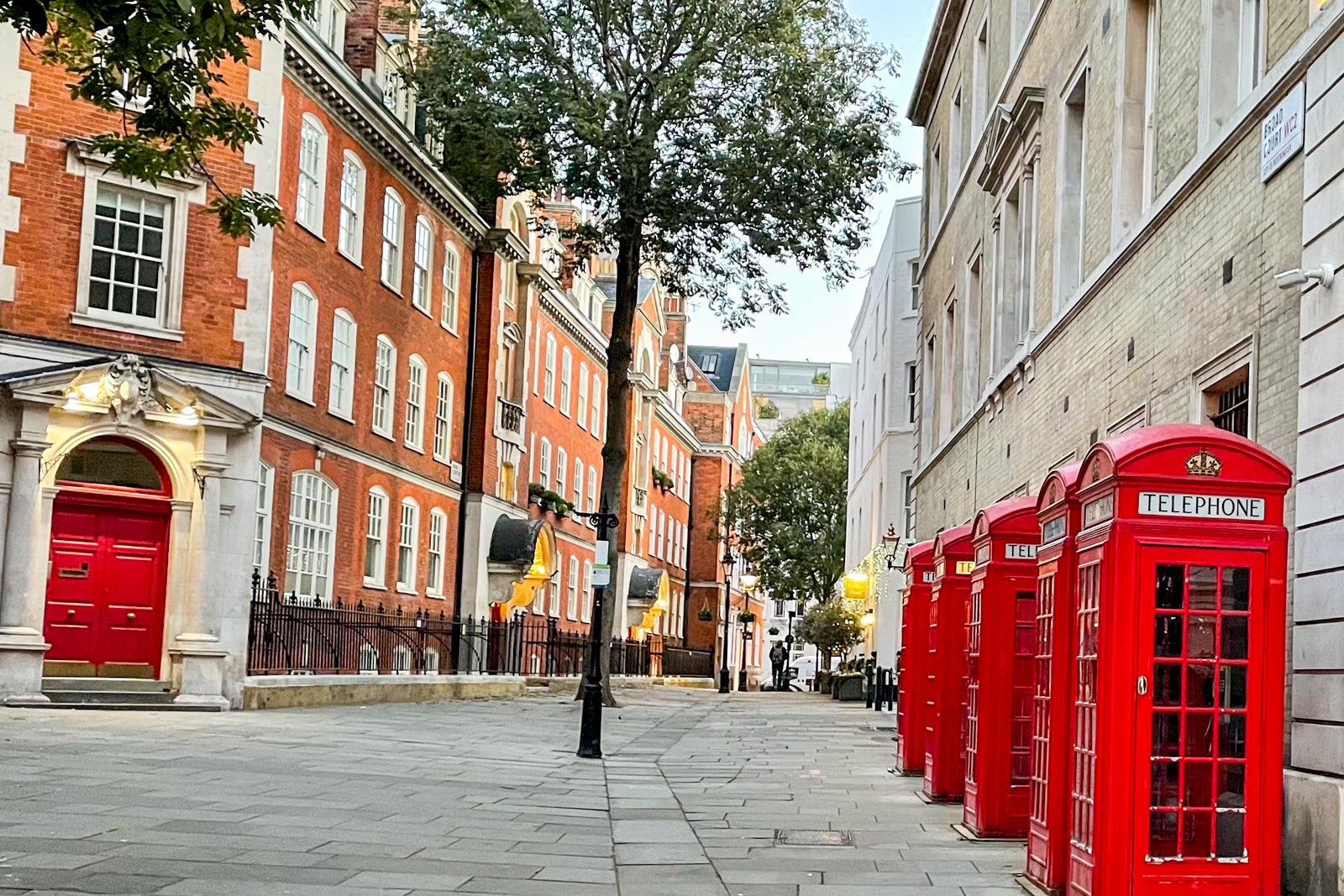 The NoMad London hotel is right around the corner from Covent Garden Market, a number of major Underground stations and across the street from the Royal Opera House — you're probably not far from where you want to be here. I found it easy to wake up in the morning and drop by a Boots convenience store or any of the innumerable cafes on my walk to the WeWork Aviation House building in Holburn. 
Transportation and history buffs can head over to the London Transport Museum to see exhibitions on double-decker electric trams from the early 20th-century and the so-called "knifeboard" horse-drawn bus that serviced London between 1875 and 1895. 
You can grab dinner at the Covent Garden outpost of Dishoom (order the black dahl) and grab a pint (and play a bit of Trivial Pursuit) at the Bow Street Tavern down the block.  
Accessibility
The NoMad London is not the most obviously accessible hotel: There are lots of stairs, including three steps from the reception area to the main lobby, but there is also an accessible lift. The dining spaces, though accessible, could be difficult to maneuver in. The hotel's website does a great job of detailing exactly what travelers can expect, with information on everything from the height of the tables in the Library to the number of steps visitors will face. 
Checking out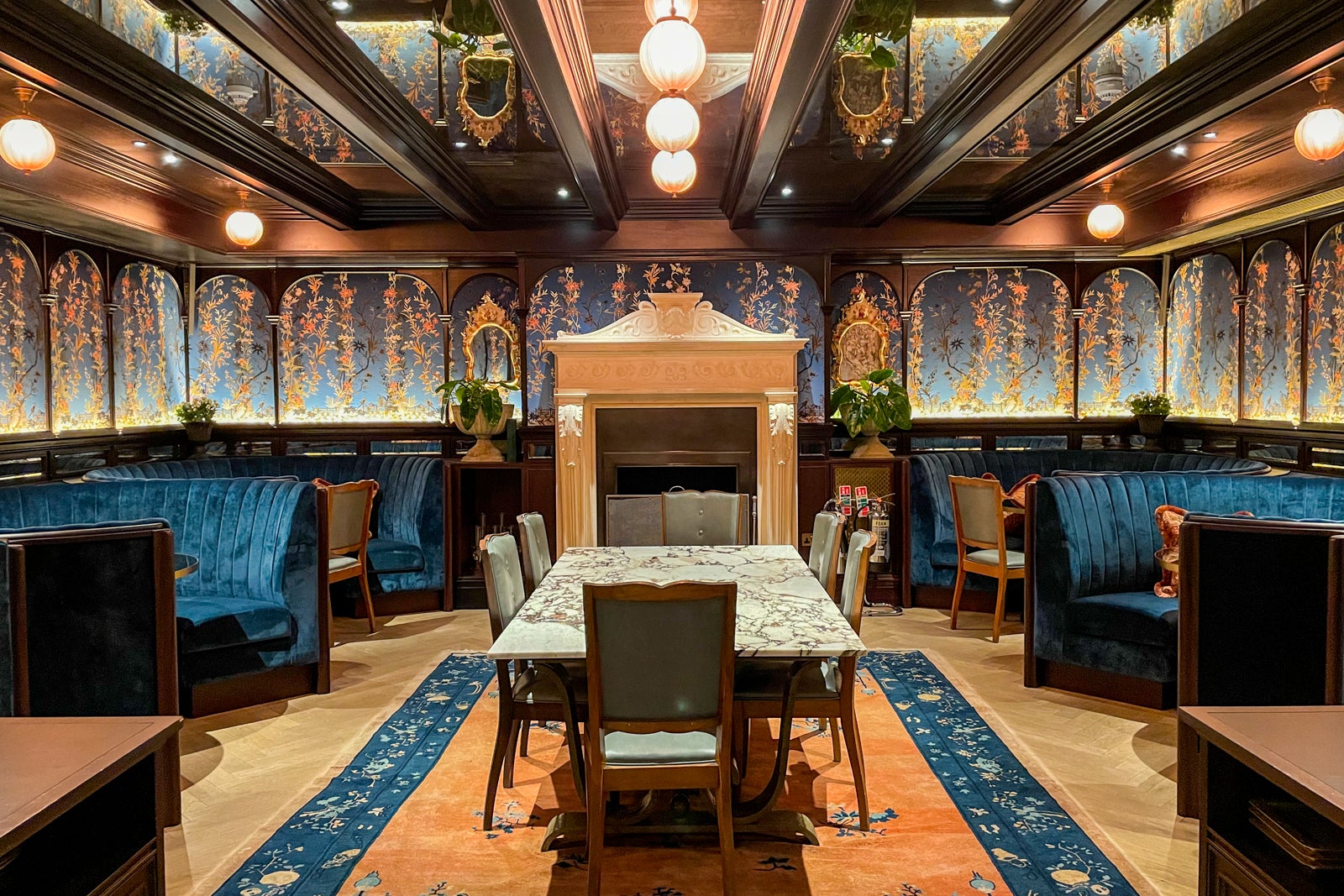 The NoMad London is a fever dream of beautiful things: There is nothing modest about the decor and nothing conservative about the use of color and texture. The historic building makes it unmistakably British, but guests are transported to a place that is clearly of the brand's making.  
Were it not for the price, I could easily see myself staying here on every subsequent trip to London, if only for access to the Library, which is open to guests only. 
Featured photo by Melanie Lieberman/The Points Guy. 
---
Share this post
---
---