35 Transportation Activities for Preschoolers! Things that GO!
Posted by admin on
Click here to read 35 Transportation Activities for Preschoolers! Things that GO! on Hands On As We Grow®
---
Transportation activities for preschoolers, plus transportation crafts to make and even our favorite books for kids that love things that go!
I don't know about you, but all my boys can play with are things that go… you know… things with wheels! Part of the activities planner I do each week, is writing down what the kids are currently interested in. It always has some sort of transportation listed.
I'm not saying its "a boy thing" because I know girls like their fair share of 'things that go' too. But check out the Pinterest boards that I found that have everything for boys!
It seems that if I add a vehicle of some sort to an activity, the boys are much more interested and excited to take part of the activity, whether it's a craft, art or learning activity. They're much more into it.
So, I've found a few ideas to add transportation to our activities.
35 transportation activities for preschoolers that love 'Things that Go!'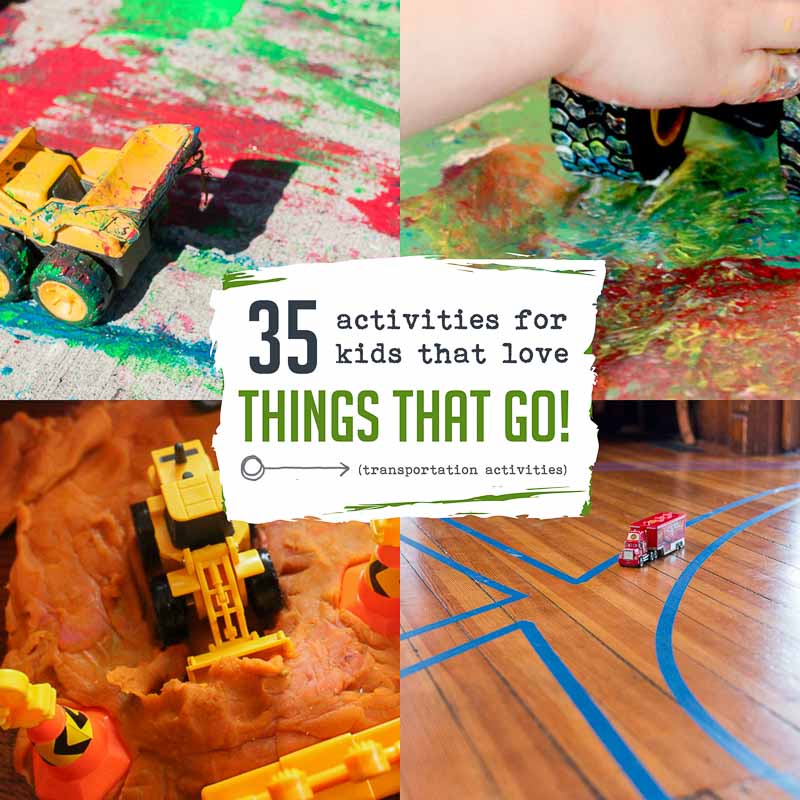 Quite a few that use the vehicles that you already got. And even some that create the vehicles for an activity.
And I also couldn't leave you without adding in quite a few of our favorite transportation books. They all happen to have vehicles in them (of course!).
So, for the avid vehicle lovers, here are some activities to get them interested. And maybe give their motors a break (and your ears a relief) for a while.
Our favorite and fun transportation activities for preschoolers!
Including crafts and books for the vehicle loving kid!
Using vehicles that you already have for transportation activities for preschoolers:
Making your own vehicles for transportation activities for preschoolers:
Our Favorite Transportation Books for Preschoolers:
Almost every book that we read very regularly has to do with vehicles too. Mostly tractors and trucks, but a few trains in there too.
First of all, I ran across this list of books from Slimy Bookworm that is geared towards boys, but almost every one on there is about a vehicle.
Here's our 10 favorite transportation books:
*The following links are affiliate links, which means a small percentage of any purchase you make after clicking through will help support hands on : as we grow, at absolutely no additional cost to you.
Are your kids stuck on things that go?
Please tell me my kids aren't the only ones…
---
Share this post
---
---